Looking for fantastic blog writers? Get the most out of your blog with content that walks and talks for you!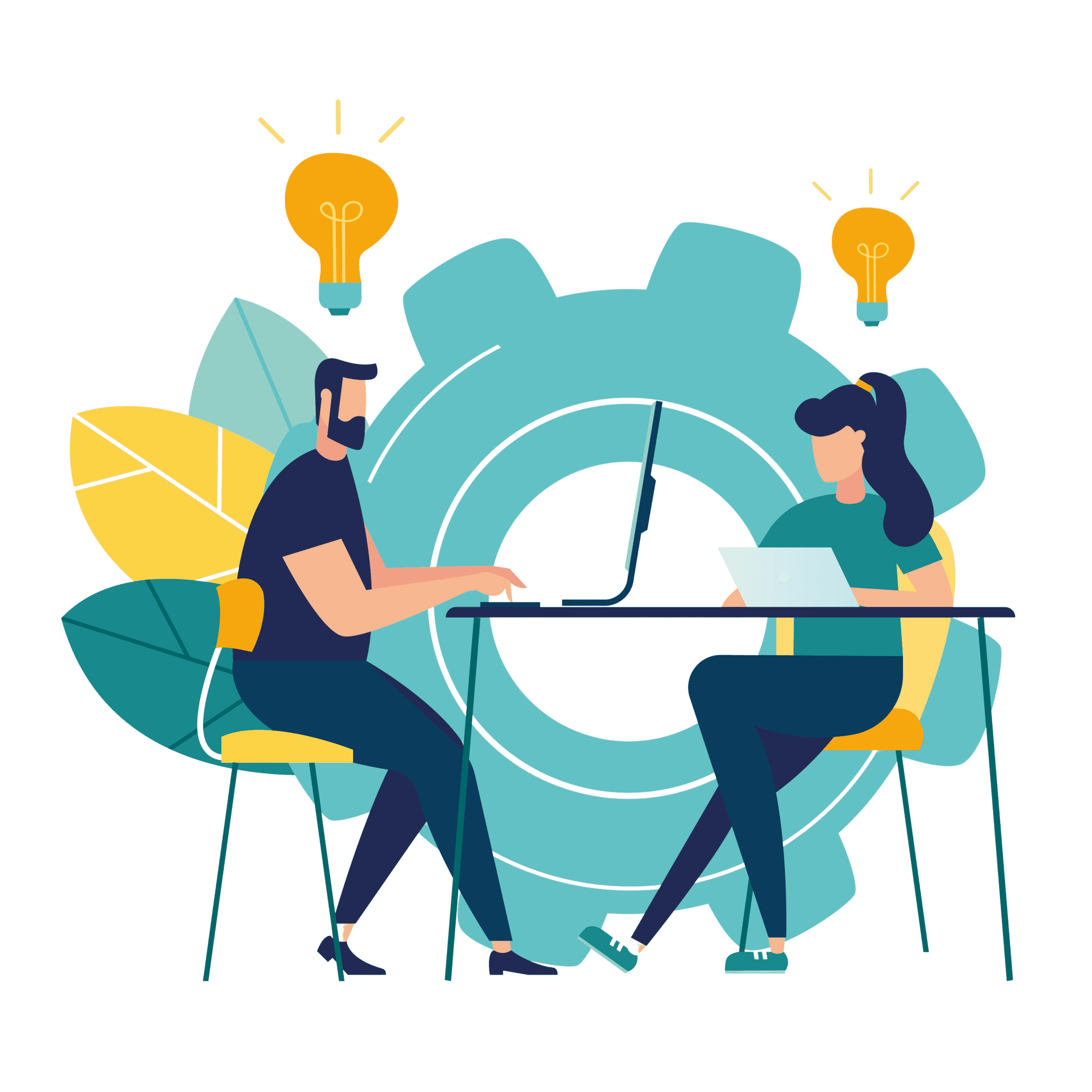 1000+ websites trust us to write their content
Blog Writers For Hire At Content Clerks
One of the most effective strategies for marketing your business is blogging. A blog can help you create relationships with new and existing customers and also boost SEO. That means that your search engines will easily detect your page, and you can earn a top rank in the search results. Moreover, you can reach more people easily, and these people can also share your content with others. Hence, you get the brand recognition you want for your business fast. However, you need to write quality content to achieve these results. Therefore, you need professional blog writers for hire. Of all blogging companies, Content Clerks is the best. So, hire us today for the finest blogging services.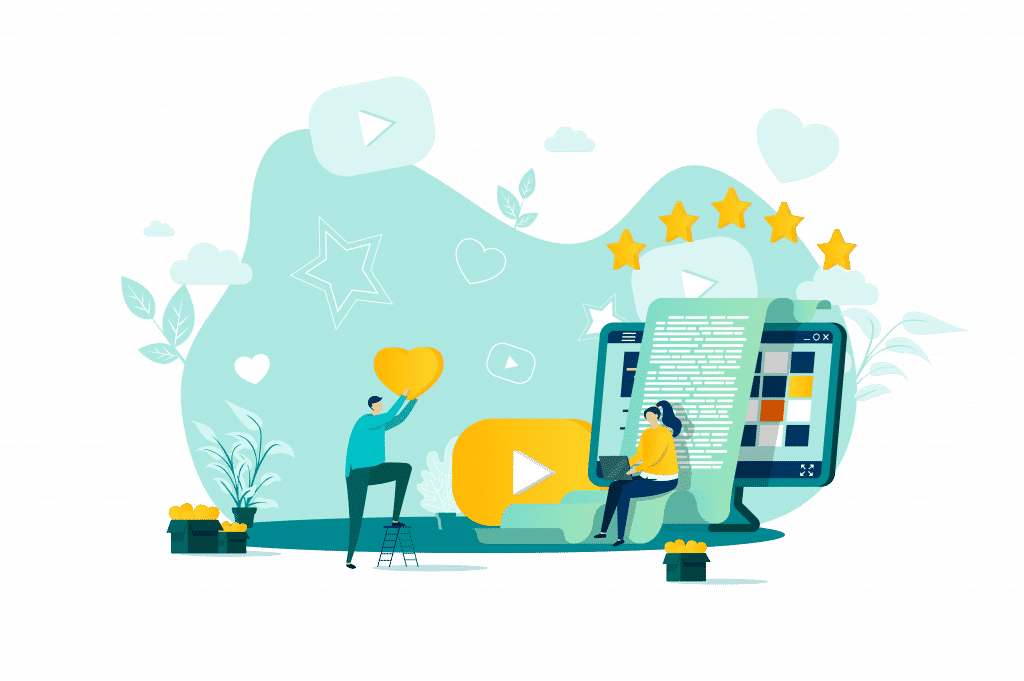 Blog Writing
Blogging remains one of the best ways to engage your audience. Our team will write compelling blog posts that will keep your fans hooked and wanting more!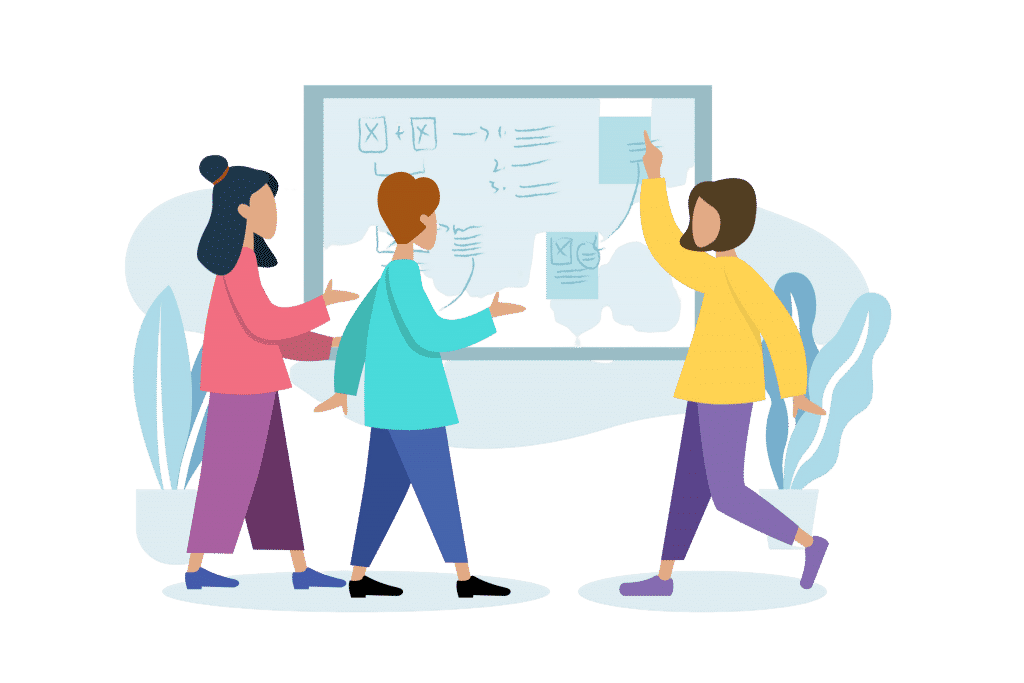 Web Pages
Whatever the subject, we deliver engaging website copy written with SEO & conversion in mind. We write this content with the voice of your brand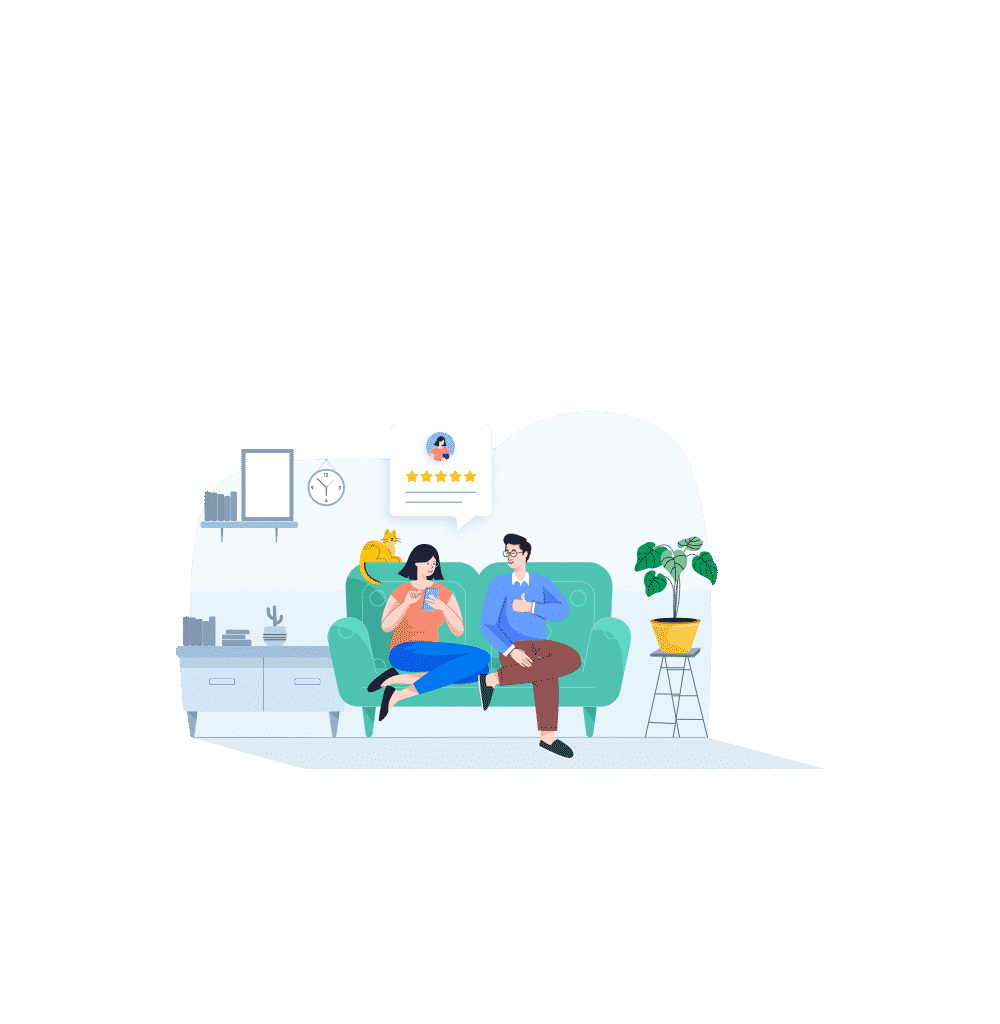 Product Reviews
We write well-researched product reviews that are perfect for any affiliate marketing website. No product or niche is too difficult for us. We've got you covered.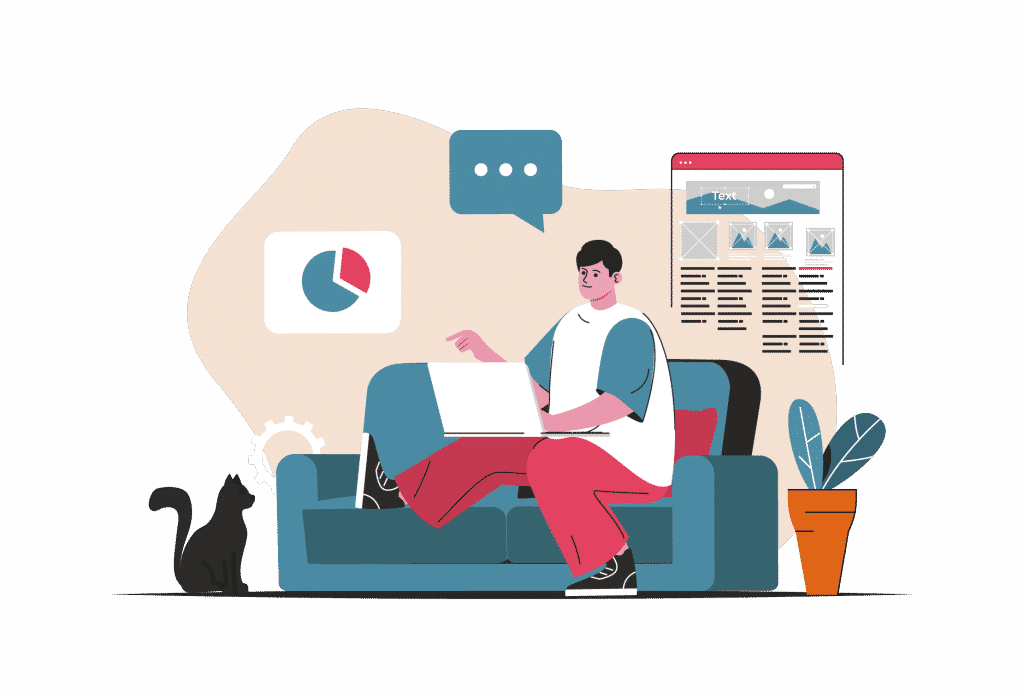 Articles
Our writers will deliver engaging and informative articles ready to be published on your website and shared on social media.
Single Order
$5 per 100 words
Order any type of content
This is great for individuals or small businesses
No minimum word count
High-Quality Content
Vetted Writers
Proofread Content
Up to 3 Revisions
Full Support
Turnaround Time (1-3 business days)
Place Your Order
Agency (Popular)

$4 per 100 words
20,000 words or more in total.
This is suitable for agencies that need more than 20,000 words of content in total.
Minimum of 20,000 words in total
High-Quality Content
Vetted Writers
Proofread Content
Unlimited Revisions
Full Support
Dedicated Account Manager
Dedicated Writers
Topic Ideation & Keyword Support
Turnaround Time (7-14 business days)
Place Your Order
Super Agency
$3 per 100 words
Do you need more than 100,000 words?
This is suitable for agencies that need more than 100,000 words of content in total.
Everything in the Agency Plan
Meta Descriptions Included
Royalty Free Images
Blog Management Option
Place Your Order
What Customers Are Saying
"We use Content Clerks regularly for blog articles and monthly email newsletter copy. We have always been impressed by the quality of the work and the speedy turnaround. I would recommend it to other businesses."
"Content Clerks has been a big part of our journey. Combined with our SEO goals, they have helped us increase website visibility for chosen topics. I also like that we can always find the right type of writers for our needs. They can help you establish thought leadership in your niche."
"Whenever our clients require us to write quality blog posts for them, Content Clerks is our go to. Their process is excellent, and they have great communication. Also, since our website is a complete blog, we need fresh content every day. They always deliver."
Frequently Asked Questions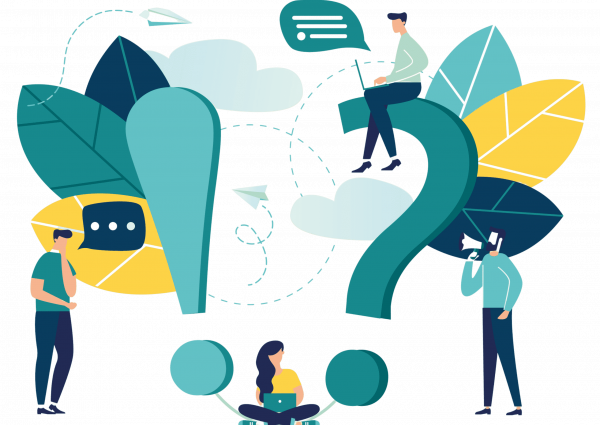 Content Clerks Vs Other Blog Writers For Hire
| | Content Clerks | Top Content | Content Panel | Text Broker | Verblio |
| --- | --- | --- | --- | --- | --- |
| Pricing per word (Pro Level) | $0.05 | $0.043 | $0.09 | $0.04 | $0.12 |
| Turnaround Time | 3 days | Not Specified | 4 days | Not Specified | Not Specified |
| Publish on WordPress | Yes | No | Yes | Yes | Yes |
| Sign up | No | Yes | Yes | Yes | Yes |
| Dedicated account manager | Yes | No | Yes | Yes | Yes |
How to Hire Blog Writers From Content Clerks
Place Your Order in 3 Easy Steps
Step 1: Select Your Package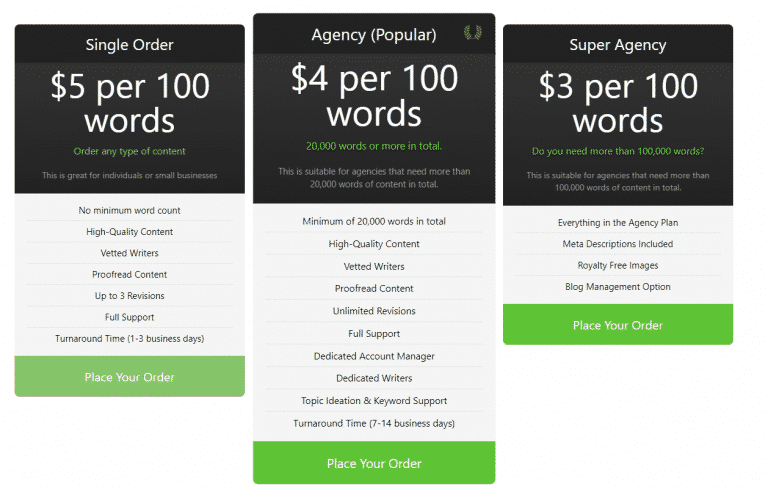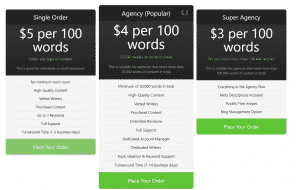 Navigate to the Place Order page where you can select the package that best suites you. We have three options for our blog writers for hire service. The Single Order package that has no minimum word count, The Agency Package that allows you to order anything from 20,000 words at a rate of $0.04 per word and The Enterprise Package. 
Step 2: Fill in Order Form
Step 3: Place the order
Why Do People Hire Our Blog Writers?
SEO-READY ARTICLES
Our writers understand the basics of on-page SEO. Therefore, all blog articles are written with an SEO approach so that they can rank higher on search engines.
HIGH QUALITY CONTENT
One of the most important ranking factors is high-quality, informative content. Thus, our blog writers for hire do not compromise on the quality of articles.
KEYWORD RESEARCH
When you order articles for your blog, our team will do the keyword research on your behalf. Thereafter, we will come up with a list of low competition keywords that will drive traffic to your site.
BULK ORDER DISCOUNTS
When you order more than 20K words, you qualify for a 20% discount. You can seek more information from our bulk ordering page.
What Our Blog Writers For Hire Can Do For You
TOPIC IDEATION
We will help you select exciting blog topics and titles to discuss when you hire our blog writers to write for you. This is because choosing the right topic and keywords for your blog posts needs a professional and experienced approach. Accordingly, we use several keyword tools to come up with the best combination of long-tailed, less competitive, and relevant keywords for your blog.
PUBLISHING
More so, when you order from Content Clerks, you have the option of letting us publish for you and structure your blog. Here, our experts ensure a good flow of the content and that readers enjoy it from beginning to end. In addition to that, we also ensure that the blogs are written using the correct tone. That is more reason that you should hire blog writers from Content Clerks.
VISUAL APPEARANCE
Apart from creating content, you can trust us with the visual appearance of your blog. 
Here, we ensure that we play around with fonts, colors, and images to give your blog an excellent visual appearance. This is since blogs with too many words and without any forms of multimedia like videos, pictures can be tedious.
FORMATTING
In addition, we do our best to ensure that we format your blog accordingly. Subsequently, we make use of headers and sub-headers to break up large text blocks and include images as well. Given that we are experienced bloggers, we will create an attractive and educational blog for you.
PROOFREADING & EDITING
When you hire our blog writers, we allocate time to editing and proofreading your blog before publication. Granted that editing ensures that you publish error-free blog content and that your content serves the intended purpose. After all, through our quality content, your blog reflects professionalism and what your brand stands for.
Why Choose Content Clerks?
QUALITY
Our company is a renowned brand thanks to the high-quality services that our blog writers for hire produce. Here, our experts take the time to understand your business and identify the right audience. Then, the professionals write tailor-made content that's specific to your audience. Besides, our content is informative and creative enough to keep your audience glued to your website. Above all, we ensure that we thoroughly edit and optimize your blog using advanced proofreading and SEO tools. Hence, our blog writers for hire will only post error-free and relevant content that your audience likes.
DEPENDABILITY
At Content Clerks, we aim to satisfy our clients and offer them the best blog services in the market. Above all, we are dependable, and you can count on us to deliver quality work. Furthermore, if you encounter any problems with your blog, we are here to help. In fact, our professionals have problem-solving skills and counter any issue that may occur during service delivery. This problem-solving approach helps avoid delays significantly.
TIMELY DELIVERY
Working with us is a great experience because we offer timely services. At the beginning of a blogging project, we always create a work plan with deadlines. Fortunately, our blog writers for hire dedicate their efforts to ensure that they meet all deadlines. Additionally, we will always inform you when we experience unexpected delays. However, you need not be worried about lateness and extensions because we address the issues fast.
24-HOUR SUPPORT SERVICES
A good blogging service listens to its clients and provides the necessary support. That being said, our company understands that managing a blog isn't easy, and you may experience an emergency. However, you don't have to remain stuck because our experts have your back. Hence, we have a customer support team that works day and night to answer your questions and respond to your queries. With this instant assistance, the chances are that your blog will thrive.
AFFORDABILITY
Our blogging services are also affordable. We understand the importance of having a quality blog for your business and make our services as affordable as possible. Hence, when you compare our rates with other blog writers for hire, you'll realize that we offer reasonable rates. Therefore, you can access our services even if your budget is small. That makes us a favorite for both small and big companies.
Additionally, we offer discounted rates to our loyal customers at different times. Therefore, you should choose us every time you need blog writers, and you will eventually get your reward and enjoy quality prices at a lower price.
PROFESSIONAL SERVICES
Content Clerks also displays professionalism. All our interactions with clients are professional. Therefore, we arrange for meetings and write professional emails updating you on the progress of your blog. Additionally, we respond to all your calls and emails addressing your concerns. Consequently, there's no point at which we will leave you unattended or in the dark regarding your blog's performance.
EFFORTLESS PROCESS
Working with our company is a dream come true because the process is straightforward. When you approach us and tell us the kind of blog you want, you can leave the rest to us. In short, you can be sure that we will meet your expectations. Besides, our website is easy to use, and you can reach us at any time. Similarly, the website is appealing and contains all the information you may need about us, including our contacts and services. Even making payments is easy, and you don't have to worry about payment delays. As a result, our systems support various payment methods, and you can pick one that's convenient. Most importantly, you can read our reviews and be confident that we offer quality services.
If you're searching for blog writers for hire, consider Content Clerks, and you will not regret this decision.