Food Content Writing Service
Looking to get great recipes and blog posts? Get started with our food content writing service for only $0.05 per word!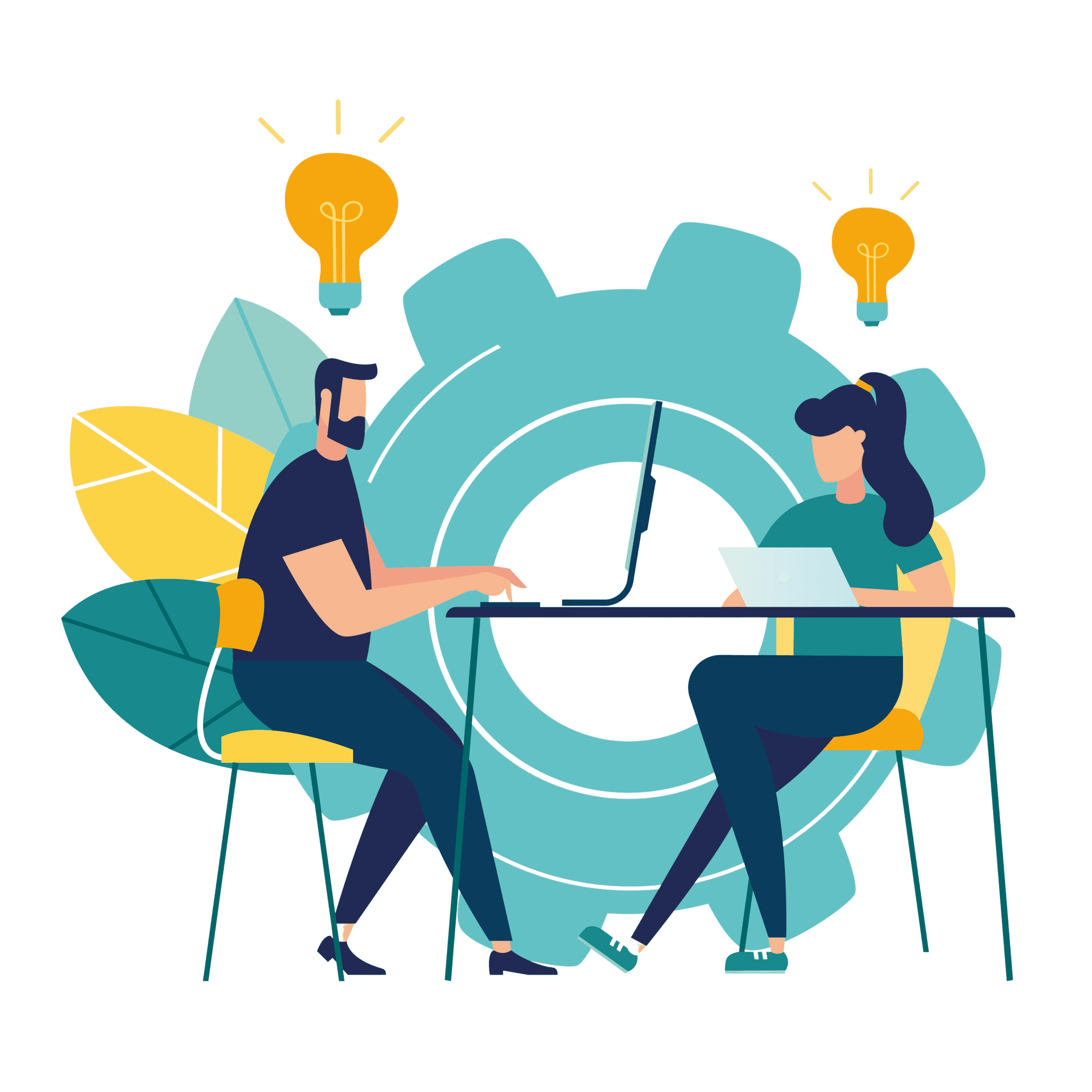 1000+ websites trust us to write their content
About Our Food Content Writing Service
In the food industry, it's easy to get lost in the crowd. As such, creating great content is one way that'll help you stand out. But being as busy as you are, this may seem impossible. That's why we're here to help. Content Clerks offers a food content writing service that will take your business to the next level. We'll create engaging, informative, and persuasive content to help you get noticed online, grow your audience and increase your sales. With our service, you'll be able to focus on what you do best - running your business - while we take care of creating the content that will help it thrive. Plus, our team of experienced writers knows how to craft content that will resonate with your audience and help you achieve your goals.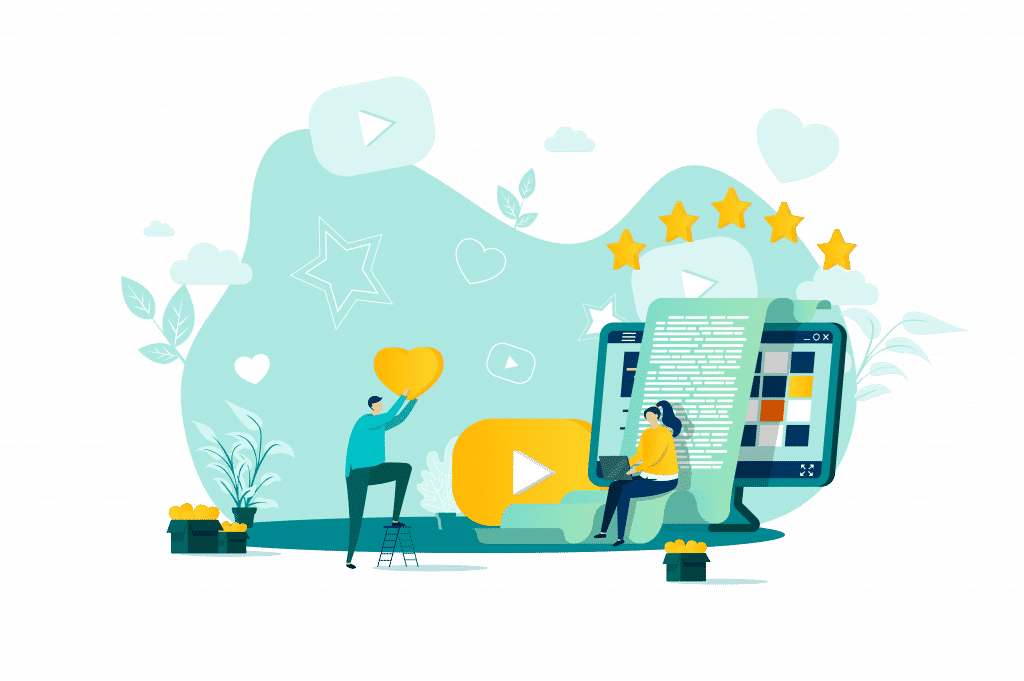 Blog Writing
Blogging remains one of the best ways to engage your audience. Our team will write compelling blog posts that will keep your fans hooked and wanting more!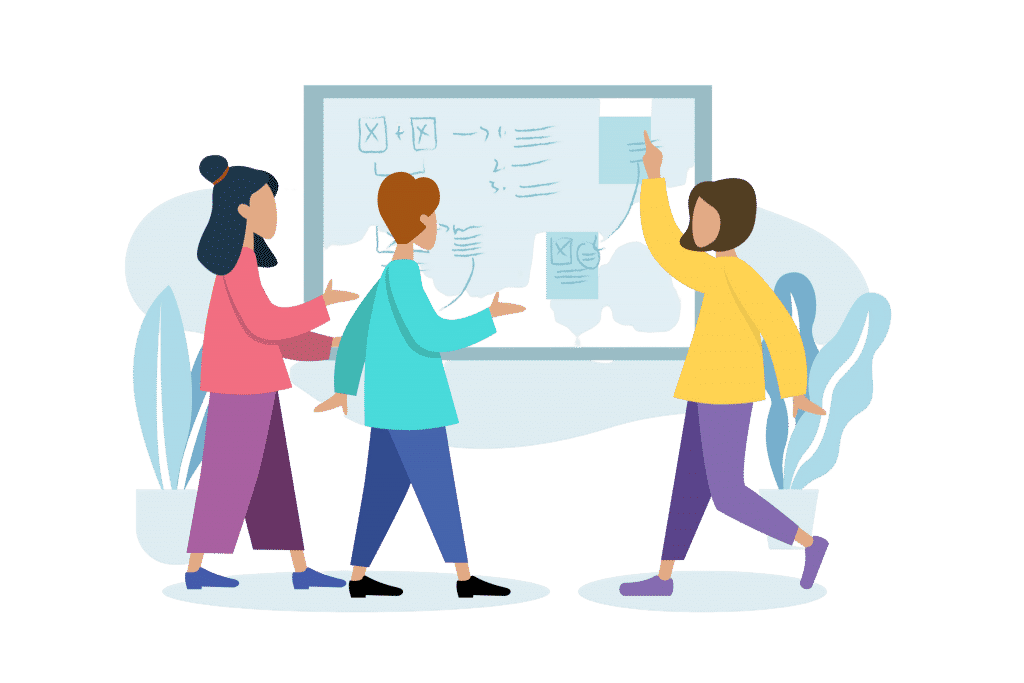 Web Pages
Whatever the subject, we deliver engaging website copy written with SEO & conversion in mind. We write this content with the voice of your brand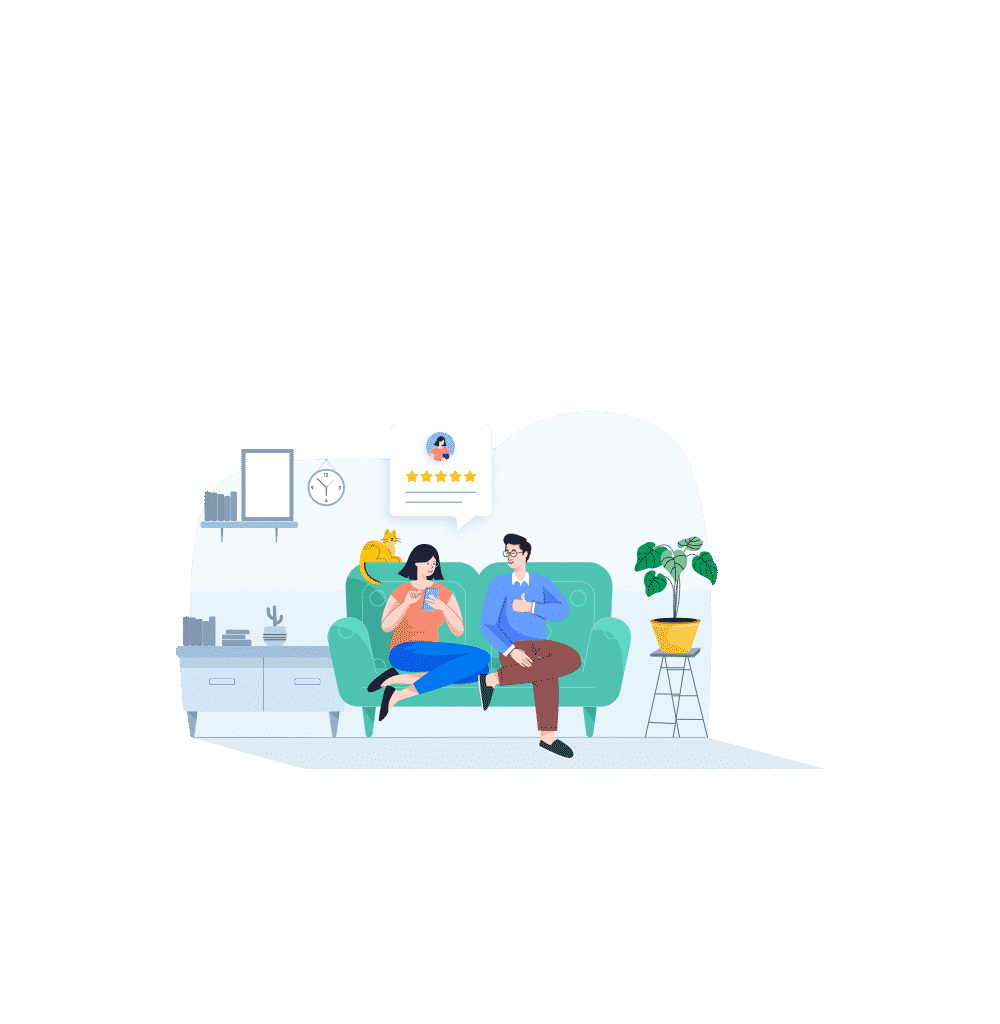 Product Reviews
We write well-researched product reviews that are perfect for any affiliate marketing website. No product or niche is too difficult for us. We've got you covered.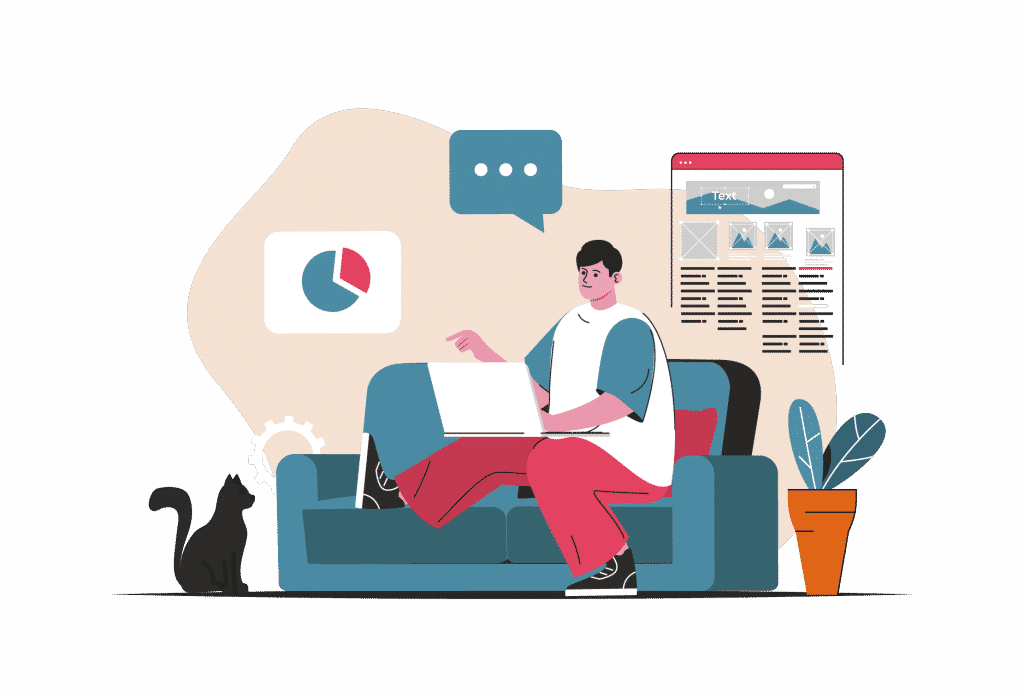 Articles
Our writers will deliver engaging and informative articles ready to be published on your website and shared on social media.
Single Order
$5 per 100 words
Order any type of content
This is great for individuals or small businesses
No minimum word count
High-Quality Content
Vetted Writers
Proofread Content
Up to 3 Revisions
Full Support
Turnaround Time (1-3 business days)
Place Your Order
Agency (Popular)

$4 per 100 words
20,000 words or more in total.
This is suitable for agencies that need more than 20,000 words of content in total.
Minimum of 20,000 words in total
High-Quality Content
Vetted Writers
Proofread Content
Unlimited Revisions
Full Support
Dedicated Account Manager
Dedicated Writers
Topic Ideation & Keyword Support
Turnaround Time (7-14 business days)
Place Your Order
Super Agency
$3 per 100 words
Do you need more than 100,000 words?
This is suitable for agencies that need more than 100,000 words of content in total.
Everything in the Agency Plan
Meta Descriptions Included
Royalty Free Images
Blog Management Option
Place Your Order
What Customers Are Saying
"We use Content Clerks regularly for blog articles and monthly email newsletter copy. We have always been impressed by the quality of the work and the speedy turnaround. I would recommend it to other businesses."
"Content Clerks has been a big part of our journey. Combined with our SEO goals, they have helped us increase website visibility for chosen topics. I also like that we can always find the right type of writers for our needs. They can help you establish thought leadership in your niche."
"Whenever our clients require us to write quality blog posts for them, Content Clerks is our go to. Their process is excellent, and they have great communication. Also, since our website is a complete blog, we need fresh content every day. They always deliver."
Frequently Asked Questions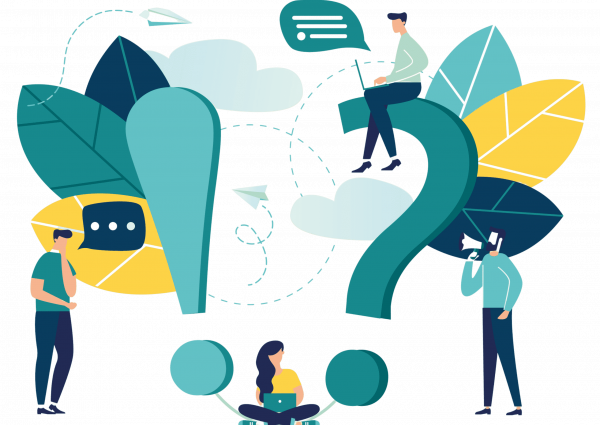 Content Clerks Vs Other Food Content Writing Services
| | Content Clerks | Top Content | Article-Writing.Co | Crowd Content | Verblio |
| --- | --- | --- | --- | --- | --- |
| Pricing per word (Pro Level) | $0.05 | $0.043 | $0.1 | $0.088 | $0.12 |
| Turnaround Time | 3 days | Not Specified | Not Specified | Not Specified | 3 days |
| Publish on WordPress | Yes | No | No | Yes | Yes |
| Sign up | No | Yes | Yes | Yes | Yes |
| Dedicated account manager | Yes | No | No | Yes | Yes |
How to Order From Our Food Content Writing Service
Place Your Order in 3 Easy Steps
Step 1: Select Your Package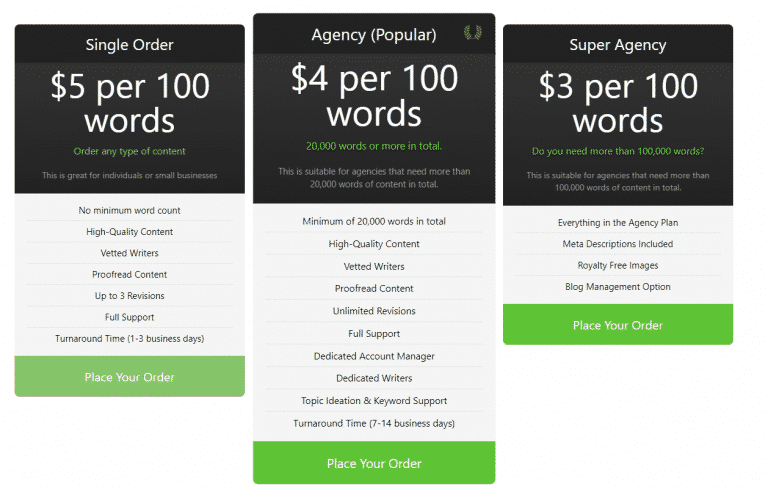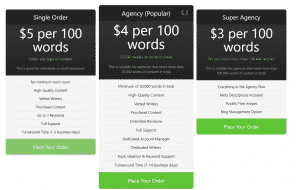 Navigate to the Place Order page where you can select the package that best suites you. We have three options for our food content writing service. The Single Order package that has no minimum word count, The Agency Package that allows you to order anything from 20,000 words at a rate of $0.04 per word and The Enterprise Package. 
Step 2: Fill in Order Form
Step 3: Place the order
Why Consider Our Food Content Writing Service?
WELL-DONE PREP
When it comes to food content, quality is key. That's why our team takes the time to carry out in-depth research that involves keyword research. By understanding what people are searching for when they're looking for food-related information, we're able to create content that's both informative and engaging. In addition, our food content writing service also takes into account the latest trends in food culture. Whether it's a new restaurant opening up or a new food trend taking off, we make sure that our content is always on the cutting edge. As a result, you can trust that your readers are getting the most accurate and up-to-date information when they read your food content.
UNIQUE CONTENT
One size does not fit all. That's why our content writing service offers a unique and customized approach for each of our clients. We start by working with you to understand your specific needs and objectives. We then research your target audience and develop a content strategy that resonates with them. From there, we create engaging and informative content that highlights your unique selling points and drives conversions. Whether you're looking for blog posts, recipes, or product descriptions, our team of experienced food writers will craft content tailored to your brand and sure to tantalize the taste buds of your target audience.
SEO-FOCUSED CONTENT
If you're looking for a content writing service that can help you create SEO-focused content, then Content Clerks is the right choice for you. 
We specialize in creating content designed to help your website rank higher on search engine results pages. In order to do this, we focus on creating keyword-rich articles and blog posts that are informative and helpful to your readers. We also ensure to include links back to your website to help improve your website's link popularity. In addition, we can also help you promote your content through social media and other online channels.
CUSTOMER LOYALTY DISCOUNTS
We understand that good food writing requires a lot of time and effort, so we want to make things easier for our regular customers. With our loyalty program, you can get discounts on future orders simply by referrals and actively participating in our community forum. What's more, our program is designed to be flexible, so you can choose how often you want to receive discounts. 
AN EXECUTIVE ACCOUNT MANAGER
Our food content writing service offers an executive manager for each client and project. This allows you, as our client, to have a dedicated point of contact who can manage your project from start to finish. Our executive managers are food industry professionals with years of experience in project management, food writing, and food styling. They will work closely with you to ensure that your project is on track and on budget. In addition, our executive managers will provide guidance and support throughout the entire process, from initial planning to final delivery. We believe that this personal touch is what sets us apart.
What Kind Of Content Do We Create?
Looking to boost your web traffic with mouth-watering recipes? Or maybe you want to create a cookbook that will help you sell more products. We specialize in creating delicious recipes, articles, web copy, product descriptions, cookbooks, and landing pages that achieve your business goals. And we do it all with a smile! Our team of talented food writers and editors are passionate about food and know how to make your mouth water with their words.
Benefits Of Our Food Content Writing Service
SEARCH ENGINE OPTIMIZATION
Content is the key to success on the internet. That's why you need to make sure your content is optimized for search engines. And that's where we come in. We are a service that helps businesses create content that is both keyword-rich and informative. We also provide guidance on how to structure your content for maximum impact. As a result, your business will be able to attract more visitors, convert more leads, and ultimately boost your bottom line. 
CONTENT THAT CONVERTS
Attracting customers and converting leads are significant business goals – but it's not always easy to come up with high-quality, informative content that engages the reader and drives results. Our food content writing experts can help your business create content that truly converts. We'll work with you to understand your brand voice, target audience, and desired outcomes, and then we'll craft detailed, well-researched content that tells your story in a way that resonates with your readers and helps you achieve your business goals. 
CLAIM BRAND AUTHORITY
If you're in the business of food, then you know that brand authority is essential for success. Whether you're a restaurant owner looking to attract new customers or a food manufacturer working to establish your product as the best in its class. And our service seeks to help you achieve this. 
From website copy and blog posts to eBooks and white papers, we can help you share your story with the world putting you on the map as one of the best in the game. 
GROW YOUR AUDIENCE
Chances are, you're always looking for ways to grow your audience and reach more potential customers. Content is a great way to do this. We provide businesses with the articles, recipes, and tips you need to attract more readers and followers. Plus, we don't just provide quality content – we also optimize it for search engines so that your audience can find you easily. 
SOCIAL MEDIA SHARING
It's no secret that businesses need to be active on social media these days. But many businesses don't realize that simply sharing updates about your product or service isn't enough to capture attention and drive results. To really stand out on social media, you need to create interesting and shareable content. And because our content is written by experienced food writers, it is sure to capture the attention of your target audience.
ATTRACT HIGH-QUALITY BACKLINKS
Not only does a well-written blog provide valuable information for existing and potential customers, but it can also help to boost search engine ranking and build links with other websites. In fact, great content can result in backlinks from very high-quality websites. This, in turn, leads to higher search engine rankings and more traffic to your website.  
Whether you are a chef, baker, food stylist, bartender, sommelier, pastry chef, chocolatier, food critic, barista, or restaurant owner, we can help you create content tailored to your needs. We understand the importance of creating accurate and engaging content, and we will work with you to ensure that it is of the highest quality.
What Do You Get From Content Clerks?
ON-TIME DELIVERY
We understand that timely delivery is essential for our customers. That's why we offer a variety of services to help you meet your deadlines. Our team can provide high-quality content on a tight schedule. We also offer a rush delivery option for any urgent orders. And if you're not satisfied with the finished product, we'll make changes at no additional cost. 
UNLIMITED REVISIONS
Our food content writing service offers unlimited revisions for the content we create. That means that if you're not happy with something, we will fix it for free. And if you're still not satisfied, we'll keep working until you are. That's our promise to you. We know how important it is to get things right the first time, so we don't take any chances. Our team will work with you to make sure that your voice comes through loud and clear. 
AFFORDABILITY
At Content Clerks, we aim to offer affordability without sacrificing quality. We understand that not everyone has a large budget, but that doesn't mean you should have to settle for sub-par content. Our team of talented writers can produce high-quality content on a variety of topics, and we're confident you'll be happy with the results. In addition to our low prices, we also offer a variety of discounts and bundles to help you save even more.
24-HR AVAILABILTY
We understand that your website is your 24/7 storefront. That's why our food content writing service offers around-the-clock availability. Whether you need a new blog post, product description, or recipe, our team is always ready to lend a hand. Our executive account managers are also always available to answer any questions and help you solve any problems you may have. Our team is standing by to help you take your online presence to the next level.