Web Copywriting Services at Content Clerks
Looking for web copywriting services? Content Clerks is here to deliver high-quality website copy just for you.
More Info
Place Order
Web Copywriting Services Just For You
Different websites require different types of web copy. Especially if you are the ultimate online entrepreneur, you have thought about how you can profit in your niche. Therefore, while the plan might be clear, it can get fuzzy when you start thinking about your landing page copy and the rest of the content for your website. However, our website copywriters can help you with that and push you closer to realizing your business objectives. 
How to order from our Web Copywriting Service
Here is a step by step guide on how to go about our web copywriting ordering process
1. Select type of content and number of words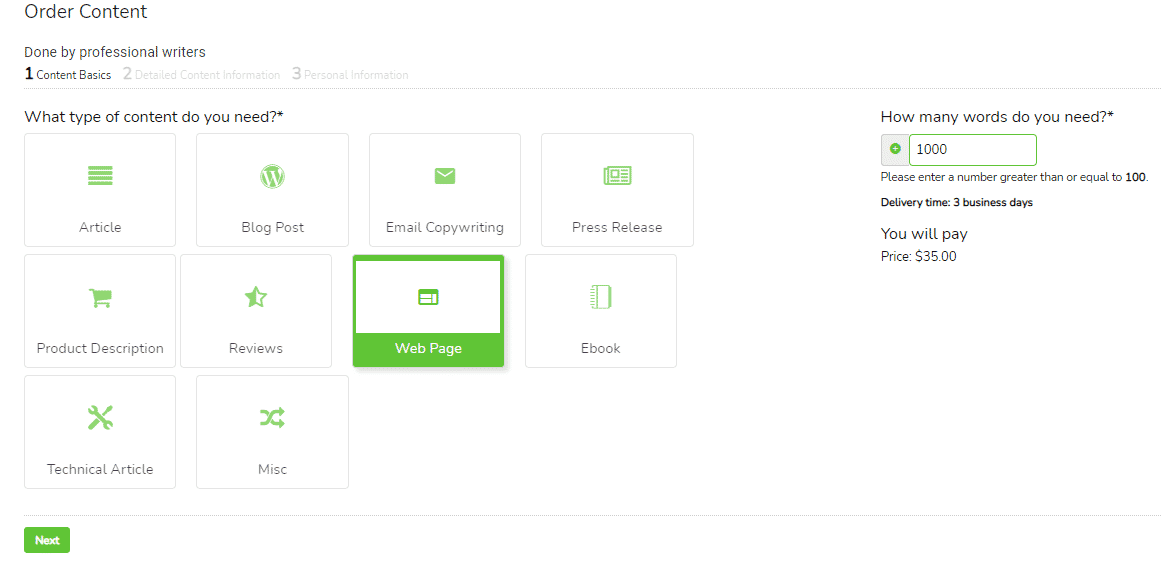 Ordinarily, the ordering process is quite easy. First, you need to select the type of content that you want. Here, there are various options to choose from, including articles, web pages, and blog posts. So in this example, we have selected a web page.
Then, you need to indicate the total number of words for your order. Moreover, if your order is more than 20,000 words, we recommend you go for our
bulk ordering option
.
Thereafter, the total price will be indicated. For this we charge $0.035 per word. And the delivery time will be about 3 working days.
2. Provide more information about your order
Next, you will need to provide some more information about your order. Here, you'll give us details like the titles, subjects, links to similar content, etc. Subsequently, our professional copywriters will use this information to write your content so make sure it is as detailed as possible.

3. Fill in your contact information and make the payment
Actually, the next step is the easiest of all. In fact, all you need to do is provide your name and email address. Here, make sure you fill in the correct email, as this is how your account manager will reach you. After clicking "Place Order" you will be redirected to a secure PayPal page where you can pay via PayPal, Debit or Credit Card. Just like that, your order will be placed. Then leave the rest up to us.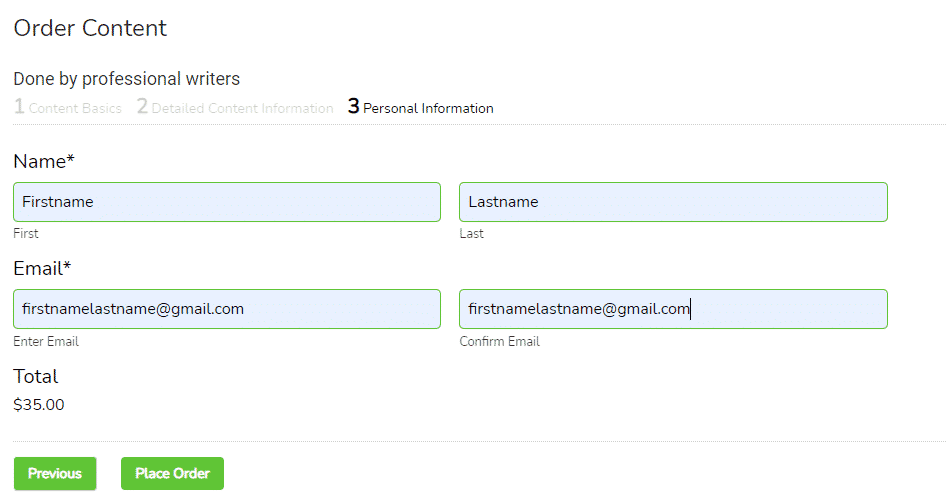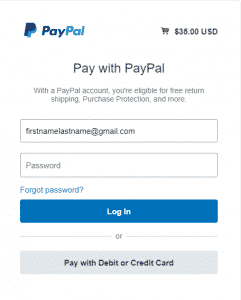 4. Confirmation Email & Finally your complete order
Here, you will get an automated confirmation email showing all the details of your order. Therefore, feel free to make any changes by replying to the email if you notice any mistakes you might have made.
In addition, your account manager will also be at your disposal. Furthermore, they will update you on the order progress. Once your order is ready, you will receive an email notification with the downloadable file.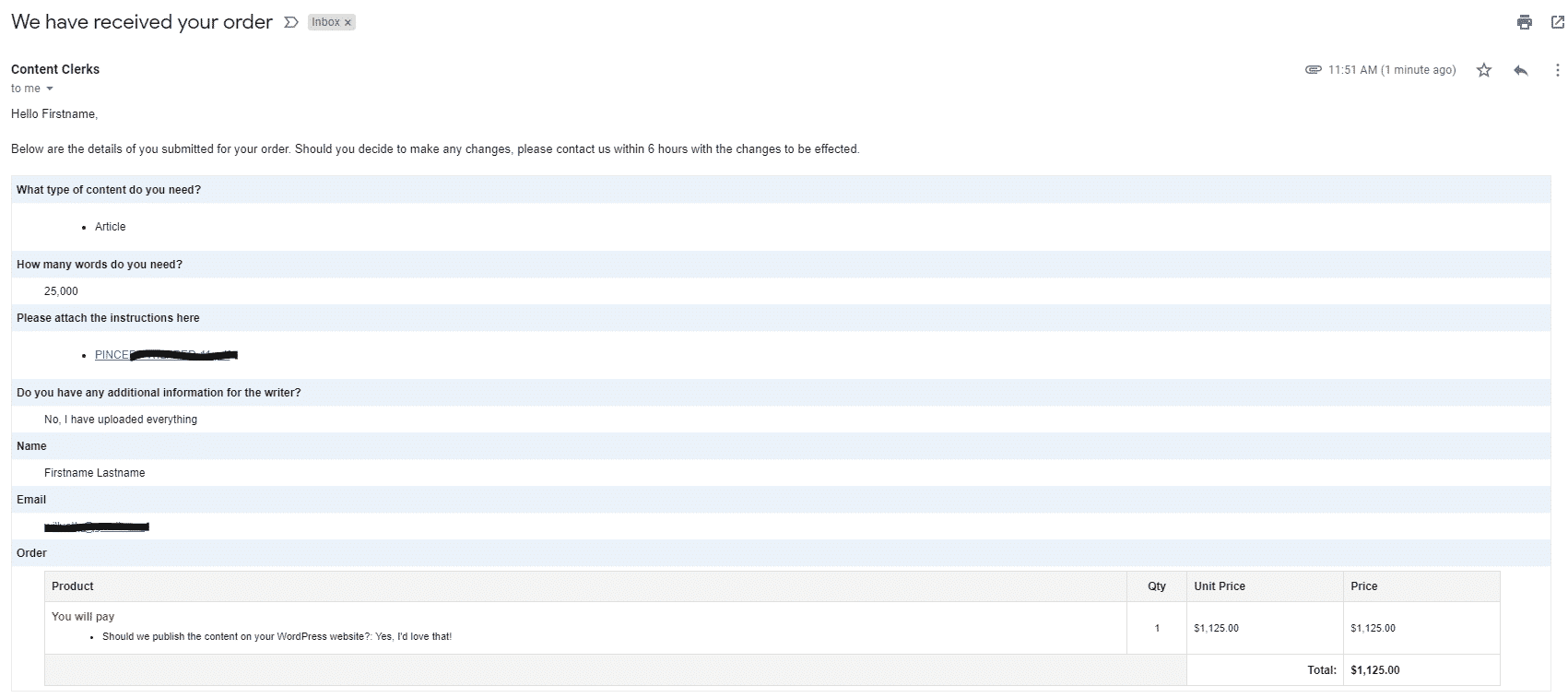 What Others Are Saying About Content Clerks
Content Clerks has been a great solution for our company because we have been able to get a constant supply of articles from them. Because our business heavily relies on search as a source of traffic and an active blog, constantly being fed by their team of writers has helped us grow beyond what we could ever imagine.
Jodie Jukes

Trendie Woman
Frequently Asked Questions on our Web Copywriting Services
How much does your web copywriting service charge?
Here, we charge $0.035 per word for a normal order. That means you pay $35 for a 1000-word article. Moreover, when you order more than 20,000 words, you will get a 30% discount. Granted, we guarantee high-quality articles despite our low prices.
Do you offer keyword research and topic ideation?
Actually, if you are stuck and do not know what topics to choose for your landing pages, product pages, or blog posts, you need to go for our bulk option. That way, we can do this on your behalf. In fact, this is one of the perks you get when you order from us. This is so as we have a trained SEO team that knows how to identify low competition keywords in any niche. In fact, our team uses premium keyword research tools and human reasoning to get this data. Afterwards, we will compile a list of keywords and you can approve them based on what your website is about.
Will my web copy be original?
Simply put, yes, they will. Because our writers are professional enough to write original and compelling content for you. In addition to that, we also pass all content through a plagiarism checker. Therefore, our web copywriting services will ensure everything you are getting is unique and not fluff copies from other internet sources.
Will I own the content submitted to me?
Certainly, yes. You own all the rights to the content we send you. Therefore, you can publish this content anywhere you want as your own.
How do your writers understand my niche?
In fact, we have a team of over 100 writers who are specialists in various subjects. Therefore, when you place your order and specify your niche, we assign your content to be written by someone who understands the field. This, coupled with in-depth research on a topic helps us churn out amazing content. Thus, all our content, regardless of the subject has a professional feel to it.
How long does it take to receive my web copy?
Typically, it takes about 3 working days to complete an order. However, depending on the length and complexity of your project, your account manager will keep you updated if these timelines will change.
What if I want changes made to the web copy?
Here at Content Clerks, customer satisfaction is our number one priority. Despite the fact that our content is top-notch, there are occasions where you need modifications to be made to your content. Therefore, we take this very seriously and we will revise your web copy until you are fully satisfied with our work. Ultimately, you get unlimited revisions every time you use our web copywriting services.
Work with the best web copywriters online
Join 1000+ businesses and individuals that trust Content Clerks to take care of their article writing needs.
GET STARTED TODAY
Content Clerks- Your Go-to Web Copywriting Service
Certainly, thanks to our rich pool of talented and experienced writers, we can match any industry to the best website copywriter in that space. Hence, our writers dedicate their time to research topics that you suggest or those that we help you come up with. Thus, with our web copywriting services, you can forget about the long and tiresome brainstorming sessions of coming up with topic suggestions.
Besides, we take the time to understand what your brand's voice is. Thereafter, our writers go ahead and ensure that each web page that we write for you communicates this brand tone. In fact, we aim to make sure that our clients' web pages can drawback to their brand within a sentence or two. Generally, we do this by engaging you in a session that helps us understand who you are and what you offer to your target audience. 
Affordable Services at Content Clerks
Above all, we make an effort to understand your target audience and what actions you would like them to take when they land on your website. Afterwards, our website copywriters use this knowledge to decide on what is the best content that will appeal to your audience. Not only do we deliver the message your audience is looking for, but we also make sure they take the necessary conversion actions. Thus a win-win for everyone.
Also through conversational writing, we help to convey your web page's goal to your target in the simplest way. Because each of our writers makes a goal of ensuring that your target readers stay glued to your web page. Thus, through engaging content, we help you cut down on the bounce rate on each of your web pages. Similarly, we help to improve on the time spent on each of your web pages and also to help drive more conversions. For this reason, we pride ourselves on being one of the best web copywriting services.
Therefore, if you are looking to come up with a landing page that you hope will elevate your business, then Content Clerks is the web copywriting service for you. This is because we love to see our clients drive more conversions through effective landing pages. Hence, our web copywriting services will help you come up with copy that makes even the dullest of web pages morph into a top landing page that boosts revenue for your business. 
Truly, when it comes to converting website traffic, having optimized web pages with engaging content is your best bet. At Content Clerks, we focus on helping you drive immense traffic onto your site by creating hard to ignore content for your web pages. Thus, if you are looking to offer value and drive more conversions, we have the web copywriting services you should go for. 
Here, you can order as many web pages as you need through our website and easily keep track of the progress of each. So you can simply contact us today and we'll be there to help you. 
Let's Write Awesome Content, Together.
Tell Us About Your Project.
Get Started