Looking for high-quality website copy? Get started with our web copywriting service for only $0.05 per word!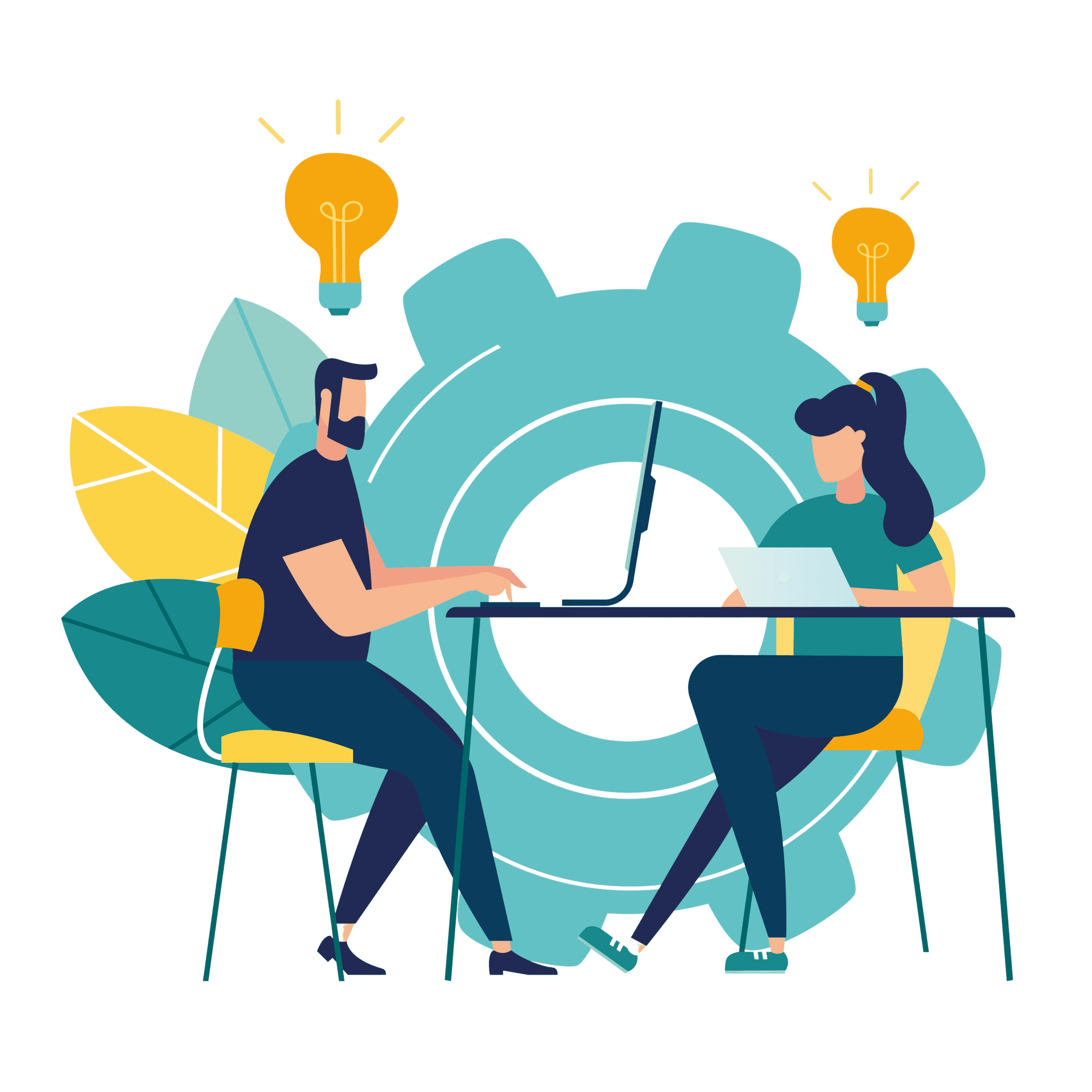 1000+ websites trust us to write their content
About Our Web Copywriting Service
Different websites require different types of web copy. And as the ultimate online entrepreneur, you know just how much great web copy can help you profit in your niche. That's why our web copywriting service helps businesses create compelling, sales-driven web copy. Our team of experienced writers and editors craft compelling copy that engages customers and drives conversions. From website landing pages to product descriptions, we can help you create content that sells. Therefore, if you're looking for a content service that can help your business achieve its online marketing goals, look no further than Content Clerks.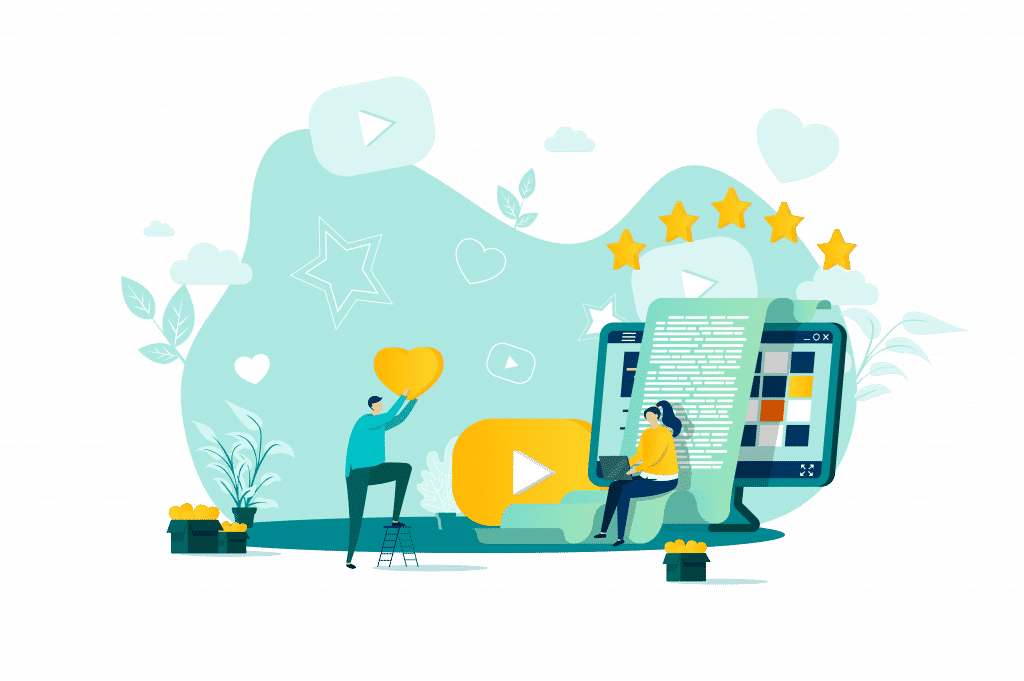 Blog Writing
Blogging remains one of the best ways to engage your audience. Our team will write compelling blog posts that will keep your fans hooked and wanting more!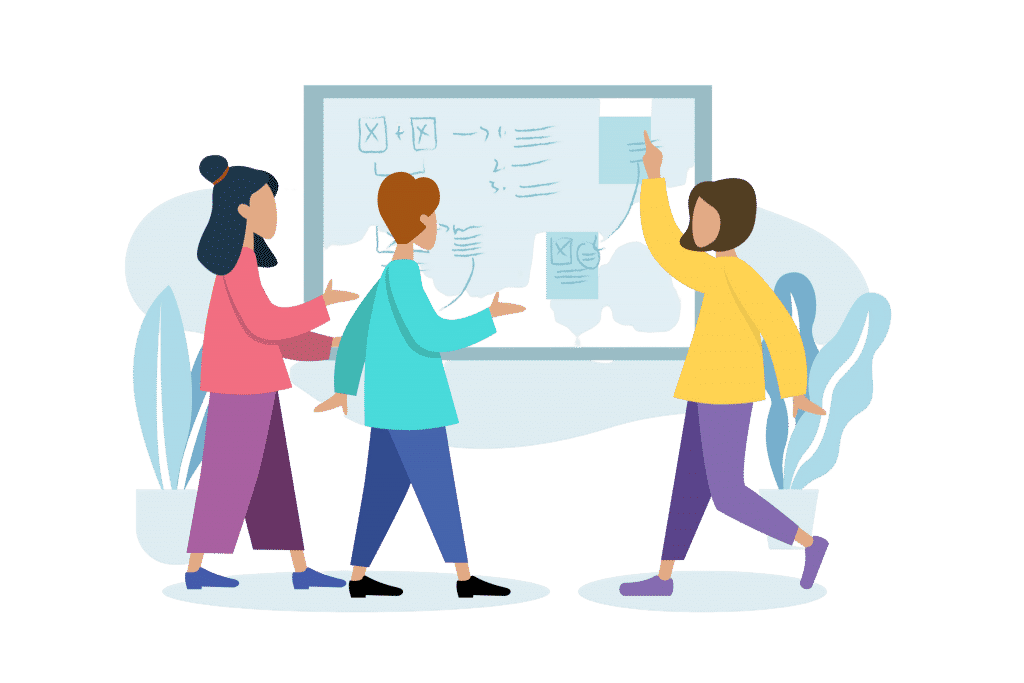 Web Pages
Whatever the subject, we deliver engaging website copy written with SEO & conversion in mind. We write this content with the voice of your brand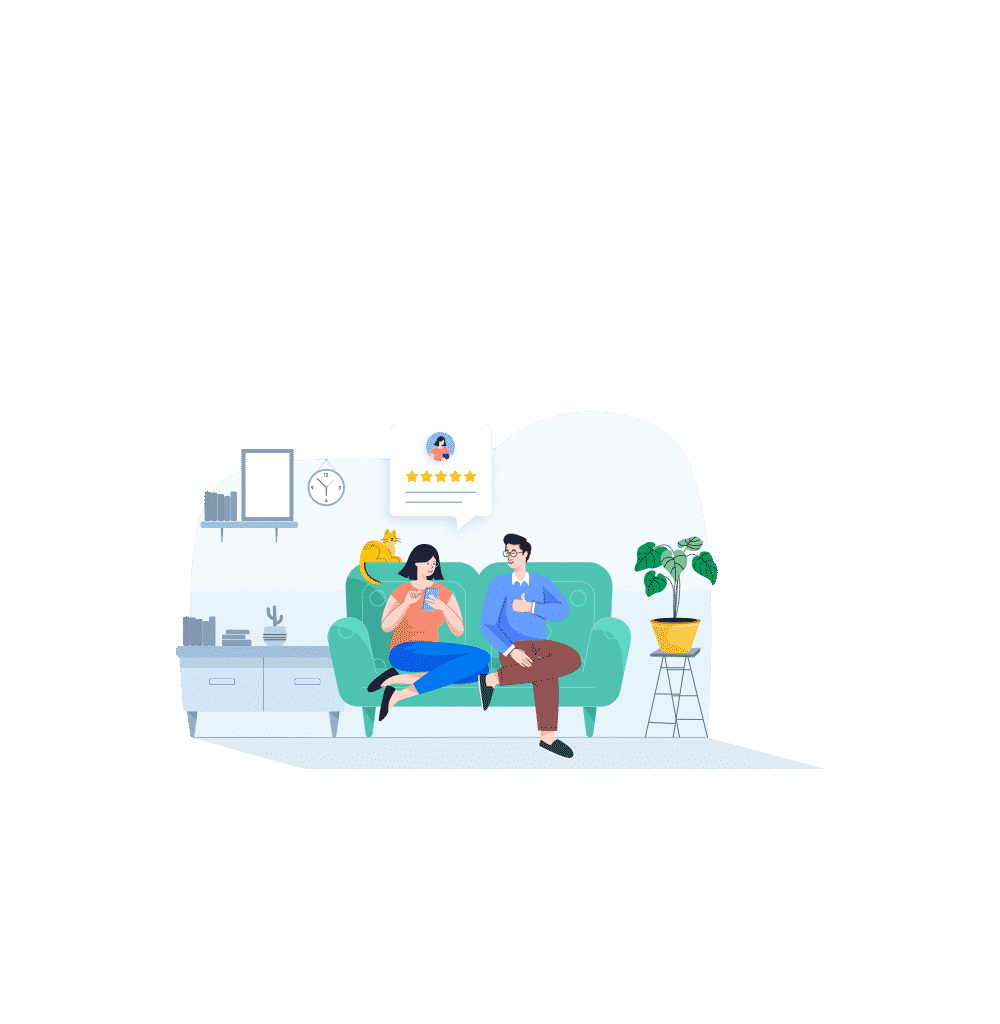 Product Reviews
We write well-researched product reviews that are perfect for any affiliate marketing website. No product or niche is too difficult for us. We've got you covered.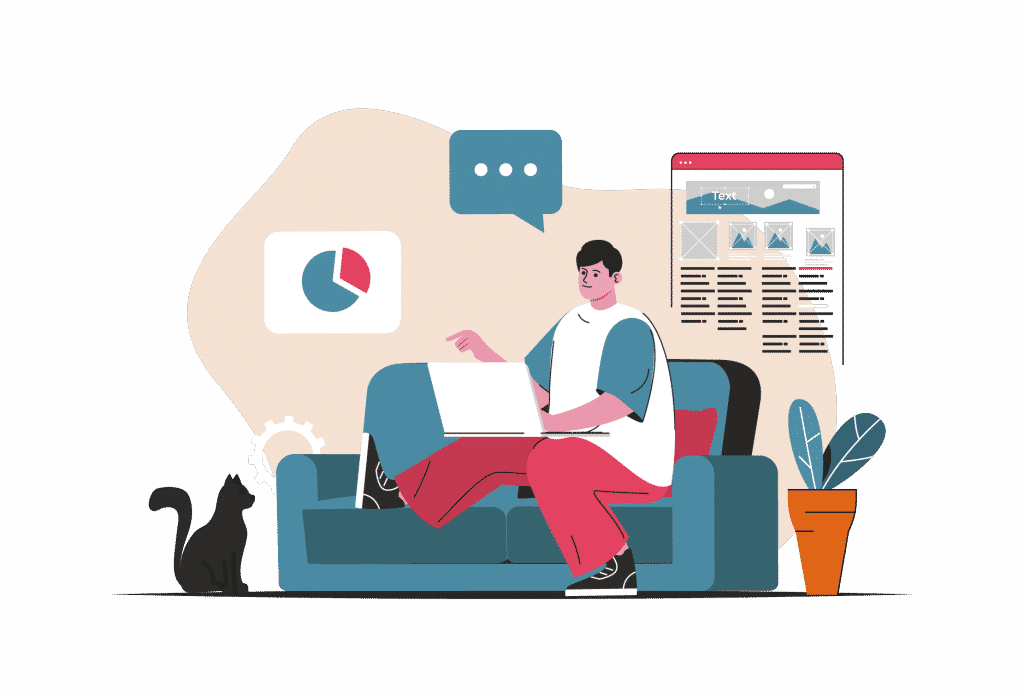 Articles
Our writers will deliver engaging and informative articles ready to be published on your website and shared on social media.
Single Order
$5 per 100 words
Order any type of content
This is great for individuals or small businesses
No minimum word count
High-Quality Content
Vetted Writers
Proofread Content
Up to 3 Revisions
Full Support
Turnaround Time (1-3 business days)
Place Your Order
Agency (Popular)

$4 per 100 words
20,000 words or more in total.
This is suitable for agencies that need more than 20,000 words of content in total.
Minimum of 20,000 words in total
High-Quality Content
Vetted Writers
Proofread Content
Unlimited Revisions
Full Support
Dedicated Account Manager
Dedicated Writers
Topic Ideation & Keyword Support
Turnaround Time (7-14 business days)
Place Your Order
Super Agency
$3 per 100 words
Do you need more than 100,000 words?
This is suitable for agencies that need more than 100,000 words of content in total.
Everything in the Agency Plan
Meta Descriptions Included
Royalty Free Images
Blog Management Option
Place Your Order
What Customers Are Saying
"We use Content Clerks regularly for blog articles and monthly email newsletter copy. We have always been impressed by the quality of the work and the speedy turnaround. I would recommend it to other businesses."
"Content Clerks has been a big part of our journey. Combined with our SEO goals, they have helped us increase website visibility for chosen topics. I also like that we can always find the right type of writers for our needs. They can help you establish thought leadership in your niche."
"Whenever our clients require us to write quality blog posts for them, Content Clerks is our go to. Their process is excellent, and they have great communication. Also, since our website is a complete blog, we need fresh content every day. They always deliver."
Frequently Asked Questions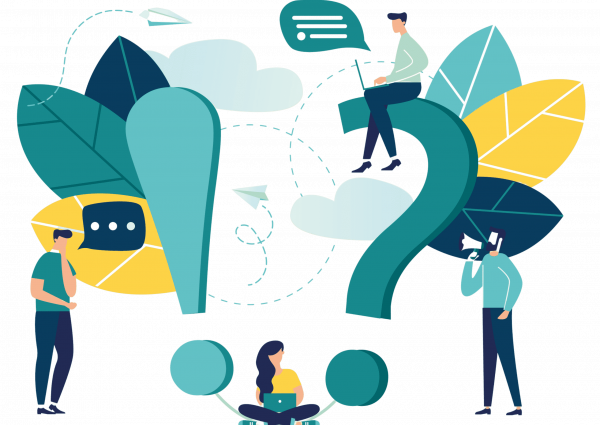 Content Clerks Vs Other Web Copywriting Services
| | Content Clerks | ContentDev Pros | Content Panel | Content Adore | Copify |
| --- | --- | --- | --- | --- | --- |
| Pricing per word (Pro Level) | $0.05 | $62.19/page | $0.09 | $0.43 | Not specified |
| Turnaround Time | 3 days | 3 days | 4 days | Not specified | 2 days |
| Publish on WordPress | Yes | Not specified | Not specified | No | Yes |
| Sign up | No | Yes | Yes | Yes | Yes |
| Dedicated account manager | Yes | No | Yes | No | No |
How to Order From Our Web Copywriting Service
Place Your Order in 3 Easy Steps
Step 1: Select Your Package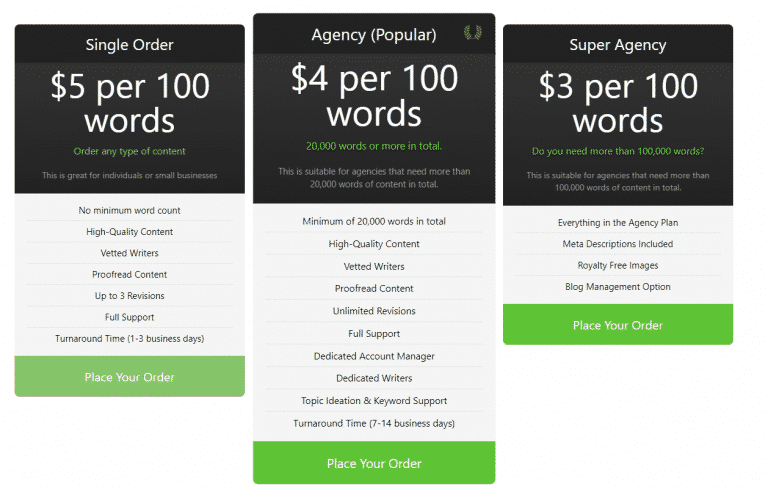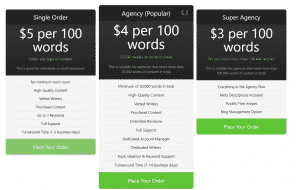 Navigate to the Place Order page where you can select the package that best suites you. We have three options for our product description writing service. The Single Order package that has no minimum word count, The Agency Package that allows you to order anything from 20,000 words at a rate of $0.04 per word and The Enterprise Package. 
Step 2: Fill in Order Form
Step 3: Place the order
Why Choose Our Web Copywriting Service?
DEDICATED WRITERS
Certainly, thanks to our rich pool of talented and experienced writers, we can match any industry to the best website copywriter in that space. Hence, our writers dedicate their time to research topics that you suggest or those that we help you come up with. Thus, with our web copywriting services, you can forget about the long and tiresome brainstorming sessions of coming up with topic suggestions.
BRAND GROWTH
Besides, we take the time to understand what your brand's voice is. Thereafter, our writers go ahead and ensure that each web page that we write for you communicates this brand tone. In fact, we aim to make sure that our clients' web pages can drawback to their brand within a sentence or two. Generally, we do this by engaging you in a session that helps us understand who you are and what you offer to your target audience. 
What you get from our Web Copywriting Service
UNDERSTANDING YOUR AUDIENCE
Above all, we make an effort to understand your target audience and what actions you would like them to take when they land on your website. Afterwards, our website copywriters use this knowledge to decide on what is the best content that will appeal to your audience. Not only do we deliver the message your audience is looking for, but we also make sure they take the necessary conversion actions. Thus a win-win for everyone.
CONVERSATIONAL WRITING
Also through conversational writing, we help to convey your web page's goal to your target in the simplest way. Because each of our writers makes a goal of ensuring that your target readers stay glued to your web page. Thus, through engaging content, we help you cut down on the bounce rate on each of your web pages. Similarly, we help to improve on the time spent on each of your web pages and also to help drive more conversions. For this reason, we pride ourselves on being one of the best web copywriting services.
CREATIVE LANDING PAGES
Therefore, if you are looking to come up with a landing page that you hope will elevate your business, then Content Clerks is the web copywriting service for you. This is because we love to see our clients drive more conversions through effective landing pages. Hence, our web copywriting services will help you come up with copy that makes even the dullest of web pages morph into a top landing page that boosts revenue for your business. 
CONVERT WEB TRAFFIC
Truly, when it comes to converting website traffic, having optimized web pages with engaging content is your best bet. At Content Clerks, we focus on helping you drive immense traffic onto your site by creating hard to ignore content for your web pages. Thus, if you are looking to offer value and drive more conversions, we have the web copywriting services you should go for. 
Here, you can order as many web pages as you need through our website and easily keep track of the progress of each. So you can simply contact us today and we'll be there to help you.