If you are a social media manager for different clients or are managing several social media accounts for your own business, then you know how difficult it can be to juggle posting relevant content to each account at the right time. A review of Sendible will help you make the appropriate decision by the time you are finished reading this article
Social media management tools exist to make these tasks easier for you. Sendible is one such tool and it comes greatly recommended by social media managers.
So what makes Sendible stand out from the other social media management software? In this Sendible review, we will explore the features that make it a suitable social media management software.
→Download Now: Free SEO Checklist For 2020
Scheduling
A strong scheduling platform is probably the first feature you look for in any social media management software.
Sendible has impressive scheduling capabilities.
To start you off, Sendible allows you to connect several social media accounts across several platforms like Twitter, Facebook, Instagram, and even lesser-known social media sites  
In order to schedule your posts, you just select the account you want to post to, write your message and upload any media content you want to go with your message then set the time you want the post to go live.
Sendible allows you to have a content queue. This means you can add the content you want to go live in bulk then set the time you want each content to go live.
You do not have to retype your content if you want the same post to be broadcasted several times.
Sendible Analytics And Reporting Tools

You can easily track the effectiveness of your engagement using Sendible.
Sendible uses Google Analytics to show you the effectiveness of your social media campaigns, page visits, reactions, and shares of your content.
Analytics show you what time most people engage with your content. Tthis will help you to plan your schedule times well.
You can also see the type of content your audience likes so you can recycle such posts or create others along the same lines.
Sendible gives you 250 reporting templates for Facebook, Twitter, Instagram, Linkedin, Google+ and other platforms that you can send to your clients to keep them abreast of progress on their platforms.
You can also use the modules available on Sendible or create your own customized reports.
The result is a professional report in PDF format that you can email to your client.
The reporting feature can also be automated so that automatic reports are sent to your clients on a daily, weekly, or monthly basis.
Collaboration
Sendible makes it possible for you to distribute work among your team. You can give individual team members control over certain client accounts and assign them individual dashboards.
You can also set up different levels of permissions for each team member so they do not have access to the whole platform.
If you need to approve all the posts before they go live, Sendible gives you a 'Send for approval' option that gives you ultimate control over your team's work.
Sendible's calendar has an 'Overview' feature that lets you see queued posts by your team and when they are scheduled to go live.
There is also a color coding and symbol option that allows you to set a certain color to each team member.
This way you can easily track the activity of your team members in order to efficiently serve your clients.
Sendible Extra Features
Sendible goes the extra mile to ensure that your social media management is seamless.
The platforms cater to all levels of agencies, whether you are managing several accounts by yourself or have a growing team.
Some additional features worth noting include:
Post Recommendations
White Labelling
CRM
Customer Support
Multi-Tier Payment Plan
Post Recommendations
To ensure that you provide your audience with relevant information,
Sendible allows you to search the internet for trending articles that you can share on the accounts you are managing.
This is a time-saving feature available in all tiers of Sendible.
White Labelling
White labelling allows you to attach your company's name to your client reports rather than just Sendible's branding.
This way your reports come off as very professional, no matter the size of your agency.
Sendible takes white labeling a step further by allowing you to use their software to create your own platform.
This option means that Sendible branding will not be anywhere on the management platform.
This is really impressive especially to those clients who still want to post their own content once in a while.
CRM
Sendible recognizes the need to interact with your audience and build relationships.
When you interact with people in the account's comment section or through private messaging, Sendible gives you the profile information of these customers.
This allows you to tailor your messages to each individual based on their actual background and interests.
Sendible Customer Support
Sendible reviews show that the platform has a great customer service team. Inquiry emails are responded to in a professional and timely manner so you can quickly solve any glitches you are having with your software.
The customer service team also sends you video content tailored to help you and your team achieve your goals.
Sendible Multi-Tier Payment Plan
Sendible offers multiple payment plans for solo social media managers, small agencies and larger teams.
The plans give you the features you need based on how big your team is. All these plans have a 30-day free trial period.
This gives you and your team to interact with the Sendible software to determine fit before making a long-term commitment.
To summarize this Sendible review, here are its most impressive features:
Compatible with all major social media sites like Instagram, Facebook, and LinkedIn as well as lesser-known sites
Allows you to schedule posts in bulk
Recommends relevant content for sharing across multiple social media platforms
Allows team collaboration for managing different accounts and helps you keep track of team members' activities on the platform
Professional reporting templates customizable to include your company's branding
Multiple payment plans available with a free trial for each plan
There are some disadvantages of Sendible though:
No free plan is available
The mobile app is glitchy and crashes if used to schedule posts
Difficult to track bounced posts from the platform
Verdict
Users have found that the cons do not outweigh the pros when using Sendible.
If you are not convinced to use the platform even after reading this Sendible review, sign up for the 30-day free trial and check out the platform for yourself.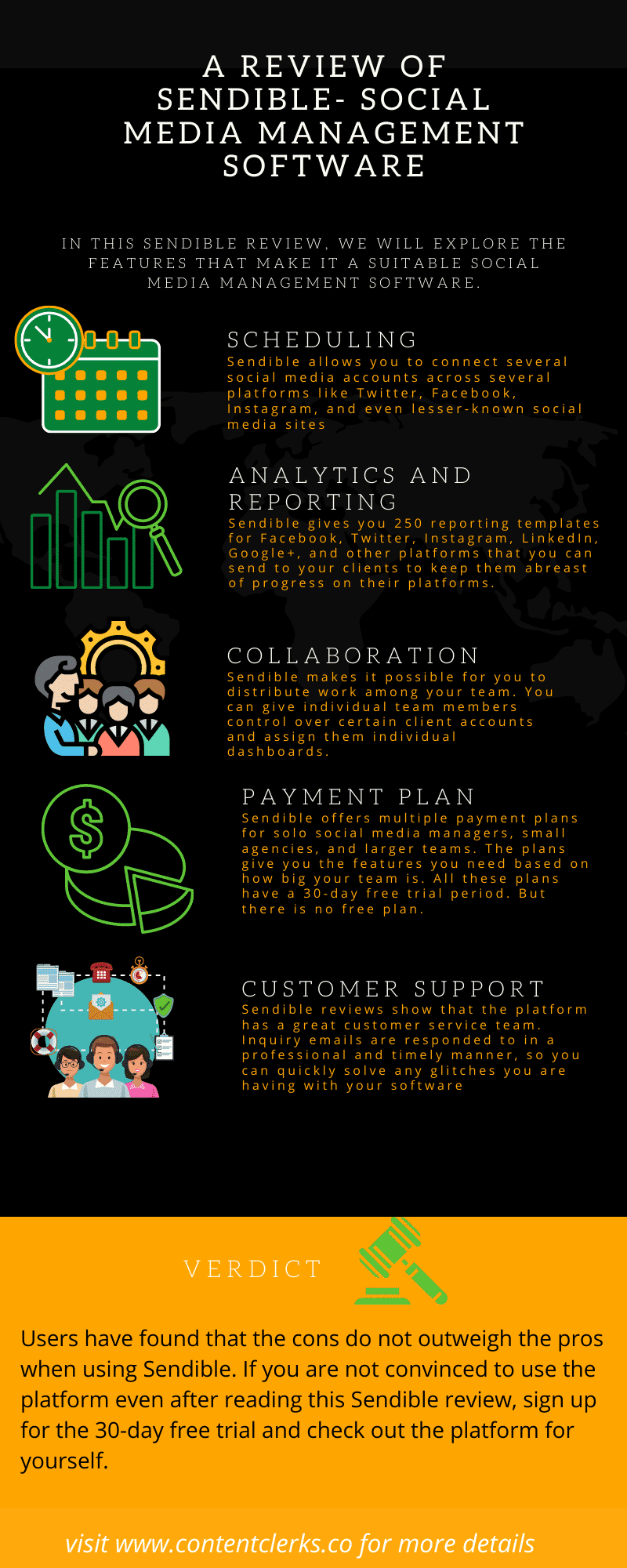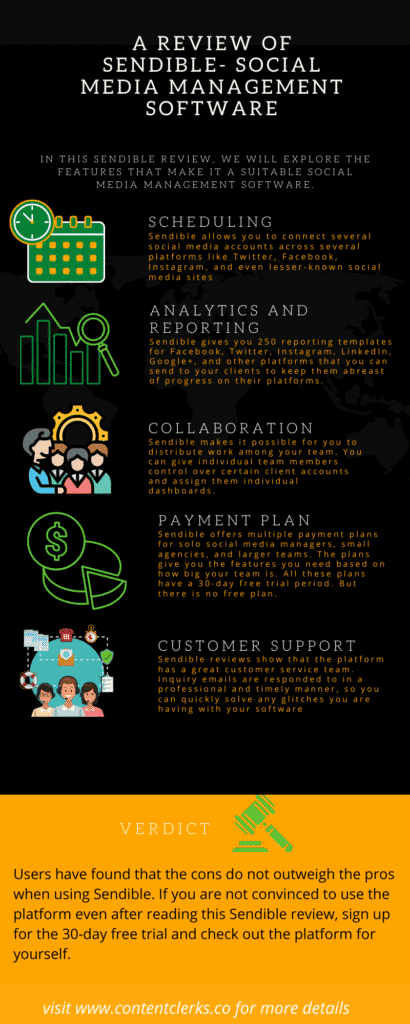 Is Sendible free?
Yes, offers a free demo but not a free plan
Does Sendible support publishing to Pinterest?
Yes, you can also publish your content on Pinterest.
How good is Hootsuite?
Hootsuite is better as you can handle multiple social media sites without logging into the respective accounts
How good is Hootsuite?
There are many social media management tools and some of the best include; Hootsuite, Sendible, Canva, Buffer, Sprout, coSchedule, Sked Social and Sharedcount