Personal development covers various topics, from fitness and health to relationships and careers, so instead of talking about everything in between, you can choose to focus on one niche. Pursuing the personal development niche is a journey but worth it in the end. By exploring different topics in your blog, you can help your readers grow and become their best selves.  While personal development blogs can be beneficial, they can also be quite challenging to write. Moreover, coming up with new personal development blog ideas can be time-consuming and overwhelming. Additionally, many personal development bloggers experience "creator's block," which can be frustrating, but it's important to remember that everyone experiences creative slumps. Therefore, read our guide below for inspiration. 
Personal Development Blog Ideas: The Categories
Personal development covers various topics, and while some bloggers may lump all of these topics together, there are many benefits to dividing them into smaller niches. Focusing on a niche makes it easier for the right audience to find your blog, and it can portray you as an expert in your field. Some examples of personal development blog ideas are shown below: 
Topics based on blog styles
The first category we'll explore is ideas based on different blog post styles. As we all know there's not one way to write blog posts. The different styles include How-Tos, Listicles, and Case Studies, among others. Let's get into them!
How-To personal development topics
How-to guides are an excellent way to share your insights and knowledge with your audience. They are usually informative and teach your reader how to complete a task using detailed instructions. Therefore, include the following blog topics in your personal development blog: 
How to stop procrastinating
How to be more productive while working from home
How to track your time online
How to express yourself in public
How to become a better human
How to meditate
Listicle personal development topics
Lists are a great way to give your reader a quick, simple, and informative read. These blogs are usually great for driving traffic to your blog and are simple to create. Some of the personal development blog ideas in this blog style include:
11 must-have productivity tools
Seven ways to boost your self-esteem
Eight ways to improve your communication skills
Nine ways to love better
Ten meditation techniques for stress
Five books on breaking bad habits
Topics based on personal development niches
As discussed earlier, the personal development industry is quite broad meaning there's loads of niches to choose from. Identifying the different niches you want to focus on will help you come up with great topics for your blog. Here are some niches you can explore.
Time management tips
Many people have difficulty managing their time today, especially because many of us have so much we need to do. Therefore, this is where your blog comes in. Your aim is to give your readers some time-saving skills and tips. Example topics include:
How to defeat the procrastination demon
How to get things done in no time
Effective planning
Some productivity models to try
How to track your time online
Nine time-saving tips that will save you 1 hour every day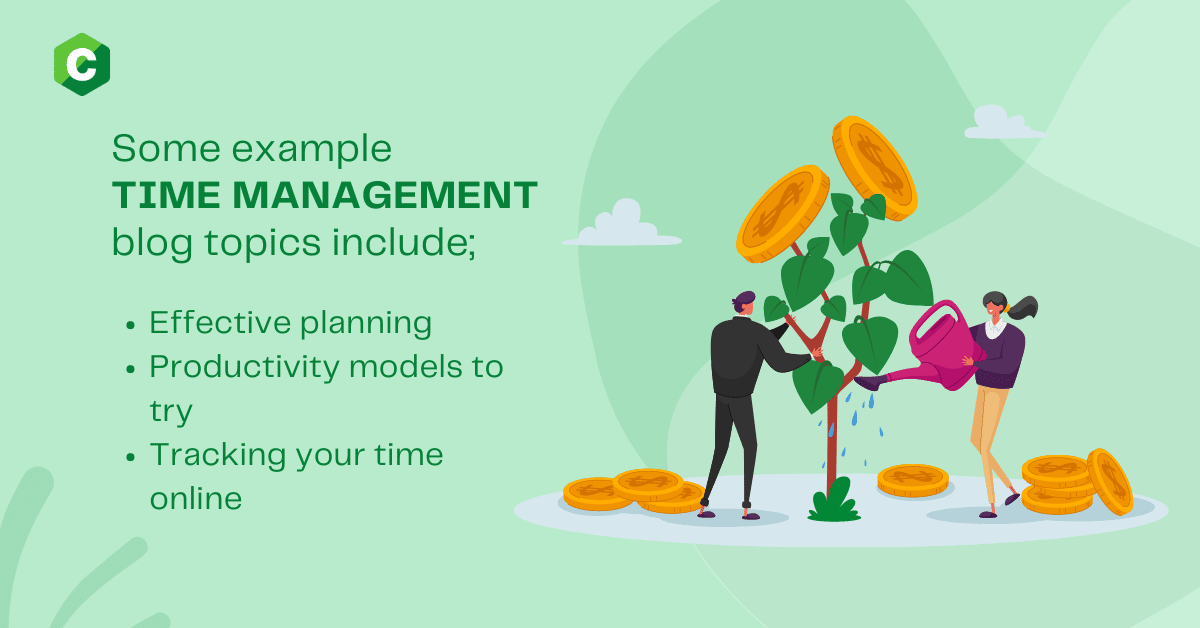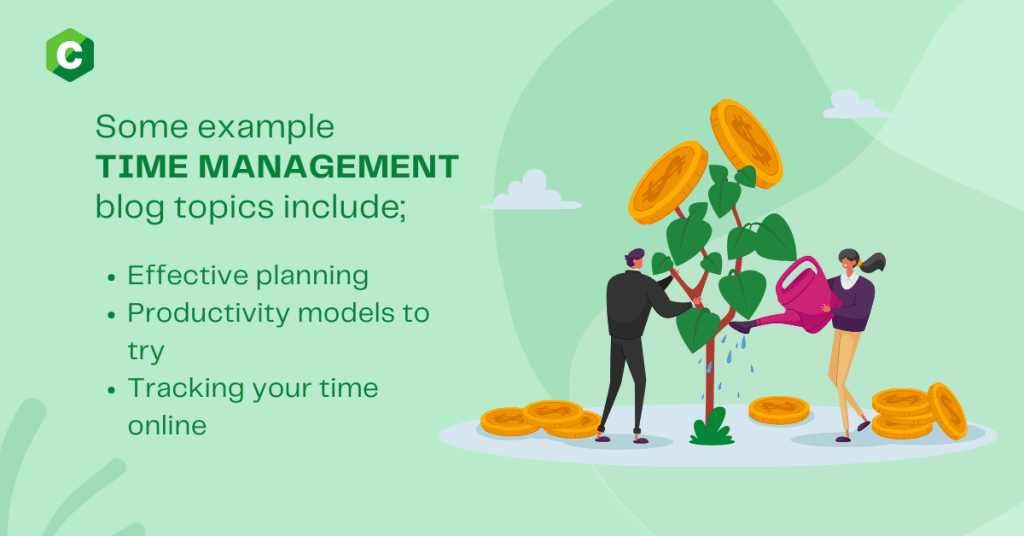 Money and career
Money is a great personal development topic for your blog because readers are always looking for content about how to manage, save and earn more money. The career aspect is also important for your blog because readers want to be updated on business prospects and how to make their businesses successful. Examples of personal development blog ideas that you can include in this category are:
How to boost your finances in one month
Four steps to improve your career prospects
How to save money while shopping
Eight habits of successful people
What to do with your pension money
How to avoid debt
Habits
Our lives consist of subconscious habits. As a result, you can empower readers to live happier and healthier lives through powerful habit change through your blog. Include the following ideas on habits in your personal development blog:
How to become a better person
Eight tips for a happier you
Identifying an addiction
Nine ways to break self-doubt habits
How to say No without feeling guilty
Seven ways to get out of your comfort zone socially
Relationships
Relationships affect every part of our lives, whether it's at home, work, or school. Therefore, you can write personal development blog ideas that focus on how to help your readers develop better relationships with the people who are around them. Some examples include: 
How to deal with difficult people
Ways to surprise your loved one
Effective communication in relationships
Things to consider when choosing a life partner
Anniversary and Birthday gift ideas
How to become a better parent
How To Come Up With Personal Development Blog Ideas
Now that you've gone through some of the ideas we've come up with, you may want to come up with your own ideas, those that directly reflect who you are and go hand in hand with your brand. So, how do you go about doing that? Here's how:
Carrying out competitor analysis
Competitor analysis means looking at what other personal development bloggers are doing and seeing what's working well for them. This can give you some great insights into what topics resonate with readers and what kind of content is most successful. Additionally, it can help you understand what differentiates your blog from others. This can be essential for developing a unique voice and perspective that will make your blog stand out. Ultimately, competitor analysis is a valuable tool for generating personal development blog ideas.
Use keyword research tools
Keyword research entails finding people's words and phrases when searching for information on the internet. By understanding what keywords people are using, you can ensure that your blog appears in the search results when they are looking for personal development blog ideas. This can help increase your blog's traffic and improve your chances of success. You can use several tools for keyword research such as Ahrefs and Google Search Console. These tools will help you identify high-traffic keywords relevant to your blog. Moreover, you need to consider the competitiveness of the keywords before selecting them.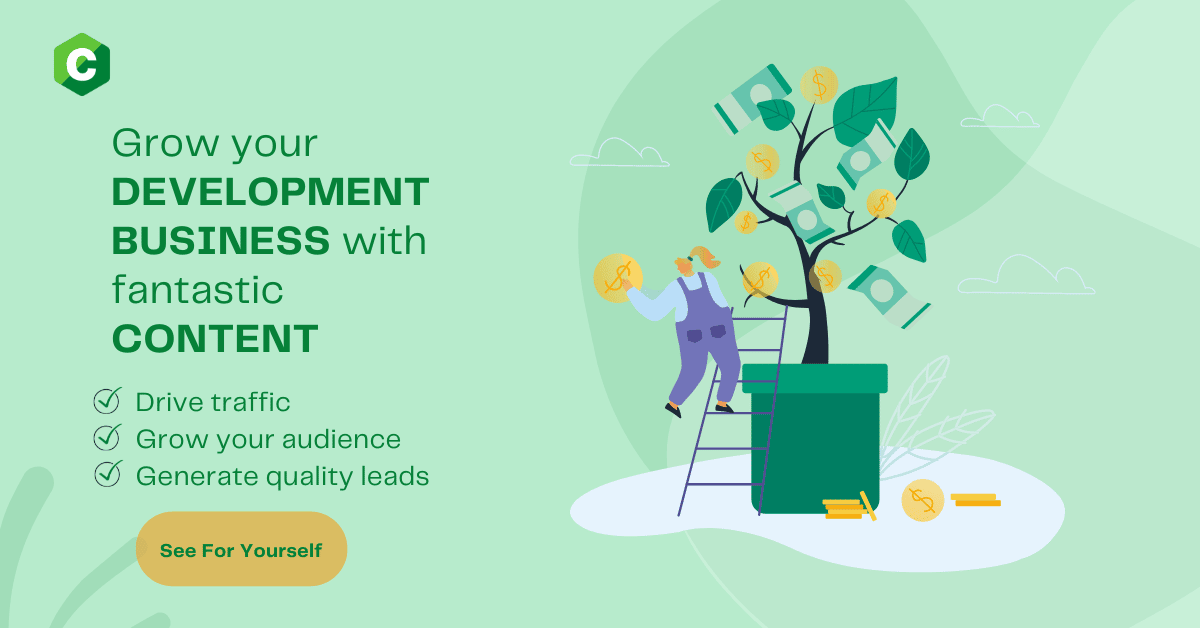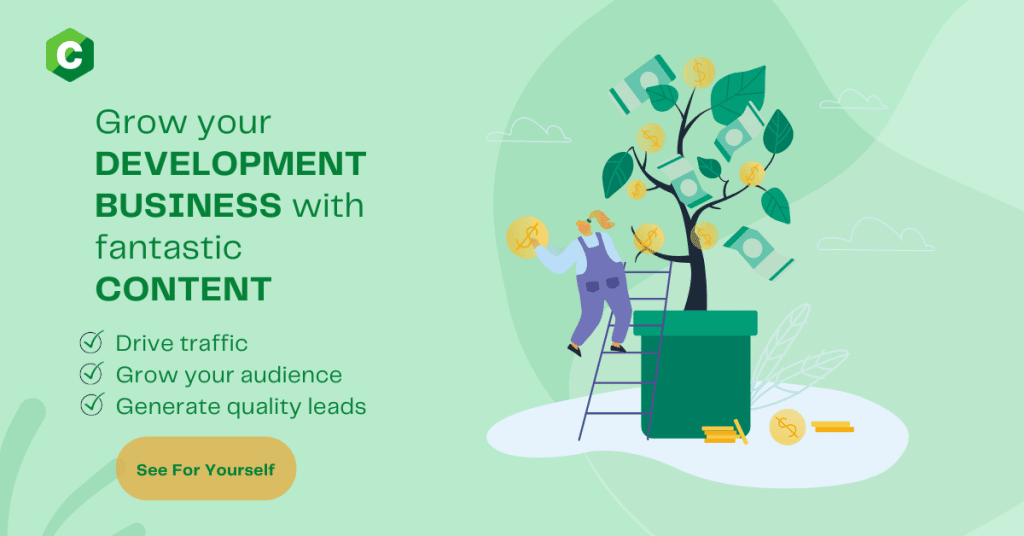 Using People Also Ask
One of the keys to a successful personal development blog is coming up with fresh, relevant ideas for your audience. But sometimes, it can be tough to think of new topics to write about. In this case, Google's "People Also Ask" feature comes in handy. When you search on Google, at the top of the results page, you'll see a list of questions related to your original query. These are questions that users have searched, which means they're likely wondering the same thing as your potential readers. So if you're stuck for personal development blog ideas, simply take a look at the "People Also Ask" section and pick topics that look promising.
Look through forums and social media
Quick browsing through forums and social media can give you a good sense of what topics resonate with people in your niche and some inspiration. You can also better use these platforms to understand your target audience's problems and challenges. With this knowledge, you can develop blog posts that offer practical solutions and advice. Of course, it's essential to ensure that you're tailoring your content to meet the needs of your particular audience.
Ask your audience
While it can be tempting to just write about whatever you happen to be interested in at the moment, it's usually a better idea to tailor your content to your audience's needs and interests. After all, your goal is to help them grow and improve their lives, so it only makes sense to write about things that are actually relevant to them.
Fortunately, there are a few easy ways to come up with blog ideas that will resonate with your audience. One of the best methods is simply asking them what they want to read about. You can do this by sending out a survey, posting in relevant online forums, or even just chatting with people in your target market and getting their feedback. Not only will this give you some great ideas for articles, but it will also show your audience that you're truly committed to helping them reach their goals.
Starting a Personal Development Blog
You've looked through topics, done your research, and identified what you want to write about. All that's remaining is you actually starting your blog. There are several aspects you need to consider as you begin this process. Some of these are things you'll need beforehand while the rest are the steps you'll need to follow when setting up your blog. 
What You Need
Some very important aspects of joining the personal development blogging field that you need to take note of include;
Flexibility
One of the great things about starting a personal development blog is that it can be as flexible as you need it to be. Whether you want to write about your journey to wellness, share tips and tricks for living a more productive life, or simply journal your thoughts and experiences, a personal development blog can be a great way to do it. And, because you are the author, you get to decide how often you want to post, what personal development blog ideas you want to cover, and what style you want to write in.
Start a business from home
Home businesses are becoming increasingly popular, and it's not hard to see why. They offer the opportunity to be your boss, set your hours, and work from the comfort of your home. One way to ease into entrepreneurship is to create a personal development blog. By sharing your journey of self-discovery and growth, you can connect with like-minded people and build a support community. And as your business grows, so will your blog.
High customer retention rate
A personal development blog allows you to offer actionable advice to readers who can use it to better their lives. Therefore, this makes them inherently valuable, and readers are more likely to return to your blog if they feel they're getting helpful information. Moreover, they are highly relatable as readers can connect with your content. Finally, personal development blogs usually have a strong sense of community. Through your blog, readers can feel like they belong to a part of a supportive group and are likely to stick around.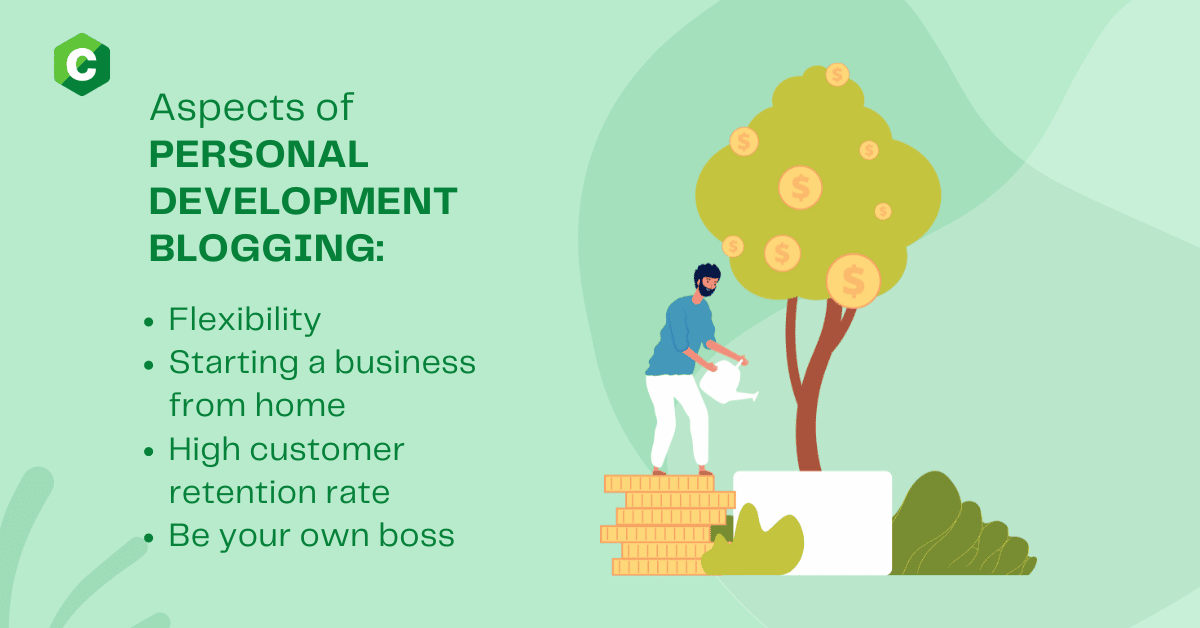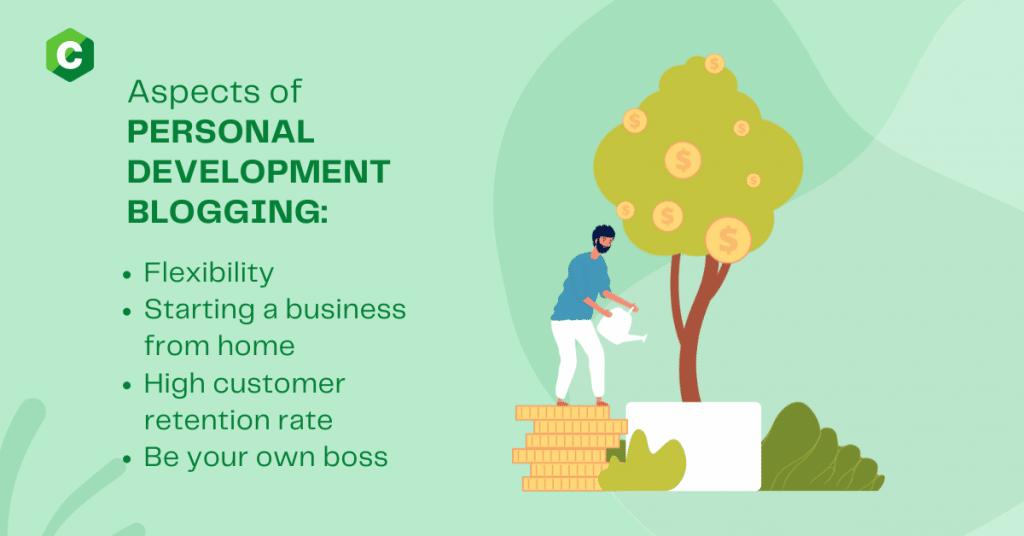 Be your boss
Having a personal development blog ensures that you're your boss. For instance, you're in control of your schedule. Therefore, you can decide when and how often you work on your blog. This means you can focus on creating quality content without worrying about meeting someone else's deadlines or standards. Being your boss allows you to create a blog and personal development blog ideas that reflect your voice and values. You can also ensure that your blog is authentic and represents your identity. Finally, as your boss, you reap all the rewards of hard work.
It has a simple business model
A personal development blog is a great way to set and track goals, share your progress with friends and family, and get feedback from others. It can be as simple or complex as you want it to be. If you're just starting, you can keep things simple by just writing down your goals and tracking your progress over time. As you become more comfortable with blogging, you can add more features, such as guest posts, photos, videos, and links to helpful resources.
The Steps
Once you've identified the 'beforehand' aspects, such as your business model, you'll then need to follow these steps in order to set up your blog successfully.
Identify a niche for your blog
There are numerous personal development blog ideas. You could write about fitness and health, personal finance, career development, relationship advice, spirituality, or anything else you're passionate about. However, narrowing your focus and choosing a niche where you can become an expert is essential. Not only will this make your blog more interesting to read, but it will also make it more likely to attract attention from potential readers. When writing about personal development, it's essential to offer something unique that search engines can rank highly.
Pick a great name for your blog
Your personal development blog name should reflect its content. For example, if it deals with helping people overcome anxiety, a great name for your blog could be "Conquering Anxiety." The title should also be unique, catchy, and memorable, which will help attract readers to your blog. Some personal development blogs with great unique names include: Addicted 2 Success, Zen Habits, and Think Simple Now, among others.
Get web hosting
Choosing a web hosting provider that will suit your needs is the most important thing when starting a personal development blog. Examples of suitable web host providers are the following:
Bluehost is one of the most popular web hosting providers and offers excellent features for personal development blogs. It provides a free blog domain name and unlimited storage space and bandwidth, which is perfect if you plan to host many articles and videos. Bluehost also has excellent customer support if you need help setting up your blog.
WordPress is another good option as it offers a wide range of features. For example, it gives you a free domain name and access to dozens of free themes and plugins. WordPress.com also has excellent customer support if you need help setting up your blog.
Choose a theme for your blog
A great theme will include features like social media integration, email capture forms, and an easily navigable website layout. Additionally, the theme should be responsive and look great on mobile devices and laptops. If you're looking for some great themes, check out: SKT Perfect, Character, and Online Coach Pro. All of these themes include the key features mentioned above and will help you create a personal development blog that looks professional and is easy for readers to use. So test out a few themes and see which works well for your blog.
Create a content plan
Creating a content plan includes conducting persona research. This will help you identify your target audience and determine what topics would be most relevant to them. Once you have a good understanding of your audience, you can start brainstorming ideas for blog posts. It can also be helpful to create an editorial calendar to keep track of your content plan and ensure you're posting regularly.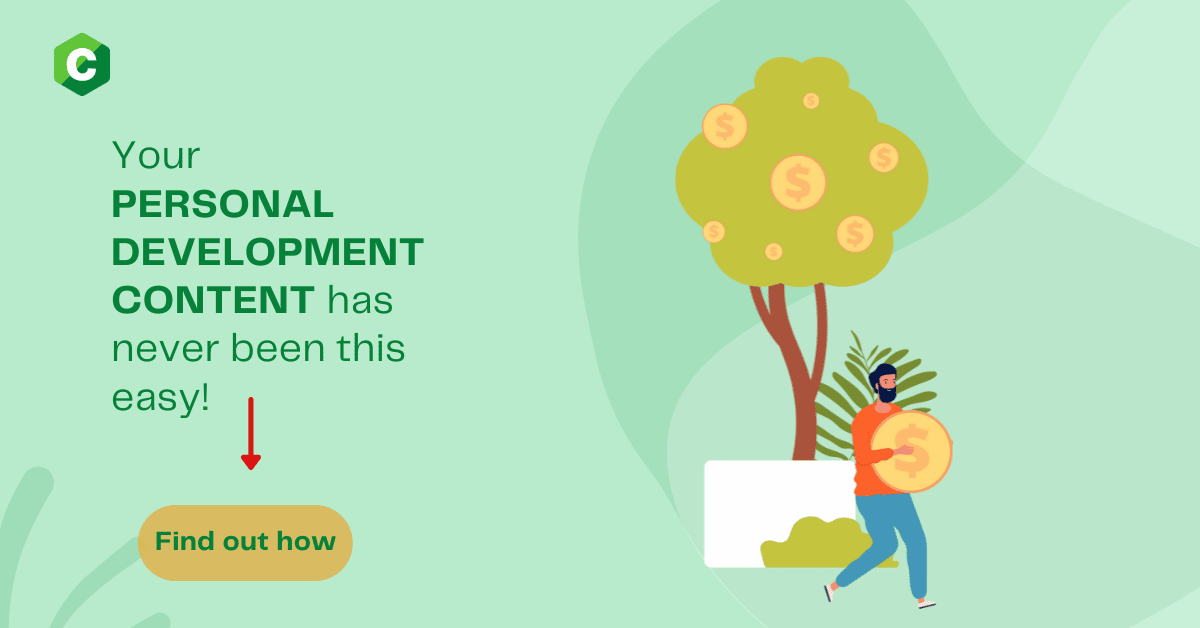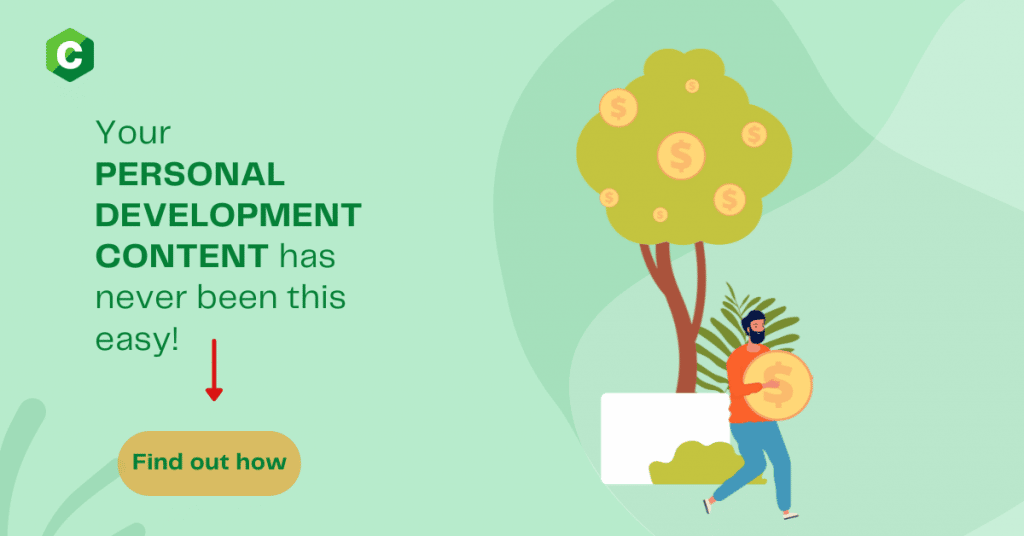 Final Thoughts 
So, there you have it! We've curated a list of fantastic personal development blog ideas that you can write about. We have also included ways to find these ideas and eventually how to start your blog so you should be all set from here! However, if you're having trouble with any of these aspects, we are here to help. Contact us today and let us help you scale your blog to the next level!
Thank you for reading! 
How do I write a personal development blog?
Some tips include creating unique headlines and being honest and passionate. Start with a specific niche and keep it simple.
Do personal development blogs make money?
You can earn through affiliate links of unique development products, or you can reach out to companies so you can do sponsored posts and get income. Moreover, write personality development books or promote your products.
Is self-love a niche? 
It includes whole-body health, stress relief, inspirational messages, and healing. You can create content around self-love and help people fully appreciate and enjoy their lives.