77% of internet users read blogs. Therefore blogging is a crucial aspect of your brand's content marketing strategy. Blogging involves posting regular and updated content to a site to promote a given brand and stimulate interest in the brand's product and services. Blogging consists of various activities such as keyword research, formatting content, proofreading, among others. Therefore, creating a blogging checklist is vital to streamline the process from the planning stage to the posting stage. Even for those who struggle to come up with content and opt to involve blog writing services, a checklist is still essential to ensure your blog content is up to standard.
Blogging Checklist: The Steps
As mentioned above, blogging involves a variety of steps. Therefore, dividing these steps allows you to focus on each step and make the most of it. Our blogging checklist divides content creation into three categories.
Planning your content
Writing your content
Optimizing your content
Planning your content
Planning your content helps you ensure each piece of content you publish will help you reach your marketing goal. The following are ways you can prepare content using our blogging checklist;
Understand your audience
Knowing your audience helps you figure out what content and messages your target audience wants. Moreover, it allows your business to focus marketing efforts on the more likely groups to buy from you. Therefore, you will be generating business leads affordably and efficiently.
Know your purpose
Creating a blog without a detailed plan or purpose will not bring solid results. Therefore, it is necessary to create a great marketing plan for your blog. Knowing the blog's purpose will help you grow your business and establish credibility in your field.
Carry out competitor analysis
Competitor analysis is a strategy that involves researching your competitors to gain insights into their sales and marketing strategies. This strategy can help you learn how your competition works and identify potential opportunities where you can surpass them. Moreover, it enables you to stay ahead of the competition and ensure your product meets and exceeds industry standards.
Performing keyword research
Keyword research is a critical step of SEO. It is the process of finding out which words or phrases users type into a search engine when looking for information about products or services. Knowing what users type in a search engine will help you create relevant content to satisfy their intent, growing your business. Moreover, it can help guide your content marketing plan to increase organic search, visibility, rankings, and traffic to your website. The best keyword research tools include SEMrush, Google Keyword Planner, Ubersuggest, Ahrefs, and Long Tail Pro. Some of the best practices to perform keyword research include,
Get to know your niche.
Write down topic ideas.
Find keywords for your topics using keyword research tools
Examine the search intent if each keyword
Find keywords and related keywords your competitors are ranking
Choose the right keywords for your website
Keep checking for trending keywords.
Create an outline
When you write a blog post without brainstorming an outline, you may write content that lacks flow and consistency. Therefore, writing an overview is essential because it organizes your thoughts, saves time, prevents writer's block, and helps you get better search engine rankings and conversions because you're more specific in your word choice. The following are steps to create an outline, 
Find the right blog topic.
Build a content list
Research the topic
Write your headings with word count
Write the blog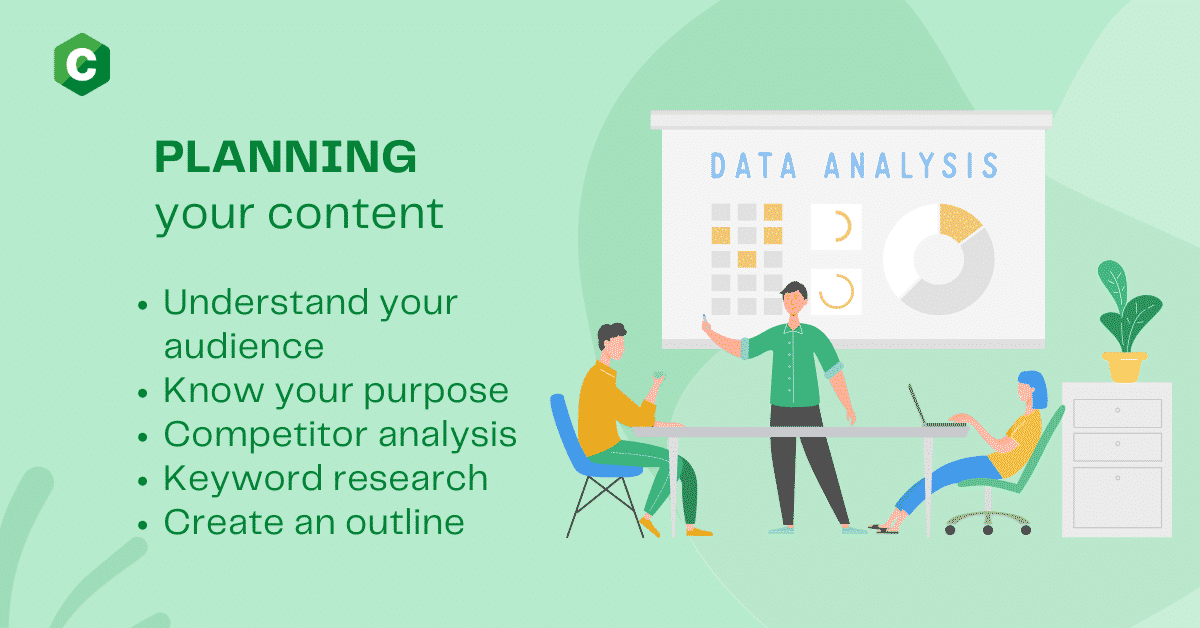 Writing your content
Writing skills include all the knowledge and abilities related to expressing ideas through the written word. This blogging checklist can guide you to writing a great blog post.
Create a great headline
Headlines are the most critical factor when creating content because it gives the reader the first impression of whether to read your article or not. A good headline should have an active voice, be the right length, have keywords, and be emotionally compelling. This blogging checklist provides some easy tricks to help you write catchy headlines;
Use numbers to give solid takeaways.
Emotional objectives are great to describe your readers' problems.
Use a unique rationale to demonstrate what the reader will get from the article.
Make a bold promise.
Examples of headlines with these tricks include,
10 simple tips for writing a book,
4 essential elements for writing a great blog post.
Write a captivating introduction
Introductions are essential because they provide a first impression, build credibility with your audience and prepare them for the blog's content. Therefore an introduction has five crucial responsibilities: get the audience's attention, introduce the topic, explain its relevance to the audience, state the purpose and finally, outline the main points. Hence consider the following tips from our blogging checklist when writing an introduction,
Understand your audience
Be specific and brief. It should be to the point and directly address what your article will be about
Clearly state the importance of your writing
Clearly say how you plan to help
Build out the sections in your outline
The body is an integral part of your blog. Some tips on how to write a great blog include, Always including a personal touch that people can relate to. Next, introduce the following subheading to keep the reader wanting more. Finally, get rid of unnecessary words.
Write more than 300 words
Search engines tend to rank posts with a word count of more than 300 words. However, don't be tempted to fill your posts with fluffy content that provides no value to the reader. Longer blog posts lead to more time on a page which sends positive signals to search engines that your article is relevant and high quality. Moreover, it improves SEO as you can include more keywords and rank highly in search engines. Here is the general correlation between blog post word count and different blog posts,
300-600 words: used to be considered standard. However, it is now considered too short for showing authority to rank on search engines.
600-800 words: Common for professional journalism, newspaper articles, product descriptions, and encyclopedia articles.
1300-1700 words: Common for promotional and "What is …" posts.
1700-2100 words: ideal blog post for "How to…" articles
2300-2500 words: Ideal for listicles. In fact, they tend to have the highest chance of getting valuable traffic to your website and converting visitors into leads.
4000 words: Pillar pages and thorough guides are the most common articles in this section. These posts cover a topic in extreme detail to build authority.
Break long posts into sections
Using long texts can bore and intimidate readers. Therefore, if you have long content, break it up into sections. Adding sections within your blog gives your reader room to breathe. Moreover, they highlight the main elements of the topic, add scannability to the article and lead the reader through the content. Therefore, give each section a descriptive title that tells the reader what the following paragraphs will be about using H2.
Moreover, use keywords in the subheadings, and don't forget to format the text with the proper heading tag.
Writer shorter paragraphs
In addition to breaking up your blog into sections, you can increase the appeal of your blog by writing in shorter paragraphs. This makes it easier to skim the post. Moreover, using white space is crucial as it draws the reader's attention and makes the print easy to read while giving your eyes a break. Furthermore, it makes finding where the reader left off reading quick and easy.
Use bullet points/ lists
Bullet points can help highlight important information, direct the reader to themed lists and improve your content's overall readability. If used correctly, they can act as a form of emphasis or a way to indicate importance. Moreover, they break long paragraphs and add variety to content while providing your reader with easy reference to quick information. They are also easy to spot, quick to read, and are more memorable.
Answer the question
When creating educational content, our blogging checklist emphasizes making informative and easy-to-understand content that focuses on answering the questions potential readers are asking in Google searches. By answering these questions, your blog can enjoy valuable search engine benefits that may translate to increased blog traffic and an increased ROI in your marketing investment.
Format your content
Formatting your blog well is essential for directing readers through your content while making it as easy as possible for them to scan and read it. Examples of formatting options from our blogging checklist include,
Write shorter paragraphs and sentences.
Perfect your writing style
Use proper headings (H1, H2, H3)
Use bullet points
Highlight what's important. For example, bold specific words, italicize foreign names.
Use images & optimize them
Blogging is not just about the written text but a combination of text and images. Images make your post visually appealing and increase image search engine traffic.
Optimizing images delivers high-quality images in the proper format while keeping the smallest possible size. Image optimization is essential because it improves page load speed- the amount of time a web page takes to load completely. It also improves SEO ranking and enhances user engagement.
Proofread your post
Proofreading is important because it is the last chance to find and fix errors before presenting your blog to readers. It eliminates grammar mistakes, punctuation, capitalization, and formatting, allowing you to communicate your message accurately and effectively. Moreover, it lets people focus on your statement. It also enhances authority and protects brand reputation. Therefore, some of the best practices for proofreading include starting sometime after you have written your blog, reading it aloud, checking for typos and grammatical errors, proofreading at one go, paying attention to detail, and using online tools for correction.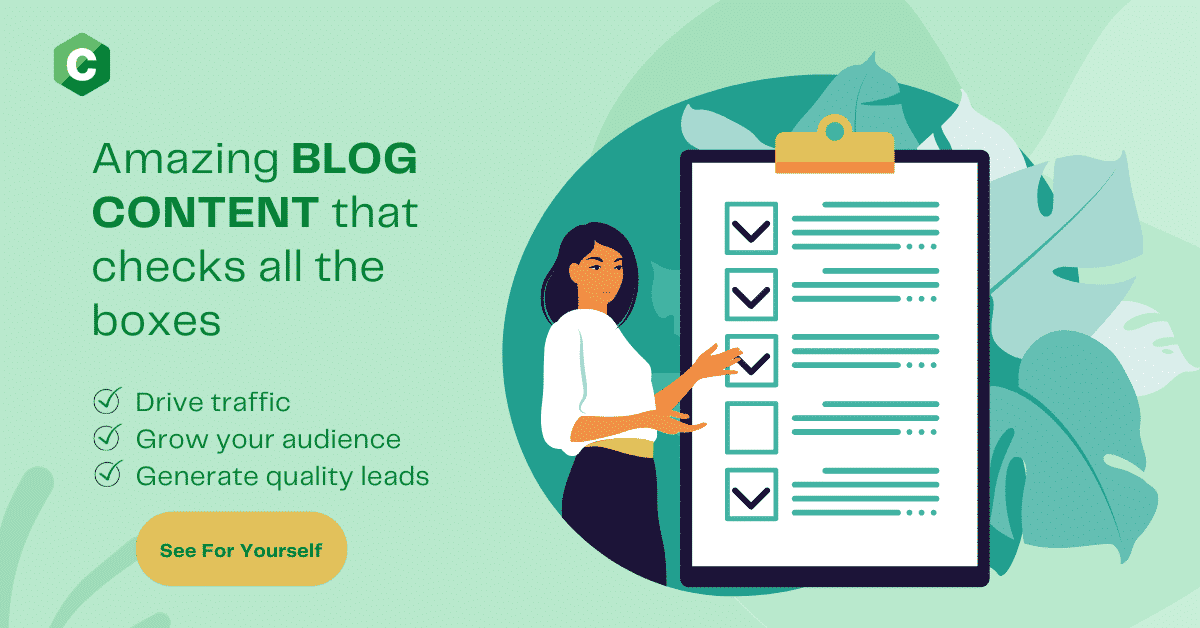 Optimizing your content
Content optimization makes your blog page more attractive to search engines and users. Therefore, optimizing content is essential to increasing your rank on search engines. Here are some ways to optimize your content according to our blogging checklist;
Include the keyword in your headline
Keywords matter because you attract more readers and search engine traffic when speaking the audience's language. Our blogging checklist provides the following ways to optimize your headline for the target keyword,
Use the target keyword near the beginning of your headline
Add a unique page title that includes the keyword for reasonable meta tag SEO
Place the keyword near the beginning of the title and keep it under 55 characters.
Find related/ secondary keywords for your post
A related keyword is a term or phrase closely tied to a primary keyword. They are helpful for your post because they further explain the content of the webpage so that search engines can better understand, classify and rank the page. Moreover, they help marketers identify variations of phrases that searchers may be used to find content related to a topic.
Provide internal links
An internal link is a link that points to another page on the same website. They usually improve the site structure. Moreover, it boosts user experience as they can easily navigate your website. Finally, it passes authority from one page on your website to another. Our blogging checklist provides some of the best practices;
Include internal links on every page
Fix broken links regularly
Use keywords in the anchor text
Links to relevant content
Use Dofollow links
Provide external links
External links are where other sites link to your site. This is important because it builds your online reputation, improves brand credibility, boosts referral traffic, and builds relationships and your brand. Some best practices include;
Use relevant links
Link to reputable sources
Use anchor text correctly
Open external links in a different tab
Don't link to competing websites
Write a meta description and include the keyword
A meta description is a snippet of up to 155 characters that summarizes a page's content. They are like a pitch that convinces users that the content on that page is what they need. Thus, some best practices for a quality meta description include;
Ensure that it is 155 characters
Use active voice and make it actionable
Include a call to action
Include your focus keyword
Ensure it matches the content of the page
Make it unique
Use the keyword in your first paragraph
A good paragraph starts with a core sentence that includes the essential message of that paragraph. Therefore, add a key phrase to that sentence. Then use the rest of the section to discuss what readers can expect from your post. Sometimes, you won't be able to use the focus keyphrase at the very start. For example, if you want to start with a question, you can follow up the question with the key phrase.
Include the keyword in some of your subheadings
Using keywords in subheadings increases the relevance of your content in front of your readers. Moreover, it also influences search engines to rank your copy highly as they improve your content's SEO. Subheadings with keywords show a proper and more relevant text structure. Moreover, they are also crucial in increasing the accessibility of your content.
Avoid keyword stuffing
Keyword stuffing is filling a web page with the same target term in hopes of ranking higher for that term in search engines. It creates a poor user experience and will likely increase bounce rates and drive potential customers away from your business. Moreover, search engines widely condemn it, and the activity leads to a search penalty.
Add CTAs
A CTA is a link on your webpage that leads someone toward taking specific action on your site, For example, subscribing to your blog. They are essential because they allow you to convert blog readers from unknown visitors to quantifiable leads that later become customers. Our blogging checklist provides the following best practices for CTAs;
Keep it brief and straightforward.
Personalize your CTAs
Make CTA button
Make them stand out visually.
Give credit to sources
It's highly likely that while writing or blogging, you'll want to refer to an article or blog post that you read online. While it's possible to copy a phrase without violating the copyright law, it's also fair to attribute the source of the quote. Giving credit to the original author makes them look good, making you credible. Moreover, if you fail to provide credit to authorities, it may be considered plagiarism. Plagiarizing someone's work is unethical and illegal.
Select the proper categories and tags
Categories organize your site and allow readers to find information quickly. Categories are for board grouping of your posts. Think of these as general topics or the table of contents for your blog site. On the other hand, tags describe details of your posts. Think of these as your site's index words.
Categories are high-level topics that make it easy for people to understand your blog and navigate the content that interests them. Tags on your blog make it easier for readers to find what they need. They also help search engine crawlers understand the content on your site.
Optimize your post for social sharing
Optimizing your post for social sharing increases your content's visibility and reach, boosting user engagement. It also assesses the overall ROI and outcomes of your social marketing. This blogging checklist provides the following to optimize posts for social sharing,
Optimize your strategy
Conduct keyword research
Optimize your profile
Optimize your content
Use hashtags
Solidify your posting schedule
Monitor your social campaign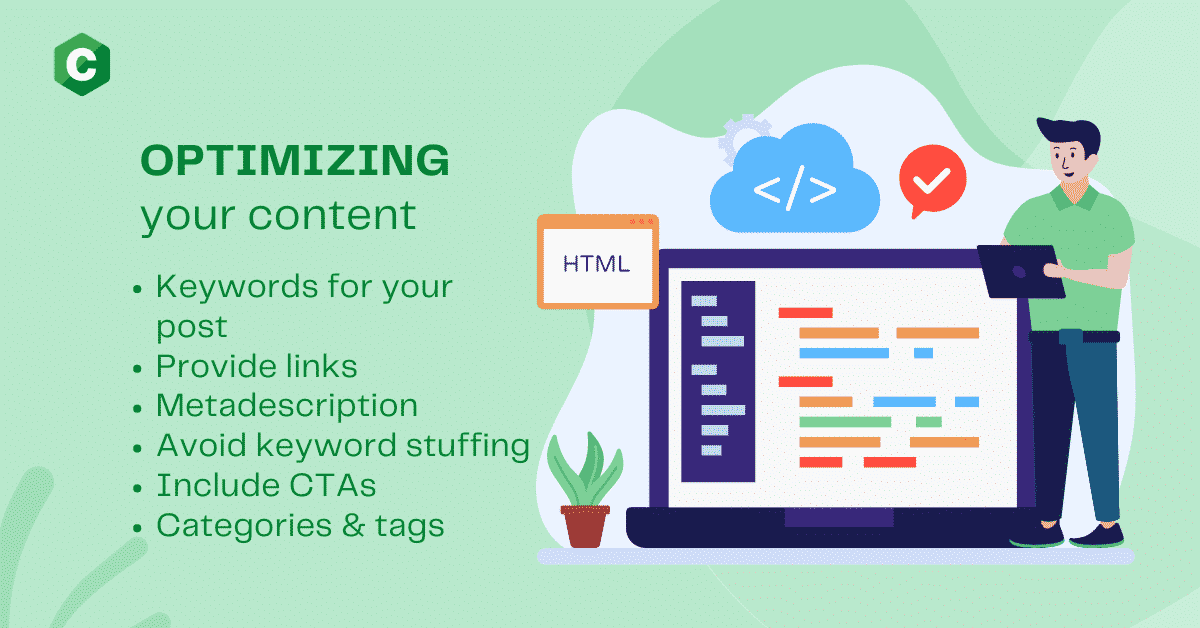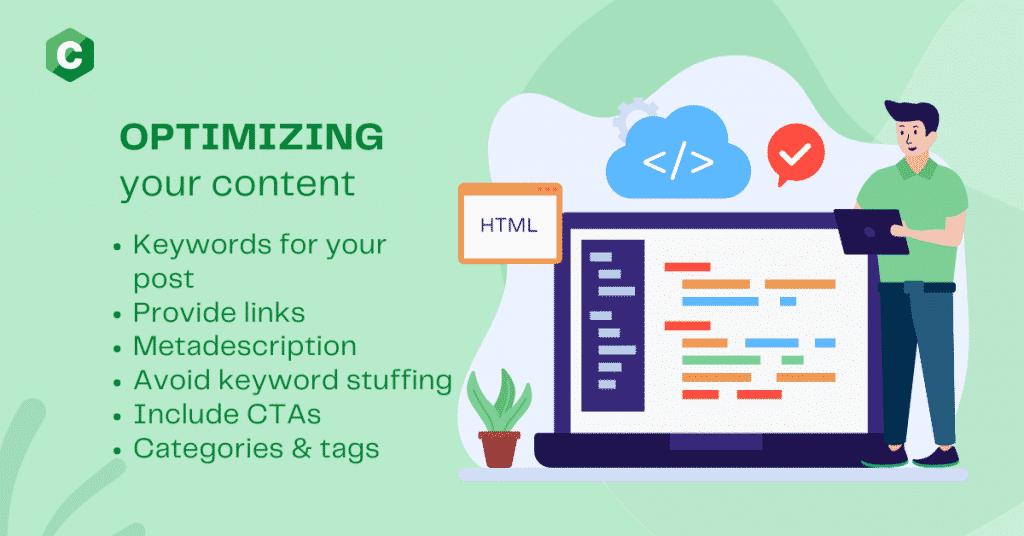 Features of a good blog
Should be dynamic
A website is static, while a blog is dynamic. It's vital to keep pace with the market competition. It also improves SEO rankings and converts visitors into potential customers.
Posts are displayed in reverse order
Blog entries are displayed in reverse chronological order, where the newest posts are on top. The latest ones push published ones down the list until they disappear entirely from the landing page. Archive older posts on the following pages and can also organize them by the month or year when they were first published.
Posts should be relevant
The blog post should be relevant and valuable to the target audience. People appreciate the information they can do something with and will return to your blog if you consistently provide relevant and valuable posts. Therefore, your blog should aim to help and educate your audience, offering practical takeaways.
The blog should have a personal touch
Adding a personal touch to every interaction you have with customers on your blog has a significant impact on how they perceive your brand.
Posts should have an active comment section
One way to promote your blog is by allowing your readers to comment and leave reviews. A comment section is an excellent way to engage your readers and increase conversion rates. In fact, you can add a personal touch to your blog by offering customers what they like, giving them offers on their birthdays, etc. This increases user engagement in your website and can help you rank in search engines.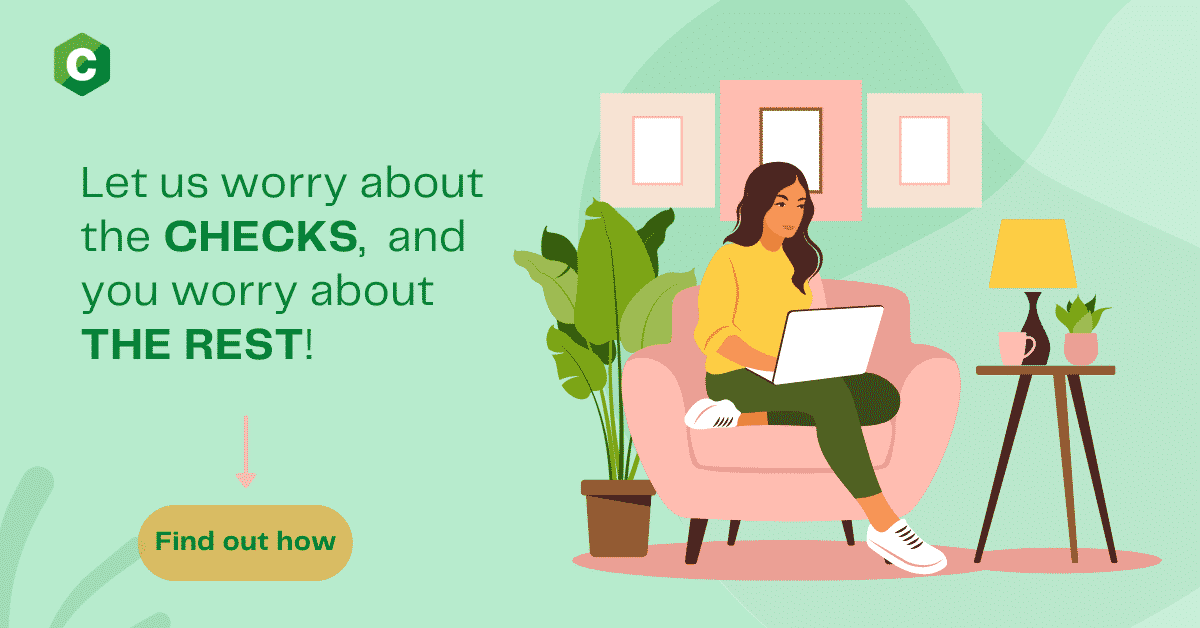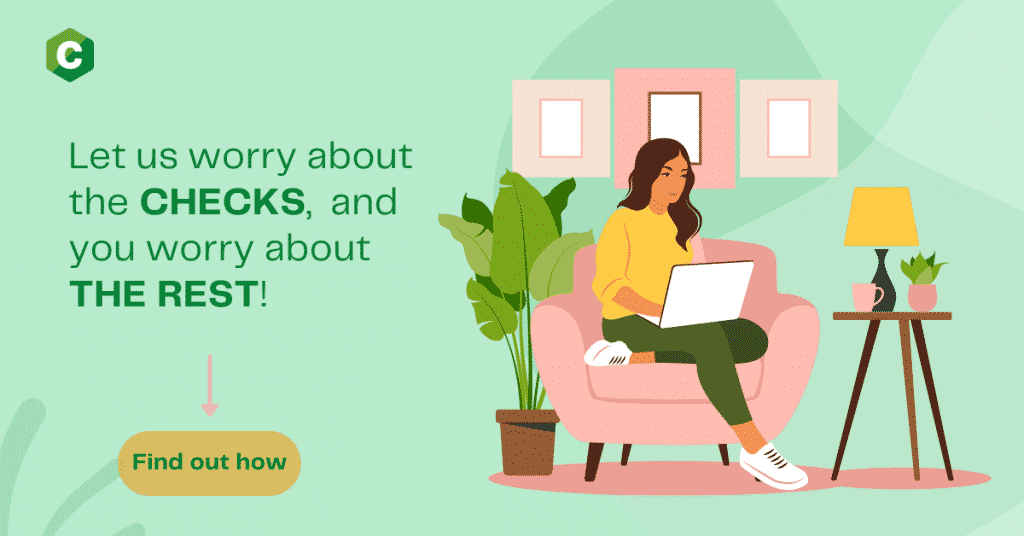 Conclusion
Finally, blogging shouldn't be a difficult task. With our improved blogging checklist, you can write blog posts that are relevant to your readers and will attract new customers to your site.
What makes a good blogger?
Blogging requires high commitment since it's not an easy job. Some qualities of a good blogger include a passion for blogging, reading, communication, patience, a positive mind, creativity, focus, and consistency in updating the blog regularly. 

What are the five main parts of a blog?
They include;
Blog Header, which is the name of the blog.
Blog Menu, which contains blog categories.
Blog content column, which contains related posts, comment section links, etc
Blog sidebar, which contains ads, links, and other content.
Blog footer, which sits at the bottom of any page on your blog