The food industry consists of different sectors that function uniquely to make the Farm to Fork journey successful. In particular, the industry accommodates the production, processing, conversion, preparation, preservation, and packaging of foodstuffs. Branches of the food industries include; The meat industry, fish processing industry, dairy industry, bread, and milling industry, among others. Therefore, with the vastness of the food industry, it can be a considerable challenge for an upcoming blogger to navigate through it and find a niche among the many food blog ideas to write about comfortably. However, many such bloggers seek out content writing services to help them create great content.
Even so, the good news is that first, once you find your place, there is a hungry audience ready to feed on your content, and after reading this post, you will be prepared to start your food blogging journey. Let's begin by learning eight categories with various food blog ideas.
General Food Blog Posts
This category is open to writing about food in general without following a specific theme. Here are ten food blog ideas for this category;
Food Preparation Recipes
Beverage Preparation Recipes
Recipes Reviews
Food blogs reviews
Reviewing food bloggers
Interviews with chefs
Foreign dishes recipe challenge
One meal different recipes challenge
Ingredients everyone should know
History of different recipes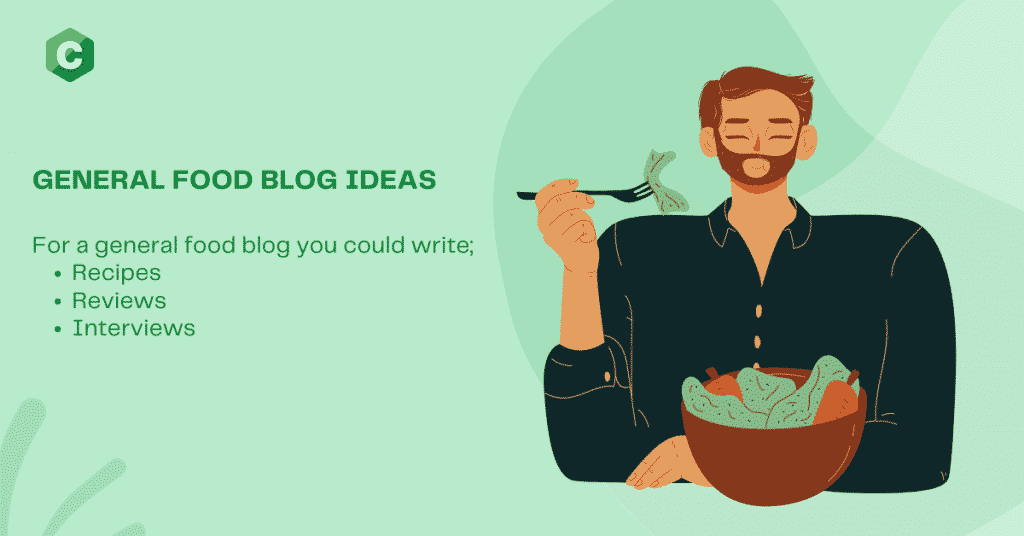 Vegan and Vegetarian Ideas
This category will focus on vegetarianism. Ideas for this category include;
Advantages of being a vegan
Vegan fitness blogs
Interviews with expert vegans
How to become a vegan
Vegan news blogs 
Facts on vegetarianism
Vegan food recipes
Vegan nutrition calendar 
Common meals for vegans
The History of vegetarianism
Healthy Food Post Ideas
Healthy living & fitness also comes from eating healthy foods. There are many food blog ideas in this category, including; 
How to eat and stay healthy
Foods that can help you boost your health
Foods that will negatively affect your health
Nutrition's for weight loss
A teenager's nutritional needs
Top ten nutrition tips for pregnant women
Dietary recommendations for newborn babies
Facts about junk foods
Baking Blog Post Ideas
The food blog ideas in this category will revolve around bakers, baking companies, and their products. They include;
Top bakers in the world
The history of baking
Baking companies' reviews
Baking recipes reviews
Sharing baking tips
Interviewing bakers
Baking tips for vegans
Simple baking recipes
Writing a seasonal baking recipe.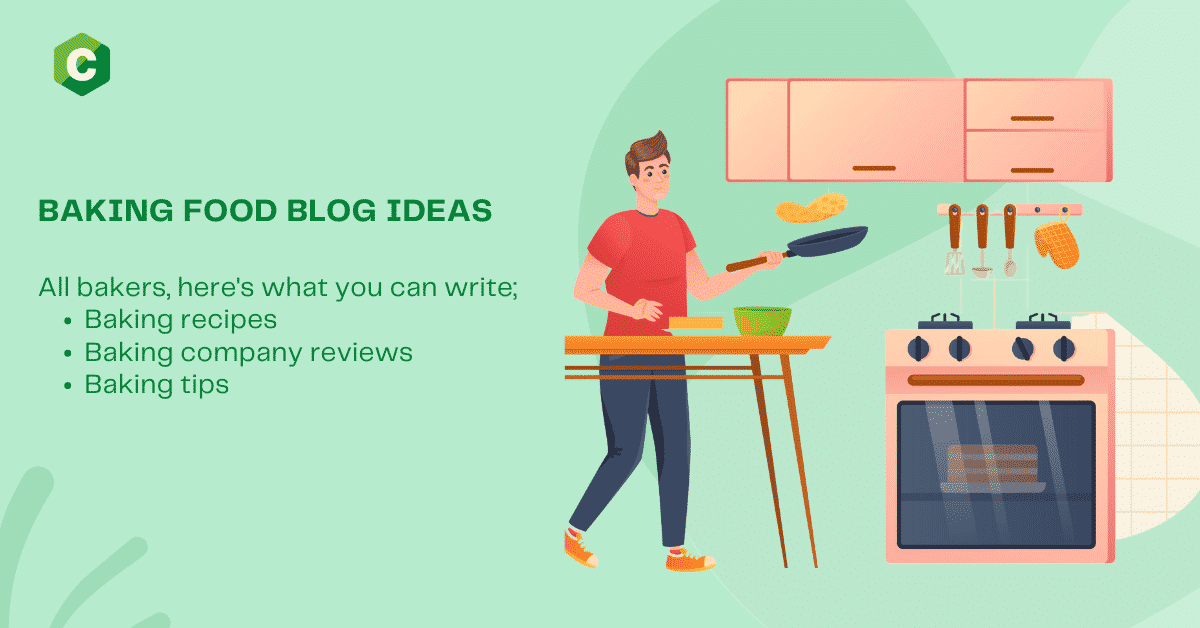 Restaurant Blog Post Ideas
Examples of restaurant blog post ideas;
Reviewing restaurants
Interviewing chefs in restaurants
Interviewing restaurant founders
How to set up a restaurant
Reviewing a restaurant's menu
How to efficiently run a restaurant
How many food recipes would one need to start a restaurant
Marketing tips for a new restaurant.
Food and Travel Blog Post Ideas
Examples of food blog ideas for food and travel blog posts;
Foods to eat while traveling
5-star restaurants in different cities
How to fast while traveling
A traveler's guide to packing food
Foods you shouldn't eat while traveling
How to preserve food while traveling?
How to spend less on food in a journey
Foods a traveler shouldn't miss
Becoming a travel and food influencer
Personal Food Blog Post Ideas
In this category, the blogger will be sharing their food preferences. For example;
Your favorite food
A meal you would love to try
Your worst experience with food
Your favorite chef
A foreign dish you have prepared
Your favorite restaurants
Food challenges you have experienced
Your daily meal plans
Your history with a specific dish.
Seasonal food blog post ideas
Seasonal food blogs are a niche that hasn't been explored very much. Food blog ideas for seasonal foods include;
Introduction to seasonal foods
History of seasonal foods
Types of seasonal foods
Why Is Turkey prepared on Thanksgiving day.
5 Traditional Christmas Recipes
The features and uniqueness of seasonal foods
6 Special Dishes to prepare on Eid Ul-Fitr
4 Recipes for Easter Celebrations
Differences between local and seasonal foods.
Recipes for Lunar New Year Celebrations
How To Start A Food Blog
Starting is always the hard part, but through this five-step process, your beginning will be made easier, and chances are very high that your blog will succeed and you will make money from it.
Choose a niche
There are many food blog ideas to be explored in the food industry, and for you to set your blog apart from other food bloggers, you have to choose a niche that you will consistently be writing on. In fact, there are several niches available for a food blog ranging from healthy food blogs whose focus will be on innovative recipes, mindful eating strategies, nutrition tips, and various kitchen hacks. There are also seasonal food blogs that focus on educating the readers on seasonal foods, their benefits, and the different food ideas throughout the year. Additionally, Food and travel blogs aim to provide food and travel insights to the audience. Other niches include; restaurant blogs, baking blogs, vegan and vegetarian blogs, among others.
By selecting a niche, it will be easier for you to plan on the type of content you will write, which then helps you create a unique identity for your audience.
Set up Process
Once you choose a niche, your food blog ideas will need a home where your audience can easily find your content. In fact, a website is always the favorite home for a blog. The first step will be choosing a domain name that will give your website a unique identity which in turn helps your audience quickly find you on the internet. You can also choose a domain name that identifies your blog niche, for example, Your Local Vegan Expert or The Baker.
After choosing a domain name, the next step will be to get a web hosting space where your content and files will be stored. Before getting a hosting space, you'll need to research the hosting platform to find out about its; Pricing and plan, its servers speed, how user-friendly it is, and its customer service.
The most used hosting platform for both beginner and professional bloggers is WordPress.
Create a content plan and start blogging
Consistency is key. Therefore, planning how you will write, edit and share your food blog ideas is essential. A content plan acts as a guide to keep you focused and disciplined to meet deadlines and achieve your set goals. Specifically, a content plan consists of research, writing, reviewing, editing, and publishing dates and times. Also, if you have a team, the content calendar includes the tasks for each team member.
Promoting your blog
By promoting your blog, you will have a wider audience reach. Below are ways you can promote your blog;
Social Media Marketing – This consists of posting marketing content like graphic posters and short videos to different social media platforms to redirect your followers to the website.
Influencer Marketing – Influencer marketing involves using influencers, people with large social media followings, to post your website link or talk about your blog on their social pages, therefore, redirecting their followers to your website. Therefore, for this to be effective, you'll have to choose an influencer known in the food industry or any related field. Besides, choosing a real estate influencer to market your food blog is not realistic.
SEO – SEO (Search Engine Optimization) involves using keywords to raise your blog's Google rankings. In fact, using keywords will help you position your food blog favorably to answer your audience's search queries. Therefore, to optimize your food blog for search engines, it's necessary for you to identify your target audience, conduct research on the important keywords for your website, and always add visuals to your blogs.
Monetizing Your Blog
To be a successful food blogger, you'll have to put in the work, day in and day out. Indeed, the efforts need to bring returns. Therefore, you can monetize your blog through the following ways;
Selling Merchandise – This can be selling shirts, hoodies, and caps with your brand's name to your audience.
Becoming a Freelance Blogger – Writing content for a different blog and charging them.
Being an Affiliate Marketer – Notably, if you have a food blog about fruits, you can use your website to market shops that sell fruits or fruity products.
Writing Sponsored Posts – You write a paid blog post for a different company and publish it on your website.
Running Ads on the website – Advertising can offer a healthy revenue stream for your online content since advertisers are willing to pay to get exposure to your audience. Therefore, you can offer advertising space on your website to businesses who would like to appear alongside your content.
Conclusion
In conclusion, with the vastness of the food industry, it is still effortless to find a niche to work on, come up with great food blog ideas, create a community out of it, stay focused, disciplined and consistent, and soon enough, you will begin reaping the fruits of your hard work.
How many recipes do you need to start a food blog?
Starting a food blog, one needs seven to ten recipes to keep the website active. After which, you'll need to stick to your content calendar to make sure you stay consistent.

Can you post other people's recipes on your blog?
Yes, you can post other people's recipes, but you will need to attach a link to the original recipe source.
How can I collaborate with another food blogger?
You can collaborate with other food bloggers by; researching to identify food bloggers you want to collaborate with and sending personalized messages to them expressing your interests. 

Is there an app to create recipes?
The following apps help to create and find recipes. They include; CookBook, BigOven, AllRecipes Dinner Spinner, Cookmate, among many others.