The concept of the Metaverse has gained an intense amount of interest in 2021. It is a persistent and shared virtual universe rendered in three dimensions. Digital marketers need to keep up to speed with the latest technological developments. This includes understanding the metaverse and its full potential. There are two ways to look at metaverse advertising. 
First, it is an additional channel in your marketing strategy, like you have banner ads on Google and social media presence. The metaverse will also have unique ad formats that come with full marketing attribution so advertisers can track traffic and invest organically. Second, the metaverse can be viewed as a medium for storytelling. Apart from traditional ads like popups on Facebook or Google, you can have immersive ad experiences that tell the brand story. For example, Gucci's pre-fall 2017 campaign invited the audience to participate in a soul scene dance choreography from the 60s. The creation of these experiences and stories can be created through metaverse content services.
In-world advertising
In-world advertising is an ad that appears in a virtual world that could, in some cases, mirror the real world. For example, imagine playing a game, and the virtual billboards are ads for actual-world products. In-world advertising dates back to 2008, when Barack Obama purchased ads in a handful of Electronic Arts (EA) games for his campaign' in digital signage in Madden 09, NBA Live 08, and Need For Speed.
Moreover, some companies already offer advertising solutions that deliver in-world ads. For example, Bidstack helps brands place their ads in virtual environments. They work with game developers to place ads in games and provide real-time performance. For instance, Bidstack has placed in-world ads in the game Dirt 2 or the virtual billboards surrounding the fields in the soccer game Football Manager. 
If the Metaverse captures enough attention and in-world advertising games gain popularity, buyers will want to use their existing programmatic buying tools. Advertisers would also expect the same verification and validation, regardless of the environment.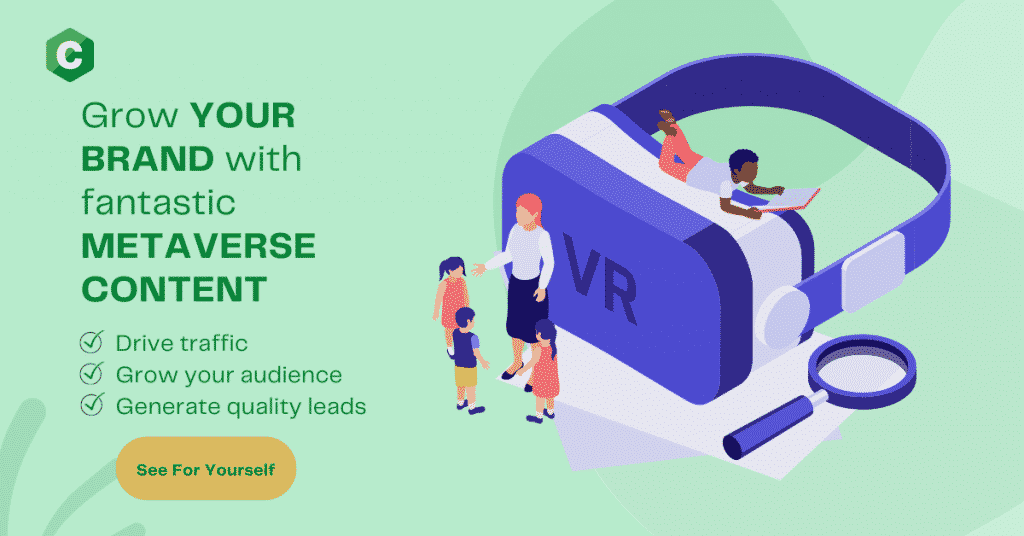 In-world advertising: Illustrations
Anzu.io is also another company that works with developers to place in-world ads. The company partnered with OpenX to offer in-world advertising programmatically to buyers. The two companies even offered integrations with Moat, Nielsen, and Comscore to bring the viewability and verification tools buyers expect to the game environment.
In-world advertising is essential because it brings realism to games. A Bidstack Study shows that 95% of gamers felt ads enhanced gameplay realism from these ads. Moreover, ads on billboards and signs mirror reality and do not disrupt the core gaming experience.
In contrast, SImulmedia launched a new platform called PlayerWon that rewards users with in-game perks for watching videos. Their research shows that players are willing to watch ads to unlock game content.  There are still controversies between the two studies, but there are more seamless and less disruptive ways for metaverse advertising like live virtual events.  
An approach to Metaverse advertising
There are several ways to approach advertising in the Metaverse. These are;
Billboards
Early metaverse advertising will mainly comprise virtual reality billboards. Virtual billboards are ads for real-world products. They're easy to design and insert into existing app experiences. For example, when you're playing a racing car game like Need For Speed, you might be able to see a billboard depicting your favourite snack brand.
Product Placement
As more and more VR games are built for the metaverse, product placement is inevitable. Like real-world placements, brands can place their product as fit for audience experiences in metaverse advertising. For example, Hasbro partnered with Roblox to bring Nerf guns to life in the metaverse. Pokemon Go effectively used this strategy where sponsored locations popped up to invite footfall, using the game's AR creatures as a lure. Moreover, branded elements could be a subtle but noticeable overlay on top of game surroundings. 
Creating an avatar or virtual representation of yourself is the first step before entering the Metaverse.  For example, in games like Fortnite, players need to construct a humanoid avatar which can range from a man, woman, or banana. The player can then outfit the avatar using generalised non-branded clothing or choose from sponsored clothing items. 
Next is the type of in-game outfits (skins). Fortnite has offered players the ability to equip luxury clothing from Balenciaga or choose a full uniform for their favourite NFL team. These skins give each brand access to various Fortnite layers and keep the companies top of mind for however long a player chooses to equip their skins. Roblox has also partnered with Gucci to create a branded Gucci world within Roblox.
Therefore, sponsoring in-game items offers not only a way to market a brand but a potentially lucrative new revenue stream. For example, a player paid $4,115 for a limited virtual Gucci handbag in Roblox. However, the problem with product placement is that the brand confines its platform to a single game or platform. For example, users cannot bring their Roblox Gucci bag to Fortnite because there's no interoperability between experiences.
Experiences (Events)
Native VR advertising holds the most promise for metaverse advertising. Brands can create epic experiences that create a story, allows users to interact with their product and eventually make a purchase without leaving the metaverse. For example, Travis Scott, the hip-hop superstar, partnered with Epic Games to perform a concert for Fortnite Users. The live show garnered over 12 million live viewers. Nikeland on Roblox is also a good example where it allows you to engage in gameplay and organically explore the company's range of shoes, apparel, and accessories in VR.
New generation influencers
The importance of virtual influencers is expected to grow in the metaverse and virtual world that this generation is inhabiting. Metaverse advertising could feature a fascinating new technology called digital humans, essentially AI-powered humanoid bots in 3D. In the future, brands could design their influencers and transform how ads are pushed via influencer marketing. For example, the luxury brand, Prada, debuted a virtual influencer, Candy, to promote its fragrance collection of the same name.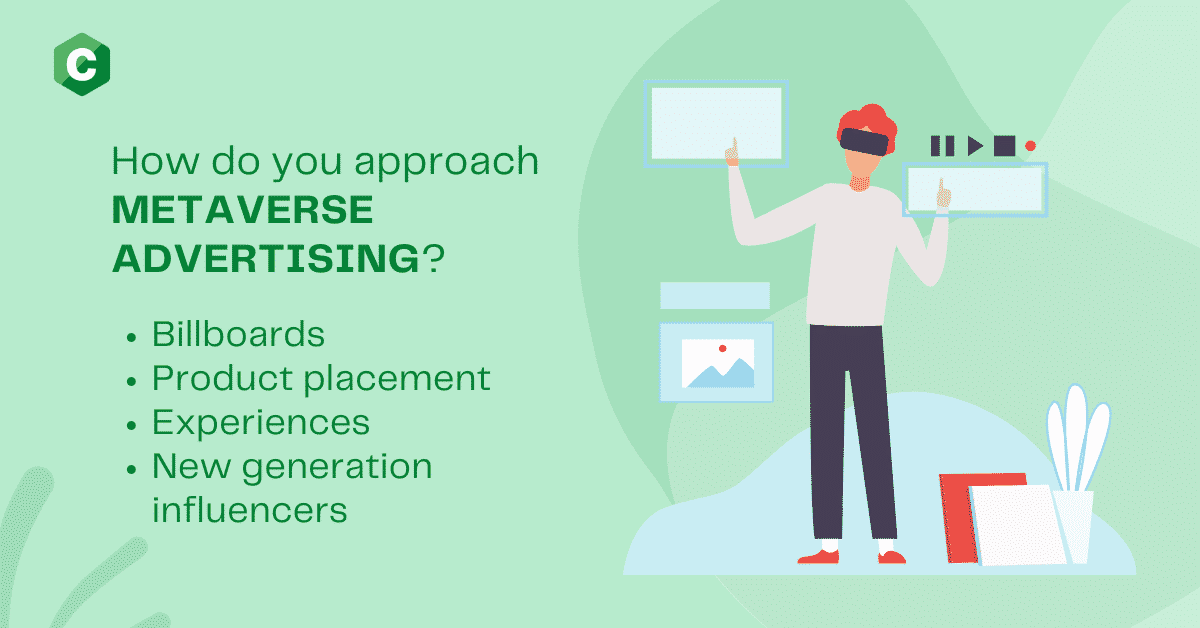 Factors that work in favour of VR ads & why they benefit brands
Virtual reality is fascinating, more widely understood than ever, and offers an unmatched experience. Metaverse advertising has an untapped audience source. Therefore, they have the potential to make a brand stronger. For example, Facebook with Oculus VR and Google with self-driving cars.
With all this buzz about the metaverse, competition accrues between various brands. For example, Sony has Project Morpheus. Microsoft is working to integrate the XBOX experience for the users. Therefore, Facebook, Sony, Microsoft, Google, and android vigorously compete to become the most influential brand that takes over gaming beyond a flat screen.
Metaverse promises all these brands the desired platform if they're willing to put in money and effort. With an experience that collects complete immersion from the user, VR ads in metaverses can be a great way to attract revenue. Moreover, VR promises thrilling experiences from authentic gaming to floor seats in an NBA Playoff and front row seats in a concert. 
VR ads offer to reach and improve customer engagement. Some benefits of using VR ads include potentially high engagement given inherent levels of immersion. VR exceeds all other media, which translates to higher-quality impressions, brand recall, and different standard display-ad metrics. VR ads are likely to capture customers' attention because they mimic real-world scenarios. Moreover, using VR ads in the Metaverse can quickly introduce your brand to the market since you can create an interactive shopping experience and showcase your products virtually to customers. 
Challenges presented through Metaverse Advertising
Although the metaverse is a fantastic platform for brands, it still has some challenges. Some of these are;
Data privacy & ethics
In metaverse advertising, brands can see a version of their identity in a 3D avatar form. Therefore, advertisers can target ads based on someone's appearance in VR. As an online-enabled space, the metaverse can lead to new issues in security and privacy for individuals and brands. The main agenda for criticism of digital solutions revolves around the fact that they collect data from users. Such data can be used for intrusive online advertisements and identity theft. 
Untargeted & irritating content
Because metaverse advertising is available to all brands, it could also include untargeted, irritating, and nonsensical content. For example, a VR popup is just as annoying for a user as a non-VR one. 
A tsunami of content
Constant video popups, indistinguishable sponsored content, and repetitive ads are too familiar in the digital market. In metaverse marketing, they take on an even more intrusive dimension and could cause sensory overload. Moreover, social media channels like Facebook and Twitter are anticipated to make quick moves to defeat the competition in the metaverse. Therefore, for users, this means a tsunami of product placements, emojis, banners, among others.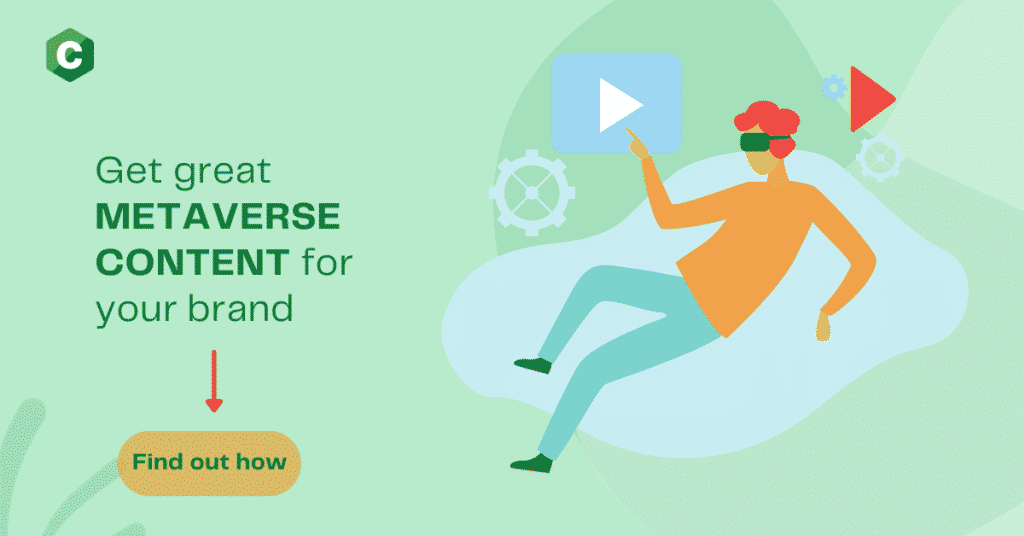 Conclusion
The Metaverse offers an innovative marketing channel for brands. As users interact and trade experiences and digital assets in virtual spaces, brands can explore opportunities for reaching organic ways. However, every new marketing channel or technology comes with a fair share of challenges. For example, the metaverse is not yet fully operational. Therefore, you have to approach metaverse advertising with a lot of caution. Moreover, ensure you start exploring more about the capabilities associated with metaverse marketing now.