Day in, day out, the world keeps changing, and with the many technological advancements, the world keeps becoming smaller and smaller. In fact, the Metaverse is among the latest technological advancements. The Metaverse is a 3D virtual world that allows people to interact in a fascinating way within the digital universe. Moreover, it consists of different virtual reality, augmented reality, and video elements. Additionally, each metaverse platform has an element it utilizes to enable it to perform effectively to its specific functions. Therefore, the various uses for the Metaverse and its platforms are; 
Building, exploring, and playing in virtual worlds
Meeting people anywhere in the world for work or play 
Creating digital avatars
Examples of metaverse platforms that you can join and use include;
Decentraland
This is a 3D virtual world browser-based platform that allows you to buy and sell land, digital art, and other assets using the Non-fungible tokens, NFTs. In fact, Decentraland, which was released to the public in January 2022, is similar to VR games, only that it's more immersive and you can own assets. 
The Sandbox
This project started in 2011 and launched its Alpha version in 2021. Specifically, the sandbox consists of a virtual gaming world where players build, own, and make money from their gaming experiences. In addition, SAND is the currency used in the games' economy.
Roblox
This is an online space where users not only play games but can also make their games. Roblox has over 20 million games in it. Significantly, September 2006 marked the beginning of this metaverse platform that allowed people to meet, imagine, get creative and share their gaming experiences in an immersive way with 3D user-generated characters.
Hyperverse
This is a virtual metaverse that allows players known as voyagers to connect with people from different cultures and lifestyles. You, the user, can clone yourself and the Hyperverse life. The Hyperverse was launched in January 2016.
Epic Games
Founded in 1991, it's amongst the top companies leading in providing 3D engine technology and interactive entertainment. In fact, the game Fortnite, which is popular globally, came out of epic games.
Spatial
This metaverse platform was launched in 2016 to help brands build their own spaces where they can share cultures. Moreover, as a user, you can create a functional 3D space with a mind-blowing experience and sell or rent to other brands looking forward to a similar experience. 
Somnium Space
The Somnium Space, a virtual reality platform, was launched in 2017 on the Ethereum blockchain. It enables users to buy digital land, build homes and structures, and hold concerts and live events. Users can also trade here.
How to Create A Metaverse Platform
The following are steps you will take when creating metaverse platforms;
Selecting the appropriate use case of a Metaverse
There are different uses for the platforms, including; being a marketplace, a gaming site, or creating houses and cities. Understanding the purpose of your metaverse platforms will affect your choices in the following steps. 
Developing the UI/UX for your platform
UI is the User Interface that refers to the aesthetic elements your users will interact with while on the metaverse platforms. At the same time, UX is the experience your users will have with your product. Therefore, a good UI/UX design will improve the users' experience, satisfy them, and increase the number of users on your platform.
Writing a smart contract code for the platform
Programmers do coding as a tool to implement the platform's front and back end components for the future of the project and attach services such as payments and others. 
Installing the IFPS storage system
This is the Interplanetary File System, which stores your platform's image and video content. IFPS helps make the web faster, safer, and open. It will also allow your users to share content without barriers.
Creating a metaverse database for information storage
Here, you store and access data electronically. Databases are designed to help store, retrieve, modify, and delete data.
Securing the platform with the Core AI and VR functionalities
Metaverse platforms depend on Artificial Intelligence and virtual reality. Therefore, it will be essential for you to select a platform that will allow AI and VR to function to their maximum.
Deployment of the platform
At this stage, the platform is already created, and it's time for it to be uploaded on cloud servers or mobile phone store applications such as apple store, google play, amazon app store, and others.
Make the Beta version available
This is to test the app by allowing a sample of the target users to try it. Prior testing will help you understand the flaws that might come out of it and how to deal with them before making the platform available to a broader audience.
Install on the client's server
By installing the platform on the client's server, you will be making the platform available to a broader group of users. It will facilitate the protection of the platform and the user's data, data management, user authorization, and verification. 
Deliver 24/7 system support
This is a vital feature that will immediately help your user find answers to their questions. It will help build a relationship with your users.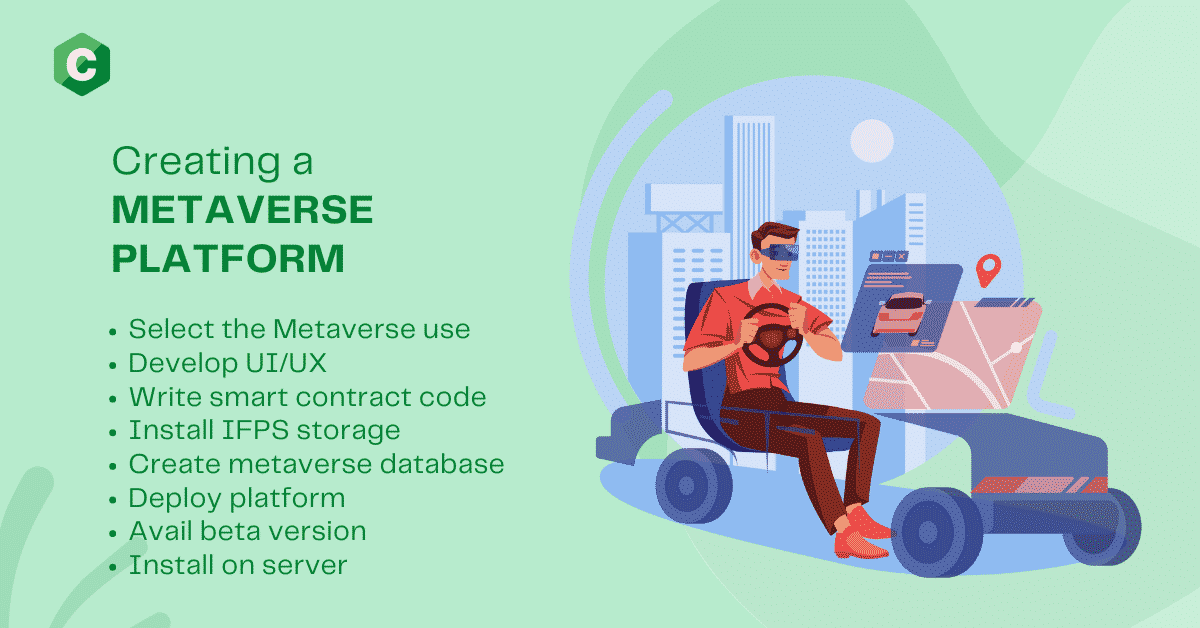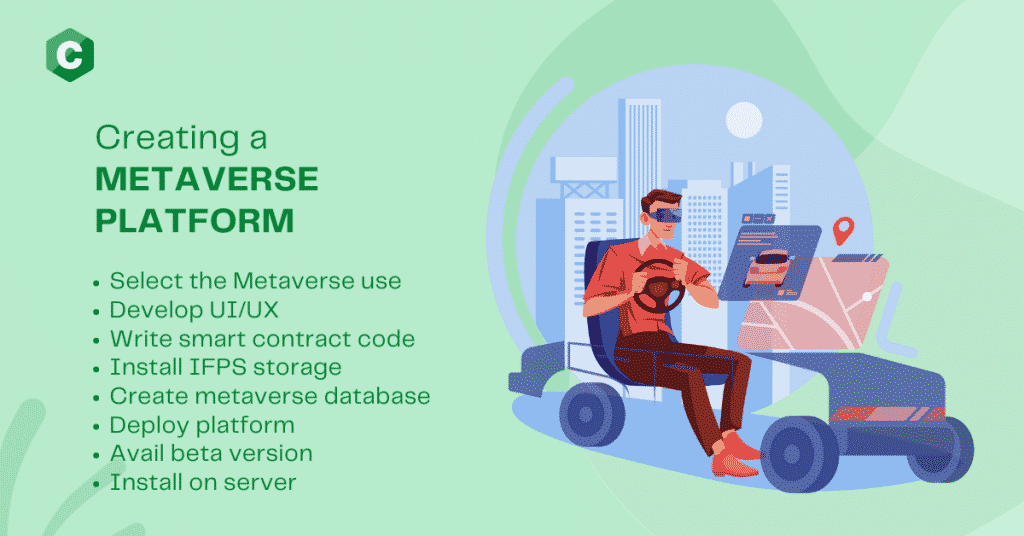 Best Practices When Creating a Metaverse Platform
Metaverse platforms offer you, as a creator, an excellent opportunity for monetization from people all over the world, but only if you do certain practices correctly. The practices include; 
Describe your requirements
Describing your metaverse platform indicates that you understand what you want. This stage is essential as when you meet your developers, it will be easy for them to understand what you want, and both of you will be on the same page when beginning the process. 
Carry out competitor analysis
Competitor analysis will involve researching your competitors' target audience, the different features in their metaverse platforms, and their prices, among other factors. Moreover, competitor analysis will help you plan how to develop your platform to stand out uniquely from theirs. 
Choose the right features and functionalities for your platform
Each metaverse platform will have unique features and functions that will help it function according to its designed purposes, be it gaming or holding meetings and events. 
Hire a Metaverse development company
Building a metaverse platform is a technical job. In fact, you'll require professional and experienced talent who will understand what you want, the features best for your platform, and the best coding. Therefore, they will work on it diligently and deliver a quality project that will save you time and money for redesigning months after the launch.
Test the app before deploying
You can carry out testing with a smaller group over a certain period and using different devices. Testing before deploying will be beneficial to you as a developer to check if the app has its shortcomings and how you can solve them if the problem emerges.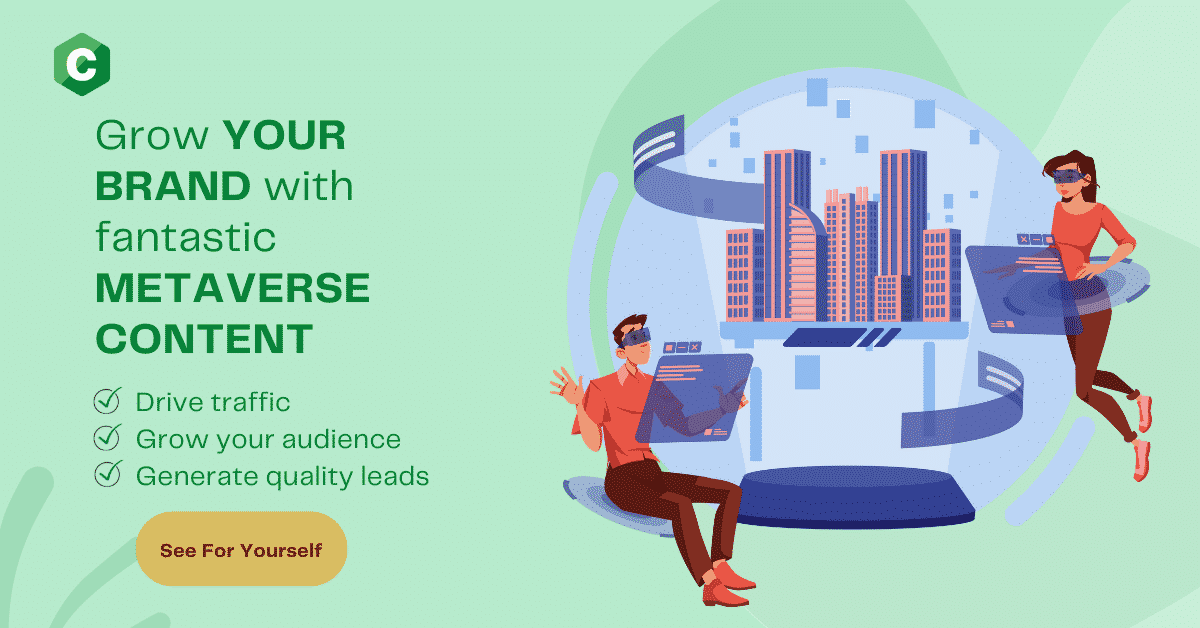 Conclusion
The coronavirus pandemic brought with it an opportunity to exploit the online space by creating and developing metaverse platforms. These platforms are the future of better human interaction experiences through gaming, trading, meeting, and online events.
Is Metaverse AR or VR?
Metaverse is a technology that uses augmented reality and virtual reality, depending on the platform.
Which Metaverse is most popular?
Axie Infinity, which was released in 2018, is the most popular.

Where can I play Metaverse?
There are several platforms to access metaverse form, including; Epic games, Roblox, The SandBox, Fortnite, and others.