Are you a budding writer looking to attract a wider audience on Medium? Or maybe you are an affiliate marketer, looking to boost visits to your website through your blog. "The ultimate guide to blogging on Medium" is just for you.
Medium is a good blogging platform to try, especially if you are just starting out.
Why is that?
Getting readers online is not an easy feat, and that is the problem Medium solves for you.
Let's dig a little deeper.

→Download Now: Free Blog Post Format Template
What is Medium?
Medium is an online platform where writers can post their work for the 60-million plus members of the platform. It is a site designed especially for creatives to share their work.
So what makes medium the ultimate blogging platform?
Blogging on Medium is so simplified, you do not need coding knowledge like you would on Wordpress. And best of all, it is free. But that is just icing on the cake that is Medium.
Let us look into how to blog on Medium and why you need to have an account immediately.

Why Use Medium for Blogging?
There are a number of reasons why you should use Medium. Check out some of the benefits of using Medium as a blogging platform.
Large audience
Easy setup
Social-media Optimized
Easy Tracking of Impact
Get Paid for Your Work
Large Audience
Medium has more than 60 million members. The audience is made up of people ready to devour your work. You get that sense of community and engagement that every writer wants.
And it gets better.
Readers can leave comments on your posts, claps, and highlights. The audience you get access to includes a pool of professionals that are actually interested in your work.
That is a much easier way of pitching yourself if you ask me.

Easy Setup
In order to write on Medium, all you need to do is follow a simple sign-up process. You can simplify this process by using your Facebook, Twitter or Google details.
And guess what?
You get the option to modify your bio information, pick a URL that reflects your content and a fitting profile picture. It is also free to join and post content. It really doesn't get any better than that!

Social-media Optimized
It is easy to transfer your social-media following to Medium. The platform was founded by Twitter's co-founder so once you sign up and post content, all your Twitter and Facebook followers that are on Medium automatically follow your new account.
You also get URLs to share your work on different platforms. These URLs can be customized so you can make them catchy, attracting people to your Medium content.

Easy Tracking of Impact
Your Medium dashboard has a drop-down menu that gives you a 'Stats' page for you to track your post's progress over 30 days.
What metrics can you pull from this?
Through this page, you get to see 'Views', the number of people who have visited your post's page; 'Reads', the people who have fully read your story; 'Fans', the people who have applauded your story; and 'Read Ratio', the difference between the people who viewed and those who have read. You also have access to.
You also get a referrers page where you can see which platform led readers to your post. This way you can focus on marketing the content you write on Medium and share your content on these platforms in order to get more readers.


Get Paid For Your Work
Unlike most blogging websites, Medium does not rely on annoying ads to get its writers paid. The platform has a Partner Program that allows you to get paid based on how much readers like your work.
Readers on Medium pay a monthly subscription of $5, and part of this amount goes to the writers whose content they read the most. So instead of getting paid because of the ads you display on your blog posts, you get paid because readers like your work.
Isn't that every blogger's dream?


How to Blog on Medium
The first step to blogging on Medium is signing up. You can use your email, Facebook, Twitter, and Google. If you sign up with either Facebook or Twitter, all your followers on those platforms that are on Medium automatically become your followers.
After signing up, you can customize your profile by writing a brief bio that lets people know exactly what you are about. You can customize your URL and pick a profile picture that suits your account.

Once you have your account up and running, navigate to your drop-down menu and click on "New Story". This gives you the option of creating the type and size of the font you want.
Add media related to your post to make it catchy, then go ahead and write your content.
Medium has a lot of different channels for writing like Culture, Humor, and Technology. There is a Long Reads channel for more in-depth work.
There are also Publications like The Mission, Personal Growth, and Lit Up. Joining a Publication is the easiest way of how to publish on Medium.
In any case,
It gives you a large number of readers looking to engage with your content. If you join a Publication, you will have to submit a draft to them for approval before publishing it on Medium.

After writing on Medium, proofreading and editing your content, you are now ready to publish it. Before publishing, you have the option of adding tags that will boost your story up the ranks.
Medium gives you the option of setting the time when you want your story to go live. This comes in handy because you can target to publish when people are most likely to see it.

Do stop at publishing your post. You need to customize the URL and share it on different social media platforms and do not forget to track the analytics.
Engage with your readers by responding to their comments and answering their questions. Provide useful links, maybe to other posts where you have expounded further.

Best Practices When Blogging on Medium
If you are a beginner on the platform, there are a few methods you can use to get a better following and more readership. Here are some of them:
Be Consistent
Write Quality Content
Optimize Your Content for Search Engines
Join a Publication
Link to Your Website
Be Consistent
How do you do this?
Write several posts in a week. Make writing and posting your best friend. The more you write, the more readers you get.
Don't forget that the more you write, the quality of the content you produce also improves, and this makes readers look for more of your work on the platform, even older work. Once you join the Paid Partners Program, you will start generating an income and you'll actually appreciate the value of consistency.
Write Quality Content
No one will spend time reading something that has a bad flow, poor grammar, or is ill-researched. Whether you are writing a love story or blogging about finance, your content when blogging on Medium needs to feel unique to your readers.
Very important.
Your content needs to be of high quality and free of grammar errors. Make sure it appeals to the audience so that they keep reading. Readers clap on the content they like and Medium moves it to the top of the content to read.
If writing is not your strongest suit, you can always consider outsourcing the writing tasks to competent writers.
Optimize Your Content For Search Engines
You want your content to show up in readers' searches. Do a research on the keywords readers on Medium are interested in. This changes day-by-day, so do not skimp out on the research.
Incorporate these keywords into your post to boost its searchability and appearance on the ranks. This is an effective way of how to publish on Medium and get a large reading audience.
Join A Publication
Publications have a ready audience that is waiting to read your content. Furthermore, they offer suggestions on how to improve your content that will make you a better writer.
To improve your chances,
Spend some time finding a Publication that best fits the type of content you are writing. Your Stats results will thank you.
Link To Your Website
Medium does not flag content found on another website as plagiarism. This is a bonus to any writer because you can copy content from your website to the platform to boost reach.
Awesome. Isn't it?
If you are an author, you can post tantalizing excerpts of your stories and link them to your website for readers to buy the book or read the whole story.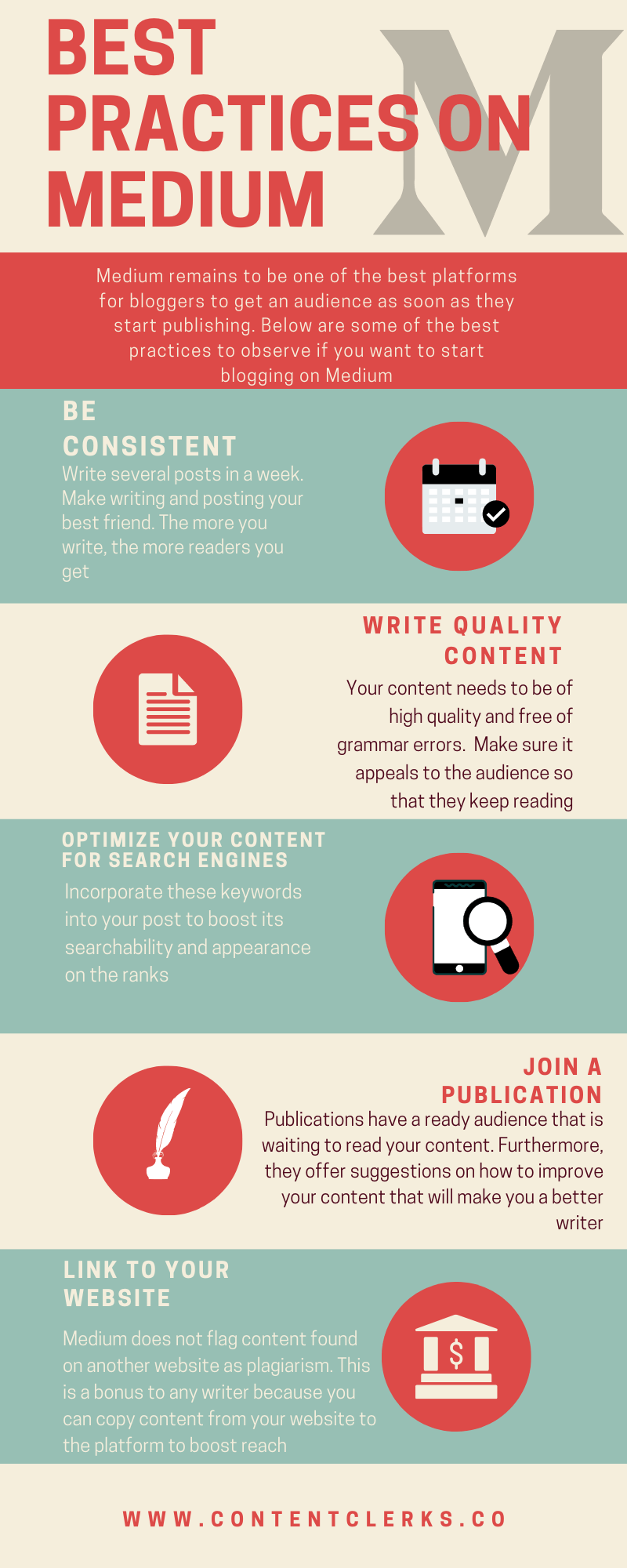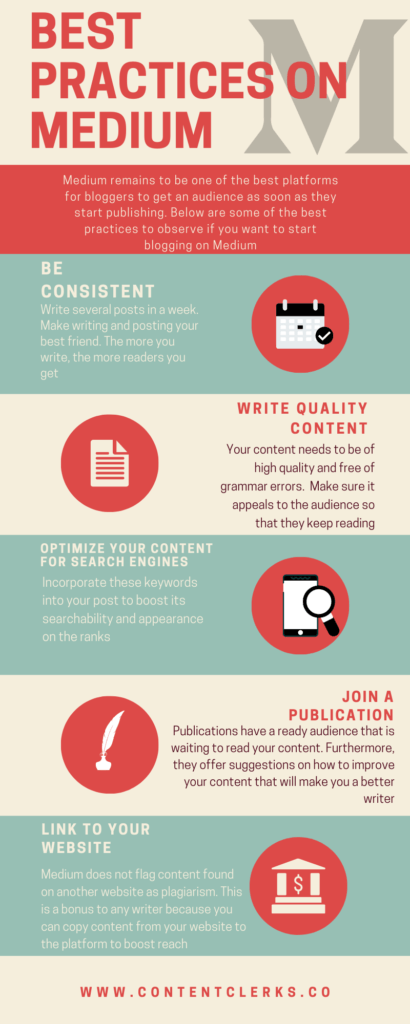 Conclusion
Medium should be your go-to platform if you want to get your content out there. The optimization for social media means you can transfer your following from Facebook or Twitter to Medium for a deeper reach.
It allows you to explore your creative side by combining powerful visions with words. The feedback in the form of comments and applause from readers allows you to move up the ranks organically rather than through clickbait.
And better yet, you can get paid for writing.

Now that you know how to blog on Medium and how to publish on Medium, what are you waiting for? Create an account and get to writing!
Can you blog on Medium?
The answer Is yes. Medium is a perfect platform especially if you want to build a personal portfolio or a blog
How do you get popular on Medium?
You should make sure you use great images, spend some money on social ads, work with medium publications for exposure, add more Twitter and Facebook followers and post regularly.
Should I write on medium or my own blog?
Medium is a great platform because you get exposure and you can exchange ideas with other writers.
Is blogging on medium worth it?
Writing on Medium is completely worth it. You can easily generate traffic and make money from it.