Fiverr is considered to be one of the largest online marketplaces for freelancers with services beginning from five dollars. Freelance services are put into various categories including business, writing, translation, marketing, video, music, and many more. This article will give you a detailed Review of the Fiverr Affiliate Program.
There are other several subcategories -over 150. Some of these include product photography, voice-over, logo design, illustration, celebrity impersonators, and many others. Generally, Fiverr allows you to access all kinds of cheap services for your business.
Fiverr is more than just a freelance market. It also offers online courses starting from as low as $19. Fiverr Elevate offers short classes and exclusive discounts for businesses at every stage.
The AND CO offers business software for contracting, creating proposals, invoicing, reporting, expenses, and time tracking. All that you need, Fiverr provides, even human billboards.
But that's not what we are going to be talking about today. We are going to be digging deep into its affiliate program that allows you to refer people and earn commissions.
Fiverr Affiliate Program
Just like other affiliate programs, Fiverr's affiliate program is completely free to join, however, you will need to be approved. If your responses are good, there is an additional system that will approve you immediately.
It also operates just like other affiliate programs where you have a tracking link. When a customer purchases through that tracking link, then you are awarded commissions. What's important to know about the Fiverr Affiliate Program is the commission structure, which we are going to run over but again don't forget that Fiverr is a freelancing platform.
Fiverr has two affiliate programs, which anyone can join. One uses affiliate tracking software from Cellxpert, and the other is hosted on the CJ Affiliate network. The first thing to have in mind is that the platform will only pay you a commission for orders placed by first time buyers (FTBs).
As each and every affiliate is unique in their own way,they also choose different methods in promotion of the Fiverr products.While others might prefer YouTube videos, some prefer writing informative blog posts.
One thing to note is that the best way to promote the Fiverr affiliate program is through content creation. The reason for this is that it just won't be worth your time promoting it on social media.
You need to do this on a high-value asset such as a blog or a YouTube channel. Also note that you can't really run paid ads as a Fiverr affiliate, as your profit margin is not really there. Or, at least it would be very hard to. Let's review the benefits, drawbacks, commission rate, and program details among other things.
What is Fiverr Affiliate Program Commission Plan?
Fiverr offers four commission plans which are narrowed down into two major ones-Fiverr CPA and Fiverr Hybrid.
CPA Model
The Cost Per Action model offers $15, to $50 for first time buyers through your link. Your earnings will however depend on the service subcategory. To say, here you need your leads to make at least one purchase though the commissions are very high.
Hybrid Model
The Hybrid model provides a $10 CPA plus 10 Percent revenue share for purchases made within first 12 months. You qualify for the commission once someone makes a purchase through your affiliate link. In simple terms, you receive a smaller CPA commission, but also a small revenue share commission every time your referral makes a purchase.
Commission earned on Fiverr can be withdrawn to your PayPal or bank account. The platform pays out commissions once per month, but only if you have earned more than $100. Commissions are also available for other Fiverr products. Some of these products are discussed below.
Fiverr Pro
This is an expert version of the original Fiverr where only sellers that are hand-vetted by the platform can offer their services. Because it is only high rated professionals who get accepted here, the services are a bit pricy with the minimum price for Fiverr Pro gig being $100. The possible commission for all Fiverr Pro gig services is $150.
Learn From Fiverr
This is what we would call the platform's academy where upcoming freelancers can take courses and polish their skills in respective fields. Courses can be on digital marketing, design and branding among others. In as much as Fiverr courses primarily target freelancers who are already on the platform, anyone is welcomed. The commission for every course order is $30.
AND.CO
Fiverr went for freelancing software AND.CO whose aim is to provide more structure to freelancers and even small businesses. Specifically, this application helps freelancers organize their gigs, keep track of time, and efficiently manage to invoice. The commission for every AND.CO Pro plan is $30.
CPA Model
Fiverr Pro
Learn from Fiverr
AND.CO
Hybrid Model
$15-$50 for first time buyers through your link 

High commissions 

Earnings depend on service subcategory 
Only sellers that are hand-vetted by the platform can offer their services 

Minimum price for a gig is $100

Possible commission is $150

Upcoming freelancers can take courses to polish their skills in respective fields

Commision for every course order is $30
This application helps freelancers organize their gigs, keep track of time, and invoice

Commision for every Pro plan is $30
$10 CPA plus 10% revenue share for purchases made within the first 12 months 

Commissions withdrawn through Paypal or bank

Pay outs are once per month if you've earned more than $100

Tools Inside The Fiverr Affiliate Program
Inside the dashboard, you will realise that there are some marketing tools displayed. These tools can be useful to affiliates in different ways.
1. Banners
Among the first things you will meet on the dashboard are banners. These are just for blogs and websites, you can add them to your websites so that if somebody clicks on them and purchases, you get paid.
2. Pixels
Next, we have pixels, which are pieces of code that you can add to your tracking link. This can help you with your remarketing and help you gain some additional data. This is a pretty useful tool that a lot of affiliate programs don't have, so that's pretty good.
3. Guides On Fiverr Affiliate Program
Another part that people really like about the Fiverr Affiliate program is the number of guides on its dashboard. After having a look through them, you will know everything that you need to so that you can start earning commissions by referring people to Fiverr.
Key Advantages of Fiverr Affiliate Program
Intuitive dashboards
The affiliate landing page is an excellent one. An affiliate dashboard is supposed to be informative, easy to use and be able to manage and monitor campaigns and Fiverr hits the mark. Furthermore, they provide a how to get started guide, video tutorials, and FAQ on the sign-up form.it's really cheap to use their dashboard since all the information is provided.
Excellent commission rates
Fiverr commission rates are excellent. It offers two commission plans, i.e., a $15 to $50 CPA for first-time buyers and a $10 CPA plus 10 percent revenue share for purchases made within the first 12 months. For the $15 to $50 CPA plan, your earnings will depend on the service subcategory. Other Fiverr products like Fiverr Pro and AND.CO also offer very good commissions.
Allow affiliates to promote thousands of quality products.
Fiverr is one of the world's leading online marketplace, with more than 11 million active users relying on the platform to start and grow their businesses. Fiverr provides a plethora of creatives and banners in various file formats, sizes, and languages. It's one of the most comprehensive offerings of any affiliate program.
Customer support
At Fiverr, affiliates have access to a dedicated affiliate manager along with a broad range of tutorials, marketing tools, and support articles. These resources provide the support you need to maximize your earnings.
It's easy to earn With Fiverr Affiliate Program
Fiverr provide affiliates with a unique commission structure that pays up to $150 per conversion. There is also no limit on the number of conversions you can produce, and there's no cap on your earnings. It's possible you could earn thousands of dollars just in your first month.
Deep linking is available.
Deep linking is how an affiliate creates a link to a specific page on the merchant's site. For example, instead of using a generic homepage affiliate link, I can link to an article related to my post. Deep linking is very beneficial given the amount and uniqueness of services available on Fiverr.
A trusted brand
What shows that Fiverr is trusted? Millions of affiliates who use it report very few issues of dissatisfaction. There are little risks involved in using Fiverr and it also has an excellent reputation.
Fiverr Affiliates are open to millions of services
Fiverr boasts over 3 million different services for order, and affiliates will find a service that matches the needs of any audience. It not only has a long-standing brand history but is also grouped among the most successful online marketplaces for freelancers in the world. Fiver also accepts traffic from more than 160 different countries.
Fiverr affiliate program is unique
Fiverr offers lifetime attribution. Meaning, once a user registers on Fiverr through your affiliate link, it doesn't matter when their first purchase takes place—you will still get paid. Even if the purchase happens 6-months later, it is still attributed to you. Unlike other platforms, you'll still earn your commission whenever that first-time purchase takes place.
It offers several payment options
Affiliates get different payment options. You can choose from USD, EUR, and GBP currencies. You can receive money via PayPal, Payoneer, and your bank account (wire and ACH transfer). It's wide and all-inclusive.
30 days cookie
If you've got problems with other programs whose cookies/ conversion periods are very short then Fiverr is here for you. Affiliates get a 30 day cookie-A standard referral period to get credit for sales.
Fiverr Affiliate Program Drawbacks
Commission only paid for first-time customers.
One thing I want to talk about that might make you feel uncomfortable is that you only receive a commission once for every new client you sign up on the platform. It, therefore, means that if you refer a customer and the customer keeps on purchasing services, you won't be paid a commission.
This restrictive first-time buyer clause is usually unappealing and creates somewhat of a win-lose proposition. This is however typical to almost all the affiliate programs.
High payout threshold
The payment mark is so high. Fiverr delivers payments when commissions go beyond 100 USD or any equivalent currency. A $50 payout threshold or lower would be more effective. Some affiliates join the program to get money and so waiting that long for commissions to pile up is too uncomfortable.
Payments not processed automatically
Fiverr's affiliate tracking software should be more efficient. There is no payment made until affiliates make a request since the app doesn't automatically process.
There are also very many pending cases upon request of withdrawal. Fiverr should just consider moving away from Cellxpert for the sake of its loyalists. It is usually not appealing that whenever you need a withdrawal you can't get it immediately.
Commissions are capped.
An example is the Fiverr Pro whose services cost as much as $8,500. However, the highest amount you can earn is $150 per sale. An average or variable commission rate on Fiverr Pro sales would be more beneficial, for example, 10, this many people would appreciate.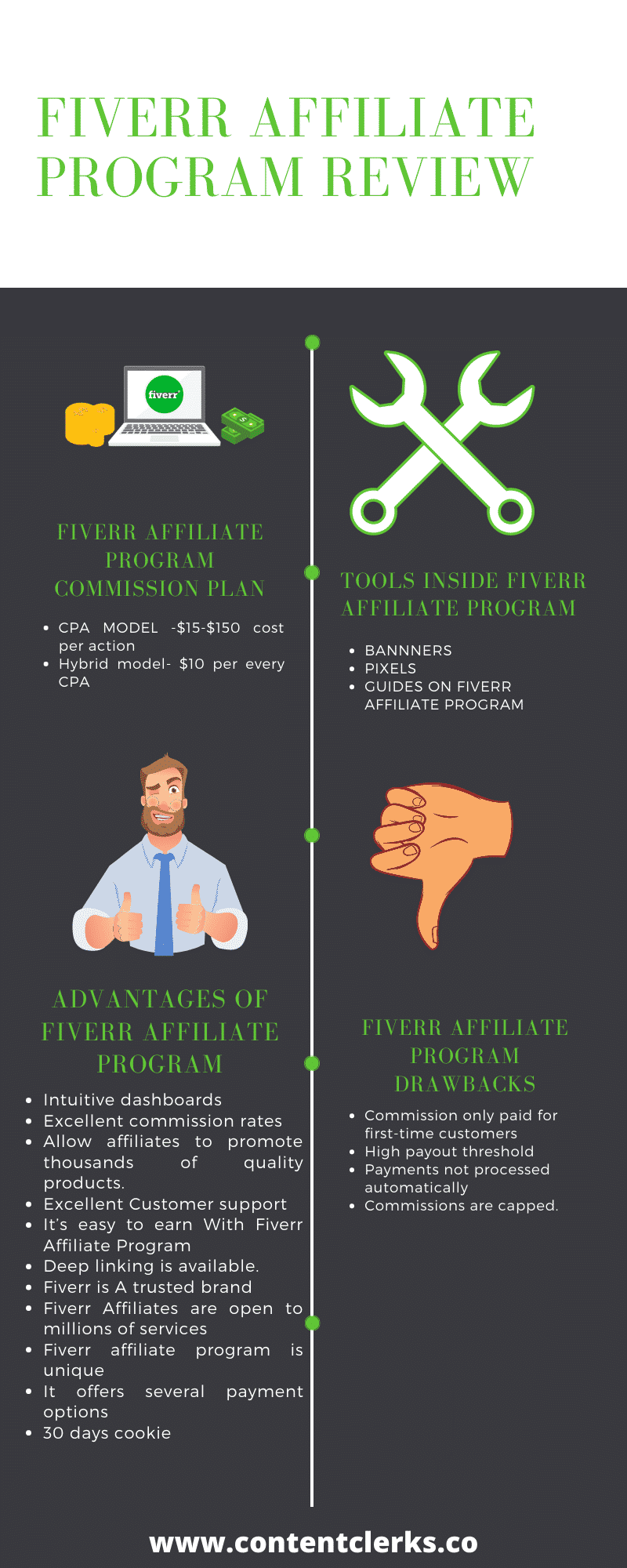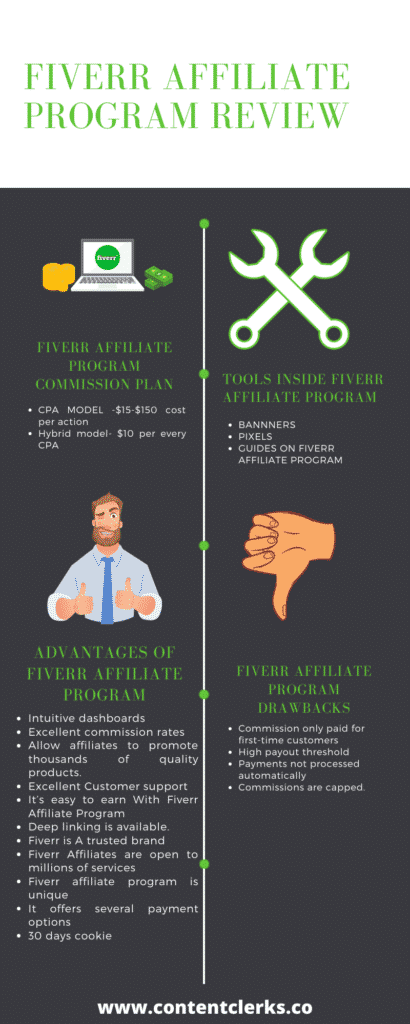 Share this Infographic With Your Audience
Wondering whether the Fiverr Affiliate Program is worth it?
I would personally say yes. In fact, it can easily make you four figures a month. If you are dedicated and can create content that links to Fiverr then you are good to go even higher.
Fiverr is known as a worldwide market leader with an excellent and rewarding affiliate program that other platforms do not provide. Besides, there are millions of unique services to promote which results to many opportunities.
Its commission rates are also exemplary good as compared to other affiliate programs. There is also the potential for higher payout rates for high-volume affiliates. The only problem is of course the first-time buyer criteria which can constrain the earnings of an affiliate.
Fiverr should be a high priority for freelancers, SMB, or the gig economy. Fiverr's strong brand and various freelancer tools make it a promising merchant.
I hope you have got help and found this post helpful! If you wish to start a profitable method to promote Fiverr, I recommend the $100 Affiliate marketing method, otherwise, your choice is your first priority.
How does Fiverr affiliate work?
First, you need to sign up as an affiliate. After signing up, you will get customized, shareable links and a variety of marketing tools. Then place the links anywhere online and refer traffic to any Fiverr page that best suits your audience. Any Fiverr buyers who click on your link and register will automatically be assigned to your account.
Can you really make money with Fiverr affiliate program?
Yes, you can. Just sign up for their affiliate and begin the process. However, it takes a commitment of time and money to make it a real money-making business.
Does Fiverr take a commission?
Fiverr offers two commission plans, i.e. a $15 to $50 for first-time buyers and a $10 CPA plus a 10% revenue share for purchases made within the first 12 months.