Are you a beginner in affiliate marketing and you don't know where to start? If this is you, it is highly likely that you have considered one or two affiliate networks to work with. Did you have a conclusion on what are the best affiliate marketing programs for beginners?
We are going to look at all the fundamentals of each program in terms of sign-up and approval processes, offers and commission rates, countries served, payment schedules and methods, and how to monetize the programs.
There is no doubt that you can make good money with affiliate marketing programs for beginners. It is important to know, however, that only good quality product reviews can make you money as an affiliate marketer. Many platforms exist in the industry, and each has its strengths and weaknesses. Hence, It is essential to understand what each program offers before making an informed decision.
→Download Now: Free Content Marketing Strategy For Affiliate marketers
Amazon Associates
Amazon is among the most extensive affiliate marketing programs for beginners, with products from over 1.5 million sellers across the globe.
They operate in various countries hence its popularity and large customer base. Here are is a list of countries that Amazon operates.
The Amazon platform is easy to use, and even those with little tech knowledge can begin their journey in affiliate marketing quite easily. Also, the sign-up process is straightforward.
Keep in mind that you need to have an active YouTube channel, website, blog, or app to become an associate. Having either of these platforms will help you promote Amazon products. You need an associate account to start operating, and you can create it from Amazon's Associate Homepage.
Amazon's affiliate program sign-up page
Once you finish the sign-up process,
It takes 180 days for approval. You need to make a sale within this period. Otherwise, your account will be closed. If consent is denied, you can make adjustments and reapply for the associate program again.
Additionally,
Amazon is highly flexible as it supports millions of products giving your ads and links a greater appeal to potential customers. Affiliates can choose from thousands of physical and digital products to promote. This is why Amazon is a good affiliate marketing program for beginners
These include toys, electronics, fashion items, computers, tablets, beauty products, books, and many more. It is up to you to select a suitable niche and tap it.
Most importantly, it is a trusted brand, and you can be sure of getting paid without delays.
The percentage commission earned varies across products. For instance, affiliates can make 5% from digital movies and video devices, 10% from premium beauty products,7% for fashion shoes and jewelry, and 8% from furniture, home, and garden products.
Here is a breakdown of the rates.
Amazon's commission rates
However, since most goods are physical, affiliates have only a few options that they can refer to generate a recurring income. Also, Amazon will pay you 60 days after the end of the month that a sale occurred.
Amazon has various payment options. You can get paid via checks, direct deposit, and Amazon gift certificates. However, cheques attract a $15 processing fee, and you should avoid this option.
International users are lucky as the cheques processing fee is waived for them.
Once your Amazon account is set up, you are required to create affiliate links. When a purchase is made via the links, you earn a commission. Hence, you need to promote the links because you can only earn a lot when your traffic is high.
That can be done through blogging. Here, you can review products, write about special offers and best-sellers, or even how to buy the product.
Promoting the products can also be done via social media, YouTube videos, sales funnels, and email marketing.
CJ Affiliate
CJ Affiliate is considered one of the largest platforms for online marketing. Founded in 1998, it has had its fair share of earning a good reputation and making its partners happy.
What makes them a likable affiliate marketing program for beginners?
CJ Affiliate facilitates real-time reporting, and you can track activities as they happen. Also, signing up is easy, but you must have a website. Also, there is no approval process, and you can become an affiliate in a few minutes if you provide correct information on the sign-up page.
However, be warned that your account might be deactivated within six months if you fail to make a sale.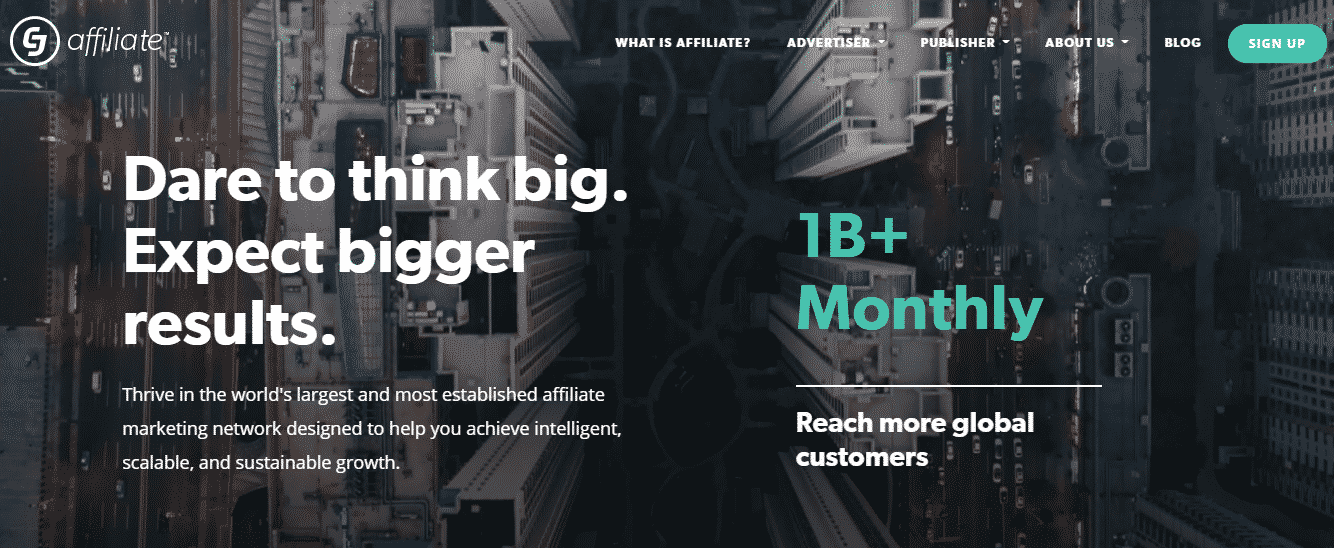 CJ Affiliate Publisher sign-up page
CJ affiliate has a vast country selection that includes the UK, Spain, Sweden, Germany, the United States, and France. The platform connects you to over 3000 merchants and lots of product brands.
These products attract different commission rates depending on the merchant. Most offers on CJ affiliate are cost per acquisition (CPA) such as pay-per-call, pay-per-lead, and pay-per-sale. Some advertisers have pay-per-click, and pay-per-view offers as well.
CJ affiliate's payment terms are friendly. The platform offers various payment methods.
These include,
Cheques, direct deposit, and Payoneer for international members. The payouts are made once a month and the payment threshold of $100 for a cheque and $50 for direct deposit.
The best way to promote products and make quick sales is by using social media. You can post advertisements on the pages of various platforms such as Facebook.
It is vital to understand the terms of the social media platform before proceeding. Additionally, you can place banners, widgets, and links on your website to increase visibility and click-through frequency.
ClickBank
The ClickBank program is one of the best affiliate marketing programs for beginners. It serves millions of customers in different countries. Recently, it established a base in new countries, expanding its operations.
Joining the ClickBank affiliate program is fast and free. You can sign up from ClickBank's master page.
ClickBank's sign-up page
It is a good option for beginners, as the approval process is instant. Additionally, it provides a lot of information that includes videos, FAQs and walk-throughs making it beginner-friendly.
There is an advanced program known as the 'Joint venture program' that promotes collaboration with ClickBank's partners. There is an approval process for this level, but the commissions here are higher.
ClickBank has over six million products and is an excellent platform for making money. Most are quality digital products such as e-books, e-courses, and online courses.
The physical product range is limited. However, you can never miss great products to promote. What makes ClickBank unique is its 60-day moneyback guarantee on every product. Despite the offer, it is vital to do due diligence on all products that you choose to ascertain that they are of good quality when making your selection.
ClickBank's commission rates are lucrative, and you can earn between 1% and 75% depending on the product.
ClickBank has a flexible payment schedule that allows affiliates to dictate when to get paid. They pay weekly or monthly, depending on the time specified by the member. Additionally, you must have reached the payment threshold of $10.
Payments are made through various methods. These are mainly through a cheque, direct deposit, and wire transfer.
However, all initial payments are through a cheque, and any other means are applicable after that. International payments can be made through Payoneer.
ClickBank's promotional or advertising channels include email, video, and telemarketing. Check their promotional guidelines to learn more.
eBay Partner Network (EPN)
eBay was founded in 2008 and has earned a good reputation. It has over 175 million buyers across the globe. eBay has its operations in different countries. Hence, there are millions of merchants, and that translates to a wide variety of digital and physical products. This makes the eBay network a desirable affiliate marketing program for beginners.
Becoming an eBay associate is easy. You only need to sign up on the eBay Affiliate Program page. Approval is instant, and you can begin your affiliate journey instantly.
eBay's Sign-up page
eBay has juicy commission offers. For instance, you can earn double commissions in your first three months.
Any sale that is completed by a new or reactivated (One who has not purchased on eBay for 12 months or more before clicking your affiliate link) will earn you double.
How fantastic is that?
And what is more interesting;
The commission rates depend not only on the product but also on the country of operation. Hence, ensure that you select products that work for you.
Many recommend the platform for physical products. Some products can earn you a commission of 1% while others fetch as high as 6%.
However,
You only qualify for a commission if a buyer clicks your affiliate link and makes a purchase within 24 hours for 'Buy It Now' products.
For the auction, you get a commission when a buyer bids within 24 hours after clicking your affiliate link and wins the sale within ten days. You can check out eBay's rate card for more details.
eBay's payment schedule is also flexible. Payouts are done every month through PayPal or direct deposit only if you have reached the minimum amount of $10.
EPN also makes it easy for affiliates to promote their items through promoted listings. Your listing gets exposure to more customers, and you are only charged when for the advertisement if it leads to a sale.
ShareASale
ShareASale was founded in 2000. It has established its operations in several countries across the world hence its popularity. Is it a good affiliate marketing program for beginners? Let's find out.
You can earn good commissions, and it starts by signing up. However, you need to have an active website.
You can sign up from the affiliate sign-up page and follow the five simple steps. Ensure that you provide accurate details.
Once you apply, the application is reviewed, and it takes up to two business days to receive an approval email.
SharaASale Affiliate Sign-up page
ShareASale has over 2500 merchants that provide an opportunity to earn commissions. The merchants target various niches from business to fashion, home and garden, sportswear, and many more.
Once your application is approved, you need to select the ideal merchant from a wide variety. Identify credible merchants in your niche that you like.
Keep in mind that merchants must review your site to approve you. Hence, you must make an application.
Also,
Ensure that you add a profile on your logo, add a compelling description of your website and marketing strategies, as well as, add a description of your promotional methods.
Some merchants will approve you immediately, while some will take a few days or weeks, depending on their approval procedures. Once they accept you, you can start directing sales to their products.
The commission rates earned vary depending on the merchant you work with. ShareASale facilitates deep linking as a way of ensuring that you earn commissions.
It entails bypassing the merchant's homepage and linking potential buyers straight to a registration page. Additionally, affiliates can do real-time tracking for better quality control.
ShareASale ensures that they pay your hard-earned money on time. They settle on the 20th or every month as long as your account has a minimum of $50. They pay via check, wire deposit, and Payoneer for international affiliates.
You can start earning money quickly by using efficient monetizing methods. For instance, you can write articles, product reviews, or how-to guides.
Creating a resource page on your blog can also attract potential buyers. You can also do email marketing if you have email listings and social media marketing as well.
Rakuten Marketing
Rakuten is among the oldest affiliate marketing programs for beginners. However, it has credible features that make it stand out from the rest.
For instance,
You can automatically rotate through different product banners. That makes it possible to optimize your offers.
And that is not all.
LinkShare allows multiple ad versions of a product to turn instead of manually selecting an ad you want to run on your blog with a small line of code. It also allows for a flexible deep linking to merchant landing pages as well.
With all these features,
It is easy to create a personalized campaign. You can also select the page you want your traffic to go to therefore increasing flexibility for promoting various affiliate offers.
These features make the platform likable, and many potential affiliates target Rakuten.
The registration process is easy, and you can become an affiliate of Rakuten in a few minutes.
So what are you waiting for?
Become a member by registering on their website and become part of the over 1.4 billion members across the world. LinkShare operates in the Americas, Asia Pacific, Europe, and Japan.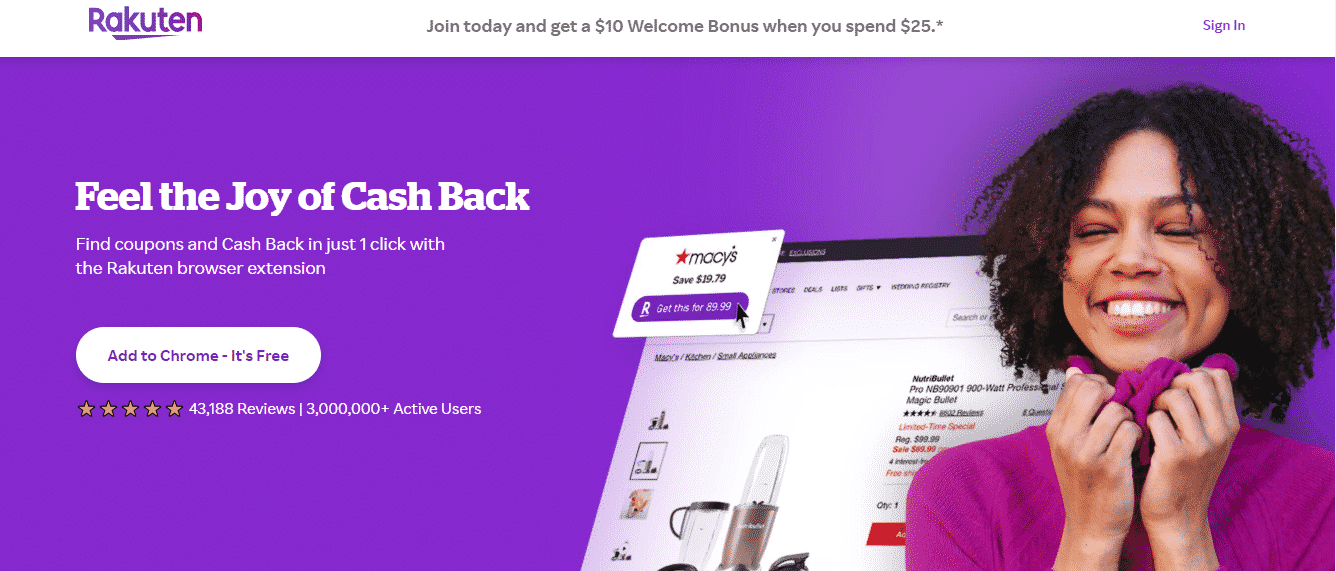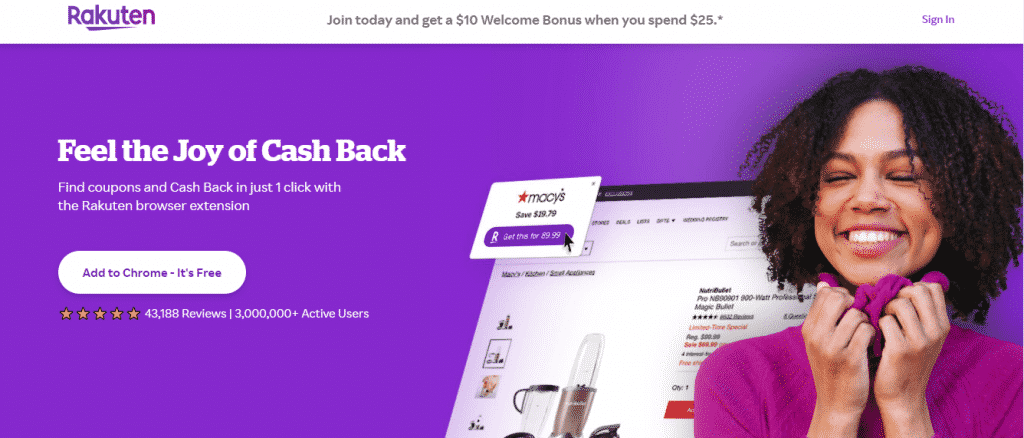 Rakuten's sign-up page
LinkShare has various offers you can enjoy. For instance, signing up will earn you a 10% bonus. Additionally, they have cash back offers on purchases.
When you record a sale, cashback is added to your account. It is paid out every three months in the form of a check or PayPal payment. There are always amazing deals to enjoy.
Rakuten has about 1000 partners, a number that is considerably small compared to bigger networks such as Amazon. However, this is a classic case of quality over quantity.
You can still get a variety of products from reputable stores that target various niches. The products fetch different commission rates depending on the scale that is set by affiliate merchants; Hence, you need to select your merchants carefully so that you get good returns.
Rakuten's payment schedule is not definite because you only get paid when their merchants pay them. However, they have flexible payment methods that include Paypal, check, and direct deposit.
Promotion of Rakuten products is best done on social media through platforms such as LinkedIn, Facebook, and Twitter. You need to start conversations about the product. Get people to give their opinions and ask questions.
That sparks more product interest, and that is what you want. Secondly, encourage recommendations. Statistics show that 90% of eCommerce buyers trust recommendations from friends and family. You need to make it easy for customers to recommend your products.
MaxBounty
MaxBounty was established in 2004 and is somewhat a newcomer to the affiliate industry. They are purely a cost-per-acquisition/action (CPA) platform and does not feature ad banners and related elements. Does this make it a good affiliate marketing program for beginners?
MaxBounty focuses on customer links that bloggers or publishers choose to put on their websites. It is said to be the only platform for affiliates only. MaxBounty focuses on the business niche and has over 1500 campaigns.
MaxBounty provides an excellent opportunity for members to make money. You can join the platform by registering on the affiliates' sign-up page. Follow the seven steps provided and apply.
MaxBounty's affiliate sign-up page
The approval process takes between two and three days. An affiliate recruiter first reviews the application and then calls you and interviews you.
If you do not hear from MaxBounty within that timeframe, you can call them to find out the progress of your application.
MaxBounty deals with a range of digital products only. It allows CPA action making it possible to earn money through mobile devices as well. Besides, the dashboard is easy to navigate, and users can easily filter high-earning offers.
However, the commission rates vary depending on the type of campaign. For instance, CPA rates are from $2.50 to $85, while other campaigns have different rates.
However, the referral commission rate is 5%. More so, affiliates who record sales worth $1000 or more in the initial three months are eligible for a $1000 bonus.
That shows that MaxBounty is ideal for mid to top-level internet marketing companies that are confident about sending and managing traffic. If you are a beginner in affiliate marketing, you might not make much money.
MaxBounty ensures that they pay affiliates on time. Payments are made every week, and the least payment threshold is $50. Payment methods include PayPal, Intercash, eCheck, Bitcoin, bank wire, and ACH (direct deposit).
The best way to make money on MaxBounty is through paid advertising. Various social media platforms allow you to advertise your product for pay. An example is Facebook ads, which are ideally video ads.
However, ensure that you have enough capital and that you can be able to generate many sales to get your investment back and earn a commission.
FlexOffers
FlexOffers is a household name in the affiliate marketing industry. It brings together advertisers and content creators, bloggers, and other publishers.
You can become part of FlexOffers's team by signing up on their website from the publisher's sign-up page.
Once you fill in all the information required, it only takes one business day to review your application and approve or reject it. When you are accepted, you are assigned an affiliate manager (mentor) to guide you through the process.
That gives FlexOffers an advantage as it becomes suitable for both beginners and veterans.
FlexOffers has thousands of affiliate programs for beginners that you can choose from. The programs are subdivided into hundreds of subcategories, and that enables the publisher to find relevant products in their niche quickly.
The niches range from business to insurance, education, entertainment, careers, automotive, and many more. There are over 12000 merchants in the program across 27 countries and counting.
FlexOffers has various offers that you can enjoy. For example, when you recommend FlexOffers to someone and they get a commission, you also get a commission. You can earn even up to 50% of any commission generated by your referrals.
FlexOffers pays out fast as payments are made within 30 days if you have a minimum balance of $50.
If you are listed as a top performer, you can get paid within seven days. You can get paid via direct deposit or cheque if you reside in the US. Paypal is only available to those outside the US.
The best monetizing method is to use social media platforms, mainly Twitter and Facebook. You can post reviews in the form of video or writing and post them on your page.
Awin Affiliate Program
Awin, formerly known as "Zanox", is an award-winning affiliate marketplace known globally. It has its headquarters in Berlin, Germany, and has 15 offices in different countries. Awin boasts about 13,000 advertisers, 1,000 employees, and 100,000+ publishers.
Signing up on this platform is quite easy, but some requirements must be met. The most important requirement is that your website must be active and established, and must have content relevant to the niche you intend to promote. You can have your Awin account up and running in four steps.
Account set up – enter your company or personal details
Promotion type – Indicate the country, the niche, and the promotion strategies.
Promotional space – put the information about your website
Verification – verification takes two steps. Add a meta-tag for verification purposes, then pay a screening fee of $5. You'll be refunded the screening fee once your account is approved.
The commission you earn on Awin depends on the merchant you are dealing with. You can earn as high as 50% with some merchants. Awin makes all payments on a monthly or bi-monthly basis. All the payments are made via PayPal.
The advertiser will have to approve your payments before they reflect in your account. The approval may take between 30-45 days, and it will take a further 3-5 days for your money to reflect. The minimum amount you can withdraw is $20.
Awin offers many tools for affiliates to use. For example, they have a convert-a-link feature that will automatically convert your regular links into affiliate tracking links. They also have a link builder that will allow you to build links for tracking advertisers' websites. Apart from that, if you have any questions, you can ask directly via their email, phone, or the contact page on their website.
Awin Pros And Cons
Pros
Awin is easy to understand and easy to use
Signing up is quick and easy
Offers various widgets and tools to enhance users' experience
Provides a convert-a-link plugin
All affiliate stats are available on the dashboard
A wide range of merchants
Cons
Sometimes payments pend for long before approval
Some staff aren't experienced in affiliate marketing
Etsy Affiliate Program
Etsy is a unique platform because its products aren't available on any other online website. It is a marketplace where vintage retailers and crafters set up their online stores. This means they can run their businesses on this platform without owning it. Its affiliate program is managed by Awin.
Joining the Etsy affiliate program also requires you to have an established and active website. The platform charges a refundable screening fee of $5. Just like Awin, you'll need to provide your company or personal details, indicate the niche you are interested in, and your promotion strategies.
Some Etsy merchants include:
Swing Design
Personalized Lazer Designs LLC
Pandaquill
Buckleguycom
Jewelrybyjogan
Hirts Gardens
Craig Framers Inc
Crazydog Tshirts
Etsy affiliates are paid twice a month – on the 1st and 15th. Merchants must validate all sales before making payments, so it will take at least 30 days before you receive your first commission. The payment options available are international wire, check, and bank accounts through ACH. Etsy doesn't support cryptocurrencies or PayPal. The minimum payout is $20, but you can increase it to as high as $10,000.
Etsy provides a lot of support through its affiliate manager/team. They also have informative videos and a contact form that you can use to submit your queries. Not only that. Etsy also has live chat support, which gives it a human face that many affiliate programs don't have.
Etsy affiliate program pros and cons
Pros
A leader in craft and vintage niche
Offer a variety of products
Every product sold helps small businesses
It is safe because Awin manages it
Offers unique products not found elsewhere
day cookie
Many creatives and marketing tools
Cons
A low commission rate of 4%
You have to pay application fees to join
Fiverr Affiliate Program
Fiverr is a leading freelance marketplace globally. It is a place where you can offer or get all manner of services, including web design, copywriting, SEO, spokesperson videos, graphic design, among others. Fiverr's affiliate program for beginners is quite popular because it's free to join. Fiver is unique in the sense that it doesn't support all niches. This is because it offers digital products and services rather than physical ones.
As stated earlier, the Fiverr affiliate program is free to join, but you'll have to wait until you get approved. In many instances, new affiliates get approved instantly. It's extremely easy to create an account on Fiverr, but you have to inform the company about your promotion strategies and what audience you'll target, plus their interest. Once you join as an affiliate, you get access to marketing tools, materials, and more.
Fiverr offers four different commission types: Sub-Affiliate Model, Hybrid Model, CPA Model, and Revenue Share Commission. They are all different and have unique benefits. Fiverr's threshold payment is $100 – this is the minimum amount you can withdraw. The payment methods supported by Fiverr are Direct Deposit (the United States only), Fiverr Revenue Card, Bank Transfer, and PayPal.
Fiverr offers a dedicated affiliate manager for its affiliates. It also has a broad range of support articles, marketing tools, and tutorials. All these help affiliates maximize their earnings.
Fiverr pros and cons
Pros
Creative resources
Intuitive dashboards
Professional support
Free to join
Easy for new affiliates to get accepted
Good tools
Custom and unique commission structure
Well known globally
Big market
Cons
Low commissions
Already used by many people, hence difficult to promote
How to choose the best affiliate program as a beginner
Before you sign up for any affiliate program, there are many factors you have to consider. These factors include:
Ease of sign up and use
As a beginner, you don't need an affiliate program that has a complicated signup process. The signup process needs to be straightforward. The platform itself should also be easy to use and even to get support.
Merchants available
Merchants are important to help implement your sales tracking and provide you with various linking options, monitoring your results, and making payments.
Payout
As a beginner, you can choose an affiliate program that pays twice a month. This will ensure you get faster returns and will also boost your morale. You also have to choose an affiliate program that pays high commissions.
Customer support
When just starting with affiliate marketing, there are lots of things you may not understand. That's why you need an affiliate program with excellent customer support. You need an affiliate program that offers faster responses through live chats or phone calls.
Payment methods
Choose an affiliate program that offers payment methods you are comfortable with and is cheaper. Also, consider the minimum payout offered.
Verdict
It is evident that Amazon, eBay, ClickBank, ShareASale, Rakuten, CJ Affiliate, FlexOffers, and MaxBounty top the list of the most exceptional affiliate marketing programs for beginners.
They operate in various countries and have amazing offers and features. What is more, you can sign up quickly and start earning commissions.
What is the best affiliate marketing program for beginners?
The top affiliate programs include Amazon, eBay, and ClickBank.
What are the highest-paying affiliate programs?
The top paying affiliate programs include; Bluehost, Hostinger, Cloudways, HostGator, GreenGeeks, WP Engine, and Liquid Web
Is affiliate marketing easy?
Affiliate marketing is a logical and easy way if making money where you can earn money from various channels. However, it is not an easy way to make money and requires one to put in some work.
How do I start affiliate marketing as a beginner?
The first thing to do is to c choose your niche then do research on different affiliate programs and products, build a site, produce excellent products, build an audience and Promote your products