Beauty blogging is a creative way to share your beauty routine, tips, and product recommendations with the world. It can be a fun and rewarding hobby, as well as a great way to connect with other beauty enthusiasts. However, the beauty industry is vast and ever-changing. There are new products being released all the time, new trends to keep up with, and new techniques to learn. For beauty bloggers, this can be both a blessing and a curse. On the one hand, there's always something new to write about. But on the other hand, it can be difficult to keep coming up with fresh beauty blog ideas. Some bloggers even use blog writing services to help them with this process.
Therefore, whether you're looking for inspiration for topics on makeup, hair, or just want to know what the latest trends are, read on for some great ideas. We promise you'll be inspired!
Beauty Blog Ideas: The Categories
When it comes to beauty blogging, there are endless possibilities. Makeup, skincare, perfume, haircare, nails, lifestyle, and general beauty are just a few of the categories that you can write about. There is no right or wrong way to approach it. Some bloggers focus on reviewing products, while others use their platform to share tips and tutorials. No matter what angle you take, there is sure to be an audience for your blog. Let's explore the different categories!
Makeup
Makeup blog posts can entail a lot of different things. For example, you could do a post on your favorite beauty products, or give tips on how to do a certain type of makeup look. You could also do a tutorial on how to apply makeup, or review a new beauty product that you've tried. Some examples of makeup beauty blog ideas include;
Your favorite makeup picks from a specific brand
What's in your makeup bag?
Your top tips for cleaning brushes
An in-depth review of your recent makeup purchase
Your daily makeup routine
Seasonal makeup looks
Skincare
As a beauty blogger, you always want to stay on top of the latest trends and products. But it can be difficult to keep coming up with new beauty blog ideas. That's why writing skincare-related posts is a great way to mix things up and keep your readers engaged. Not only will you be introducing them to new products and tips, but you'll also be able to share your own personal experiences with different skincare routines. Some example topics you can write about include;
Your favorite picks for a specific skin type
Budget-friendly skincare routine
Your current skincare wishlist
Top five skincare products you couldn't live without
Your skincare empties
High-end skincare products that are worth their price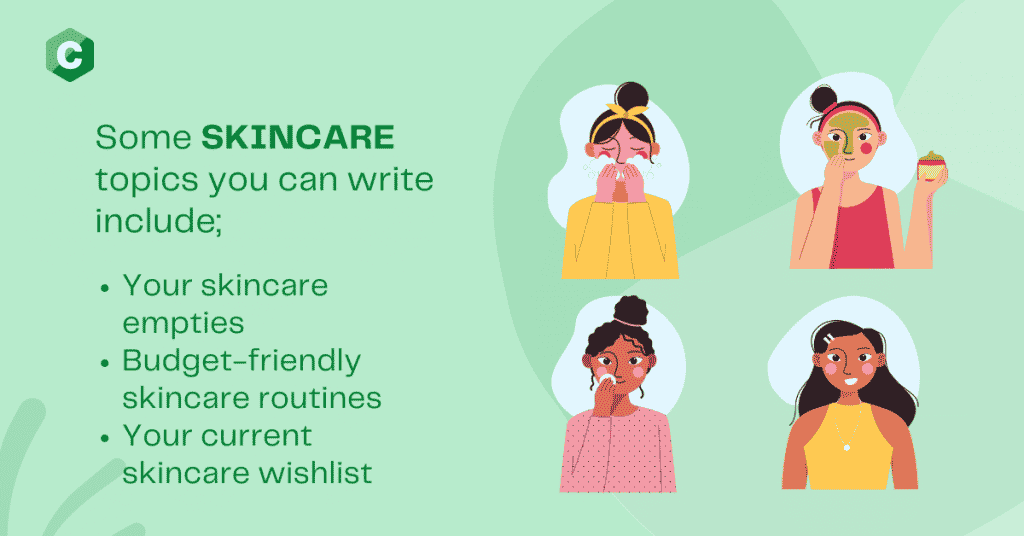 Perfume
You should definitely consider writing about perfume. "Why?", you ask. Perfume is the perfect beauty product because it's luxurious, personal, and timeless. What's more, there's always something new to write about when it comes to perfume. From the history of fragrance to the latest celebrity scent, the blog post topics are numerous. And because perfume is such a personal product, your readers will appreciate your recommendations and reviews. Examples of ideas in this category include;
Your top tips for wearing perfume
Perfume layering ideas
Your favorite budget-friendly perfume picks
Top perfume gift ideas for Mother's Day, Christmas, etc
Your favorite high-end perfume picks
Perfume storage tips
Haircare
Hair can make or break a look, and even the simplest hairstyle can take hours to perfect. As a result, it's no surprise that haircare is one of the most popular topics among beauty bloggers. If you're looking for beauty blog ideas, writing about hair care is a great place to start. You can write about everything from the latest hair trends to at-home haircare routines. Some example topics you can write include;
How to pick the right product for your natural hair
Your must-have hair styling tools
Bad hair product ingredients you should avoid
Your favorite hair care picks for traveling
Homemade hair care kits
Your top tips for maintaining healthy hair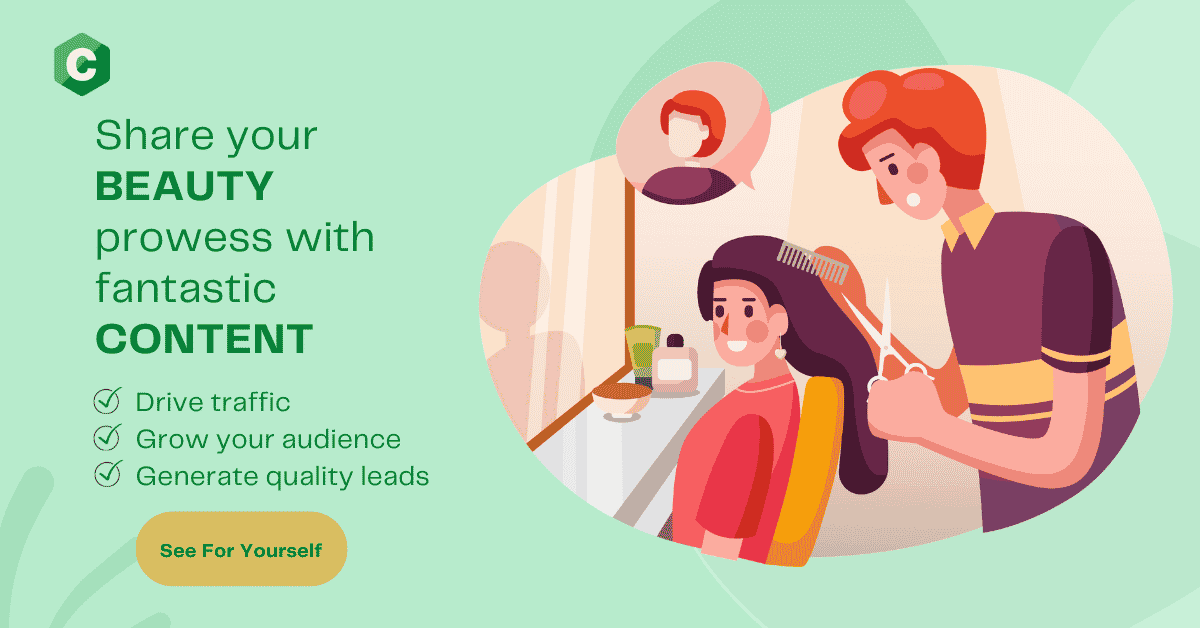 Nails
Nail care is an important part of beauty routines for many people. From basic manicures to more elaborate designs, nails offer a creative outlet for self-expression. And as a beauty blogger continuing to grow in the industry, it makes sense to incorporate nails into your blog content. With so many different nail products and techniques available, there is always something new to learn about. As such, example topics in this category would include;
5 tips to keep your nails strong
How to get started with nail art
The best nail colors for work
A beginner's guide to nailcare
Why you should always use a base coat
Do acrylics damage your nails?
Lifestyle
If you're a beauty blogger who's looking to attract more readers and build trust with your audience, consider adding some lifestyle content to your blog. Many bloggers have a wide range of interests, and considering lifestyle topics as part of your beauty blog ideas can help you explore these interests and connect with your followers on a deeper level. This content can also help you stand out from the competition, as there are relatively few beauty bloggers who write about these topics. Some example topics in this category include;
Pinterest finds of the week or month
Your morning or evening routine
The most important lessons you've learned as a blogger
Your favorite books
Random facts about yourself
Your beauty routine when traveling
General Beauty
Many beauty bloggers wonder why they should bother writing about general beauty topics as it's a saturated niche and it would be difficult to stand out from the crowd. On the contrary, it's a great way to attract new readers. By writing about popular topics, you'll have a better chance of showing up in search results and getting people to click on your blog. Similarly, it can help you establish yourself as an expert in the beauty industry. Some example topics in this category include;
Beauty essentials you always carry with you
The best products under $X
New-season trends and how to achieve them
The best beauty apps
How long should you keep beauty products?
Beauty gift guides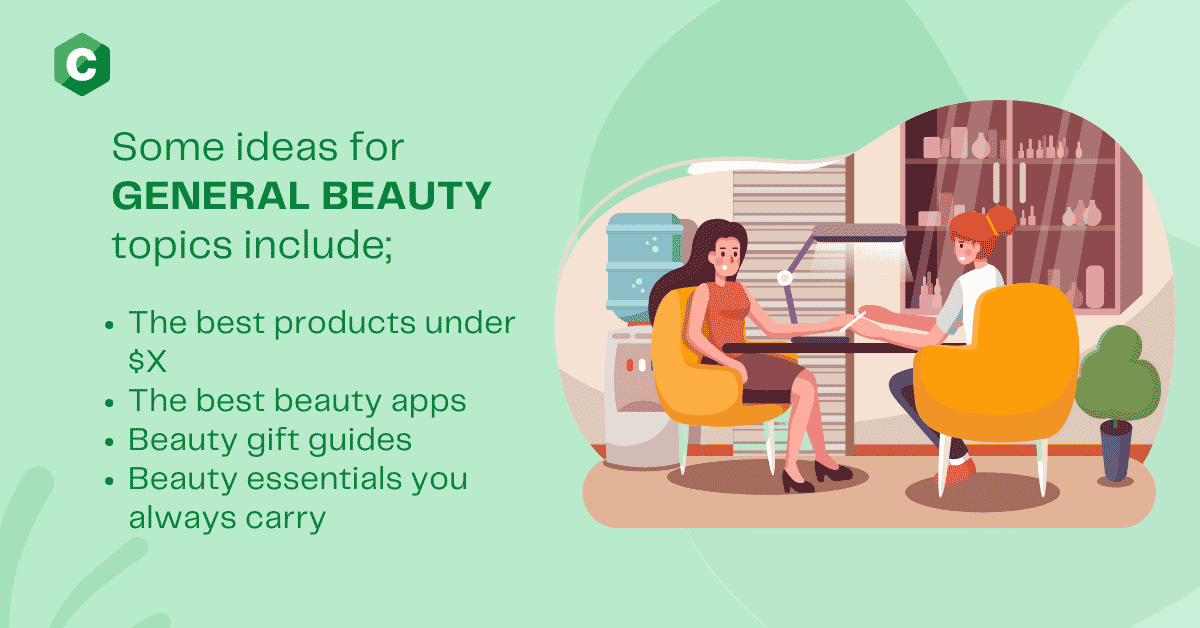 Tips on How To Start a Beauty Blog
Blogging is a great way to share your passion for beauty with the world. Not only can you connect with other beauty enthusiasts, but you can also build a following of loyal readers. And, if you're lucky, you might even be able to turn your blog into a business. There are many benefits to starting a beauty blog. For one, it's a great way to connect with like-minded people. You can share beauty tips, product recommendations, and more. Plus, it's a great way to build an audience for your business (if you have one). But beauty blogging isn't all about business. It's also a great way to express yourself creatively and connect with others who relate to your beauty blog ideas. So if you're thinking about starting a beauty blog, we say go for it! In fact, here are some tips to help you get started.

Find A Niche
Anyone who has ever started a beauty blog knows that coming up with fresh content can be a challenge. There are only so many ways to review the same products, after all. That's why it's important to find a niche: a specific subject or angle that you can focus on to make your blog stand out from the crowd. Once you've found your niche, you'll be able to come up with new beauty blog ideas on a regular basis, and your readers will appreciate your unique perspective.
Pick A Blog Name
Starting a beauty blog can be incredibly exciting. But before you get too ahead of yourself, there's one important task you need to take care of: picking a name for your blog. This may seem like a small detail, but it's actually quite important. The name you choose will be the first thing people see when they come across your blog, so it's crucial that it makes a good impression. It should be something catchy and memorable that accurately represents the content of your blog. 
Choosing A Blogging Platform
Not all blogging platforms are created equal, and each has its own set of pros and cons. For example, WordPress is one of the most popular blogging platforms, and it's perfect for beauty bloggers who want complete control over their site's design and functionality. However, WordPress can also be complex and time-consuming to manage. On the other hand, Blogger is much easier to use, but it doesn't offer as many customization options. So which platform should you choose? The best answer is: it depends on your needs and preferences.
Plan Your Content
As you start your blog, one of the most important things you can do is to plan your content. That may seem like a no-brainer, but you'd be surprised how many beauty bloggers don't take the time to sit down and map out their content strategy. When you take the time to plan your content, you'll be able to come up with beauty blog ideas that are not only relevant to your niche but also engaging and inspiring to your readers. Additionally, planning your content will help you stay on track and avoid writing anything that doesn't fit into your overall strategy. It'll make all the difference in the quality of your blog.
Grow Your Audience
Another important thing to consider is how you'll grow your audience. After all, even the most creative and interesting beauty blog won't be successful if no one is reading it. So how do you go about growing your audience? One of the best ways is to produce content that is truly unique and valuable. Beauty blog ideas that offer readers new perspectives or insights are more likely to generate attention and interest. Similarly, it's also important to be active on social media and to build relationships with other bloggers in your niche. By taking these steps, you can help ensure that your blog will stand out from the crowd and attract new readers.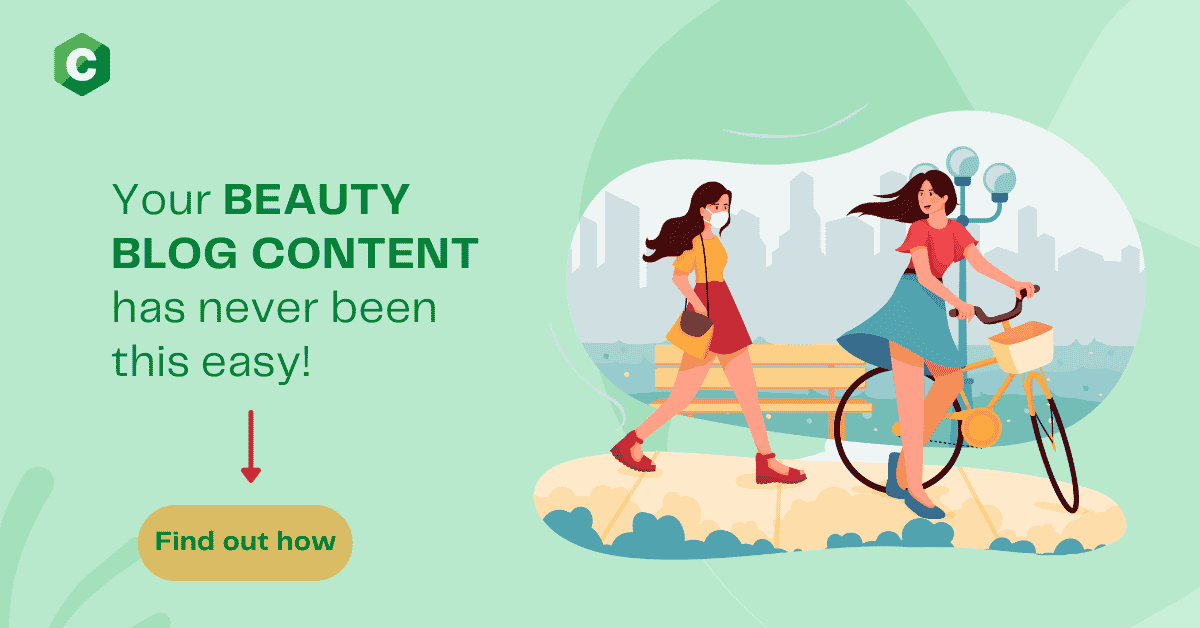 Finally!
So, there you have it! A list of beauty blog ideas to get your creative juices flowing, as well as some tips for getting started if you're thinking about starting a blog yourself. If you need help coming up with content or would like us to take care of all the nitty-gritty details for you so that you can focus on what's important (creating epic content), reach out to us at Content Clerks. We love helping fellow bloggers create amazing content and grow their businesses. Now it's time to get blogging!
Who is the most famous beauty blogger?
One of the most popular beauty bloggers is Michelle Phan who got her start by posting makeup tutorials on YouTube. Her channel has over 8 million subscribers. 
Do beauty blogs make money?
Yes, many beauty bloggers make money. How they make money can vary, but some common ways include; advertising, affiliate marketing, sponsored posts, and product reviews.
Can I create a blog using my phone? 
Yes, you can create a blog using your phone. You can either use a blogging app or website, or you can create a WordPress account and use the WordPress app.