There's a lot to learn about cars, and the automotive industry is a fascinating and complex ecosystem constantly changing. So whether you're interested in car maintenance, car shopping, or car culture, there are different car blog topics available for you.
Although the possibilities are endless, coming up with topics for a car blog can be challenging. There are many ways to talk about new models, car features, and driving experiences. The challenge comes in narrowing down your focus and creating fantastic content that will leave your readers wanting more. In fact, outsourcing this service is one of the ways you can use to make this process easier.
Nonetheless, doing it yourself has its benefits and this article is here to help you. We've compiled a list of potential topics for your car blog, so all you need to do is pick one (or more) and start writing!
Car Blog Topics: The Categories
When preparing to write a post, a blogger usually has a general topic in mind. But once you start writing, you may find that your thoughts meander, ending up on a tangent. Eventually, you may even forget what your original point was. That's why it can be helpful to categorize your car blog topics before writing. By doing so, you can keep your thoughts organized and make sure that you stay on track. Plus, readers will appreciate the structure and will be able to find the information they're looking for more easily. So if you're a car blogger, try implementing this strategy – it may be the key to a more effortless blogging experience. 
Here are various categories you can use for your car blog:
Car Maintenance Advice
As you embark on your journey as a car blogger, creating content on maintenance advice is a great way to start. People always seek advice on keeping their cars running smoothly, and we all know cars require a lot of hard work. Therefore, giving your readers regular maintenance advice will help them keep up their car performance and save them lots of money.
Here are examples of car maintenance advice blog topics:
How to clean your car.
What to do if you get a flat tire
Changing engine oil and filter regularly.
Maintaining your car battery.
Cleaning your car engine.
Car Feature Comparisons
Writing content on these kinds of car blog topics is easy and favorable to both the blogger and readers of the content. For example, many car buyers seek advice on the best car features. A side-by-side comparison will give your readers detailed information on how different cars stack up against each other in terms of price, performance, and features. 
Here are some examples of car feature comparison blog topics:
Front-wheel drive vs rear-wheel drive
Ten best features of the Tesla Model S that beats the competition.
Why Hyundai is the best car company?
Best car features for a road trip.
Manual cars vs Automatic cars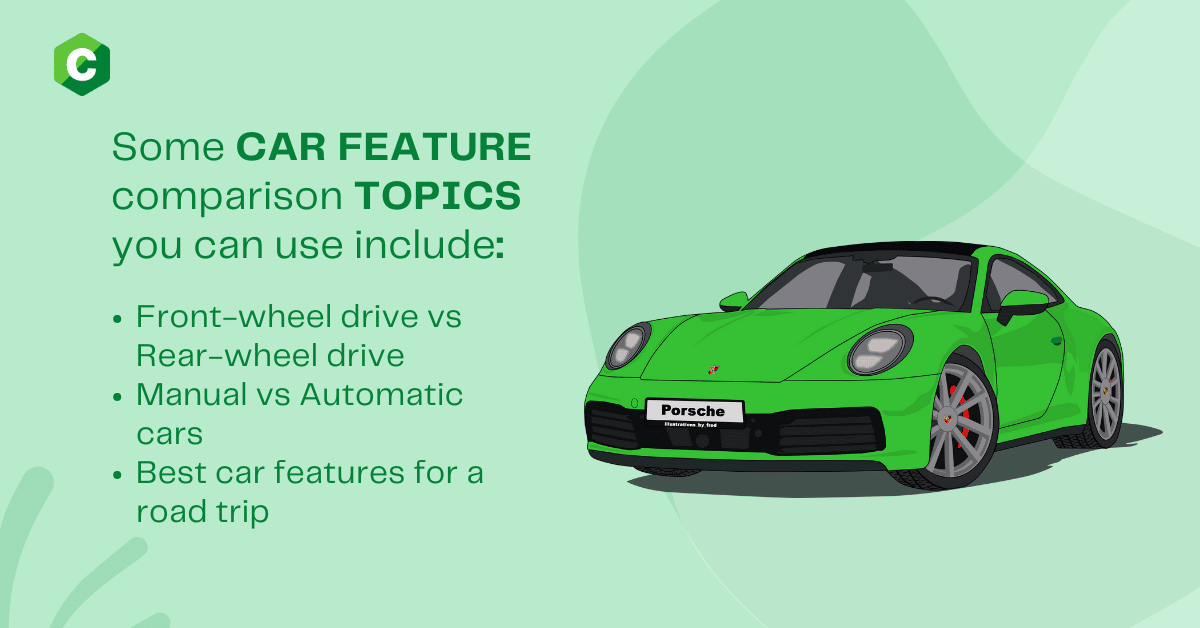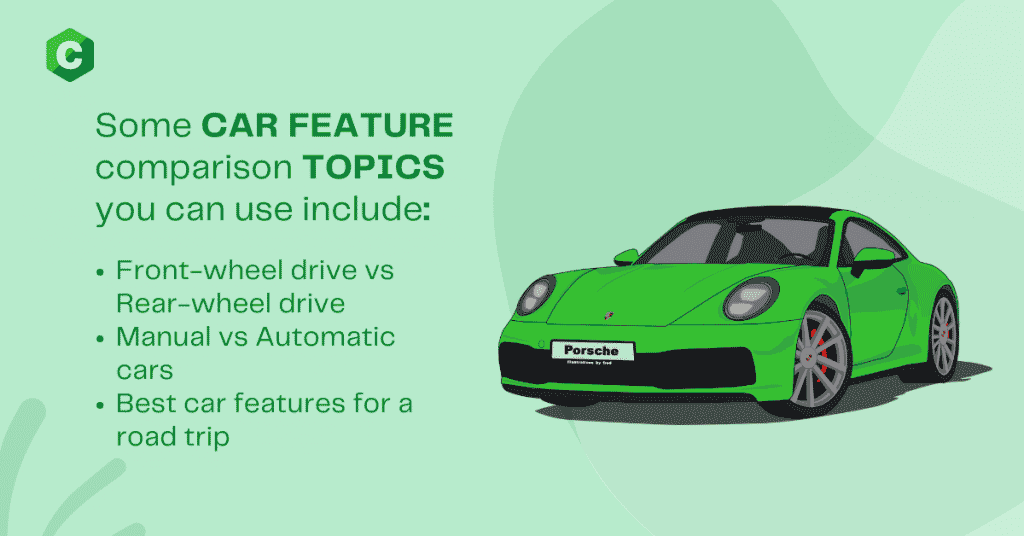 Car Brand and Model Reviews
When it comes to car blogging, one of the most popular topics is discussing car brands and models. Why? Because car shoppers want to know which brands and models are the best options in the market. Discussing car brands and models on your blog can help shoppers narrow their options and make more informed decisions. In addition, car brands and models are constantly changing, so there's always something new to discuss. Therefore, staying up-to-date on the latest car brand and model news ensures that your blog remains relevant and informative.
Here are examples of car brand and model reviews blog topics:
Honda CR-V vs. Mazda CX-5
Hyundai Tuscon vs. Subaru Forester
Land Rover Defender vs. Land Rover Discovery
Nissan Ariya vs. Tesla Model 3
Volkswagen Taos vs. Chevrolet Trailblazer
DIY Tips
There are many car blogs, but not all of them focus on car DIY tips. Why is this important? DIY can save you a lot of money and hassle in the long run. Discussing DIY tips on your blog can help readers save money and keep their cars in good shape. Also, sharing your knowledge and expertise can help others learn more about their vehicles and how to care for them. Plus, it's a great way to bond with other car enthusiasts. So if you're looking for new car blog topics to write about, start by including DIY tips! Your readers will thank you for it.
Here are some examples of DIY topics you can include:
How to change your oil.
How to fix a flat tire.
Jump-starting a dead battery.
How to lubricate hood hinges.
How to clean your leather seats.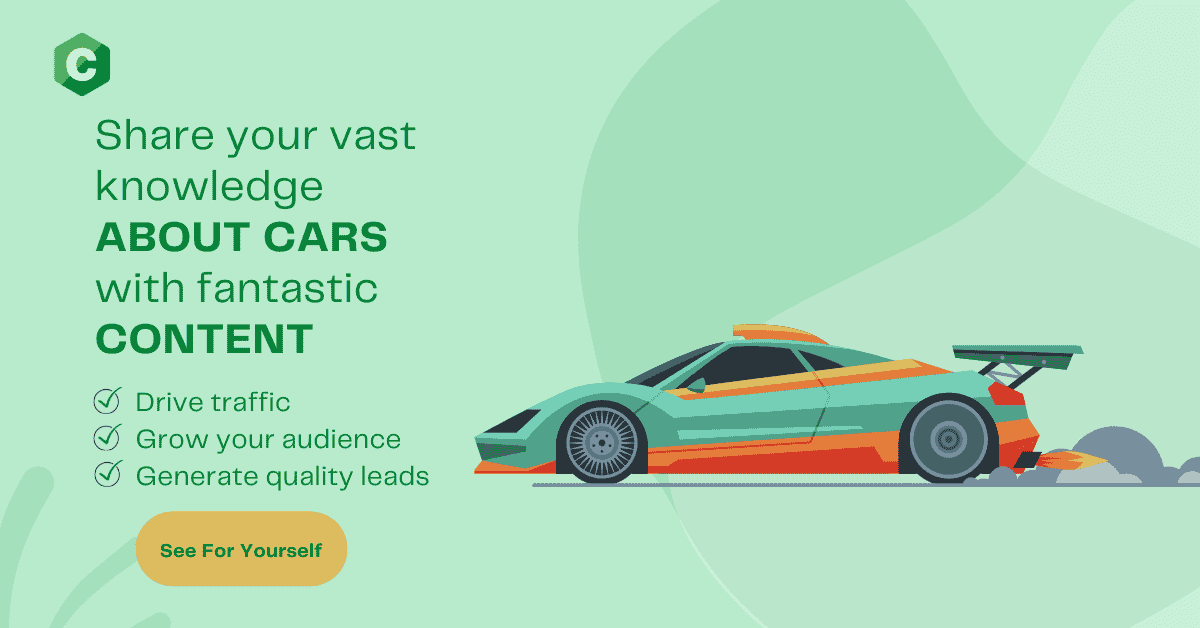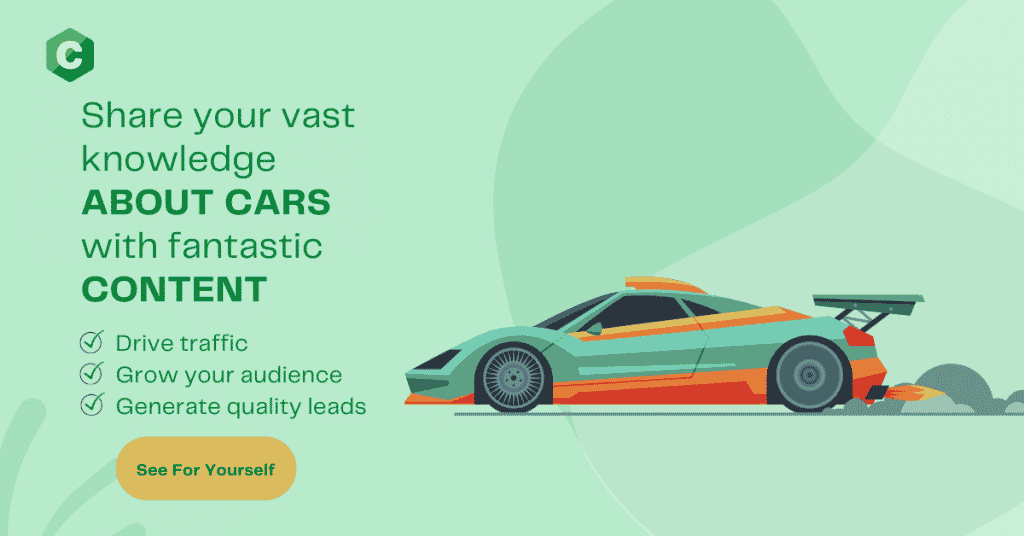 Car Buying Advice
It's important to remember that a car blog can be a powerful tool for giving car buying advice. By sharing your own buying experiences, you can help others avoid making the same mistakes that you might have made. In addition, by offering car buying tips and tricks, you can help readers save money and get the best possible deals on their subsequent car purchases. So whether you're writing about your latest car mods or offering up some sage advice, remember that your blog can be a valuable resource for car buyers everywhere.
Here are examples of car buying advice blog topics:
Best financial options to choose when buying a car.
Best negotiating tips when buying a second-hand car.
How to choose the right vehicle for you or what to look for in a used car.
How much down payment should I make?
Car budget considerations.
General Topics
There is much more to car blogging than just writing about cars. Some of the most popular car blogs discuss various topics, from general car care to the latest industry news. By examining various topics, your blog can appeal to a broader audience and keep your readers engaged. Additionally, by staying up-to-date on the latest car news, you can provide your readers with valuable information that they might not be able to find elsewhere.
Here are examples of general car blog topics you can include:
How to drive in different weather conditions.
What to do if you get pulled over.
The history of cars.
The culture of the car industry.
Popular car trends.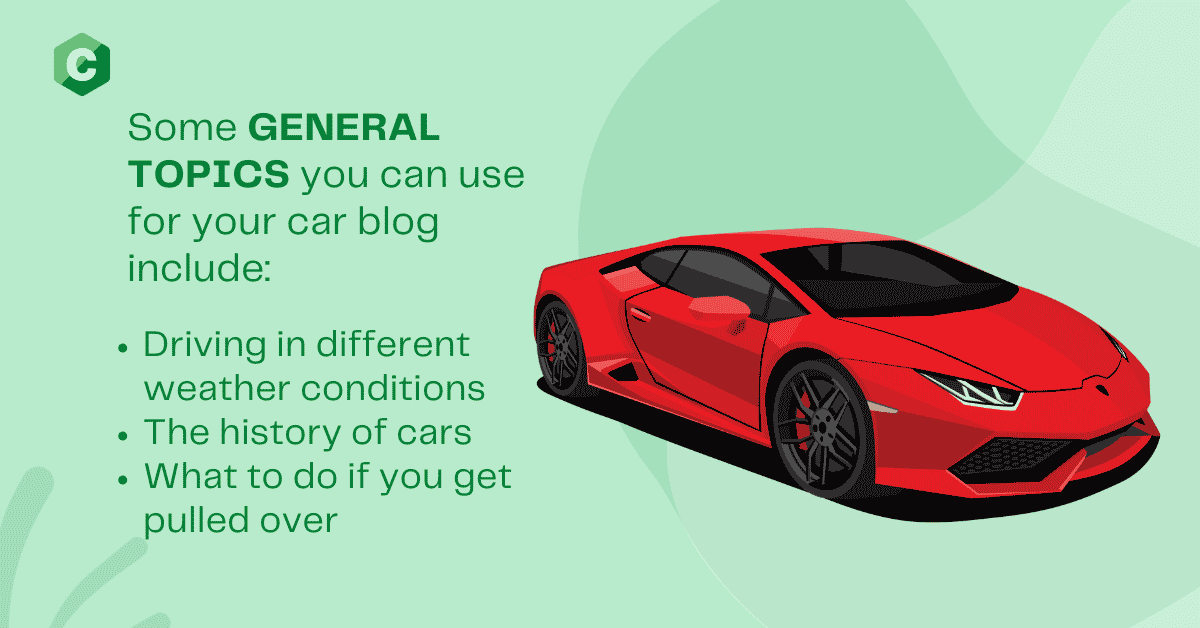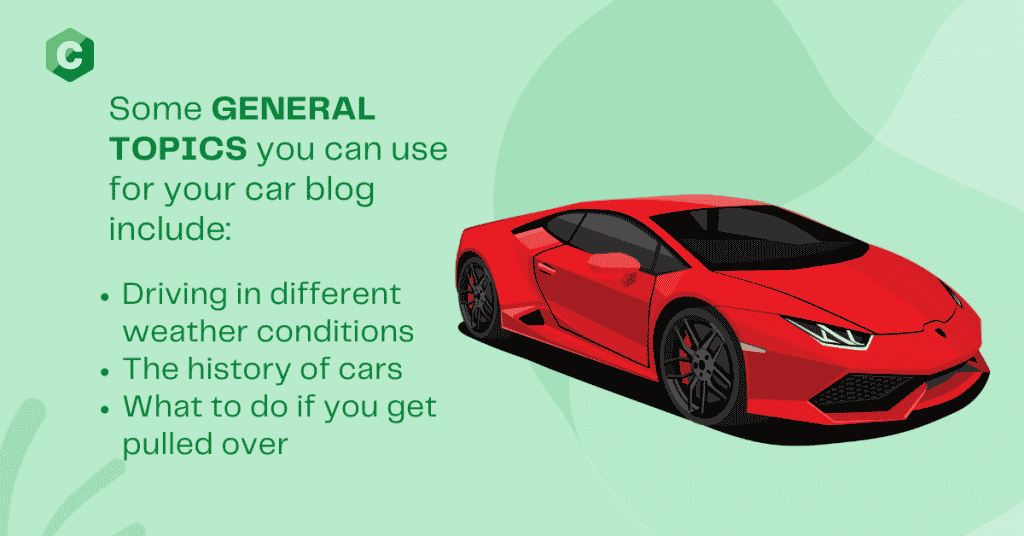 How to Start a Successful Car Blog
Now that you know some popular car blog topics you can discuss, it's time to start writing. The key is to find a unique angle and find out how you can make sure that your blog stands out from the crowd. You'll need to answer questions like; What are you most passionate about regarding cars? Do you love classic cars, or always have your eye on the latest new models? What are you looking to achieve with your blog? Answering these questions will place you on the fast track to a successful blog. 
To make your work easier, below are a few tips to keep in mind:
Research your niche
If you're thinking of starting a car blog, the first step is to research your niche. There are already a lot of car blogs out there, so you need to find a way to make yours stand out from the crowd. What are you passionate about when it comes to cars? What do you know that other car bloggers don't?
By zeroing in on a specific niche, you can become the go-to source for information on that topic, which will grow your audience. It will make your blog more accessible and enjoyable for your target audience. Don't try to be everything to everybody – focus on what makes you unique, and build your car blog around that.
Find a name for your blog
Finding your car blog's name is essential for two reasons. First, it's how people will find your blog online. Second, it's a reflection of your brand. When creating a name for your blog, try to be creative and unique. And most importantly, make sure the name is easy to remember and spell.
Find your target audience
Finding your target audience allows you to create a relationship with your blog's readers and even helps you narrow down what car blog topics to discuss. There are two key steps you need to follow. They include:
Creating a persona
We've already established the importance of defining your target audience. After all, you need to know who you're writing for. Therefore, to find your target audience, ask yourself these questions:
Who will be reading my blog?
What are their interests?
What do they want to learn about?
Once you understand your persona well, you can start creating content that appeals to them. Keep your persona in mind when brainstorming topics, writing articles, and creating graphics. Remember that your persona is not meant to be an exact representation of every person in your target audience- rather, it's meant to be a generalization that can help guide your content creation.
Find out where your audience mingles
Researching famous car clubs and events is one way to discover where your audience already mingles. It can help you gauge interest in your car blog and get ideas for content. You can also search social media platforms for car-related hashtags and groups. It is a great way to connect with like-minded individuals where you can promote your car blog and get ideas for car blog topics. 
In addition, you can attend car shows and meetups to network with potential readers. By taking the time to find out where your audience mingles, you can make it easier to engage with them and grow your blog.
Find what kind of content you will create
Now that you know your target audience, it's time to start creating content. Cars are a vast subject and very influential. Therefore, as a blogger, you'll need to create content that engages your audience.
If struggling with content ideas, try looking at popular car blogs in your niche for inspiration. Make sure not to copy their ideas – instead, use them as a starting point for developing your original content.
Evergreen articles
As the name implies, this is content that never goes out of date. Not only do you need to be knowledgeable, but you also need to be able to keep your content fresh and engaging. With trends coming and going, evergreen content helps you attract new readers and retain a loyal following. Including a mix of evergreen and timely content ensures that your blog remains relevant and engaging for years to come.
Videos
Video content is more important than ever when it comes to car blogging. With the popularity of video content on the rise, car bloggers who create engaging and informative videos have a real opportunity to stand out from the crowd.  A well-crafted video can give viewers a taste of your personality and an inside look at your car mods and driving style. Thanks to social media platforms like YouTube and Instagram, you now have a way to reach a larger audience with your brilliant car blog topics than ever before. 
News articles
News articles are one of the essential elements of a car blog. By keeping up with the latest news, you can provide your readers with timely information and insights on the latest developments in the car world. In addition, news articles can be a great source of ideas for new blog posts. You can help keep your readers informed and engaged by reading and sharing these news articles.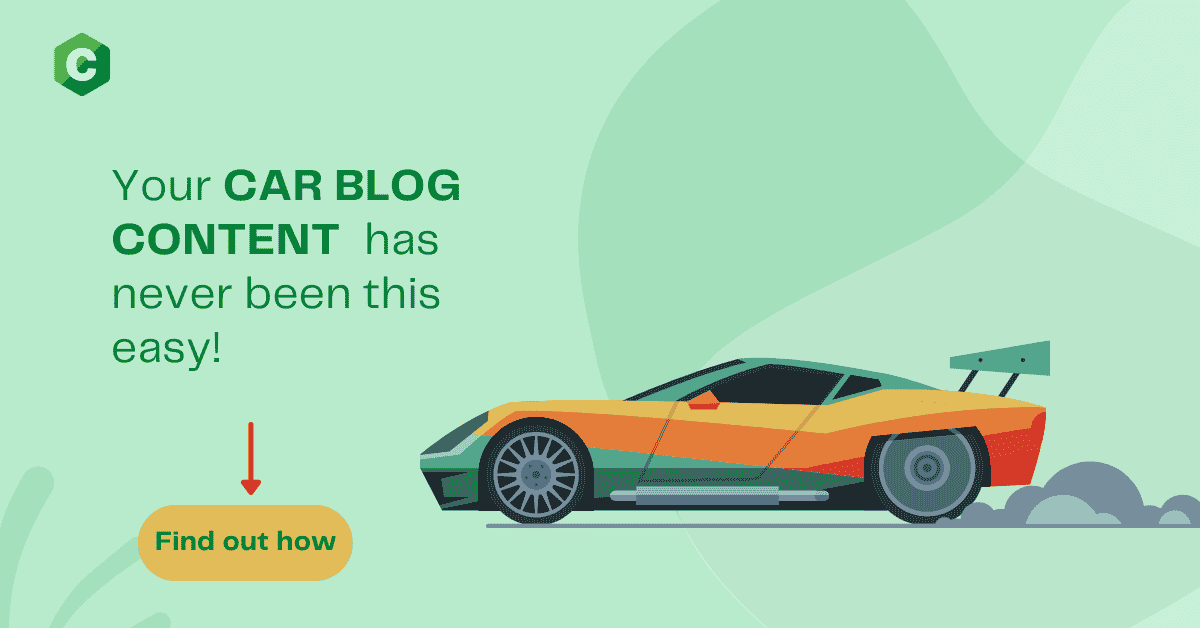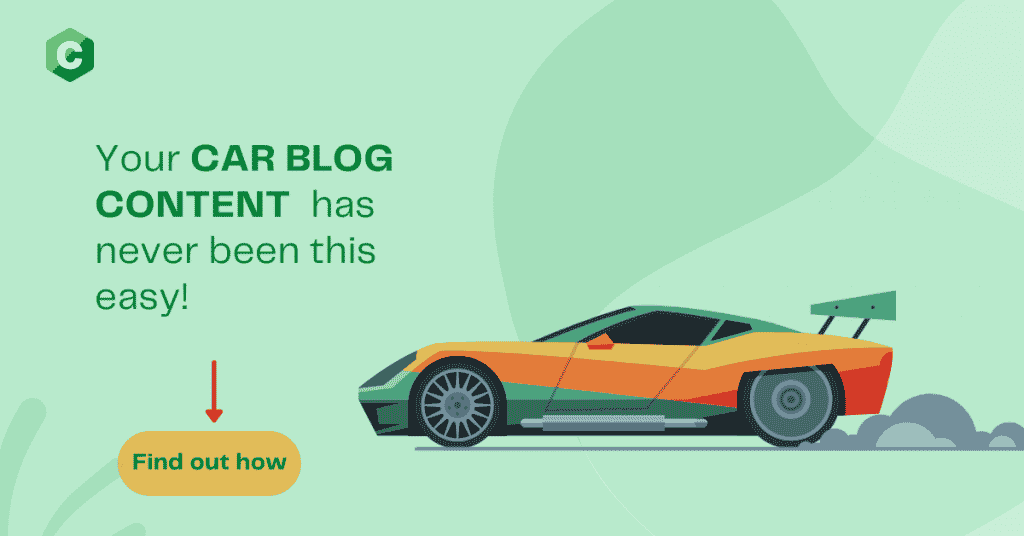 Final Thoughts!
Starting a car blog can be a great way to share your passion for cars with the world. But it's not as simple as just writing about your favorite car models. To succeed, you must carefully follow all the steps we have given you. Once you implement them, you'll be on your way to establishing a successful car blog!
Thanks for reading, and we hope this article was helpful. Keep it here for more blogging tips and advice!
Also, if you need help coming up with blog content, Content Clerks is here to help. We're a team of experienced writers passionate about assisting businesses to grow through great content. Contact us today to learn more about our services or get started on your next project!
Can I blog about cars? 
Yes, you can blog about cars. Just make sure to do your research and find your niche. Once you've done that, you can start creating valuable content that will appeal to your target audience. 

How do I promote my car blog? 
There are several ways to promote your car blog. You can start by being active on social media and connecting with other car enthusiasts. You can also try guest blogging or creating car-related videos to help generate interest in your blog. 

What makes a successful blog?
Some factors contributing to a successful blog include valuable content, a strong relationship with your readers, and an engaged community.