Staying competitive online boils down to one main thing, having great content. With so many websites going live online daily, businesses must compete for attention from prospective audiences. So, how can you beat that? Let me explain. What happens is that people have limited attention that needs to satisfy the need to read unlimited content online. For you to stay ahead of the pack, you need to collaborate with a reliable content creation service. This Crowd content review will give you what you can expect when you work with this service. Read on.
→Download Now: Free Blog Post Format Template
How Does Crowd Content Work?
Crowd Content is one of the most reputable content writing services on the internet today. More than just helping the business stay ahead of their competition, the business gives a special focus to customer service and the user experience that clients have on their main website.
To order services on the site you can follow these easy steps.
Filling An Order Page
Writers Take Up Your Task
Review and payment
Filling An Order Page
Crowd Content avails a one-page order form on which you will detail your order. In this form, you give the writer who will handle your task the specifics of how your order should look like.
You should also state details such as the word count, the tone that you wish your content to take, and the structure as well.
Additionally,
In the order form, you can also give the writer links to your website or similar projects from which he or she can draw inspiration when writing.
In the order form as well, you will decide the level of writer that you would like to take up your project.
It is good to remember that different levels of writers will charge you differently for the content that you order. The quality will also vary significantly depending on the level of the writer.
Writers Take Up Your Task
Once you complete your order form, Crowd Content will avail your order to the writers. Again, depending on which level of writer you chose, the order will be available for writers at that level or higher.
Once a writer that suits your demands appears, you will assign the task and the writer will start immediately and deliver within the time limit that you agree on.
Crowd Content makes it possible for you to communicate with the writer as he or she works on your task. There is an interactive instant chat feature that allows you to follow up on the project and ensure that things are going according to plan.
Crowd Content Review And Payment Plan
Once your designated writer completes the task, he or she will submit it for review. You will then need to go through the task or assign it to your editor to ensure that the writer followed all the guidelines as you stated them.
In case something is amiss, you can request the writer to do a revision of the task. The number of revisions that you can request on a particular task will depend on the initial agreement with the writer and the level of the writer as well.
The writer will then submit the revised work and again you will review it from your end. Once pleased with the task, you will approve it and the writer will receive the payment. In case of conflict, you can raise the issue with the admin at this point.
At this point, you also have the chance to leave the writer a rating. These ratings contribute to the writer's promotion or demotion from a level of writing.
Which Content Can You Order On Crowd Content?
Crowd Content has more than 5000 writers who have delivered over 100 million words worth of content to its clients since its inception.
On this content platform, you can order any type of content to help you grow your business or brand online. Some of the most commonly ordered content types are as follows. 
SEO articles
Blog posts
Copywriting and copy-editing services
Press releases.
The list is not exhaustive and only features a fraction of the services that you can order on Crowd Content.
Crowd Content Plans Available
Crowd Content has affordable plans that ensure that even a small business can have access to high-quality content. There are two major plans available on the Crowd Content platform.
Marketplace
Crowd content special format
Marketplace
This plan comprises of regular structured content such as blog posts and general website content.
At this level, there are up to four quality levels; entry-level, freelance, professional, and expert level. Depending on which one of these levels you choose, your content will cost you between 2.2 cents and 12 cents per word.
As mentioned earlier,
Different levels will have different quality of content produced there. You need to consider your business needs and the target audience then decide which level of writing quality you are willing to pay for.
Crowd Content Special Format
In this plan, the focus is on specially formatted content. This is not only limited to social media posts, product descriptions and speeches.
Whom Is Crowd Content For?
Crowd Content serves diverse clients in diverse fields. No matter which business niche you are in, Crowd Content will serve you well if you are in any of this positions.
Bloggers
SEO Specialists
Digital Marketing Agencies
Bloggers
Bloggers and website owners need high-quality content consistently to make their websites more competitive. Crowd Content can help you do this by helping you produce content to stay on schedule.
SEO Specialists
SEO specialists need content that helps them rank their client websites higher on search engines. With the constant change in search engine algorithms, a writing service like Crowd Content comes in very handy.
Digital Marketing Agencies
Digital marketing agencies will find it very convenient to work with Crowd Content for content creation purposes. Additionally, the versatility of the writers on this platform will help agencies offer valuable marketing services to their clients.
Please Share this infographic with your audience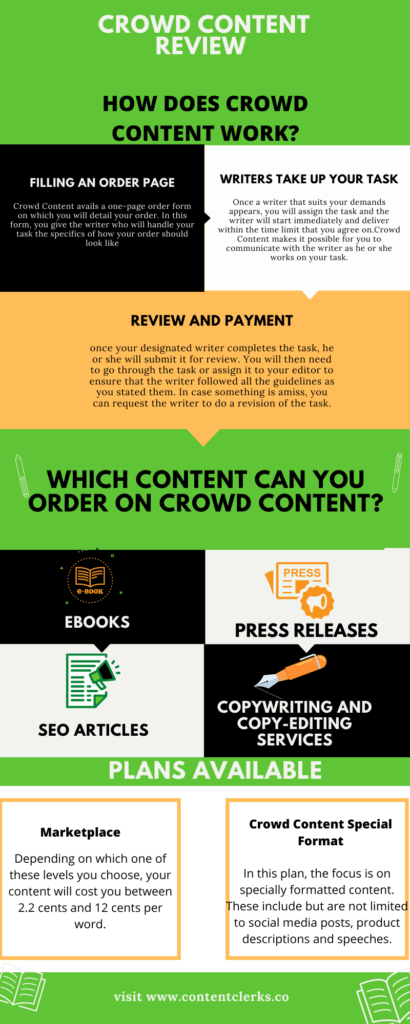 What is crowd content?
Crowd content is a new writing platforms that is currently accepting writers from US, Canada And UK
How much should I charge for website content?
For website content the charges should range between $15,000-$20,000
How much should I charge for a 1000 word article?
The total cost for a 1000 word article should sum up to $80