It's no secret that the fashion industry is one of the most competitive industries in the world. To succeed, fashion brand owners must constantly think of new and innovative ways to market their products. This guide on digital marketing ideas for your fashion brand will discuss creative ideas you can use to get started.
But first, before we begin, you must understand digital marketing. Simply put, it is the process of marketing your products or services through digital channels. It can include websites, social media platforms, email campaigns, and more.
Why is it important to incorporate digital marketing as a fashion brand? Unlike traditional marketing methods, digital marketing provides businesses with measurable results, which can help you track the success of your campaigns and determine where to allocate your resources in the future.
Let's get started!
Creative Ideas To Market Your Fashion Brand
In the fashion industry, you want your brand to stand out from the rest, and this could be just the thing you need to take your business to the next level. You will need to get innovative and creative with your marketing strategy. So here are avenues you can take to market your brand in the online world.
Create a brand website
A well-designed website can help your brand stand out from the competition and give customers a positive impression of the brand. Through a website, you can showcase your products, tell your story, and connect with customers on a deeper level. Additionally, a website can be an excellent platform for running digital marketing ideas for your fashion brand, campaigns and driving traffic to your other online channels.
Launch a blog
A well-run fashion blog can be invaluable, helping you connect with customers, build brand awareness, and drive sales. But before you begin, there are a few key things to remember. First and foremost, having a clear vision for your blog is crucial. What are you hoping to achieve? Who is your target audience? 
Once you have a good sense of your goals, you can start thinking about content. What kind of posts will resonate with your audience? Remember, successful fashion blogs also have solid visuals and great content. Finally, don't forget about promoting your blog. Share your content on social media and other channels to help attract new readers.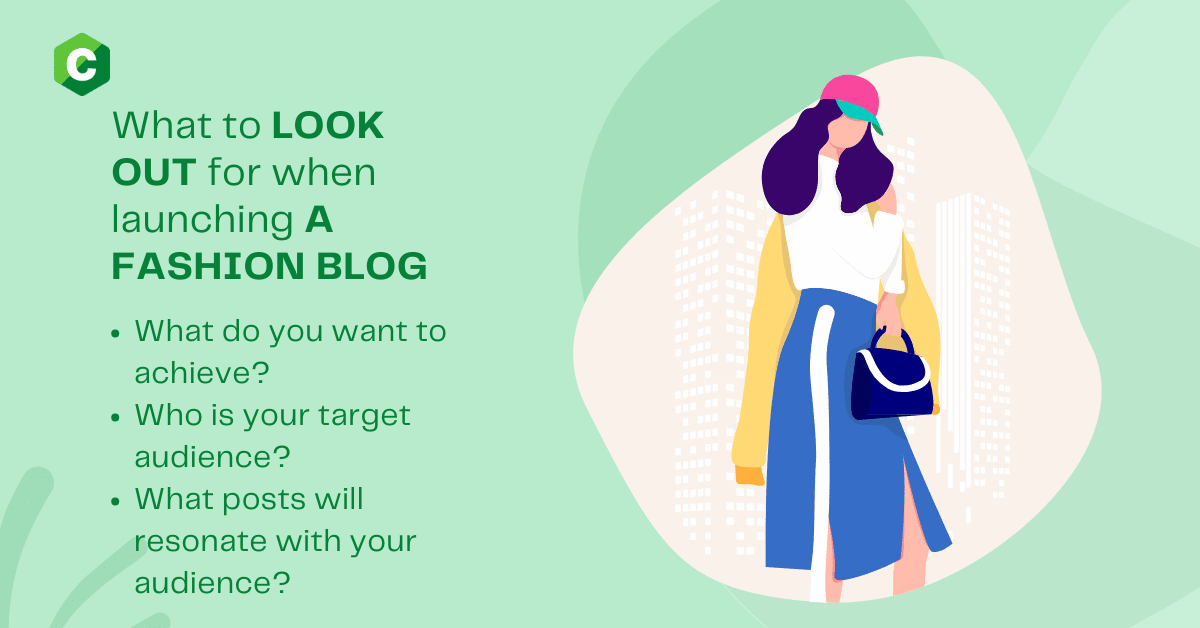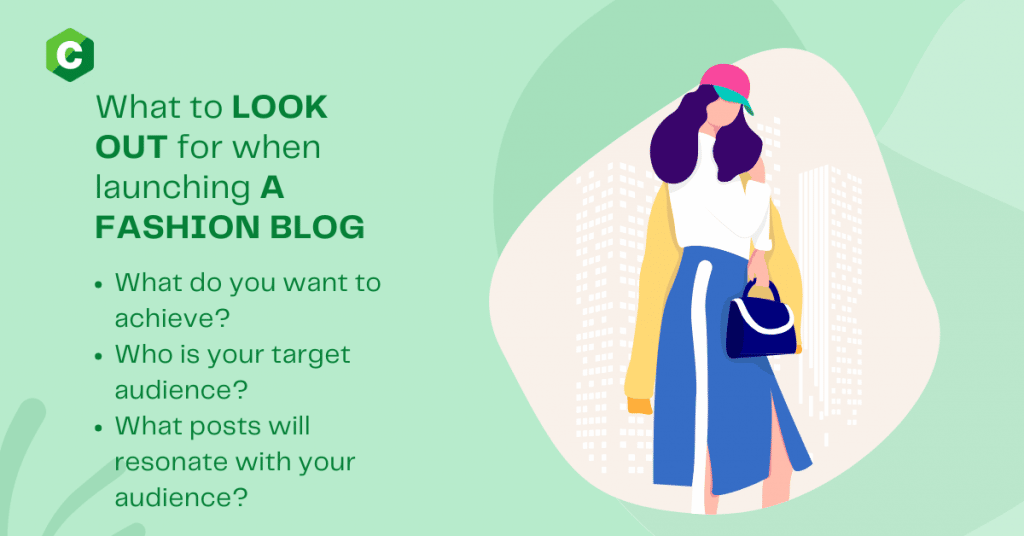 Cultivate a presence on social media
In the world we live in today, you know that social media is a powerful tool to reach your target market. But with so many different platforms, it can be tough to know where to start. Here's a quick guide to which platforms are great for fashion and what kind of content does well on each one. 
Instagram is perfect for fashion brands that have a solid visual identity. Content that does well on Instagram includes beautiful photos, videos, and behind-the-scenes peeks into your brand. Stories are also a great way to engage with your followers on Instagram.
Pinterest is visually-focused like Instagram, but users come to Pinterest specifically to find new styles and ideas. You can also use Pinterest to drive your website or blog traffic by adding links to your content.
Twitter is perfect for real-time updates on new arrivals, sales, and events. It's also an excellent platform for engaging with influencers and customers. You can start some conversations about your brand and get constructive feedback.
Collaborate with influencers
Collaborating with influencers can help you reach a wider audience, build trust and credibility, and generate leads and sales. When done correctly, it can be an extremely effective way to grow your fashion brand. You should ensure that their values align with your brand because you want to ensure that you're working with someone who will positively impact your business. 
You should also consider their reach and engagement. It's not enough to simply have a large following; you want to partner with someone with active engagement with their audience. In addition, ensure that you're providing value to the influencer. Offering compensation for promotion can help create a strong partnership that benefits both parties.
Creating style and gift guides
These are a great way to showcase your visually appealing products and provide your audience with valuable content. You can share your guides online, via email, or on social media. Not only will this help to generate traffic to your website, but it will also promote your brand and build customer loyalty. Plus, it's great to boost sales during crucial shopping periods such as Christmas and Mother's Day. So if you're looking for digital marketing ideas for your fashion brand, give style and gift guides a try.
Run paid ads across platforms
If you're looking for a new digital marketing strategy for your fashion brand, consider running paid ads across platforms. Paid ads can be an excellent way for your brand to reach new audiences and create awareness. Plus, with the correct targeting and messaging, you can ensure that your ads are seen by people who are likely to be interested in your offer.
Nurture your potential customers
Nurturing is all about building relationships with your potential customers and providing them with the information and support they need to make a purchase. There are a few ways to do this: First, you can create informative content that educates your potential customers about your products and brand. It could include blog posts, videos, infographics, etc. Second, you can offer customer support through various live chat, email, or social media channels. You can also provide personalized recommendations and discounts to encourage potential customers to make a purchase. 
Give discount coupons and giveaways
Giving discount coupons and giveaways is one of the excellent digital marketing ideas for your fashion brand that could boost your brand's visibility and get people talking. It is a great way to attract new customers and get them excited about your brand. You can promote your coupons and giveaways through social media, email marketing, and online ads. And if you make the coupons and giveaways exclusive to your online store, you'll see an uptick in traffic and sales.
What Are The Benefits Of Digital Marketing For Fashion Brands?
It is one of the most potent forms of marketing today
As the world becomes increasingly digital, it will be a powerful tool for you to utilize and get well-positioned to succeed and reach a larger audience. Using digital platforms such as social media, email, and search engines, your fashion brand can connect with potential customers worldwide. In addition, digital marketing allows you to track your progress and performance through analytics. The data is then used to improve future campaigns.
It is cheaper than mainstream marketing
When you are looking for ways to market your fashion brand on a budget, digital marketing should be on your radar. Digital marketing is more affordable than traditional marketing techniques. This is because there is a range of digital marketing tools and platforms that can reach a broad audience at a relatively low cost. 
For example, social media marketing can be an extremely effective way to connect with your potential customers, and it generally requires a little more time and effort to get started. Additionally, digital marketing methods such as email marketing can be very cost-effective. They allow you to target a large group of people without incurring the significant printing and postage costs associated with direct mail campaigns.
It is measurable
Tracking your metrics will give you a clear sense of how practical your digital marketing ideas for your fashion brand are in helping to grow your business. There are several ways that fashion brands can measure their return on investment from digital marketing. One way is to track the number of website visitors who come to your site due to your marketing campaigns. You can also track the number of people who sign up for your email list or make a purchase due to your marketing efforts. Additionally, you can look at the overall reach of your campaigns by measuring how your ads are exposed to your audience and how often they interact with them.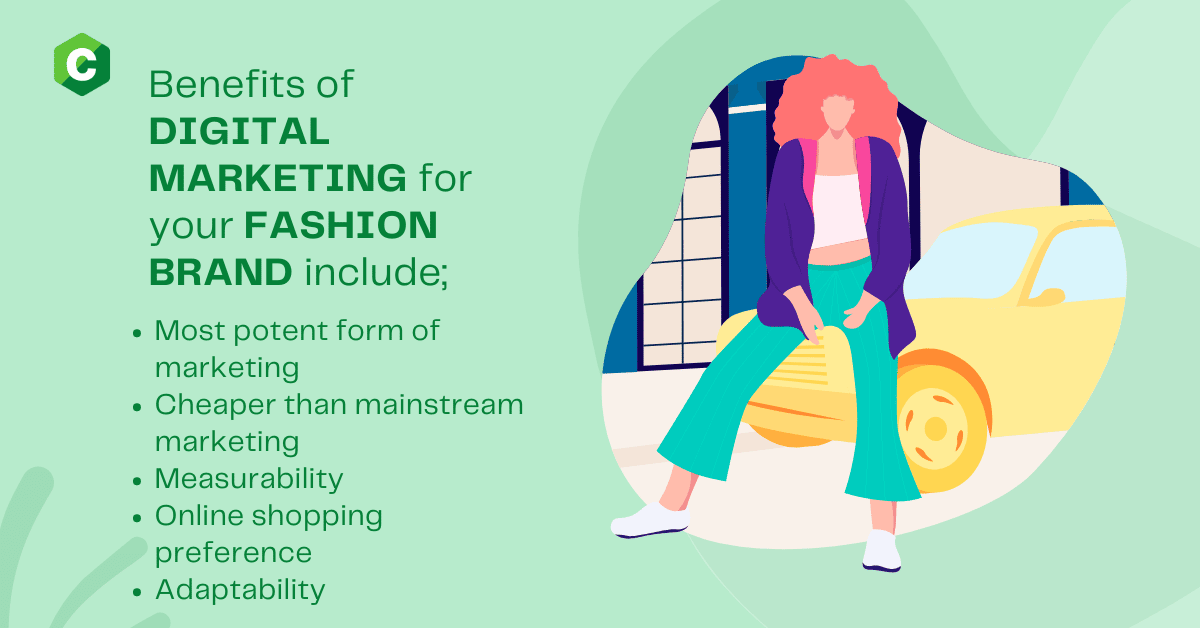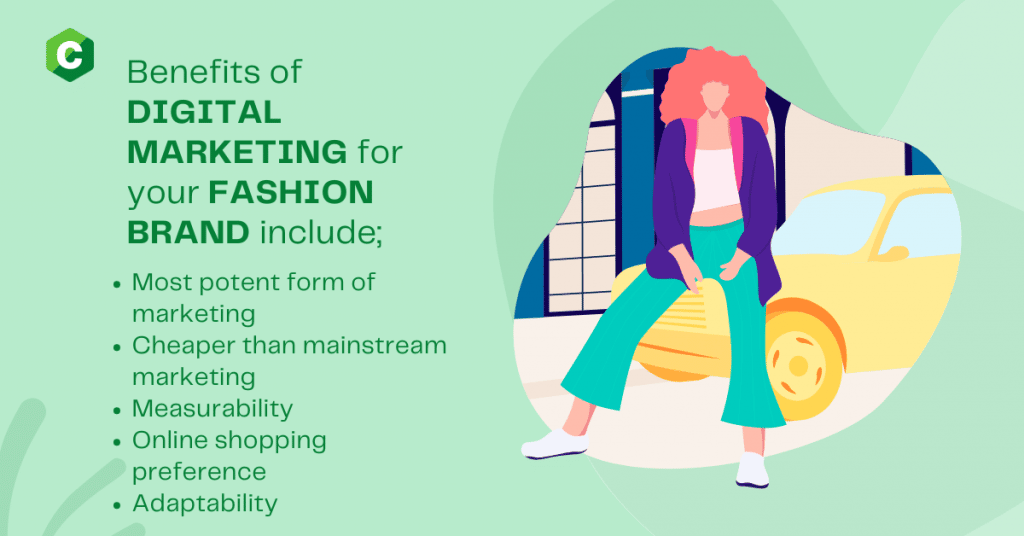 Preference for online shopping
It's no secret that online shopping has exploded in popularity over the last few years. And the Covid 19 pandemic has only accelerated this trend, with many people turning to e-commerce for the first time out of necessity. But even as this comes to an end, it's clear that online shopping is here to stay. A recent study found that 64% of people said they would continue to shop online even after the pandemic was over. For fashion brands, this means that now is the time to focus on digital marketing, especially with so many people shopping online. It's more important than ever to ensure your brand is easily accessible.
Visibility through SEO
As a fashion brand, one of your key objectives is to be visible to your target audience. After all, if they don't know you exist, they can't buy your products! SEO should be your long-term strategy. SEO is short for search engine optimization, and it's about ensuring your site appears as high up as possible on search engine results pages (SERPs). And the higher you are, the more likely people will click through to your site. It will help increase brand awareness and reach more website traffic and sales.
It is easily adaptable
For your adaptability, you will need to use analytic tools to gather valuable information to help shape your digital marketing ideas for your fashion brand. And as a result, you'll be better positioned to reach your target audience and achieve your business goals. For example, you can use Google Analytics, a free platform that provides insights into your website traffic. You can see how people find your site, which pages they spend the most time on, and where they're located. The information can help you decide where to focus your digital marketing efforts.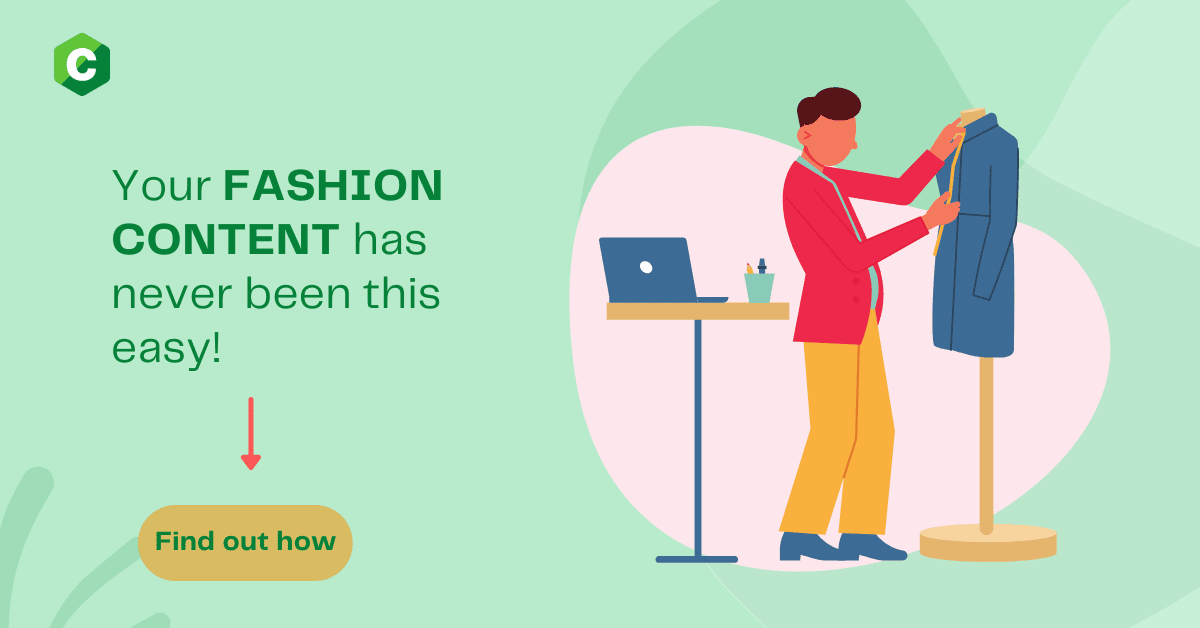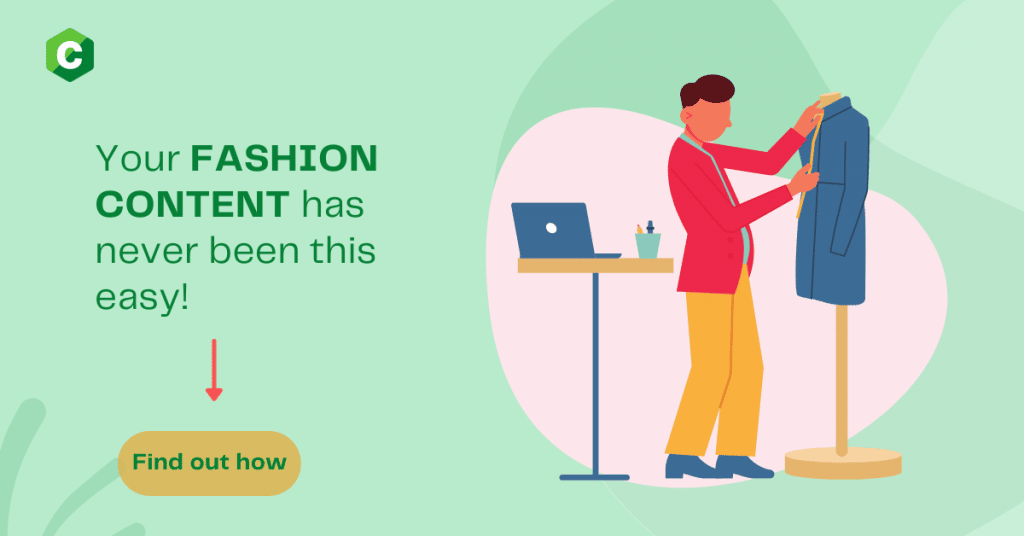 Final Thoughts!
So, what's the bottom line? If you want to see your business thrive in the digital age, start by following this guide on digital marketing ideas for your fashion brand. Don't wait! Get started today and see how your brand can reach new heights. 
And if you need help, don't hesitate to contact Content Clerks. We would be more than happy to assist you in creating a successful digital marketing strategy for your fashion brand. Thanks for reading!
How do you create a digital marketing strategy for a brand? 
1. Consider your goals. It will allow you to develop a strategy to help you achieve them. 
2. Think about your target audience. It will help you determine which channels to use to reach them. 
3. Consider your budget. Once you have a budget, you can develop a plan to best use those funds.
Which social media platform is the best for fashion brands? 
1. Facebook
2. Instagram
3. Polyvore
4. Pinterest
5. TikTok
How fast do fashion brands advertise?
There is no one answer to how fast fashion brands advertise. It depends on various factors, such as the brand's size, its activity on social media, and the platform they are using.