Do you love fashion? Do you enjoy sharing your thoughts on style with others? If so, starting a fashion blog may be the perfect career for you! But you may not be sure about the best approach to take. Stay tuned! This article on how to start a fashion blog will explore all the opportunities ahead for you. Let's get started!
Fashion blogging is written content that covers various phenomenal topics in the industry, such as DIY styling tips, celebrity red carpet fashion choices, upcoming fashion designers, and many more. It is one of the most popular types of blogs on the internet. As such, you cannot miss this chance to communicate with your readers. Besides, who wouldn't appreciate a fashion blog that spills all the tea in fashion?
Now let us begin your roadmap journey to success in fashion blogging.
Starting A Fashion Blog (The Steps)
Starting up your fashion blog and keeping it on top of the game is not an easy task to do, and it may sometimes be overwhelming. Take a step back and ask yourself, "What is the best way to prepare for your fashion blogging journey?" The success of your blog entirely depends on the actions you take.
Below are the steps you need to take, each discussed in detail.
Identifying a niche
When figuring out how to start a fashion blog, one of the most important things to do is to identify your niche. What sets your blog apart from all the other fashion blogs out there? Why will people want to read your blog? Answering these questions will help you focus your content and make your blog more successful.
One of the best ways to find your niche is to think about your unique perspective. What do you have to offer that other fashion bloggers don't? Do you have a unique sense of style? Are you especially good at spotting trends? Do you have insider knowledge of the industry? Once you've identified what makes your blog special, you can start working on creating content that will appeal to your target audience.
Pick a suitable name
Now, it's time to get creative and choose a proper name for your blog. There are two notable aspects you need to pay attention to; your blog and domain name. Your blog name introduces your readers to what they expect to read in your writing while your domain name is the online address that will offer your readers access to your website.
When choosing a suitable name, there are a few things to consider. First, you will want to keep it simple. A long, complicated name will make it difficult for them to find your blog. Second, you will want to make sure the name is unique. With so many fashion blogs, you'll need something that sets you apart from the rest.
Choose a web hosting plan
Choosing a suitable web hosting plan is your next essential step in understanding how to start a fashion blog. A web hosting plan is a secure online service that will store all your online content, such as images, videos, and blog posts–allowing you to establish your online presence and boost your credibility. You'll need to consider specific elements when choosing a web hosting plan: space, traffic, control, customer support, and financial budgeting.
Below are examples of two popular blogging platforms you can use to get started in your blog:
WordPress is an easy, free to use platform that offers a wide range of templates and plugins that can be customized to create a unique look for your blog. It also comes with a built-in blogging calendar which fashion bloggers can use to plan and schedule their posts in advance, ensuring that their fashion content is always fresh and up-to-date. .
Squarespace is built on a responsive platform meaning your site will look great on any device, from a desktop computer to a mobile phone. In addition, Squarespace offers ecommerce features that fashion bloggers can use to sell their products and services online. With Squarespace, fashion blogging has never been easier or more stylish.
Pick a theme for your blog
We all know that first impressions can make or break an opportunity, especially when it comes to fashion blogging. Presenting your blog is just as important as the content you will write. Your theme should represent your brand and the overall aesthetic you want to achieve with your blog.
There are many great themes out there, but some that should be your favorites include;
Divi comes with a built-in image gallery that lets you showcase your photos stylishly, and the social media integration makes it easy for readers to share your content.
Soledad has features that will help your blog stand out from the crowd, like unlimited colors and Google Fonts, 11 custom widgets, and five post formats. It includes beautiful templates and a powerful drag-and-drop builder.
Jevelin is a clean and modern design with over 30 pre-built demo sites that you can import with just one click and get started quickly and easily.
Gillion has the tools you need to create a stylish blog that will turn heads. With its built-in Instagram integration, you can easily showcase your latest looks, and the powerful shopping features make it easy to monetize your blog.
The Gem is clean, and its minimal design makes it perfect for you who wants to focus on your photos and content. Plus, you can change things like the colors, fonts, and layout to match your brand. It also includes several pre-built layouts tailored to you and advanced features like animation effects and parallax scrolling.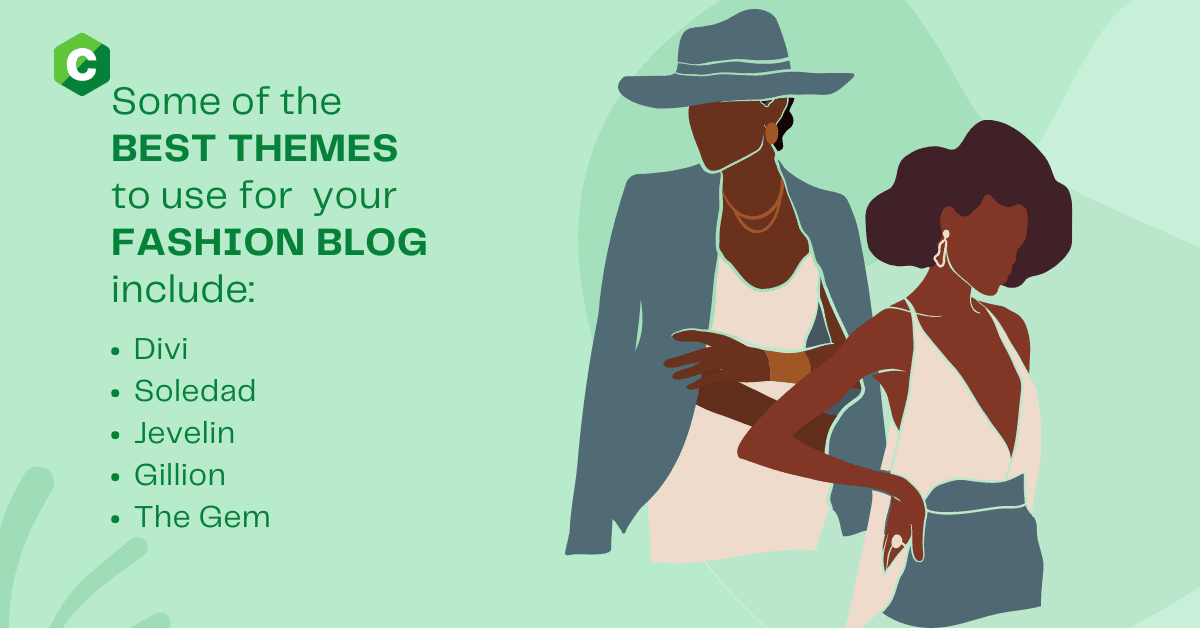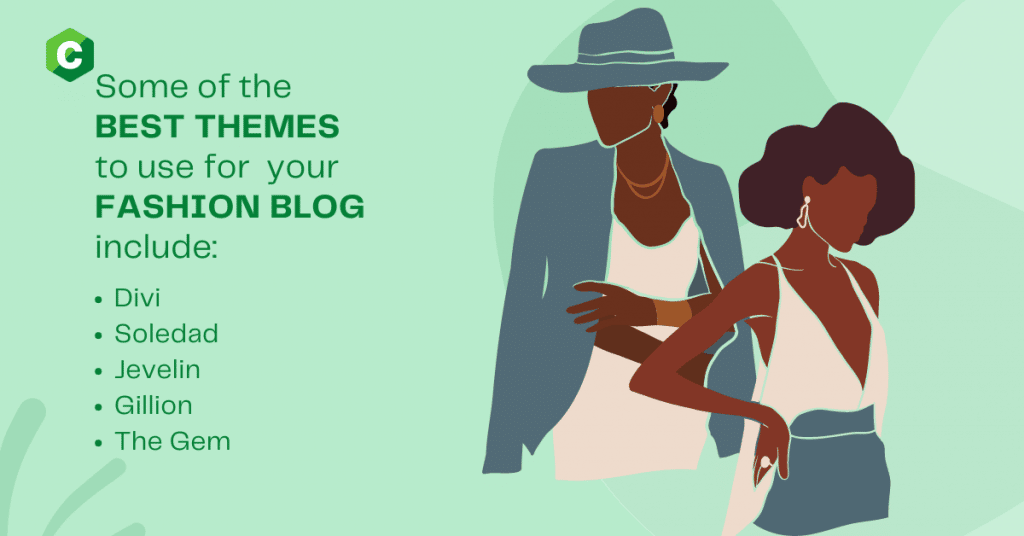 Install plugins
Installing essential plugins is vital when starting a fashion blog. Plugins are software programs that extend your blog's functionality and can benefit your blogging. With all the crucial plugins in place, you'll be able to leverage aspects such as backlinks, security, communication, speed, and performance, among other things.
Several essential plugins you'll need to start a fashion blog include;
A gallery plugin like Jetpack that helps you to organize photos and create beautiful galleries to showcase your work.
An image compression asset like EWWW image optimizer that helps you reduce your images' file size, so they load quickly.
A social media sharing plugin like Social Snap that will help you spread the word about your blog by making it easy for your readers to share your content.
An Instagram feed plugin like Smash Balloon that is easy to set up and lets you customize your feed to match your website's branding.
Yoast SEO which helps you optimize your site for search engines to get more traffic.
MonsterInsights that will help you understand your website's performance and how your readers interact with your content.
Create a content plan and publishing schedule
When learning how to start a fashion blog, mapping out your strategy is a crucial step in establishing a successful blog. It may seem like a no-brainer, but you'd be surprised how many people try to wing it and get overwhelmed and frustrated. Therefore, planning your content and determining your goals will set you up for success. 
As such, you'll need to create a publishing schedule. How often do you want to publish new content? What days and times will work best for your target audience? Not only will this make starting your fashion blog much smoother, but it will also help you stay on track once you're up and running.
Create high-quality content
In fashion blogging, creating quality fashion means writing informative posts that are well-researched and engaging. Take time to include all-important fashionista skills you can think of when creating your content. There are a few things to remember when doing this. One is that you must ensure that your grammar and spelling are up to par. You also need to ensure that the information you share is accurate.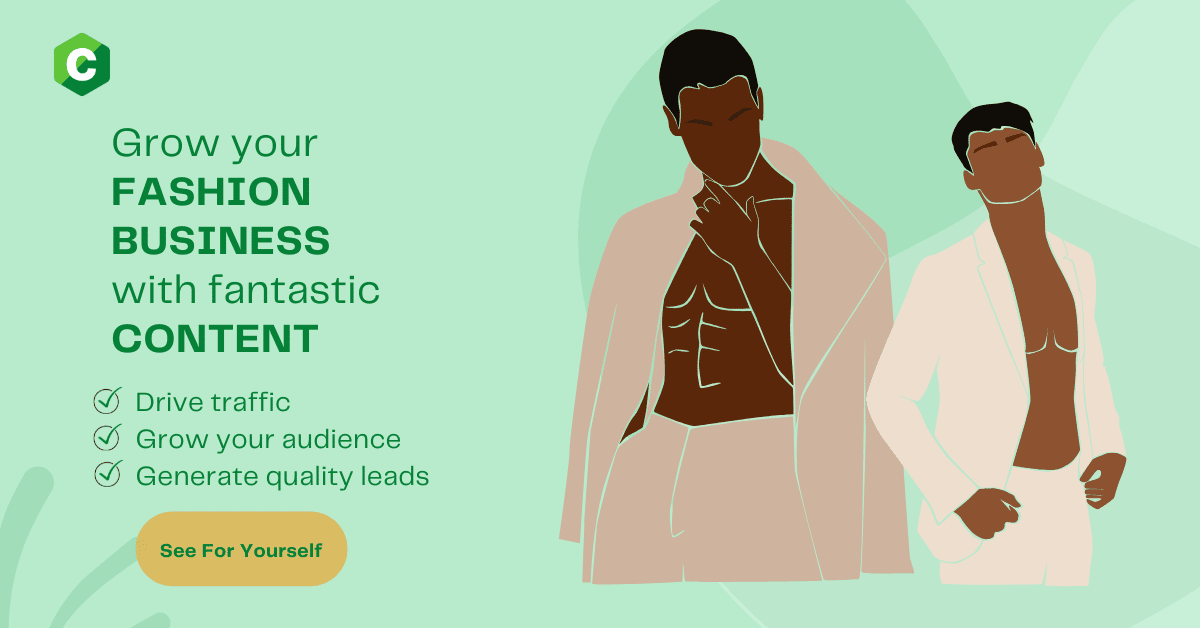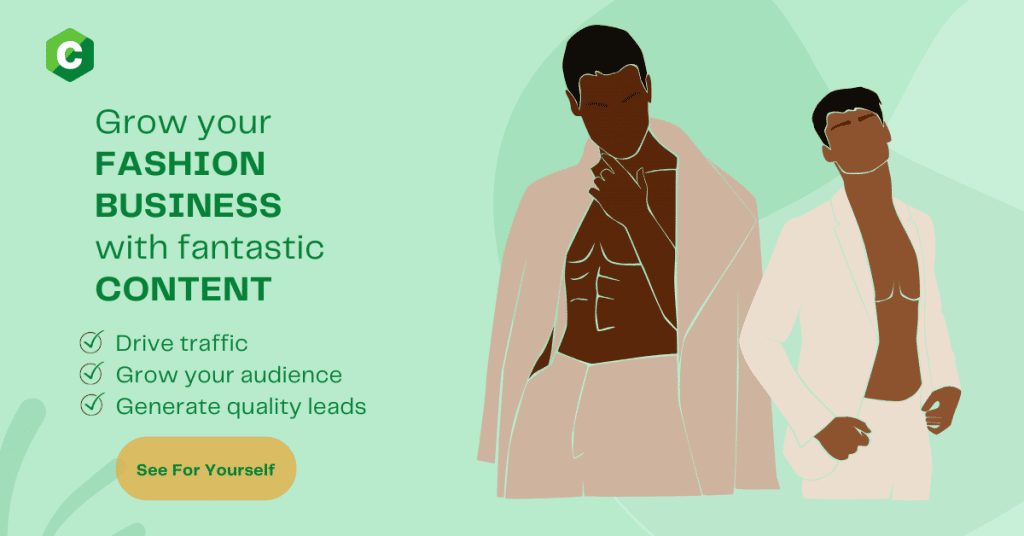 Making Money From Your Fashion Blog
Monetizing your fashion blog can be a great way to earn extra cash to support your stylish habit, but it can also entail a lot of work. However, there are a few popular ways to go about it. Let's take a closer look at each of these options to help you gain even more knowledge on how to start a fashion blog.
Affiliate marketing
You may be wondering how you can turn your passion for fashion into a profitable business. One great way to do this is through affiliate marketing. Here, you're able to promote products or services and earn a commission on each sale you generate. Therefore, if, for example, you have a fashion blog that focuses on casual wear, you would want to find affiliates that sell items such as jeans, t-shirts, and sneakers. Be sure to take the time to research and curate the perfect mix of affiliate products so you can create a passive income stream that will supplement your other blogging income sources and help you to achieve your financial goals.
Display Ads
Display ads are a type of advertising that allows you to promote products or services on your blog in a way that is less intrusive than traditional advertising methods. It can take the form of banner ads, text ads, or even video ads, and they can be placed in key locations on your blog to maximize visibility.
While display ads can effectively generate revenue from your fashion blog, choosing a reputable ad platform that offers high-quality products or services is essential. With so many options available, researching and selecting the right venue is vital to ensure you make the most of your advertising efforts.
Become an Instagram influencer
If you're serious about monetizing your fashion blog, becoming an Instagram influencer is a great way to start. It can help you to monetize your blog in several ways. One, you can use your platform to promote relevant products and services to your audience. You can also use your influence to get brand discounts. Not only will this save you money, but it will also allow you to try out new products and share your thoughts with your followers.
Brand promotions
By featuring products from specific brands on your blog, you can earn a commission on any sales you generate. Not only is this a great way to monetize your content, but it can also help to build relationships with brands and position yourself as an influencer in the fashion industry.
But how do you go about finding brands you can promote? You can take a look at the products you already use and love. You can also search for brands specifically looking for fashion bloggers to promote their products. Finally, consider partnering with a fashion-related business, such as a clothing boutique or fashion showroom.
Sell merchandise/products
If you're creative and have a good eye for design, creating your product to sell can be a great way to make some extra money. However, there are a few things to keep in mind if you're thinking about starting your fashion line. You'll need to ensure that you have a good manufacturing partner that can produce high-quality products. Next, develop a strong marketing plan to get people interested in your products. Finally, you'll also need to price your products competitively so that people will buy them.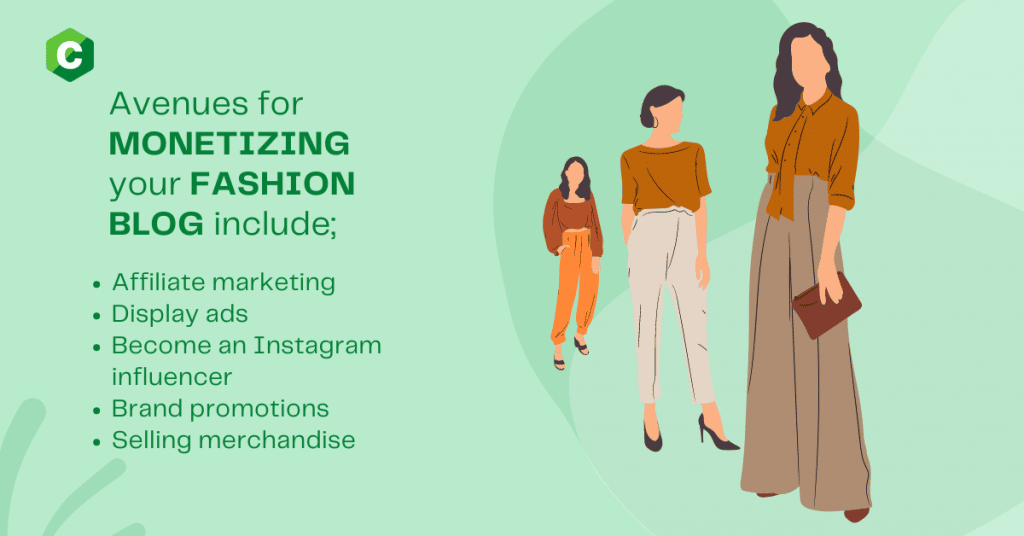 Promoting Your Fashion Blog
The last step in the how to start a fashion blog list is promoting your blog. Doing this from the start will allow you to reach a wider audience, get more traffic to your site, and boost your blog brand. So if you are serious about promoting your fashion blog, you should keep in mind the following tips:
Use social media
Social media platforms have a large and engaged user base, so you'll be able to reach a broad audience with your posts. You'll also be able to build relationships with your readers and get feedback from them in real-time. Additionally, it is a great way to drive traffic to your website, which can lead to more page views and higher Adsense revenues. Some of the best social platforms include Instagram, Pinterest, and Snapchat. These platforms are visual-based and famous, so they're perfect for promoting fashion content.
Email marketing
By sending a monthly newsletter or email blast, you can reach a broad audience and promote your blog to new readers. In addition, emails are a great way to build relationships with your existing readers. By sharing exclusive content or offering discounts, you can show appreciation for their loyalty. And when it comes time to promote a new post or product, you'll have a ready-made list of people interested in what you have to say. 
Search Engine Optimization
Your blog's appearance on search engines promotes and helps you attract new readers. When your blog appears higher in search results, it's more likely to be seen by potential readers. So, how can you optimize your fashion blog for search engines? Use keywords throughout your blog, including in the title, the body of your blog posts, and the tags used. Ensure you choose a catchy headline that includes what people are likely to search for. You can also link to other websites and blogs in your posts.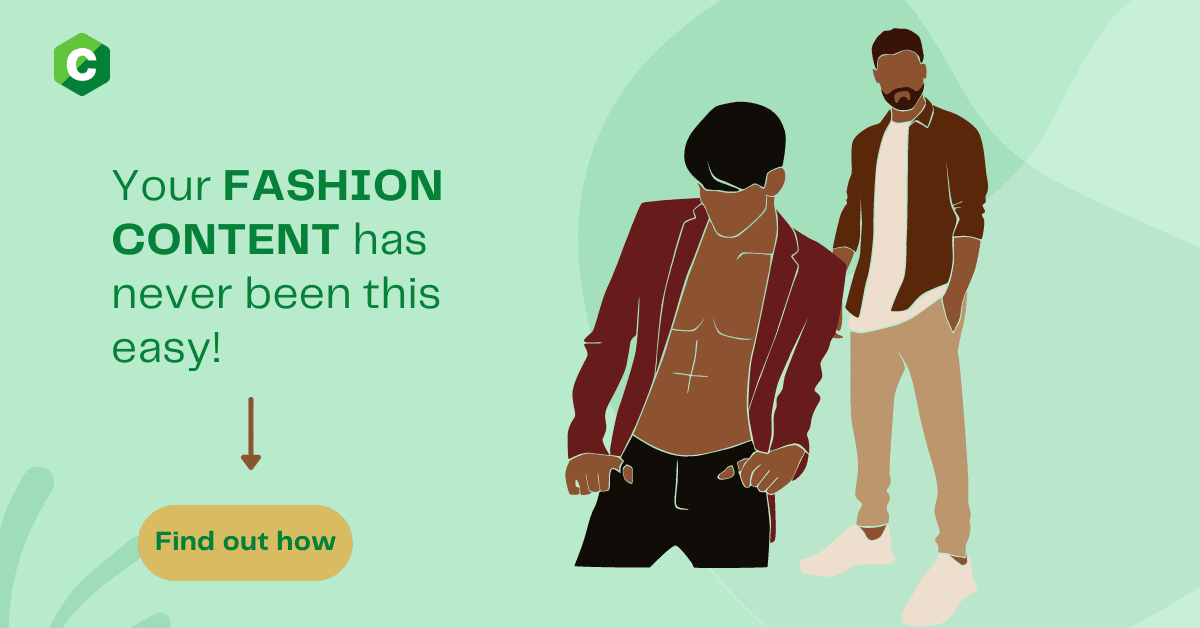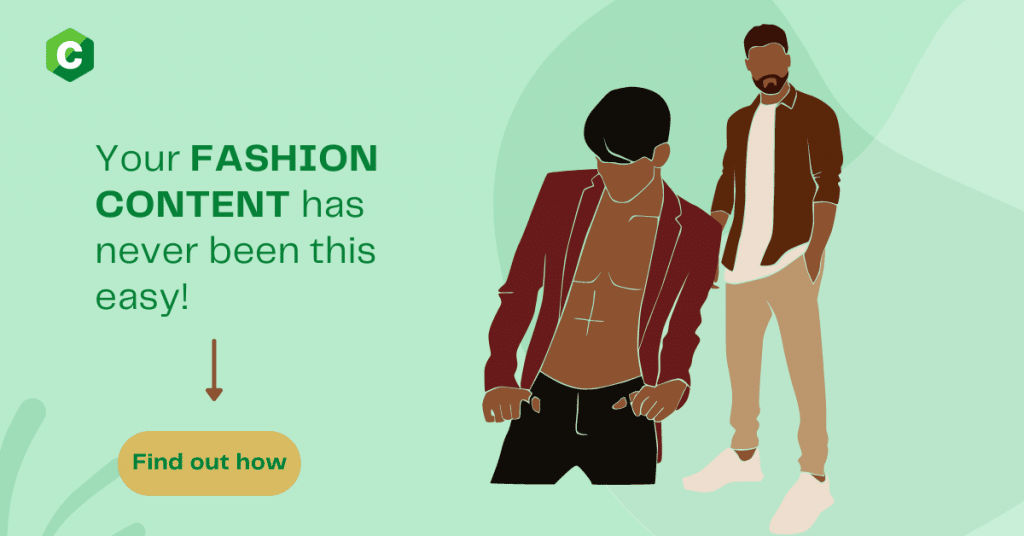 Final Take!
Now, you have everything you need to start a fashion blog. Keenly follow each step provided, and you will be well on your way to writing and sharing unique fashion content with your readers.
Is the article helpful? Let us know in the comments down below. Also, if you are feeling overwhelmed with content creation or still have some questions, don't hesitate to contact Content Clerks. We would be more than happy to help get your fashion blog up and running!
Is it hard to be a fashion blogger?
It is not an easy ride, but running a successful fashion blog is very much possible. Your great sense of style, dedication, preparation, and organization will make your work much more manageable.
Do fashion bloggers make money? 
Yes, they do with the right approach of:
Writing quality content and promoting your blog on social media. 
Partnering with brands and accepting sponsored posts.
Monetizing your blog by selling advertising space or creating an online store.
What apps do fashion bloggers use?
WordPress
Instagram
Pinterest
Stylebook
Photo Editor