Fashion is one of the biggest and most profitable industries today. Fashion blogs cover the fashion industry, clothing, and lifestyle. It can cover various things such as specific items of clothing, fashion trends, celebrity fashion blogs, street style fashion, among others. However, all bloggers suffer from writer's block at some point in their careers. It can be a severe drain on precious time and cause you loads of stress. Some bloggers even opt for blog writing services to ease their burden. However, if you're determined to write and are looking for the best fashion blog ideas, this post is for you.
Types of Fashion Blogs
There are various fashion blog ideas in the fashion industry. These ideas are categorized into different types of fashion blogs. It is essential to separate them so that readers can easily relate to your content and come back for more.
Moreover, separating them helps you build authority as readers trust your content.
Fashion Blog Ideas
How To Guides
They are essential in sharing complex skills, processes, and valuable information with large audiences. Some fashion blog ideas in how-to guides include
How to style a scarf
Dressing for work
How to find your personal style
Looking expensive on a budget
How to save money when shopping
Shopping for vintage
How to get a job in fashion
Wearing more color
How to start a fashion blog
Lists/ Listicles
They are articles written in list format. For example,
5 basics you need in your wardrobe
6 Skincare tips
Top 10 places to shop for summer clothes
7 hacks for styling a scarf
15 must-have beauty products
How to style jeans in 4 ways
3 must-have shoe collections
7 hair routines you should follow.
Sales & Promos
They are marketing blogs where a brand will use short-term campaigns to spark interest and create demand for the product or service. They include
Fashion giveaways ideas
Best Flash sale sites
Free trial clothing websites in 2022
Redeem limited-time free shipping for winter clothing
Top 5 fashion coupon codes and offers in March 2022
Buy one summer dress get one free at Verishop
99% off Fashion Nova coupons
The ultimate guide to Black Friday
Budget Content
This is content that suits readers on a budget. They include
Your favorite budget fashion websites.
How to save money when shopping
Top 10 budget fashion blogs to follow
How to create a fashion budget
Your top fashion hacks
Your thrift shop finds
How to run a fashion blog on a budget
Try a no-spend challenge
Reviews
Provide feedback on a particular product or service. For example, you can review the following;
Beauty Products
Jewelry
Fashion brands
Accessories like designer handbags
Different outfits
Fashion guides
Fashion items.
Personal Content
They are blogs about the individual author and have a personal touch. For example,
Your jewelry collection
Your ultimate holiday look
Fashion trends you hate
Your wardrobe tour
Your shoe collection
How you style specific trends
Your biggest fashion fails
Fashion trends you love
Outfit Guides
They're basic rules and practices on a particular outfit. For example,
How to dress for a classy dinner date
What to wear on a beach vacation
Spring wedding outfits for the bride
Spring wedding outfits for the guest
Workwear outfit inspiration
What to wear on a black-tie event
How to dress casually
How to rock the 80s look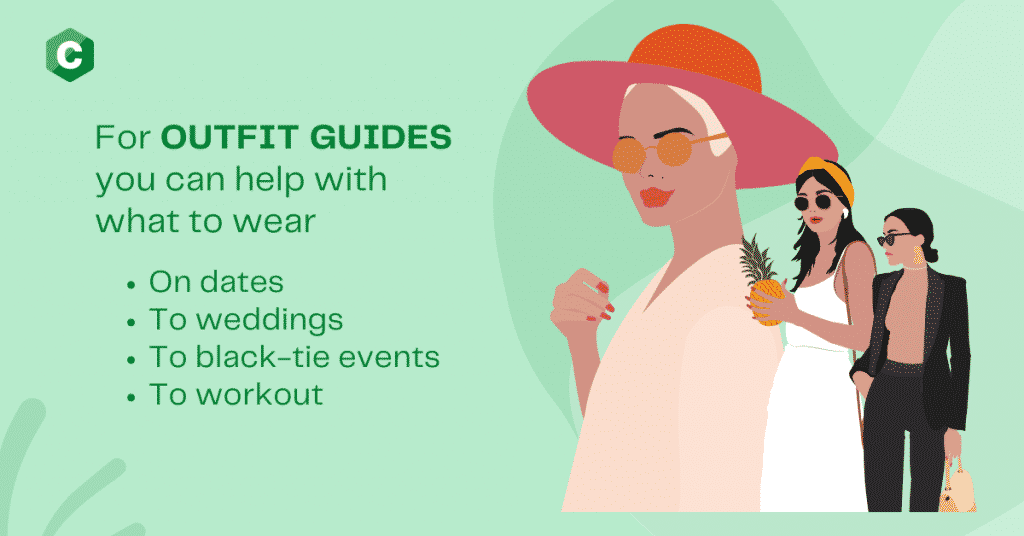 General Guides
They are basic guidelines and practices in the fashion industry. Examples of fashion blog ideas in this area include
Best places to shop
What to wear in the gym
Tips for dressing confidently
Street style photos
Fashion through history
The best maternity fashion outfits
Plus-size fashion essentials
Accessories to match your outfit
Gift Guides
These are purchase recommendations that allow you to showcase your products and help prospective and existing customers make buying decisions during the holiday season. For example,
10 memorable gifts for a Gemini
Gift guide for your best friend
12 Fashionable Christmas Gifts
20 gifts for the most stylish people on your list
13 pieces that prove jewelry is a great gift idea
15 fashion gifts you would never guess under $100
10 fathers day gift for the most fashionable dads
2 online gifts for fashion moms 2022
Guest Posts/ Interviews
They introduce your readers to bloggers who are authoritative in the industry and can provide value to them. Examples of fashion blog ideas for interviews include interviewing the following people;
Personal stylist
Fashion blogger
A Model
Fashion designer
Fashion illustrator
Garment expert
Fashion buyer
Fashion writer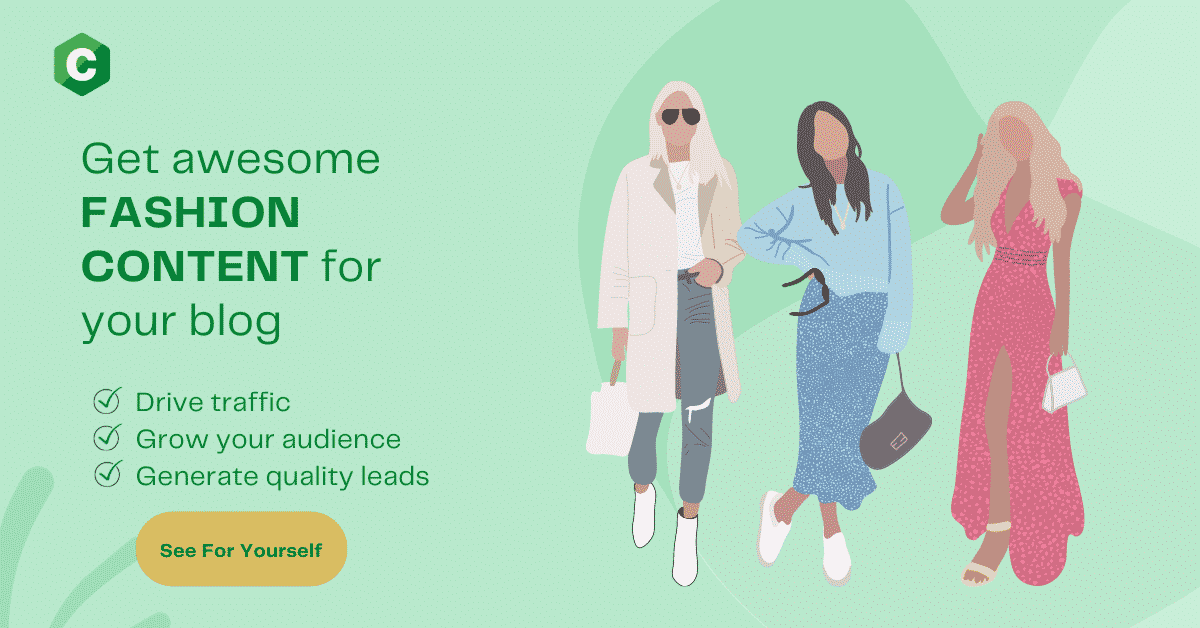 Lifestyle Content
It is related to a particular way of living. For example,
7-morning routine rituals for a successful day
Lessons learned from following outfit guides
10 habits to start to become a fashion blogger
How to set goals for your fashion blog ideas
5 style tips to rock this summer
The fashion blogger's outfit guide
Strategies for your fashion routine
Outfit ideas for different jewelry
Seasonal Content
This is content based on a specific season, upcoming holiday, or significant event. Some fashion blog ideas include
Best swimwear for summer
Wedding outfits for guests
Gift guides for fashion lovers
Famous outfits this spring
Seasonal sale picks
Holiday lookbook
What to wear during fall
How to style winter outfits.
Starting a Fashion Blog
The following are steps to starting your blog after choosing fashion blog ideas.
Create your blog
Creating a blog will allow you to share your unique content with your reader. A fashion blog should be bold, beautiful, and on point. Therefore, you need to choose a blog template compatible with your message. Moreover, choose a fully customizable one that can be edited to match your themes.
The next step is choosing a color scheme. For example, you can use an online palette generator to choose dominant colors to complement your blog. In this case, you can look at other fashion blogs for color inspiration.
When crafting your blog logo, ensure it describes your concept. For example, if it's a street fashion blog, choose a blog logo that is a bit edgy. Finally, your blog should represent your brand, including the name. Therefore, choose a fun name that will get readers interested.
Get a hosting plan & domain name
A webspace is important because visitors will then access your site. Therefore, you need a web hosting server to make your site live. Web hosting provides space to hold all your data on its server, keeping your site fully functional. Many of them are online; therefore, choose one that meets your needs.
The domain name is a representation of your brand. It's also the first impression visitors will have of your brand. Therefore, own your domain name so that it gives you credibility and helps you brand yourself. Also, ensure it is professional and memorable so that you make a great first impression. It should also be closely associated with your blog's concept. Keep your domain name short and simple, avoid hyphens and excessive numbers, and finally, be descriptive and creative.
Select a niche
There are various niches in the fashion world. From street fashion to preppy fashion. Hence, depending on your preference and personal experience, choose a niche that suits you and your audience. Focusing on a niche will help you build authority in the field. It also increases the chances of connecting with the right audience.
Write & publish high-quality content
Choosing your niche will help you narrow down topics that'll relate to your audience and encourage them to return for more. Your goal as a fashion blogger is to attract visitors to your blog. Therefore, research topics that'll provide value to the reader. Furthermore, you can ensure a reasonable retention rate for your blog by creating quality content that meets or exceeds their wants and needs. 
Search Engine Optimization
SEO can help improve your content and your blog's position within the search results, ensuring that you're being found by users interested in or who may find value in your content. As such, you can perform some keyword research, and you'll find different terms people use when looking for answers in your field. You can then implement these targeted keywords in your content. Therefore, this will boost your blog's search performance and online visibility.
Promote & grow your reach
Writing your blog content is not the end of the road. You need to ensure that the content reaches the target audience. Therefore, the most popular way to promote your blog is through social media and email marketing.
There are many active users on social media; therefore, you can use this to your advantage. For example, include links to your blog in your social media profiles and share blog posts on your social channels.
Moreover, you can make blog posts easy for your readers to share by adding the social share button. This process allows your brand to increase online visibility and grow your audience.
Email marketing, on the other hand, builds engagement with your blog and turns visitors into loyal customers. Once visitors are on your site, encourage them to subscribe to your mailing list or newsletter so that they can get alerts on exciting things on your blog.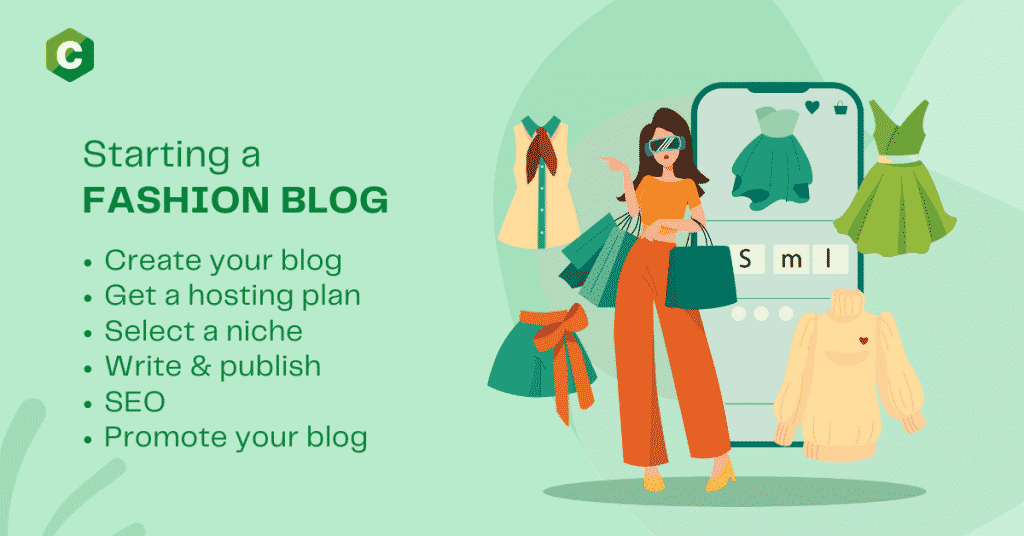 Writing a Blog Post
After choosing one of the fashion blog ideas above, use the guidelines below to write a creative blog post.
Brainstorm ideas
This is an informal and relaxed approach to problem-solving. It increases the richness of ideas explored hence finding quality content for your blog post. As a matter of fact, some great strategies for brainstorming ideas include looking for hobbies and cross-referencing them with the fashion industry. Moreover, you can also get another perspective by reading about what other fashion bloggers are writing and reviewing your old fashion content. You can also use Google's suggestion, and the People Also Ask section to find gaps in the fashion industry and fill them.
Outline
Your blog posts should be logical and cohesive if you hope to satisfy the needs of your target audience. Thus, a blog post outline can help you stay on track and organize your thoughts and make it easy for readers to engage.
SEO keyword research
This is researching and selecting the most appropriate target keywords to help you rank in search engines. Furthermore, doing this will help you create content that people are searching for, which drives more traffic to your blog and lets you promote your product or service.
Create a catchy title
The title of your article is your content's first impression to your readers. Therefore, a catchy title will quickly grab your readers' attention and entice them to read your blog post.
Check your word count
You have a higher chance of ranking in Google if you write long, high-quality blog posts of at least 1000 words. Moreover, Google has more clues to determine what your content is about, and the longer your optimized text, the more often your focus keyphrase appears.
Provide internal and external links
An internal link is a link that points to another page on the same blog. On the other hand, external links point to your blog or vice versa. Internal links are essential because they give structure to your website hence increasing your SERP ranks. Moreover, they boost the user experience as users easily navigate your site, creating a smooth website experience. On the other hand, external links improve credibility, especially if you have backlinks with high domain authorities relevant to your site. They also help you build Google's trust, become an authority in your field, and build your online reputation. Thereafter, you get more visitors to your site that turn to prospects.
Break your post into short sections & paragraph
Large paragraphs can discourage readers, but shorter ones are easier to read and understand. Experts recommend paragraphs of no more than 150 words in three to eight sentences.
Add a CTA at the end
A CTA is like a signpost that tells the reader what to do next. As a result, it can help you guide your visitors through the buying journey and directly impact your conversion rates.
Optimize your images
Image optimization reduces the size of an image without affecting the quality. Optimizing images for your blog reduces the overall page load time by 80%, helping you rank highly on search engines.
Proofread
Proofreading improves the quality of your blog post, ensuring there are no mistakes and correcting general errors or writing inconsistencies.
Categorize & tag your post
Categories allow you to broadly group your fashion blog ideas while tags describe your blog post in detail. Otherwise, tags and categories help structure your content. They associate keywords to specific content. Not only does this help users navigate your website more quickly, but it also directs search engines to your website content.
| | |
| --- | --- |
| #Step 1 | Brainstorm Ideas |
| #Step 2 | Make an outline |
| #Step 3 | SEO Keyword Research |
| #Step 4 | Create Catchy Title |
| #Step 5 | Check your Word Count |
| #Step 6 | Provide Internal & External Links |
| #Step 7 | Break your post into short sections and paragraphs |
| #Step 8 | Add a CTA at the end |
| #Step 9 | Optimize your images |
| #Step 10 | Proofread |
| #Step 11 | Categorize & tag your post |
Writing a blog post checklist
Making Money From Your Fashion Blog
Advertising
Most, if not all, fashion blogs depend on ads to generate their revenue. Moreover, Google Adsense allows you to easily display ads on your website and make money from your blog, even for a beginner.
Affiliate marketing
This form of marketing will enable you to recommend the best products to your readers and earn a commission when your users purchase the product. Therefore, you need to find fashion products and brands with an affiliate program like Amazon affiliates to be successful in this area.
Offering members-only content
People love exclusive content. Therefore, you can offer premium content to paying members while other readers can get your regular content. For example, you can give your exclusive members a sneak peek at a fashion launch.
Publish sponsored content
When your fashion blog develops a decent social media following, brands may sponsor you to market their products or services. This is a green area as you can make six figures for just publishing sponsored content. More experienced fashion bloggers with a large following set their prices for sponsored content which often proves highly lucrative in the long run.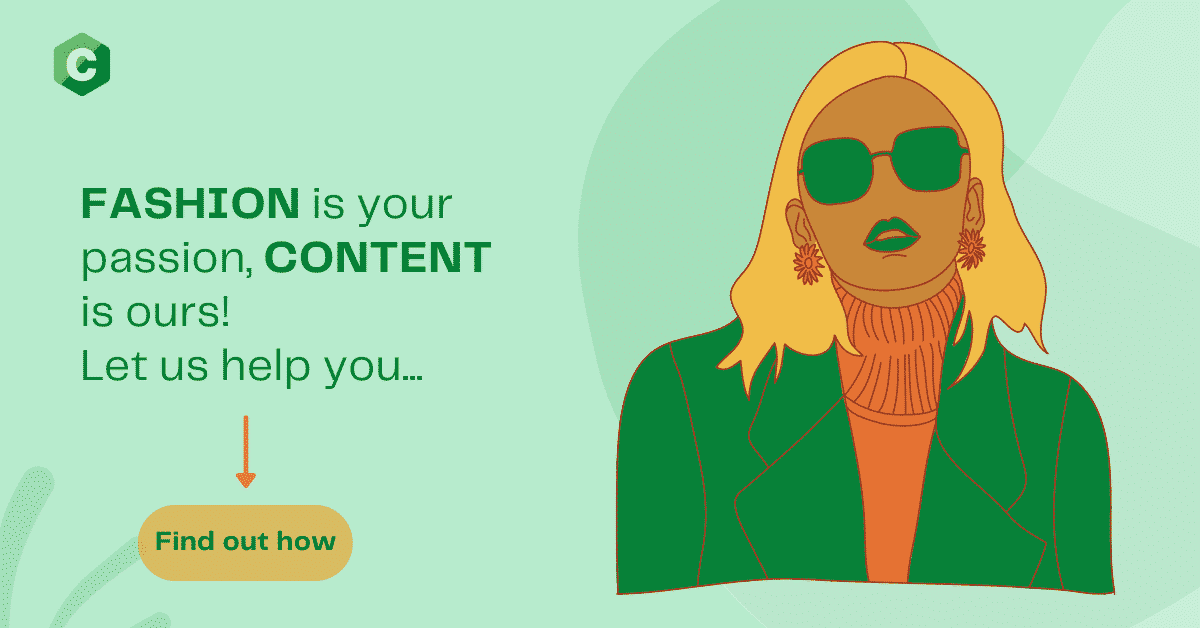 Conclusion
Blogging is a fun hobby that can become so much more. However, coming up with blog posts can be exhausting. Therefore, you can grow your fashion blog into a noticeable brand with these fashion blog ideas. With our list of ideas, you'll soon have blog posts for your fashion blog to last a while and earn from fashion blogging.
How long should a fashion blog post be?
Between 900 to 1000 words. Whether you're discussing fashion style or trends, this should allow you to cover the topic without giving irrelevant information.
Do Instagram fashion bloggers get paid?
Yes. However, it depends on your level of influence and the brand in collaboration. A fashion blogger with more than 1 million followers can earn between $10,000 and $40,000 per post.
How do fashion bloggers afford all the clothes?
They don't have to. Most successful fashion bloggers promote sponsored content where brands pay them to promote products. Therefore, they either receive free items or, in exchange, for a discount.

How much does a fashion blogger earn?
There's no 'one size fits all' in the fashion world as there are different fashion bloggers, each with a unique brand voice and identity. However, the average pay is $3,000-$6,000 a month.