If you're passionate about music and want to share this passion with the world, you should start a music blog. A music blog allows you to discuss music in many different ways. For example, reviewing music keeps readers up to date with the music industry and gives overviews of different genres. Blogging can, however, be a complex art to master, especially if you're still new. Some difficulties experienced by most bloggers include writer's block, lack of focus, and issues with content quality. Fortunately, we have various music blog ideas that can help you create quality content for your music blog. These music blog ideas can help you save time, diversify your content calendar and help schedule content in advance.
Music Blog Ideas You Can Use
Music is a vast industry containing various niches. Therefore, the following are different entities of music blogging and some music blog ideas for each entity.
Music News & Trends
The music world is dynamic, with a constant stream of new albums, concerts, and product releases. Therefore, this makes news a logical blog content. Examples of music blog ideas in this sector include,
Spotify lands in the USA
What happened at the Travis Astroworld event?
'Call me Maybe' goes viral again.
Despacito sweeps the globe without a word of English
Kendrick Lamar wins a Pulitzer
The Nominees of the 2022 BET Awards
Beyonce and J Balvin remake Coachella.
Advice or Tips About the Industry
Talking openly and honestly about your experiences within the industry can be very helpful. People would like to know how you made challenges you've been through in the fields. For example,
What it is like being a musician
Why you should never quit music
Career tips for musicians and music professionals
6 reasons you should learn a new instrument
7 Tips for making it in the Music industry
How to start and succeed in your music career.
Behind The Scenes
There is a lot of work that goes into being an artist. The backstage scenes of organizing, promoting, and performing at a show are vast. Therefore, doing behind the scenes can be exciting and enlightening for other musicians and fans. Examples of music blog ideas include,
Behind the scenes on Adele's music video for easy
Behind the scenes with Ed Sheeran
Hozier shares exclusive behind-the-scenes pictures from 'Take me to church.'
The behind the scenes of the making of Classic by MKTO
Behind the scenes of the MTV Music Video Awards
Behind the scenes of the BET Awards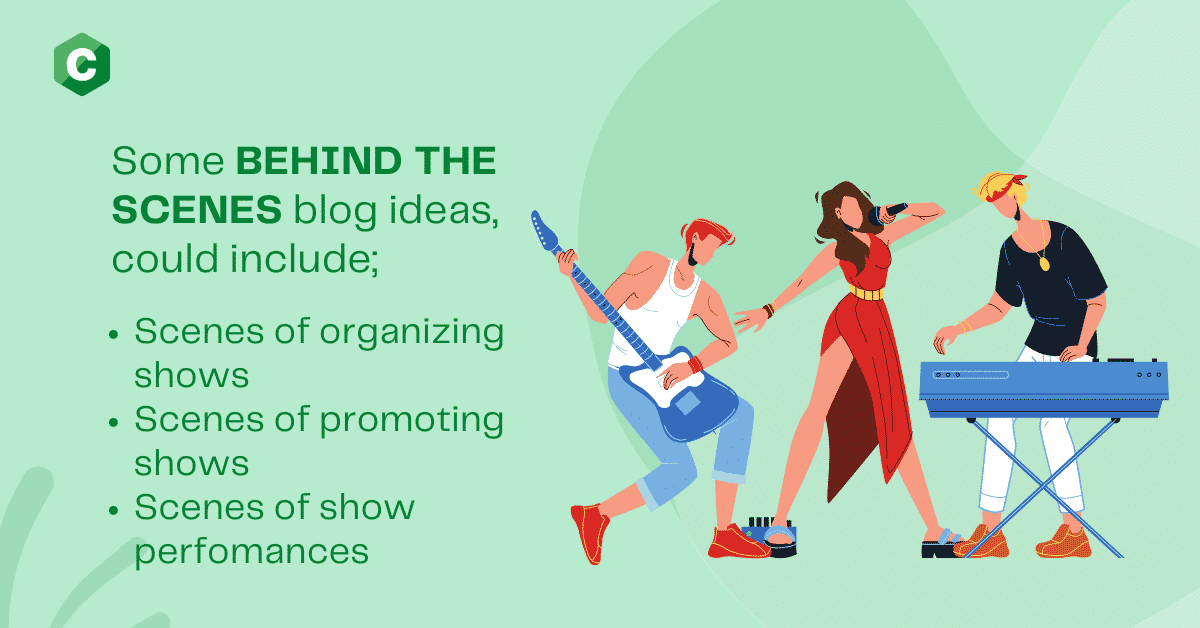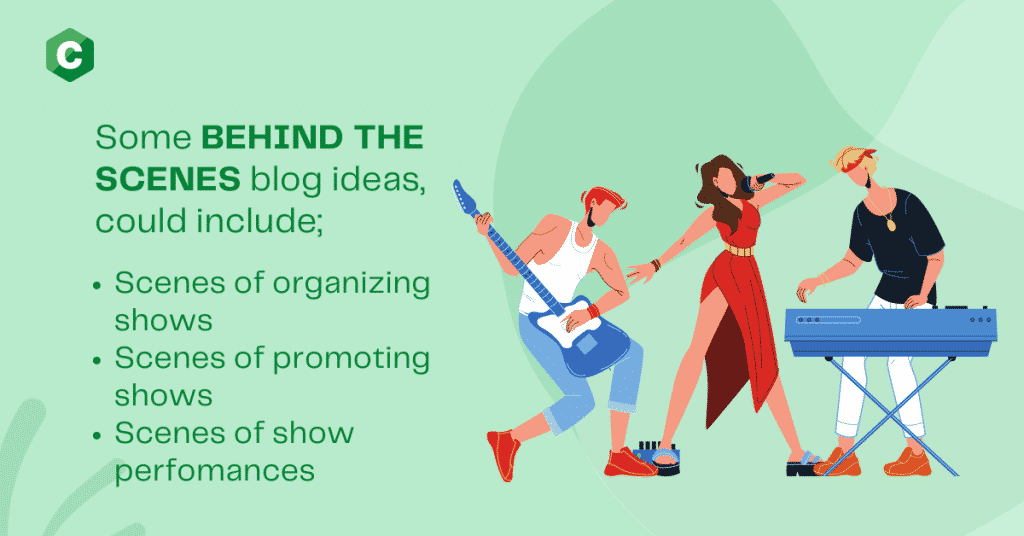 Gear & Instruments
Do you play the harmonica or the guitar? Either way, let your fans know how you sound. You can also do reviews of the musical instruments that you prefer. Music blog ideas include;
Best acoustic guitar review 2022
How to set up a drum set
Everything you need to know about the kalimba
Best Bass drum practice pads in 2022
How to change electric guitar strings
Seven steps buying guide for pianos
Crowdfunding
If you're fans care about your new releases and have crowdfunding set up for a new project, use your blog to bring attention to the latest events. For example, maybe you're signing autographs or doing meet and greets for fans who contribute a certain amount to your campaign. Examples of music blog ideas include;
The best crowdfunding sites for musicians
How music crowdfunding works
Music album release using crowdfunding
What is the best way to crowdfund my album
Crowdfunding Tips for musicians
7 most successful music crowdfunding campaigns
Hobbies Outside of Music
Let your fans know about your other hobbies. For example, if you're a big chef or can do fashion and designing. some music blog ideas include
8 famous musicians and their unusual hobbies
Sean Daniel's secret hobby
10 musicians with hobbies you probably didn't know about
Get to Know Ariana Grande: Hobbies outside of music
Weird and wonderful secret hobbies of your favorite musicians.
Musicians with interesting side jobs and hobbies.
Lyrics and Meanings About Songs
Let your fans know what they're singing, whether your song is inspired by personal experience or a collaboration. If your track is instrumental, describe the feeling you're trying to capture with the instruments. Music blog ideas include.
25 famous songs with misunderstood meanings
Hidden meanings behind your favorite Pop Songs
Popular songs that don't mean what you think they do
10 songs you didn't'' know have secret messages
Should artists explain their lyrics
Lyrics to 5 famously misunderstood songs, explained.
Personal Topics as a Musician
In this case, you can discuss personal experiences as a musician and let the audience connect with you. For example,
What are some things that most people don't know about you?
Who is your favorite musician?
What is your favorite childhood memory as a musician?
Do you have an embarrassing story in the Music industry?
What has been your most tremendous success in your music career?
What are your most epic music failures (and how did you overcome them)?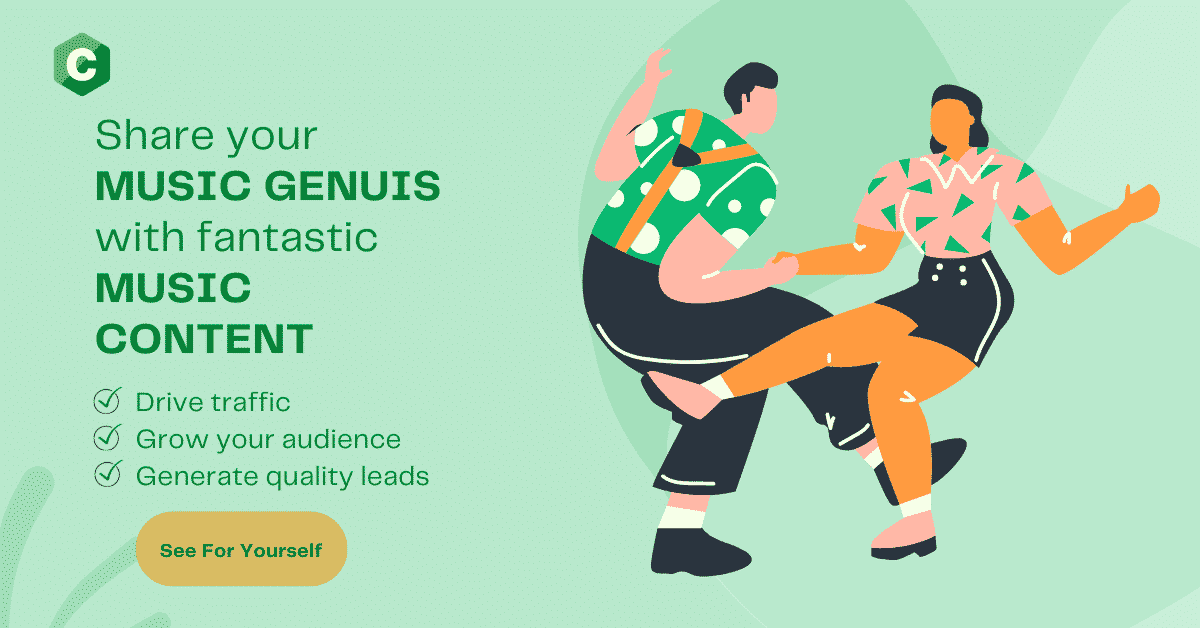 Tutorials
Tutorials are a popular type of blog post because they help people accomplish things they lack the knowledge to do. Here are some music blog ideas in tutorials,
How to make an R& B slow jam beat
4 tips on leveling up your sound design
3 ways to transform melodic samples
How to play the guitar for beginners
How to find song inspiration
The beginner's guide to shaping your sound
Album and Song Reviews
Since we can stream millions of songs, there's a need for quality music reviews. A good review can save your readers time they would otherwise have to spend listening to entire albums. Examples include,
Albums ranked from best to worst
Review of Sam Philip's 'They Turning' album
Machine Gun Kelly Mainstream sellout review
Koffee Gifted review
Review of Ed Schrader music beat riddles
Living for a song review, Jamey Johnson
How To Start Your Music Blog
If you're passionate about music and you want to write music blog ideas about it, then follow the tips below,
Building your resume
Writing a music blog is exciting to exhibit your expertise while building your resume. For example, having an established music blog that showcases your talents can be a massive bonus if you're an aspiring guitarist. Moreover, You can make your music blog part of your resume to build your reputation.
Develop your writing skills
As you write about music, you'll learn more about blog writing practices and improve your writing skills. Therefore, the more you write, the better you get. You may even become an authority with your music blog.
Promote your work
You can start a music blog to promote your music career. In fact, various famous musicians use their music blogs for self-promotion. Moreover, a blog is also an excellent way to let your fans know what you're up to and when you're playing a gig.
Build relationships with other artists
Once your music blog starts getting noticed online, you'll have the opportunity to meet and build relationships with other artists, recording labels, and other people within the music industry.
Make money
One of the main reasons people start blogs, in general, is to make money. A monetized music blog could create a high income for you even if you started the blog just as a hobby.
The step-by-step process of starting a music blog
Here are the steps you need to follow when starting a music blog;
What will you focus on?
Find a reason or a purpose for your blog. This relates to your content and audience. For example, if you're creating a blog about musical instruments, find music blog ideas in that area. Generally, you need to decide the reason for your blog before picking a niche.
Pick a niche
First, you need to think about what you want to write about and what you can do to make your blog stand out from the competition. Therefore, think about which areas of music you love or have expertise with. Moreover, focus on music blog ideas that can offer value and that will allow you to build up an engaged and interested audience. For example, you can choose to focus on music reviews or just promote your blog.
Choose a blogging platform
There are various blogging platforms online, both free and paid. Examples of free blogging platforms include Wix, blogger, Tumblr. These are usually suitable for beginners. Examples of paid blogging platforms include WordPress, which is a good option because it gives you control over every aspect of your website.
Pick a domain name
Choosing the right domain name for your website is crucial for the success of your blog. Therefore, use the tips below;
Consider a .com extension
There are plenty of new domain name extensions available today. However, we recommend domain names with a URL that ends with.com because it is trustworthy. Moreover, .com domains are the most memorable.
Keep it short
A short domain name will be easy to remember. Keep it under 15 characters. Moreover, avoid long, complex words because users will be prone to entering typos.
Use alliterations
Alliteration is a technique where you use two or more words with the same consonant sound. Subsequently, using alliteration helps give your domain name some rhythm and make it catchy—for example, makingmusic.com.
Utilize name generation tools
Currently, there are a variety of registered domain names. Therefore manually searching for individual domain names can be time-consuming. This is where domain name generators come in. In fact, these tools automatically search for your defined keywords to find various domain name ideas.
Get a hosting plan
A hosting plan is a service that stores the files and content of your website. In fact, this is how your blog is made public online. There are various website hosting providers. Therefore, choose one that meets all your requirements.
Select a theme for your music blog
There are different sites like Wix that offer a variety of themes. Therefore, choose one and customize it to align with your music blog. When selecting and customizing your theme, ensure you think about the user experience and make it easy for visitors to navigate your website and read your content.
Create crucial pages
Your website requires some crucial pages. These are;
The home page
This is the page that introduces you to your users. Therefore, it has to prove to your visitors that they're where they need to be. On your homepage, you'll want to expose your brand identity.
A contact page
You should provide all contacts' specific email addresses, phone numbers, physical addresses, website details, and social media links.
An about page
This page should tell the user who you are, your team, how and where your music blog started, and your goals. You can be more personal while also being sure to delineate why users should follow your blog.
A gallery page
The music industry is a no-brainer for a gallery page. Hence, if you're a blogger, provide links to your written live posts. You can also post music videos on your blog.
A squeeze page
It is essential because it allows you to capture your visitor's email addresses to sell them on something later eventually. Therefore, you should include an engaging and relevant headline, a brief copy that clearly explains the offer's value, an image of the promoted request, and a CTA button.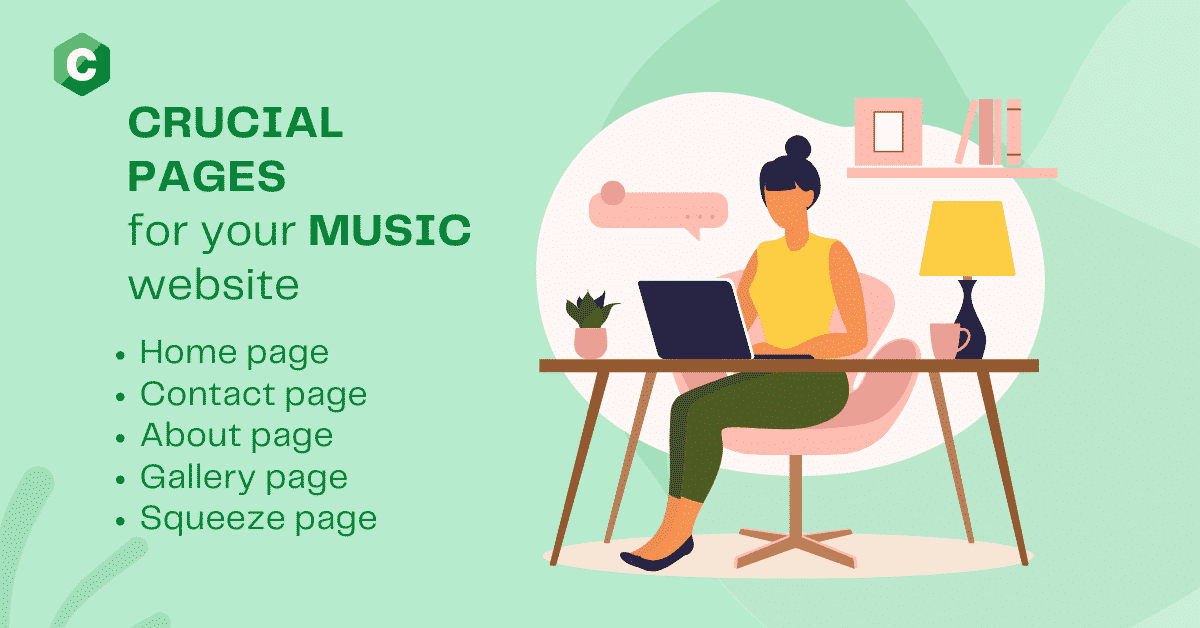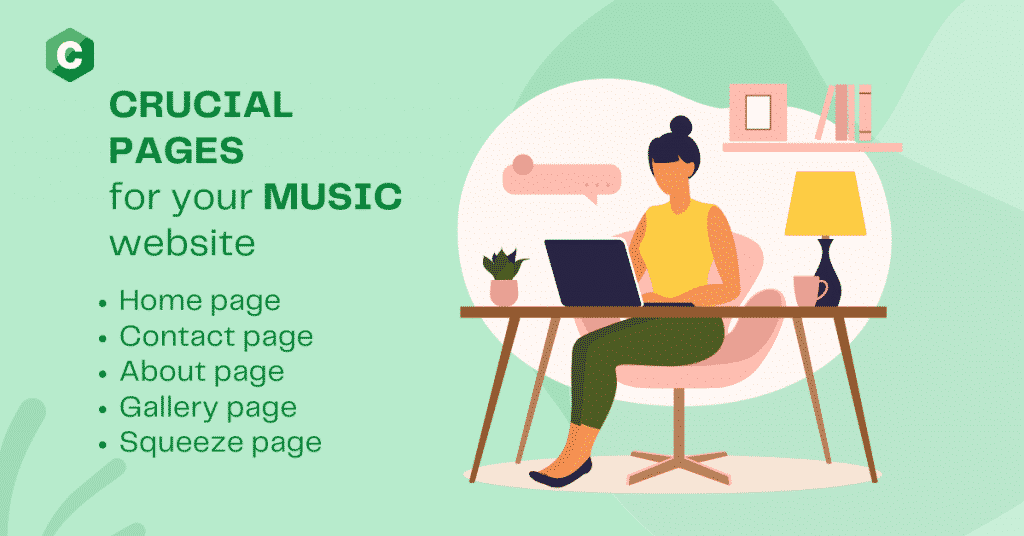 Write your content
High-quality content is what will encourage more visitors to your blog. Therefore, get good music blog ideas and use proper spelling, grammar, and punctuation so that readers can focus on your content and not errors.
Moreover, naturally integrate keyword phrases into the headline and body of your blog post. You can also have custom images to make your blog visually appealing and originalist. Lastly, use both internal and external links to signal to Google that your content is reputable and relevant.
Promote your blog
Telling the world about your music blog ideas is essential because you need to grow your audience and get traffic to your blog. Therefore, you can promote your blog through social media platforms. Hence, set up accounts and make sure they're linked to your blog. Afterwards, share every new post and encourage users to visit your blog.
Moreover, you can practice SEO. This is where you promote your blog by making it appear on the search engine results page. In this case, you have to optimize your content with relevant keywords and build a backlink profile for your blog.
Finally, there's email marketing. Once you've begun to build up a regular readership, you can continue keeping in touch via email marketing. Just add a sign-up form to your blog and encourage new visitors to sign up if they want to be informed when you publish new content or have relevant news to share. 
Monetize your blog
The following are ways to monetize your music blog,
Informational products
Selling information has a vast market. For example, you can decide to sell checklists, song lists, ebooks related to music in your music blog.
Affiliate marketing
You can use various advertising networks, for example, Google AdSense. When you use an affiliate program, you get paid for each visitor's purchase.
Advertising
Ads will pay you for each visitor who clicks through to the sponsor's website. Therefore, having a sizable following can give you a steady flow of ad money.
Sponsored posts
Sponsored posts are posts like reviews for products or promotions for others who pay you to write something on your blog about them. Just ensure that the sponsors are relevant to your niche.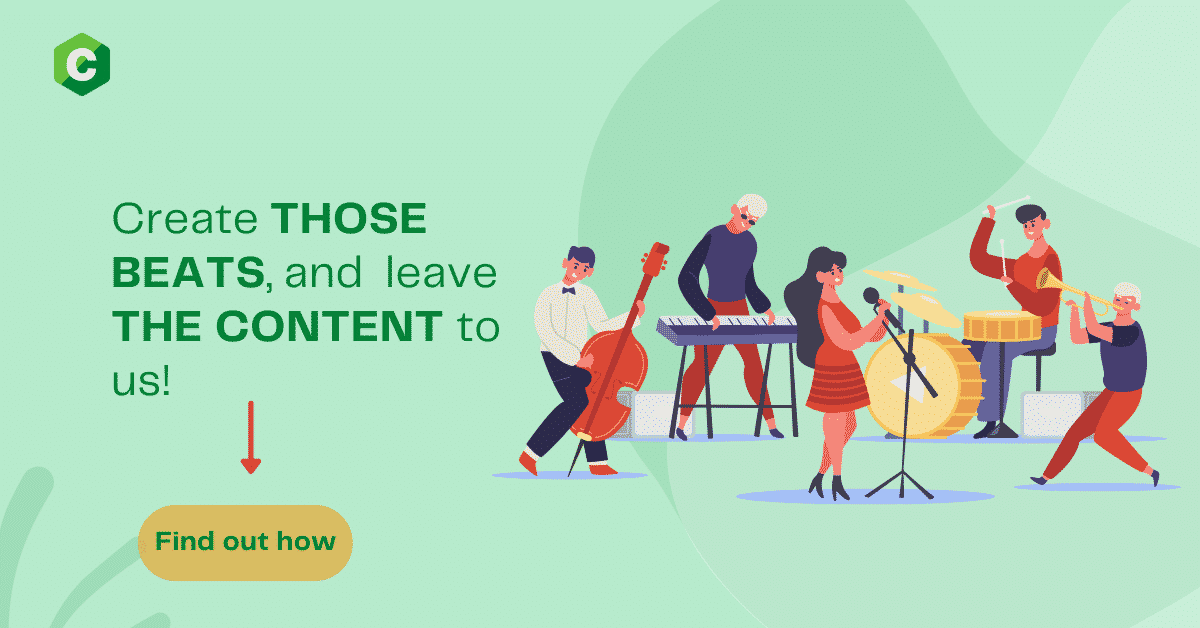 Conclusion
It can be daunting if you're passionate about music and want to start a music blog. However, you can create high-quality content for your readers with our music blog ideas. You can also implement our various strategies for starting a blog and monetizing it to have your platform for sharing your love of music with the rest of the world while earning an income.
Can music blogs make money?
Yes, you can make money through affiliate marketing, advertising, creating a web store, and doing sponsored posts.
Are music blogs essential?
Yes, music blogs help you stay updated with emerging artists and new music from different genres. Still, they can also provide essential insights for musicians looking for a way to break into the music business.
What do you talk about in a music blog?
There are various music blog ideas to discuss in your blog, for example, behind the lyrics, upcoming shows, and merch releases.