Today, anyone can start a wedding blog. For example, as a wedding planner, you can use your wedding blog to post photos and wedding day timelines for future brides. As a wedding photographer, you can also share your readers' wedding sneak peeks and editing tips. Moreover, you can document the wedding planning process from start to finish and share it with your readers as a bride. The most important thing is to create valuable content for your targeted audience. For example, if you're aiming your blog at brides-to-be, posts about wedding dress shopping or finding the perfect wedding venue would be most relevant. Therefore, if you're struggling to find wedding blog ideas for your blog, then this guide is for you.
Wedding Blog Ideas: The Categories
Blogging and coming up with blog ideas can sometimes be a challenge. Especially as a wedding blogger, seeing as the niche is quite broad. However, one key tip that is essential is categorizing. Categorizing your blog posts will ensure that you're a lot more organized and will help you create content that is relevant and relatable to your audience. As such, we have categorized our wedding blog ideas into two; Ideas according to person and other general categories. Let's get into it.
According to person
These blog ideas are based on different people in the wedding industry. So whether you're a planner, photographer, bride, you name it, these ideas would be great for your blog.
Wedding planner blog post ideas
It's hard enough to make time to blog as a wedding planner, and it can be even more complicated if you need to come up with good wedding blog ideas. Therefore, the following list of wedding blog ideas can guide you as you create your content:
The best month for weddings in Alabama
Wedding recap posts
5 best outdoor wedding venues in Florida
How to choose your Miami wedding venue
What does a wedding planner do?
Spotlight another vendor.
Wedding photographer blog post ideas
As a wedding photographer, you can use your blog to share your expertise in wedding photography. You can also offer couples a perfect platform to get wedding-related information to help them plan their wedding. Example topics you can write about include,
Best wedding venues by region
The best engagement shoot spots in Florida
How to incorporate pets in your wedding photo
Help choose a wedding colour palette
Do's and Don't when choosing a wedding photographer
Wedding venues by wedding aesthetic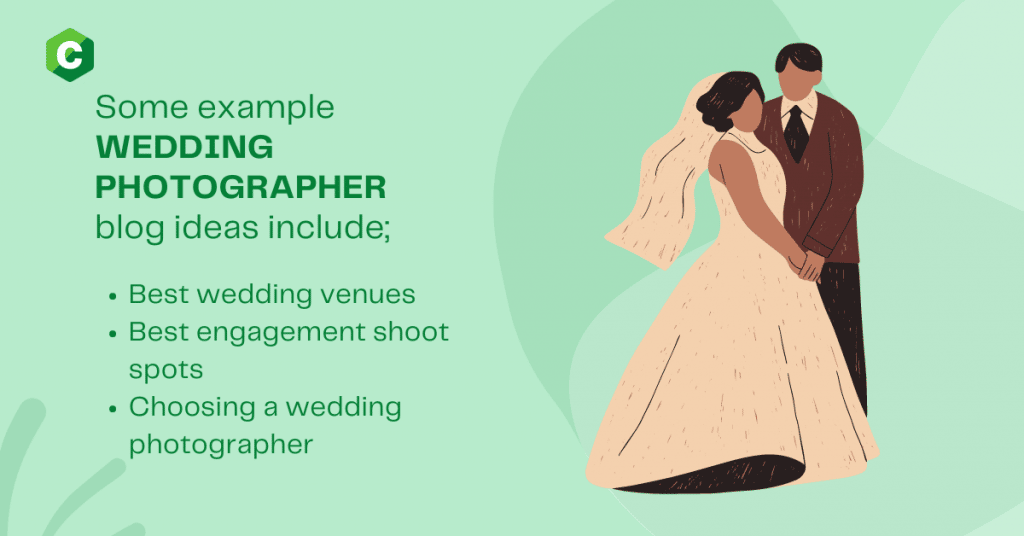 Bridal blog post ideas
If you're running a wedding blog, it's important to include posts about bridal fashion and style. Why? First of all, it's one of the most popular topics that people search for when they're planning their wedding. And secondly, it's a great way to keep your blog feeling fresh and relevant. After all, wedding trends change all the time, so you need to make sure you're always on top of the latest styles. Wedding blog ideas in this category include:
Bridal shoe ideas
What to expect at your dress fitting
To veil or not to veil
One dress or two for the wedding day?
Traditional Bridal attires
Bridesmaids dress trends
Wedding vendor blog post ideas
You can provide resources to couples on where to find veils and accessories, wedding supplies, and a comprehensive guide to the best vendors to use on your wedding day on your blog. Featuring a shortlist of people you've worked with and who you'd recommend is also an excellent way to attract readers to your blog. For example;
Wedding makeup mistakes to avoid
Behind the scenes of assembling a multi-tier cake
Unexpected places to add florals at your wedding
How to use draping to decorate your reception
Essential mixers to have at your reception bar
Songs that never fail to fill the reception dance floor.
Other Categories
These categories cover a wider scope and are more general. In fact, creating content on topics in these categories can widely grow your audience as well as increase traffic to your blog. This is because most of these are greatly searched for on search engines. Here are a few you can look into.
Best of…blog ideas
These include a list of the best examples of what you can add to your wedding to make it a success. The main goal is to provide your readers with a summary of relevant and helpful recommendations for their big day. Some example wedding blog ideas here include:
Best honeymoon destinations
Best of rainy weddings
Best of destination wedding locations
Best of clever cakes
Best of wedding hair and makeup
Best of summer weddings
Wedding printables
This is a great way to provide value to your readers. Not only will they appreciate having access to these helpful resources, but it will also help them to get to know you and your wedding brand better. Plus, including wedding printables on your blog is also a great way to drive traffic and generate leads – after all, people who are searching for wedding printables are likely also in the process of planning their own weddings! Consider the following wedding blog ideas:
The best thank you tags
Free wedding invitations- elegant & unique designs
Creating an event day checklist
Save the date invitations- 20+ templates
Songlist templates
'Just Married' banner- how to create your own
Frequently Asked Questions
A wedding blog FAQ puts all the commonly asked questions into one place and lets guests know more about wedding details from your blog. These are great blog post ideas because they are an opportunity to showcase your expertise. Moreover, when people ask these questions, they look to you as the expert for answers. Examples include:
Is there a dress code?
Will the ceremony be indoors or outdoors?
Who pays for bridesmaids' dresses?
What happens after the ceremony
How to RSVP a wedding invitation
Are children allowed at weddings?
How To Start a Wedding Blog
Wedding blogs are a great way to get your name out there as a wedding vendor or planner. If you have a blog full of wedding tips and advice, brides-to-be will start to see you as an expert in your field.
A wedding blog can also help generate leads for your business. For example, if prospective clients see your wedding blog ideas and read about your excellent services, they'll be more likely to contact you about booking their wedding! Therefore, the following steps should guide you to start and run a successful wedding blog.
Identify your niche
A niche is simply a specific focus within the wedding industry. You could choose from many different niches, from wedding planning and DIY to wedding fashion and photography. By finding your niche, you'll be able to market your blog more effectively and attract readers interested in your particular area of expertise. Not only that, but you'll also be able to build a stronger rapport with your readers by becoming an authoritative voice within your niche.
Coming up with a blog name
A blog's name is essential because it is one of the first things a reader will see when they find your blog, so it should be eye-catching and memorable. A good blog name can also help to establish your brand and build an audience. And finally, a unique and catchy blog name can make your blog more shareable on social media. But how do you develop a great name for your wedding blog? Here are a few tips:
Keep it short and sweet. A long or complicated name will be hard for readers to remember.
Make sure it's relevant to your subject matter. A name like "Wedding Bells" makes it clear that your blog is about weddings.
Be creative! Try to create something unique to make your wedding blog stand out.
Finally, avoid using common wedding terminology like "wedding planner" or " wedding photographer." Instead, opt for something more unique like "coordinator" or "lensman."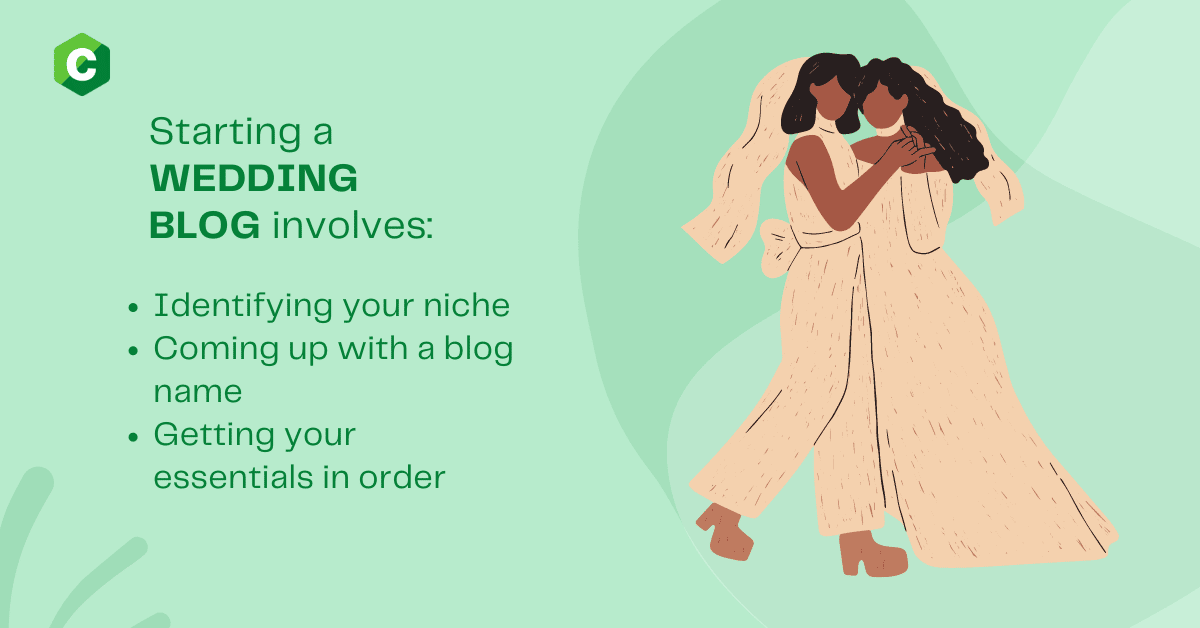 Get your essentials in order
If you're thinking about starting a wedding blog, there are a few key things you'll need to take care of. The most important thing is choosing a good domain name that's catchy and easy to remember. Once you have your domain name, you'll need to choose a blogging platform. WordPress and Blogger are two of the most popular platforms. Wedding blogs do best with a simple, clean design, so keep that in mind when choosing a theme. And finally, be sure to populate your blog with great content and wedding blog ideas like photography tips, and wedding DIY projects, among others. The more helpful and informative your content is, the more likely people will keep coming back.
How Do You Write Great Wedding Blog Posts?
So, you've started your wedding blog, great! Now, you're looking into creating content for this new platform. And as we mentioned before, creating great content is a key factor in the success of your blog. So how do you write great wedding blog posts? The following tips should help you.
Knowing your target audience
If you're thinking about starting a wedding blog, one of the first things you need to consider is your target audience. Who will you be writing for? What kind of wedding blog ideas will they be interested in? Answering these questions is essential for creating a successful blog. Without a clear understanding of your target audience, producing content that resonates with them will be complex. Additionally, you may find it difficult to monetize your wedding blog if you don't have a clear sense of who your readers are and what they want. So before you start sharing your ideas with the world, take some time to think about your ideal reader.
Write with a fresh mind
Time is money. And the longer you wait, the harder it'll be for you. While weddings are a timely event, there's a disadvantage to letting stories sit for days before you post them. The quality of your posts can suffer as details become fuzzy and memories start to fade. That's why it's crucial to plan how often you'll post and what kind of content you'll include. You'll be successful if you commit to posting regularly and keeping your content fresh.
Keep it short
When it comes to writing wedding blogs, shorter is often better. That's because today's readers are looking for brief, informative articles that they can quickly scan through. And as a result, many are simply unwilling to invest the time needed to read a long, detailed blog post. Of course, there are exceptions to this rule. Sometimes, a longer article is necessary to provide all the information that the reader needs. However, shorter pieces are generally more likely to be read and shared. For a wedding blogger, writing short articles can help you attract more readers and grow your audience.
Focus on what you know
It's always essential to be a master of your craft. After all, your readers trust you to provide them with quality content that will help them plan their big day. Knowing your audience is a big part of being a master. What kind of information are they looking for? What kind of tone should you use in your writing? Taking the time to understand your audience will help you create content that resonates with them.
Additionally, being a master of your craft means staying up-to-date on the latest trends in the wedding industry. This way, you can ensure that your blog always provides readers with the most relevant information possible. Therefore, doing your research and writing informative content ensures that you stand out as an expert.
Be helpful
When writing wedding blog ideas, one of the most important things you can do is to provide tips and tricks for your readers. We all know weddings can be a bit overwhelming, therefore, any advice you can give your readers will be greatly appreciated. In addition to being beneficial for your readers, providing tips and tricks on your wedding blog can also benefit you, the blogger. This kind of content is very shareable, which can help increase your blog's reach. It can also help to boost your blog's search engine rankings.
Conclusion
So there you have it! Our comprehensive list of wedding blog ideas alongside tips on creating a successful blog. We hope we've shared all the creative ideas you can use for your blog and that this has inspired you to get started. If you need help getting started, don't hesitate to reach out to us – we would be happy to offer our advice and support. Happy blogging!
How do wedding blogs make money?
There are several ways: sponsored blog posts, ads, affiliate marketing and promotions, and finally, selling your wedding products.
How do I blog as a wedding photographer?
Select and organize your blog post ideas and incorporate some of your wedding photos to attract the right clients.

What are the best wedding blogs for beginners?
A perennial favourite is Style Me Pretty. They have a comprehensive website on everything wedding.