Email marketing is an excellent way of finding new readers and many bloggers rely on it. While some insist on communicating with readers via social media, the returns might be few, and it might take some time. Convertkit review is meant to give you an overview of how the platform works.
Having said that,
Finding a reliable email marketing service provider is vital. One of the famous names in the industry is ConvertKit. However, different tools offer the same services and making a choice can be difficult.
Luckily, this ConvertKit review discusses its features, their functions, pros and cons.
Through an understanding of these elements, you can make up your mind regarding ConvertKit's suitability to your business needs.
Below are some of the ConvertKit's features and how they work.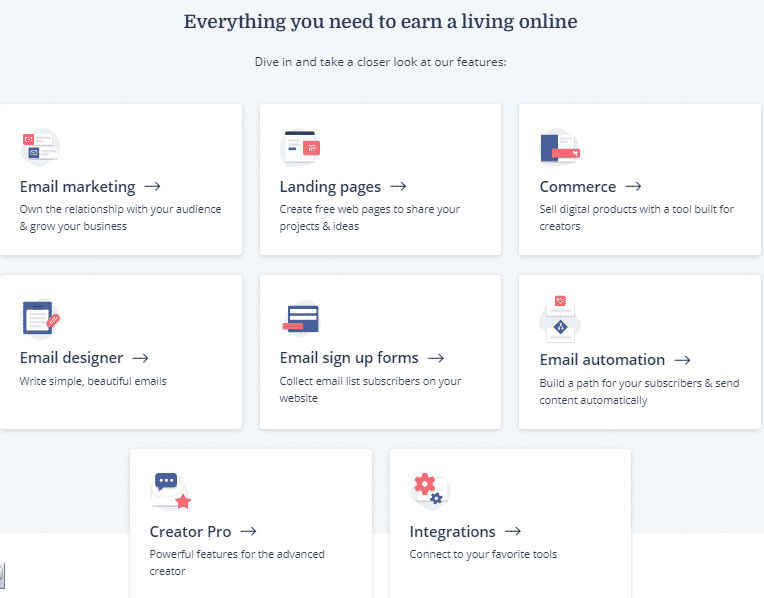 Interface
Segments and tags
Email templates and broadcasts
Automation
Split testing
Forms and landing pages
Integrations
Pricing
→Download Now: Free Content Marketing Strategy For Affiliate Marketers
ConvertKit Interface
ConvertKit's interface is user-friendly. It is divided into five refined sections which are automation, forms, sequences, subscribers and broadcasts.
You can see all the information about your subscribers such as click rate, emails sent and number of subscribers on the subscribers' section.
You can also search for subscribers and also modify or remove existing subscribers.
ConvertKit Segments And Tags
ConvertKit has made it easy for people that have many subscribers to remain organized through tags, forms and segments.
Forms
In most cases, the form contains the name that made you get the email subscribers the first time. If they register from a particular lead magnet, then the name of the form is 'My lead magnet'. 
Segments
These are a larger grouping of your subscribers. A single part can comprise of subscribers from various forms. You can add or modify the parameters of the sections when you need to.
Tags
These are labels that you give subscribers when they perform specific actions such as buying a course or signing up for a webinar.
ConvertKit's tagging feature is powerful and sends hyper-targeted email broadcasts and newsletters. That is a feature that most of the other email marketing software still lacks.
ConvertKit Email Templates And Broadcasts
ConvertKit has three pre-made email template types which are the classic, text and modern templates. Each type suits specific needs and you need to choose what works for your marketing campaign.
Unlike other sites,
You will not find shiny newsletter templates as in MailChimp and other platforms. Such mails are outdated, and Gmail often flags them off as promotional.
Therefore, it is better to avoid shiny templates if possible. Plain text emails appear to be more personalized, and they might appeal more to subscribers. Their delivery rate is high.
However, that does not mean that your options are limited.
You can still create custom templates if the existing ones are not sufficient. You need to do some coding if this is the case.
For better results,
You can use HTML and other CSS styles during this process. One ConvertKit review suggests that the templates are not dynamic as you cannot export them as files.
You need to copy and paste your code into another account if you want to create the same template.
Not forgeting.
ConvertKit allows you to choose the audience that you want your broadcast to reach. The platform also allows for advanced targeting, and you can select your recipients before composing your emails.
You can also add italics, bold text, links, quotes, underlines and modify images and sizes and other elements.
After composing your broadcast, ConvertKit allows you to preview it and make changes if you have to.
That is useful because you can identify any mistakes and you need not worry about sending test emails. It is up to you to schedule when to send the broadcast.
Automation
ConvertKit has a mighty automatic visual builder that permits you to select an automatic trigger for your automated workflow. You can also have several triggers in one workflow.
After selecting the trigger, you can build the automation sequence using the autoresponder tool.
Other tools need you to switch from one webpage to another to create emails, something ConvertKit prevents you from encountering.
There is a section named 'Automation rules' that allows you to maintain some rules. You can add or change rules that you create to guide you when dealing with campaigns.
Some reviews mention that ConvertKit is not an excellent option for advanced digital marketers.
However, it all comes down to the preferences of the marketer.
Split Testing
ConvertKit allows you to do A/B testing of subject lines to identify those that perform better than others. The major limitation is that the testing does not cover whole emails, names and aspects such as send time.
Forms And Landing Pages
ConvertKit allows you to create landing pages and capture lead forms to insert on your website.
That is a unique feature that you will not find in other email marketing tools such as Drip. You can choose from the three form formats available. They support plugins for lead generation purposes.
You can select from the pre-made templates or create a personalized one. You can also customize the forms using trigger options such as time-based pop-ups, exit-intent and scroll percentage.
Monitoring And Reporting On ConvertKit
ConvertKit reports on the performance of key metrics on the reports section. The parameters displayed include conversions, conversion rates, top referrers, and visitors.
You can also access reports about your broadcasts that cover metrics such as click rate, open rate and the number of subscribers.
ConvertKit also enables you to resend original emails to people that might not have opened them.
Integrations
ConvertKit integrates with different apps, including Zapier. You can discover more about ConvertKit integrations from their website.
Pricing
ConvertKit prices depend on the number of new subscribers that you have. The lowest amount you can pay is $29/month for up to 1000 subscribers. There is also a trial version that is free.
The following review compares the pricing plan of different platforms, and ConvertKit is among the top three in terms of charges.
Ideally, the prices are high, and it is advisable to use it for nurturing already qualified subscribers.
Verdict
In this ConvertKit review, it is evident that the platform has exemplary features that help improve the much-needed conversions through email marketing.
However, the tool has downsides as well. You need to understand all that you can about ConvertKit and know if you can rely on it for your email marketing campaigns.
Is ConvertKit better than Mailchimp?
Mailchip is a better and an automation email platform since it is free as compared to Convertkit which does not offer any free plan. However, Convertkit Landing page features are superior.
What is ConvertKit used for?
This is a platform used in email automation and other features like landing page creation.
How much does ConvertKit cost?
Prices start at $29 a month for a maximum of 1,000 contacts, $49 per month for up to 3,000 subscribers or $79 monthly for a list of 5,000 contacts.
How long is ConvertKit free trial?
Convertkit free trial period is one month for up to 1000 subscribers.