In a world where people are increasingly spending time online, digital marketing for financial advisors is now more critical than ever. Moreover, people are becoming more comfortable conducting financial transactions online, so it's crucial to reach potential clients where they are. This article will discuss why digital marketing is essential for financial advisors and how you can get started!
Digital marketing is a term that is thrown around a lot these days. But what does it mean? In short, digital channels are used to reach and engage with your target audience. It is an essential part of today's business world, and as a financial advisor you must ensure you are taking advantage of it.
So why should you take advantage of this? As a financial advisor, you have a lot of responsibilities when it comes to your clients. Therefore, digital marketing allows you to reach a large number of people with a relatively small investment. It is very flexible and will enable you to tailor your message to specific demographics.
Now let's get started so you don't miss this excellent opportunity to reach your target market.
Digital Marketing Strategies You Can Use
In the past, most people used traditional methods such as print ads and TV commercials to reach their target market. However, with the advent of the internet, people spend more time online than ever. As a result, digital marketing has become one of the most effective ways to reach your target market. Here are some strategies you can use to build your online presence.
Create an excellent website for your business
In today's digital age, whether you're looking to increase sales or raise awareness of your brand, a website can help you reach your digital marketing goal. It gives customers a way to learn about your products and services, get a wider audience, and build your brand. In addition, a website can be an excellent tool for marketing your business. So if you're not already online, now is the time to start.
Have a blog
In the digital marketing for financial advisors journey, a blog can be a very powerful tool. In today's digital world, potential clients search for information online before contacting an advisor. You can demonstrate your expertise and build trust with potential clients by providing helpful and informative blog posts. Also, a blog can help increase your website's traffic and visibility in search engines. And because a blog is easy to share on social media, it can help to expand your reach and generate word-of-mouth referrals.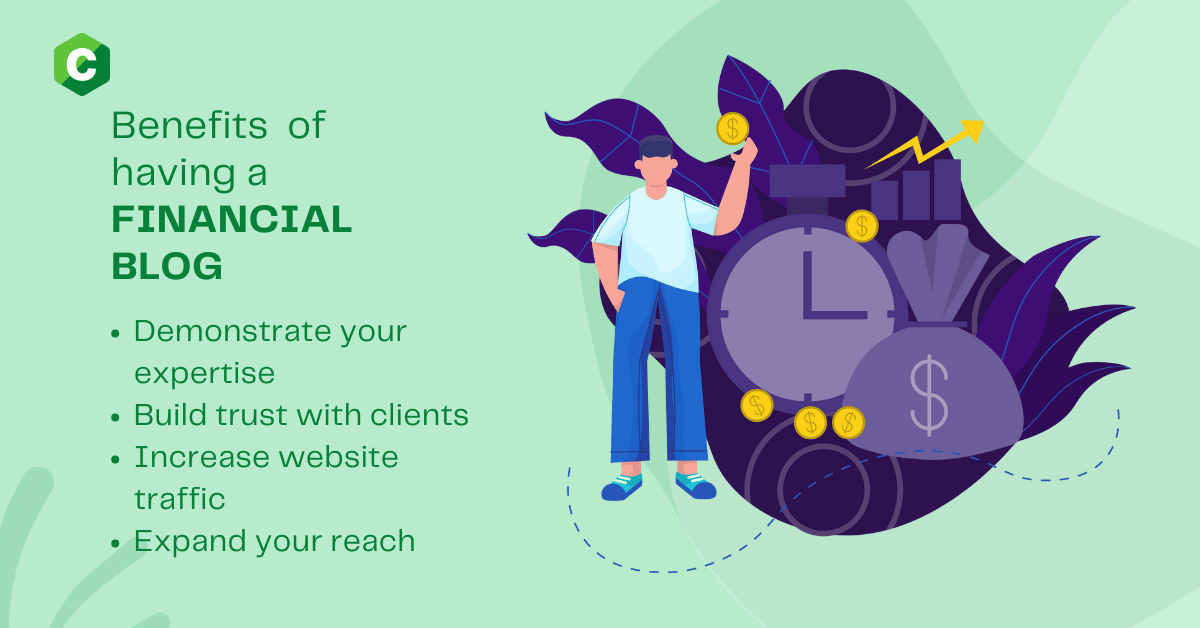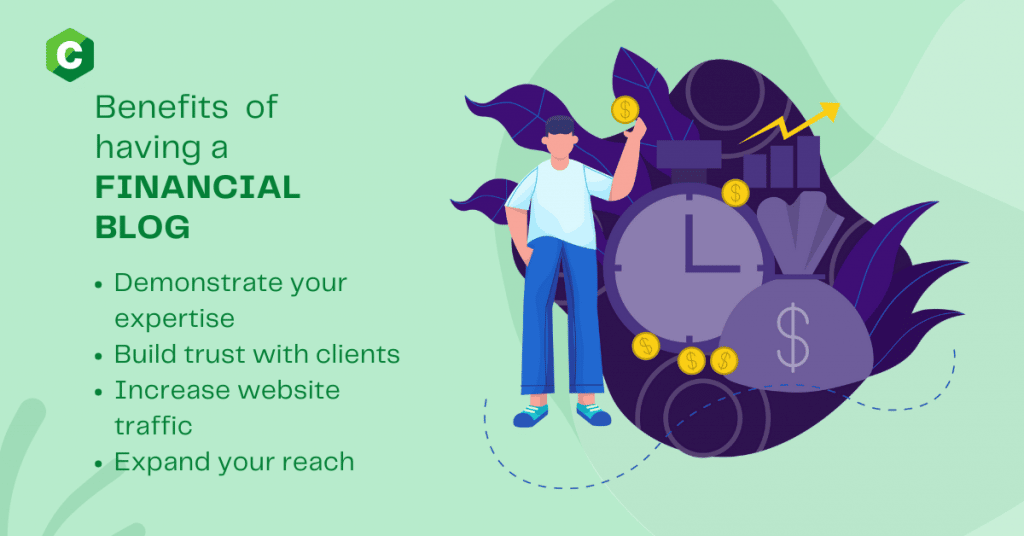 Implement content marketing
So, if you're looking to attract more clients and grow your business, ensure that content marketing is at the heart of your digital marketing strategy. Because content is still king in online marketing, creating quality content can help you attract new leads and convert them into clients. There are several ways to create quality content, but one of the best ways is to partner with other businesses in your industry to co-create blog posts, infographics, or even video content. It will save you time and give you access to a broader audience.
Search Engine Optimization
The internet is full of companies vying for attention, and it can be tough to stand out from the crowd. That's where SEO comes in. Search Engine Optimization is the process of optimizing your website and content for search engines. Using the right keywords and phrases, you can ensure that your site appears at the top of the search results when potential clients seek financial advice. In other words, SEO can help you attract more clients and grow your business. While many factors go into successful digital marketing for financial advisors and SEO campaigns, it's well worth the effort if you're serious about marketing your financial advisor business online.
Social media marketing
Like most financial advisors, you've probably been thinking about how to use social media to grow your business. After all, social media is a powerful tool that can help you reach new clients, build relationships and stay connected with current clients. However, with so many different platforms and strategies, it can be challenging to know where to start. First, take some time to define your goals for using social media. What do you hope to achieve? Then, choose the platform to help you reach your target audience. Once you've selected your venue, it's essential to create exciting and engaging content that will resonate with your audience. Finally, don't forget to measure your results so that you can adjust your strategy as needed.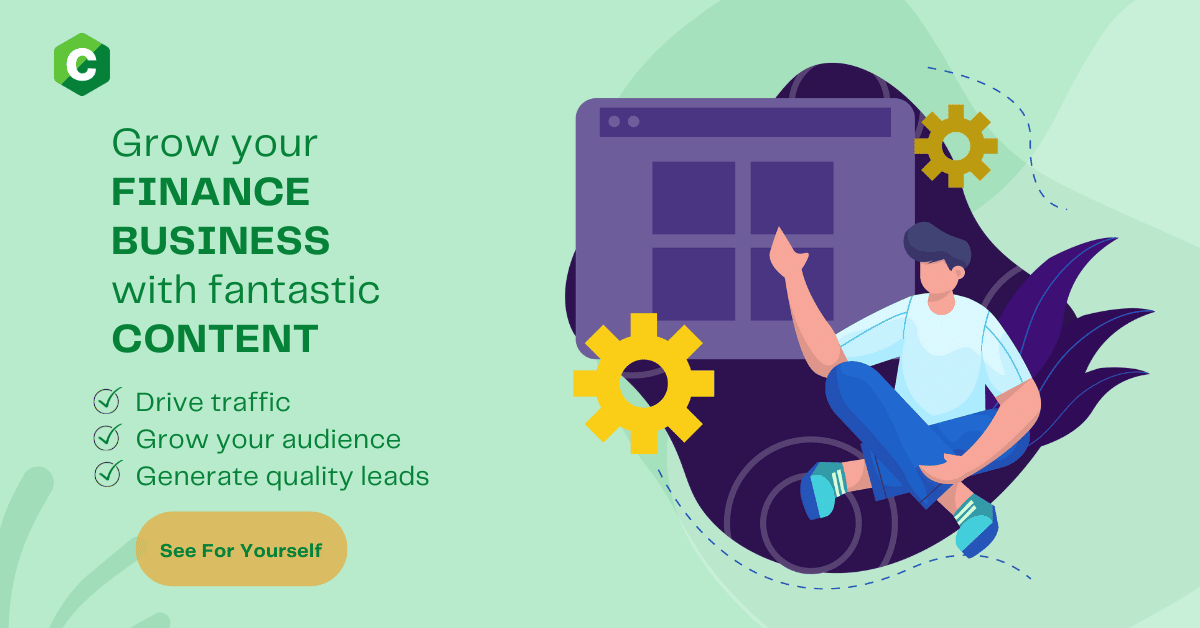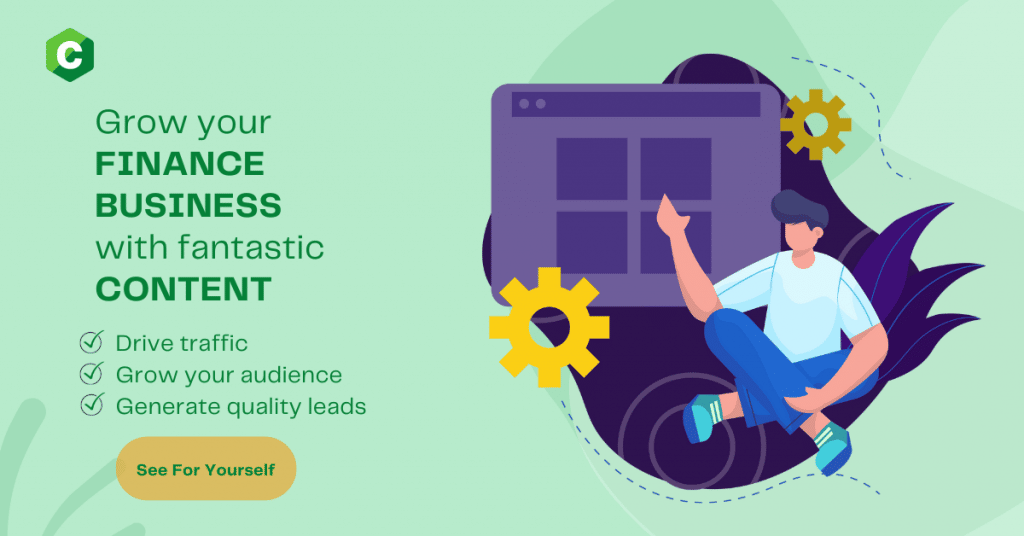 Email marketing
Email marketing is a great digital marketing strategy for financial advisors that can provide many benefits for your business. First and foremost, it is a highly cost-effective way to reach your target audience. You can get many people with your message without spending much on advertising. Additionally, email marketing allows you to track your results to see how effective your campaigns are. This way, you can make necessary adjustments to improve your results. Finally, email marketing lets you personalize your messages to resonate with your audience.
Understanding The Digital Marketing Funnel
Top of the funnel: The goal at this stage is to create content that educates potential clients about the services you offer and why these services are valuable. You can also use digital ads to target individuals who have visited similar websites in the past or who fit the profile of your ideal client.
Middle of the funnel: Now that potential clients are aware of the brand and have some interest in your services, it's time to start nurturing them with more targeted content. You should create blog posts, infographics, and other types of content that help potential clients learn more about the specific services you offer and how these services can benefit them.
Bottom of the funnel: This stage aims to convert potential clients into paying customers. You should focus on creating content that showcases the results of your services and what you have achieved for your customers.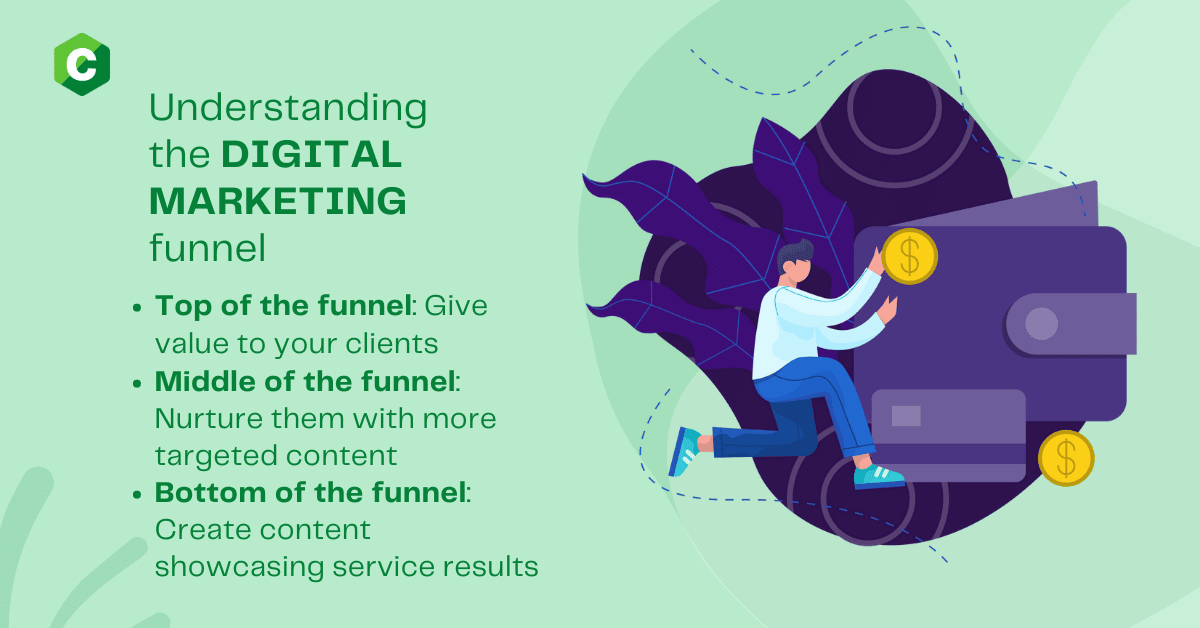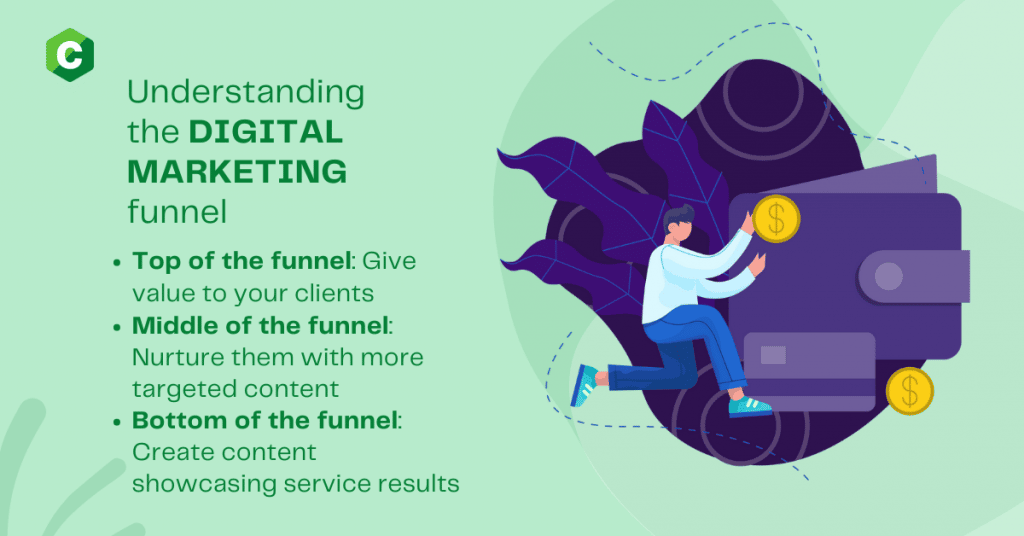 Why Digital Marketing Is Important For Financial Advisors
Digital marketing for financial advisors allows you to get more bang for your marketing budget. With so many potential clients online, there's no reason not to take advantage of digital marketing tools and tactics. Here are a few reasons why it is critical for financial advisors.
Connect with your target audience
In today's digital world, it's more important than ever for you to connect with your target audiences. After all, potential clients are increasingly doing their research online before making any decisions. Therefore, you need to ensure that you are visible and easy to find online. One way to do this is through digital marketing. Creating a solid digital presence allows you to reach a wider audience and build trust with potential clients.
Increased brand awareness
If you're a financial advisor, you know that building a solid digital presence is essential to attracting new clients. Creating a robust online presence in today's digital world can show potential clients that you're an expert in your field and that you're invested in helping them reach their financial goals. Brand awareness is essential for any business, but it's necessary for financial advisors who want to build a successful practice.
Increased conversions
In a nutshell, digital marketing for financial advisors enables businesses to achieve better ROIs. By interacting with clients and customers online, you can build relationships, generate leads, and close deals faster and more efficiently. Additionally, it gives you access to a larger pool of potential clients. And because it is highly targeted and trackable, you can measure your return on investment and make necessary adjustments to your campaigns in real-time.
More qualified leads
Digital marketing provides transparency that other marketing channels can't match, so you can be sure that your leads are qualified. And because this is so efficient, it enables you to get more tips in less time, which means you can close more businesses and grow your practice faster. Simply put, if you're not using digital marketing to generate leads for your financial advisory firm, you're missing out on a huge opportunity.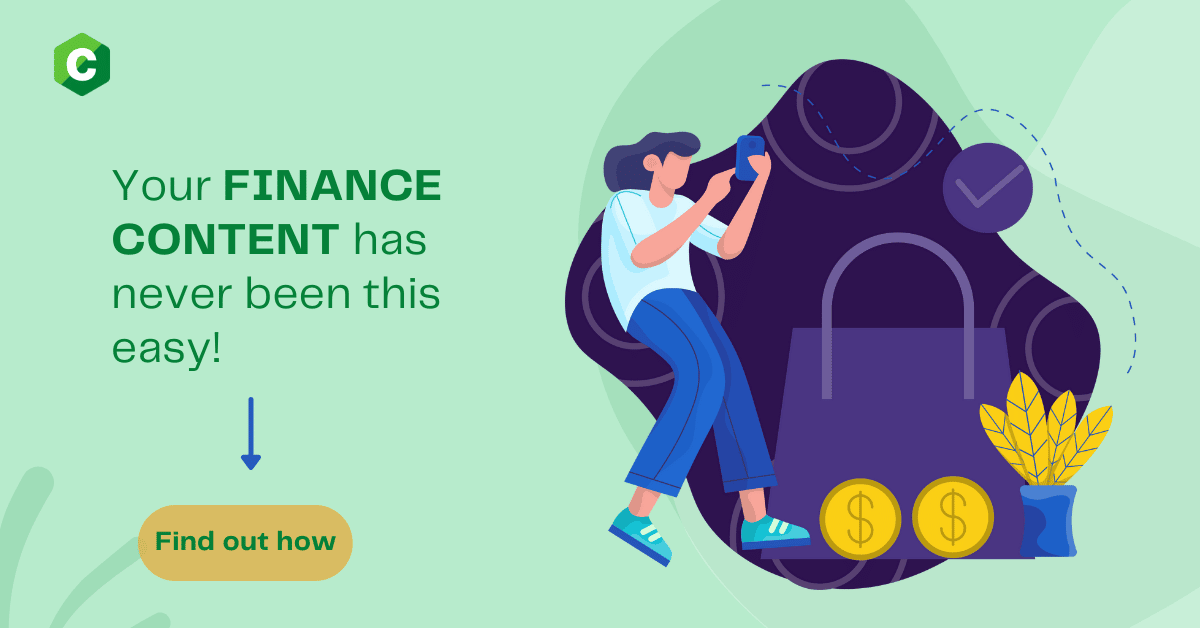 Final Thoughts!
So, there you have it! A comprehensive guide to digital marketing for financial advisors. Now that you understand the basics of each step ensure you follow through keenly so you can see excellent success in the digital world.
Don't hesitate to contact Content Clerks if you need help creating content or getting started with your online presence. We would be more than happy to assist you in developing a winning strategy for your financial advisor practice.
Thanks for reading, and best of luck in your endeavors!
How do financial advisors get more clients? 
Optimizing your website through Search Engine Optimization. 
Using social media platforms like LinkedIn and Twitter.
Having paid advertisement.
Does email marketing work for financial advisors? 
Email marketing can be an excellent way to reach your target audience.  More and more people are open to receiving communications via email, which can be a cost-effective way to stay in touch with clients and prospects.
How much do financial advisors spend on marketing? 
In 2018, Forrester's research found that digital marketing spends made up just 5% of the total marketing budgets of financial services firms. It is in line with other industries' spending on digital marketing, which averages 6% of unlimited marketing budgets.