Starting a dedicated blog for your real estate business is a great way to attract and keep clients while doing something you're passionate about. Today, finding a real estate agent is not a commitment most buyers or sellers are willing to dive right into because it is tedious. Therefore, that's where your blog comes into play. You can help buyers and sellers proactively find answers to questions about the market, how the home buying and selling process works, and the benefits of the different housing options in your market. Another clear benefit of learning how to start a real estate blog is the opportunity to add value to your readers. Additionally, you become a trusted resource when you deliver quality content that your target audience finds helpful. 
Starting a Real Estate Blog: Tips & Tricks
It's important to understand how to start a real estate blog. As we mentioned earlier, there are numerous benefits to doing so. On top of giving your readers valuable information, this is also an avenue for you to make money. Therefore, use the following steps as a guide on starting your real estate blog.
Pick a niche
Choosing a niche is essential when learning how to start a real estate blog. There are different niches available in the real estate industry. These include home buying and selling, remodeling and design, home improvement, and more. While you may be tempted to tackle all these topics, choosing a specific niche is important because you present yourself as an expert in your chosen field, developing a loyal following, and becoming a thought leader.
Moreover, when you focus on a specific niche, you will be able to provide your readers with valuable insights that they can use in their own lives. Similarly, by becoming an expert in your chosen field, you will be able to build trust with your readers. As a result, they will be more likely to come to you when they are ready to make a major purchase, such as a new home.
Identify your target audience
Knowing who you are writing for will help you to understand their needs and objectives better. It will also help you to establish the tone of your writing. For example, ask yourself; Are you writing for first-time home buyers? Investors? Each group will have different concerns and priorities, so it's essential to tailor your content accordingly.
There are several ways to identify your audience. One is to create personas representing your ideal reader. This way you can find solutions to their real estate problems. Another way is to look at your existing readership and analyze their demographics so that you know which content relates to them the most. Once you understand your audience, you can create content that truly resonates with them.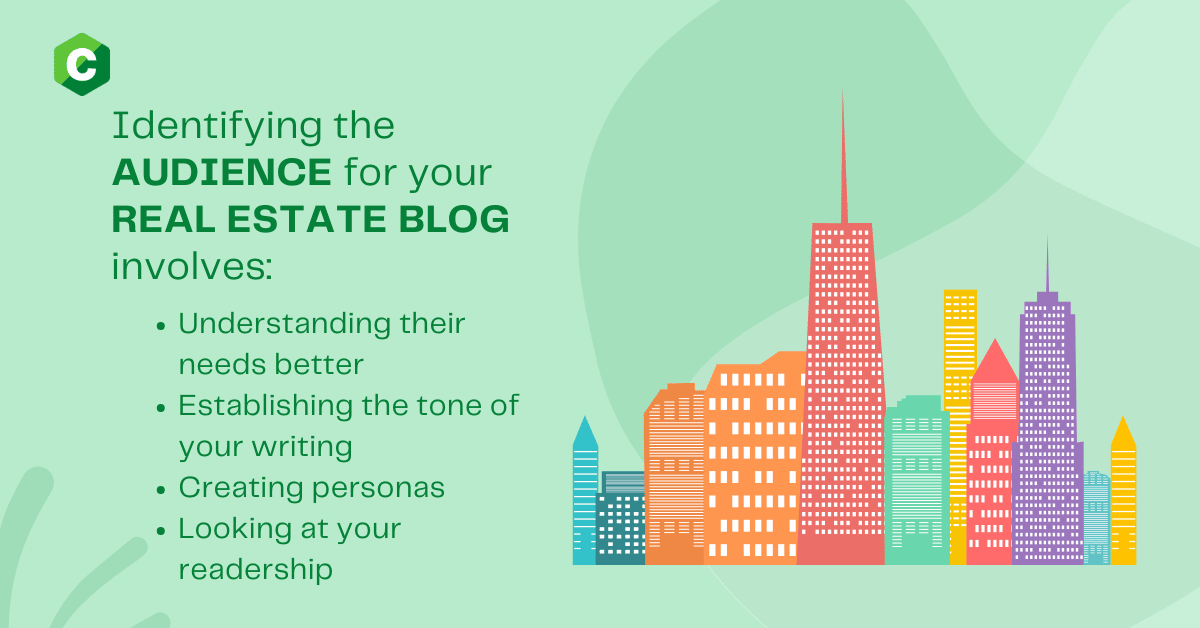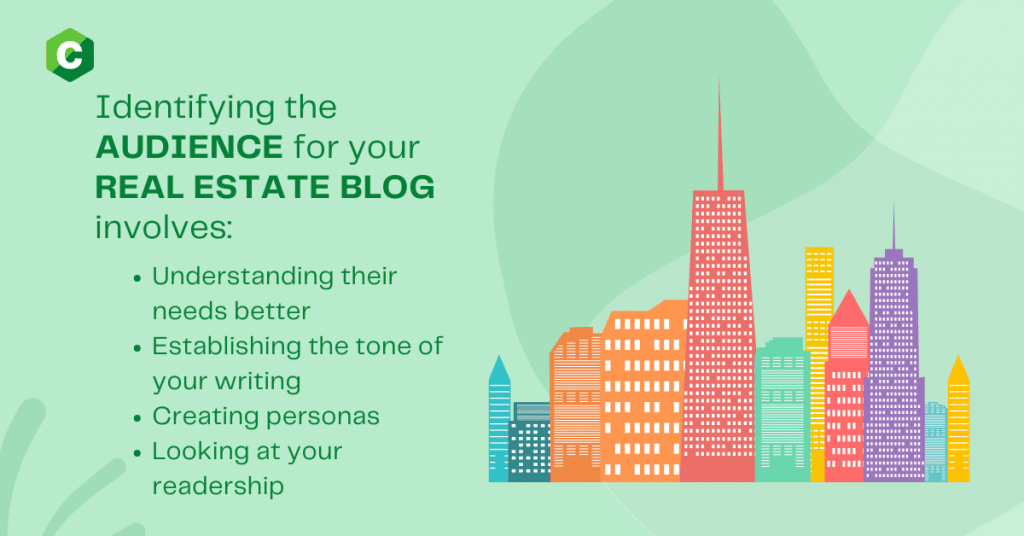 Choose a name for your blog
Picking the right blog name is a necessary step when figuring out how to start a real estate blog. A blog name is important because it can help set the tone for your blog. A good name will be relevant to your niche and give readers an idea of what they can expect to find on your site. Conversely, a bad name can be off-putting and make it difficult for readers to find your blog in the first place. In addition, a good blog name can help you to stand out from the competition. With so many real estate blogs on the internet, a unique and memorable name can help you attract attention and build a following. An example of a good name includes Adorable Homes.
Pick a host
When selecting a web host for your real estate blog, you'll want to consider a few things. First, ensure that the host offers reliable uptime and fast load times. Second, ensure that the host has good customer service for whenever you have questions or need assistance. And finally, ensure that the host offers a reasonable price.
With those factors in mind, here are three hosting providers that are great for real estate blogs:
1. WP Engine – WP Engine offers fast and secure WordPress hosting as well as open-source flexibility. Their customer service is also excellent and they offer a variety of pricing options to fit your budget.
2. SiteGround – SiteGround offers automatic WordPress installation, free email hosting, and an easy-to-use, customized cPanel.
3. Bluehost is a great all-around choice for real estate blogs. They offer 99.99% uptime, technology to support fast page load times, free site builders as well as free domain-specific email addresses.
Choose a theme/template
As a real estate agent, your website is essential in attracting prospective clients. That is why it is important to focus on your website theme as you learn how to start a real estate blog. Your theme is the layout of your blog, and it sets your website's tone, design, and overall feel. If your website looks professional, your clients will stay on it longer. Therefore, ensure you pick a modern theme with easy-to-use features. In addition, ensure that the theme is fully responsive to all devices. Additionally, it should offer vast support for plugins and integrations. Fortunately, there are plenty of great themes available for real estate bloggers.
Create categories for your blog
Not only does this help your readers find the information they're looking for, but it also helps to keep your blog organized and tidy. You can use several categories for your real estate blog, but some of the most popular include tips & tricks, buyer's guides, seller's guides, industry news, and market reports. Each of these categories provides valuable information for your readers, so it's important to make sure you include them in your blog. In addition to that, categorizing your content also has some SEO benefits. It tells search engines what your blog is about, which can help you to rank higher in search results. So this is an important step when understanding how to start a real estate blog.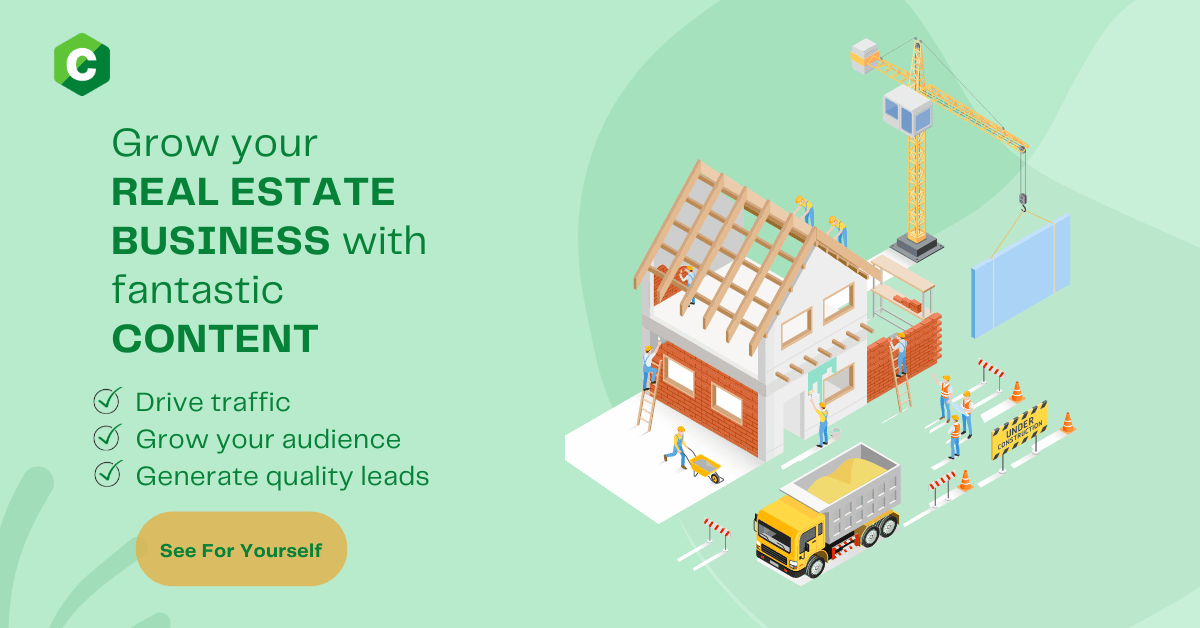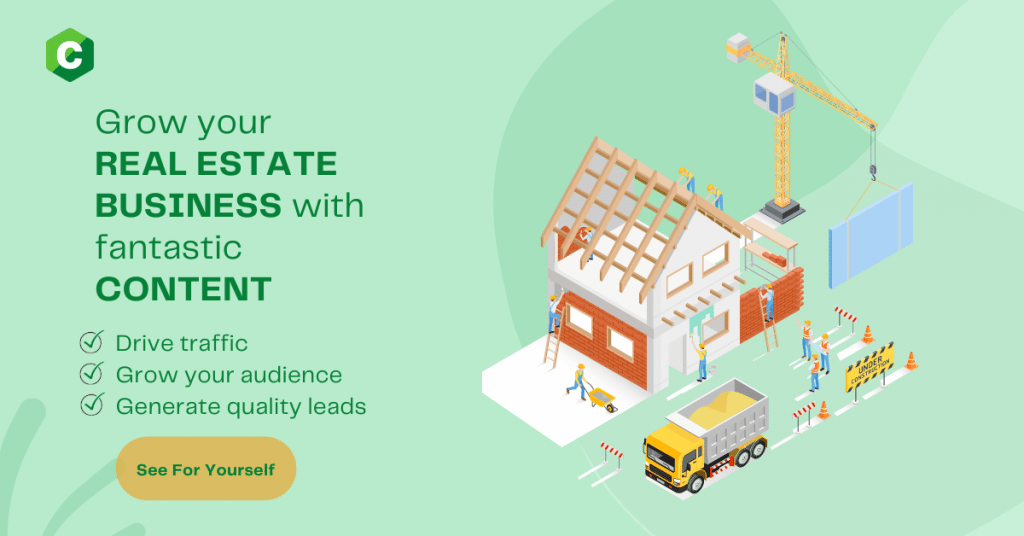 Create a content plan
If you're thinking about starting a real estate blog, one of the most important things you can do is to take some time to plan out your content. Not only will this make it easier for you to come up with ideas for posts, but it can also ensure consistency when posting.
So what should you consider when creating a content plan for your real estate blog? First of all, you need to define your goals. What do you hope to achieve with your blog? Are you looking to generate leads, build your brand, or both? Once you identify your goals, you can start developing a strategy for achieving them. This might involve conducting competitor research, identifying keyword opportunities, and creating editorial calendars.
Create high-quality content
This is a key step in the process. Any good real estate blog should aim to create quality content because this is what attracts readers. This means writing well-researched articles that are interesting to read and relevant to your audience. Keyword research is essential to ensure that potential readers are finding your content on search engines. Once you have chosen your keywords, use them throughout your posts, including in the title, meta tags, and body text.
Optimizing your images is also important, as this will help your blog to load quickly and look professional while increasing its visual appeal. Finally, don't forget to include call-to-actions (CTAs) throughout your posts. These can be simple links to your website, contact page, or buttons encouraging readers to take action, such as downloading a free guide or signing up for a mailing list.
Promoting Your Real Estate Blog
After understanding how to start a real estate blog, it is essential to promote it so that it reaches your target audience. Therefore, use the tips below to promote your blog.
Search Engine Optimization
Search Engine Optimization, or SEO, is a set of techniques used to improve the visibility of a website in search engine results pages. SEO can be divided into three main categories: on-page SEO, off-page SEO, and technical SEO. On-page SEO refers to optimizing your website's content and structure to make it more visible and relevant to search engines. Off-page SEO encompasses link building and social media engagement, which help improve your website's authority and reputation. Technical SEO involves improving your website's server infrastructure and codebase to make it more crawlable and indexable by search engines. By optomizing all three types of SEO, you can effectively promote your blog.
Utilize social media
With most of the population using the internet today, it is one of the best places to market your blog. Hashtags can be a great way to promote your real estate blog on social media. You can use relevant hashtags on Twitter or Instagram to ensure that a relevant audience sees your content. However, using hashtags sparingly is important, as too many can make your content seem spammy. In addition, add social share buttons to pages on your blog, making it easy for readers to share your content with their friends and followers. Also, ensure to make it easy for your audience to find you by including a link to your site on all your social media channels.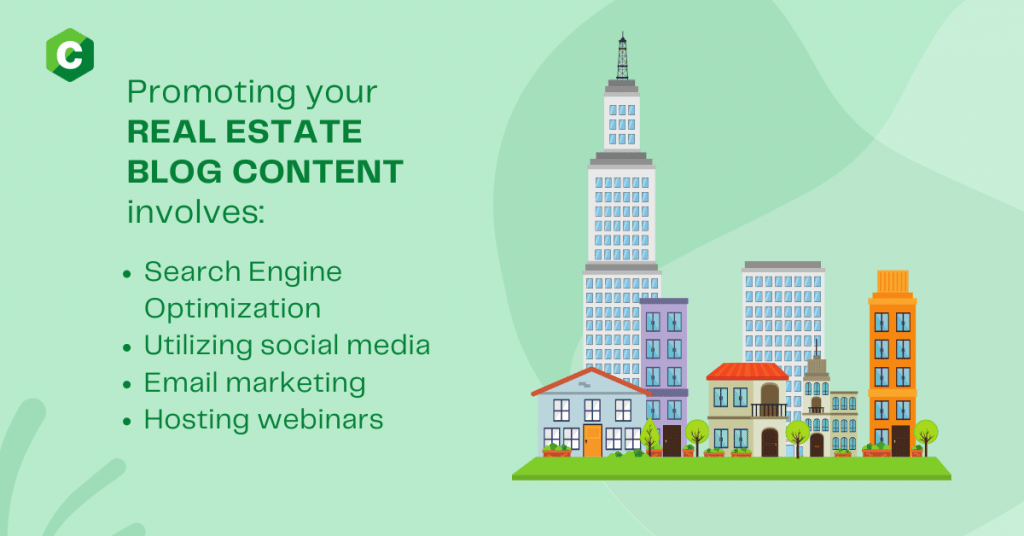 Email marketing
Email marketing is a great promotional strategy. By creating a newsletter, you can keep your readers up-to-date on the latest posts and developments. You can also start a nurturing email campaign, which involves sending regular emails with valuable content to build relationships with your readers. Additionally, you can use email marketing to drive traffic to your blog by including links in your emails. If done correctly, email marketing can be a powerful tool for your business.
Hosting webinars
Hosting webinars is a great way to showcase your expertise and promote your real estate blog. By hosting regular webinars, you can attract new readers and followers and build your reputation as an authority in the field. Moreover, hosting webinars can also be highly lucrative for your business. You can generate revenue from your webinars and use this money to further invest in your blog by charging a fee for access.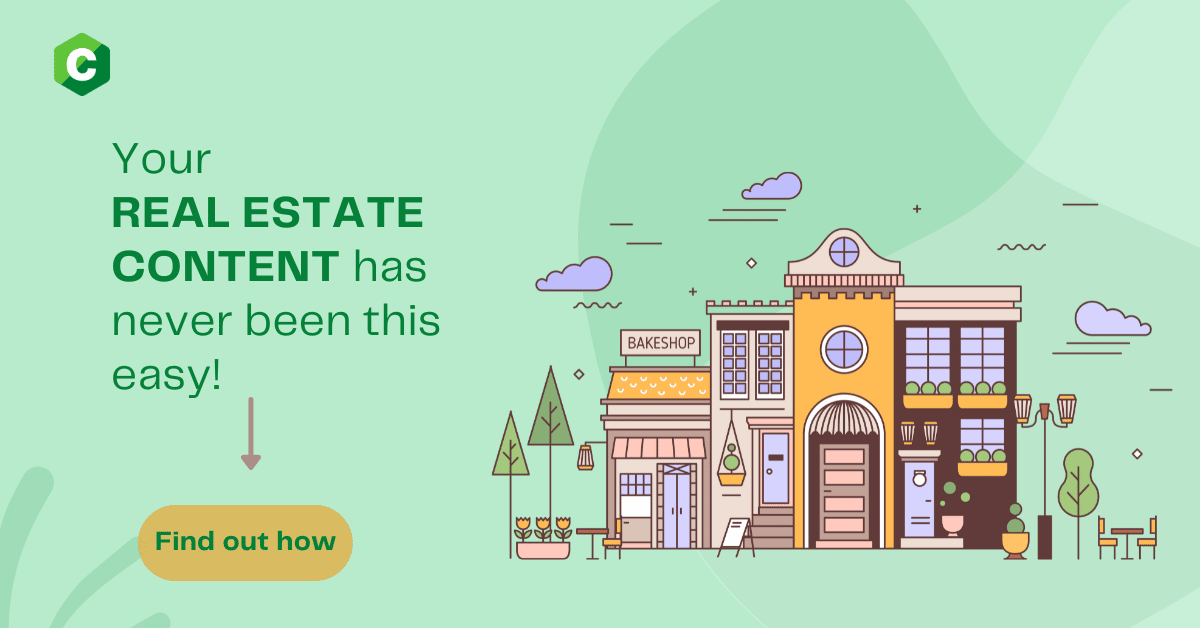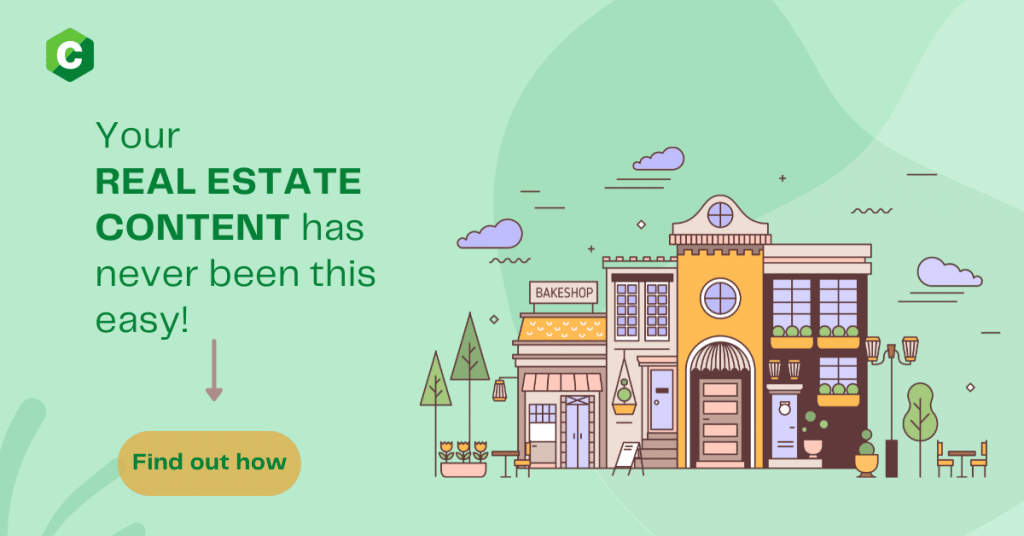 Conclusion
So there you have it, a comprehensive guide on how to start a real estate blog. From tips & tricks on how to start to promotional strategies. We hope you found this information useful and are now inspired to create your real estate blog! If you have any questions or need help setting up your blog, please don't hesitate to contact us. We would be more than happy to help you start and establish a successful real estate blog.
Why should you start a real estate blog?
1. To build brand awareness 
2. Creating quality content that adds value to your readers
3. Generating leads who can turn into prospective clients

What should I post on Instagram for real estate? 
1. Share market updates
2. Advertise new listings in your area
3. Conduct live Q&A sessions on your stories
4. Post house tours of the listed property
5. Create just sold posts
6. Highlight your testimonials
7. Post real estate memes once in a while

How do real estate companies create content? 
1. Find a problem that home buyers and sellers have
2. Create content that offers solutions to those problems
3. Optimize the content so your target audience can find it easily