Real estate blogging is a great way to connect with your audience and establish yourself as an expert in the industry's field. It also helps you build relationships with potential clients. So sharing your knowledge and insight on the real estate market can help you build your brand credibility. Similarly, it can be a powerful way to attract new clients looking for someone they can trust. Therefore, if you're considering starting a real estate blog, go for it! There are plenty of different real estate blog topics that you can write about to get you started in your blog journey.
However, anyone who's ever tried to write a real estate blog knows that coming up with topics and creating content ideas can be a real challenge. But not to worry! Whether you're a new real estate blogger or an experienced one, this article will give you some great blog topics. So keep reading!
Real Estate Blog Topics: By Category
As you start your real estate blog, the first step is ensuring you're covering suitable topics. That's why it's important to categorize your real estate blog topics, as there are so many things to cover. This way, you can ensure you touch base on everything and provide valuable information to your readers.
Some real estate blog topic categories to consider include:
Talk about you/ showcase your knowledge
Talking about your story is a powerful addition to your blog. It is an opportunity for you to get personal and share your experiences with your reader. Therefore, take your time and provide valuable content to your readers. For example, how did you get started in the industry? How is your journey so far as a real estate blogger? Sharing your insights and expertise allows you to build trust with your readers and establish your audiences.
Some examples of real estate blog topics you can use include:
A day in the life of a real estate agent
I attended a town council meeting- Here's what I learned
My recent sales
My property marketing plan
What I love about my job
Ranking all my listings
Feature different properties through listicles
If you're looking for excellent topics that are sure to engage your audience, try writing listicles! Listicles are articles that are presented in a list format, and they're perfect for real estate bloggers because they're easy to read and are packed with information. Not only will your readers appreciate the bite-sized news, but you'll also be able to cover a lot of ground in a single article.
Some example topics include:
Ten affordable properties for sale.
Five best homes for old seniors.
Six most expensive properties for sale.
Seven best housing for train commuters.
Five best housing for millennials.
Eight best historical properties.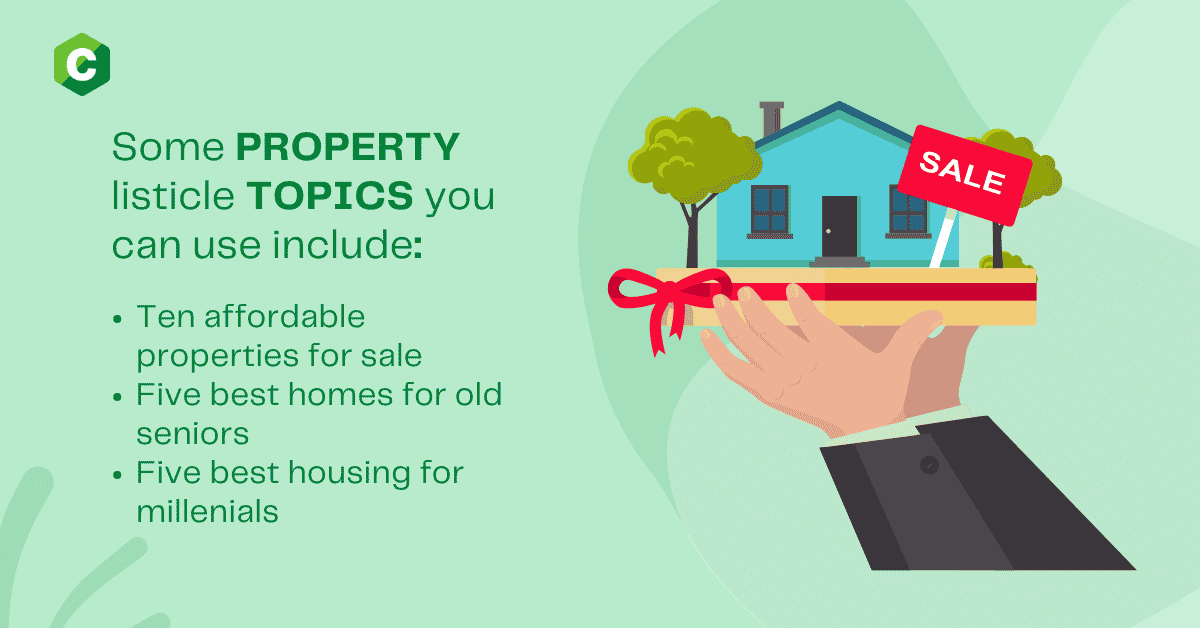 Home maintenance tips
One of the most popular real estate blog topics is home maintenance. Homeowners are always looking for new ways to keep their homes in tip-top shape, and as a real estate blogger, you're in the perfect position to offer advice. You could write about simple DIY projects and energy-saving tips. You could also discuss some home maintenance pitfalls. No matter what you choose to write about, your readers will appreciate the valuable information you're providing.
Some examples include:
How to clean concrete floors
Getting rid of bugs in the kitchen
Wardrobe organizing ideas to clean up clutter in your home
Repairing and refinishing laminate countertops
How to replace a toilet
Building a garage yourself
Neighborhood activities
Writing about neighborhood activities in your blog is an excellent approach and will surely make your blog popular since people always want to be in the know. Whether it's a new restaurant that just opened or a community event that's coming up, your readers will love reading about what's happening in their neighborhood. You will also be helping to promote the local businesses and organizations in your area and show your readers that you're invested in their community.
Some example topics in this category include:
Upcoming open houses
New construction projects in the area
Upcoming real estate events
The local area's gardening day
Up and coming community yard sales
Local holiday events
Answer some frequently asked questions
As a real estate blogger, you likely get asked many questions daily. Why not use your blog as a platform to answer some of the most common ones? Not only will this be helpful for your readers, but it will also show them that you're an expert and reliable in the industry.
Some example real estate blog topics under this category would include;
How long does it take to buy a house?
How much do I pay to get an agent?
Should I order a home inspection?
Should I sell my home?
How many homes should I view before buying one?
Should I invest in real estate?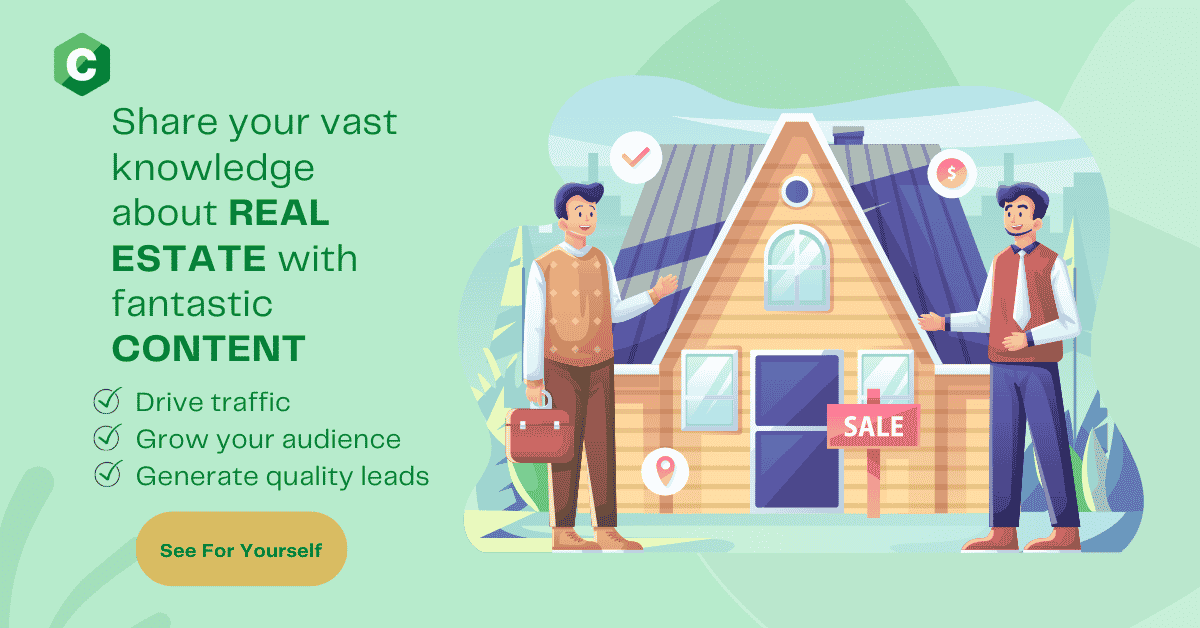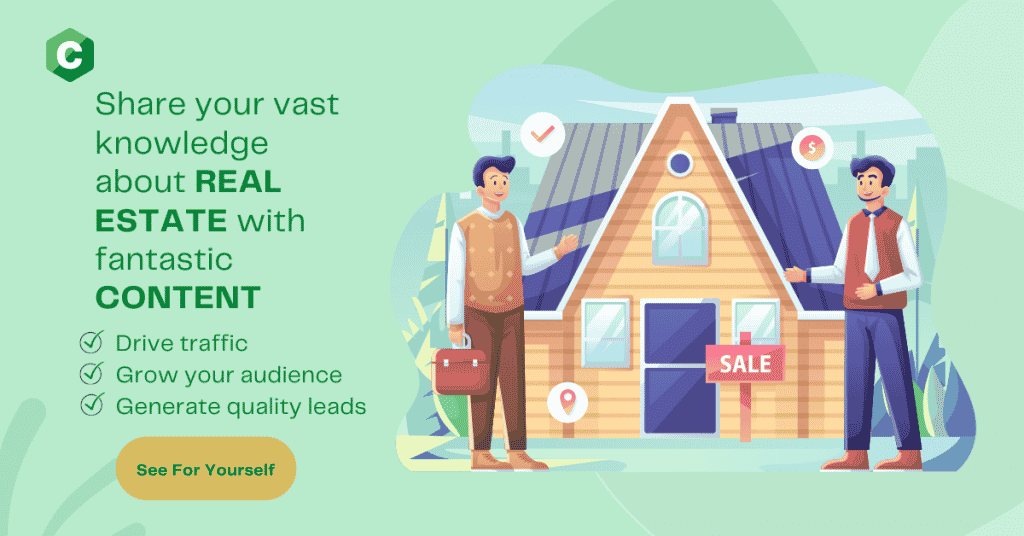 Discuss major real estate topics
Be sure to engage your audience by discussing some major real estate topics. There are always new developments and changes in real estate, so there's never a shortage of things to write about.
One prominent real estate topic is mortgages. Many people are interested in learning about the different types of mortgages and how they work.
Some example topics include;
How to get a mortgage.
How to refinance a mortgage.
Another major topic is home buying. You could write about the home-buying process, finding a real estate agent, or what to look for when viewing homes.
Some example topics include;
The benefits of homeownership.
The top mistakes first-time buyers make.
Finally, you could write about home selling. This would include tips for pricing, preparing your home for sale, or working with a real estate agent.
Some example topics include;
Signs that you shouldn't sell your home right now
Common mistakes people make when selling their homes
By choosing any of the topics above, you can create a well-rounded blog that will interest everyone, from first-time home buyers to experienced investors.
Share local tips
As a real estate blogger, you likely have a wealth of knowledge about your city or town that you can share with your readers. Sharing local tips is excellent for showing off your real estate knowledge. Giving your insights on the best places to eat, shop, or live in your area.
Examples:
Best local eateries/joints available.
Budget-friendly shopping malls in the area.
Best parks close to home.
Best weekend getaways within the proximity
Popular restaurants that are only five minutes away.
Best local bars around.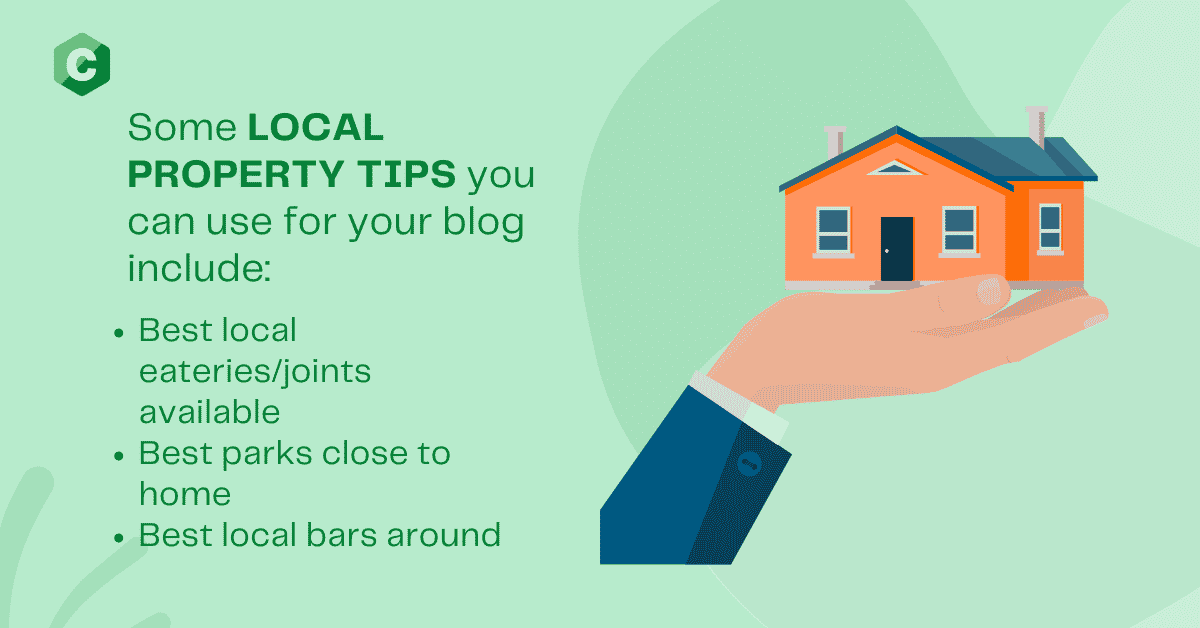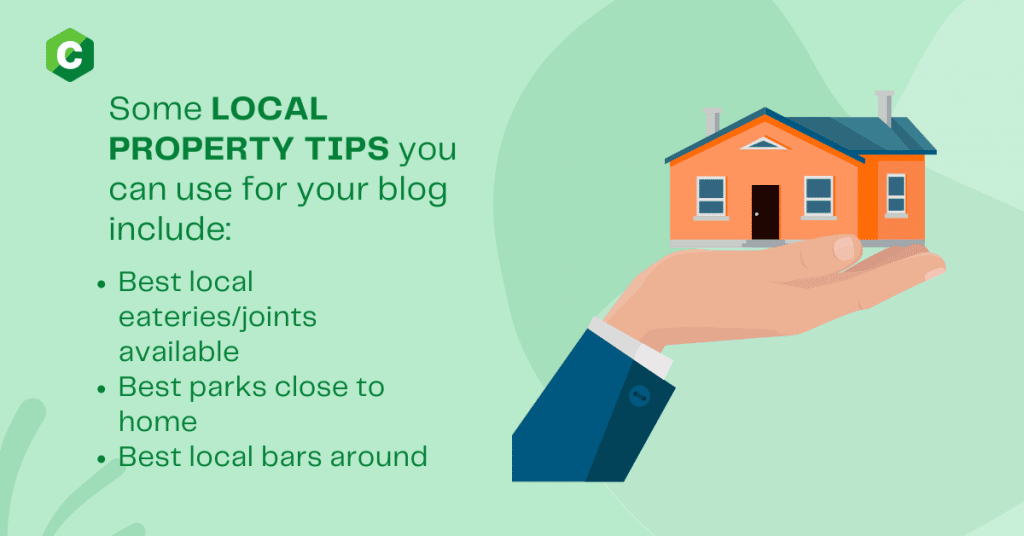 Discuss current trends in real estate
Discussing some current trends in real estate will be sure to escalate your blog in popularity. The real estate market grows daily, so what better way than to explore the new development and trends within the industry. The advantage of these kinds of real estate blog topics is that there's no restriction/shortage of writing since there are constantly emerging trends.
Some example topics include;
The pandemic's impact on real estate.
Where is the real estate capital going?
Rise of property technology
Single-family housing demand creates shortages
House hunting goes digital
Tips For Writing a Real Estate Blog
Now that you know some of the best real estate blog topics, it's time to start writing! Keep these tips in mind to make sure your blog is a success:
Perform keyword research
One of the most critical aspects of real estate blogging is keyword research. By identifying and targeting essential real estate keywords, you can ensure that your blog posts are seen by people who are actively interested in your content.
There are several different ways to go about keyword research. One option is to use a tool like Google AdWords Keyword Planner. This tool allows you to enter relevant terms and see how many people are searching for those terms each month.
Another option is to simply brainstorm a list of real estate blog topics and then use Google search to see which topics are being searched for the most. Once you have identified a few potential keywords, the next step is to assess their difficulty. You can do this by using a tool like Moz Keyword Explorer. This tool will give you an idea of how many other websites are targeting the same keyword and how difficult it will be to rank for that keyword. By taking the time to select keywords that are both relevant and achievable carefully, you can ensure that your real estate blog is seen by the people who matter most.
Optimize your posts for SEO
Search Engine Optimization (SEO) is a complex and ever-evolving field, but there are some basic best practices that any real estate blog can benefit from. One of the most important things to remember is using internal and external links. Internal links help direct readers to other related posts on your blog, while external links provide valuable resources and information from other websites.
Finally, article length is also an essential factor in SEO. While there is no magic number, longer articles tend to be more comprehensive and thus more likely to rank higher on search engine results pages.
Use a conversational tone in your writing
A conversational tone in writing uses language that is easy to understand and avoids long, complex sentences in favor of shorter, simpler ones. The goal is to make the reading experience as enjoyable and understandable as possible. While a conversational tone is not appropriate for every type of writing, it can be very effective in real estate blogs, where the goal is to connect with potential buyers and sellers.
Include images and videos in your posts
In addition to coming up with fresh real estate blog topics, it's also essential to make sure your posts are visually engaging. And when it comes to real estate, blogging and imagery can be very effective in helping the readers understand the matters of properties and complex concepts.
Of course, simply including images and videos isn't enough – you also need to ensure they're properly optimized. That means using the correct file format, sizing images correctly, and providing alt text for anyone unable to view the visuals. Optimizing your photos and videos can help your blogs look aesthetically pleasing and attract more readers.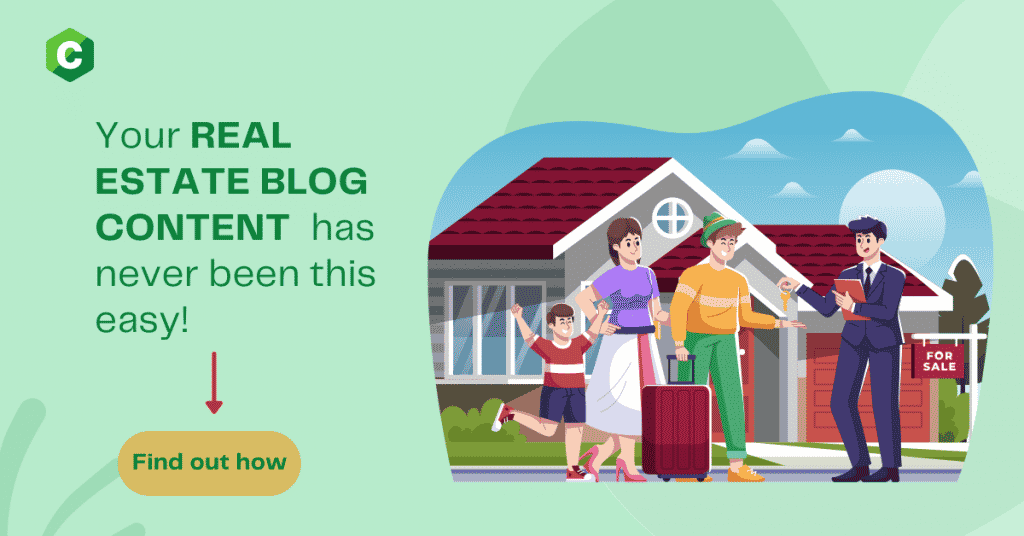 In conclusion
Many benefits come with real estate blogging, and from the blog topics we shared with you, there is a wealth of information potential buyers and sellers want. To succeed, you need to follow all the tips provided for you. So what are you waiting for? Get started on your real estate blog today! In fact, if you're struggling to come up with content, don't worry! Content Clerks can help. We're a team of experienced writers passionate about assisting businesses to grow through great content. Contact us today to learn more about our services or get started on your next project!
Thanks for reading, and we hope you found this article helpful.