Today, affiliate marketing is a major business that is not only fulfilling but also high-paying. There are various programs, but Shopify is by far the best option. In this Shopify affiliate program review, you will explore how the program works, its pros and cons, how to join Shopify, how to promote Shopify, commissions and payments, and much more.
Shopify is a trusted brand that was started back in 2006 and currently has over 243,000 online stores. Over the years, its users have made about $100 billion in sales. From such a figure, it is evident that Shopify is one of the best affiliate marketing platforms that exist. If you would like to know more about it, this Shopify affiliate program review is meant for you.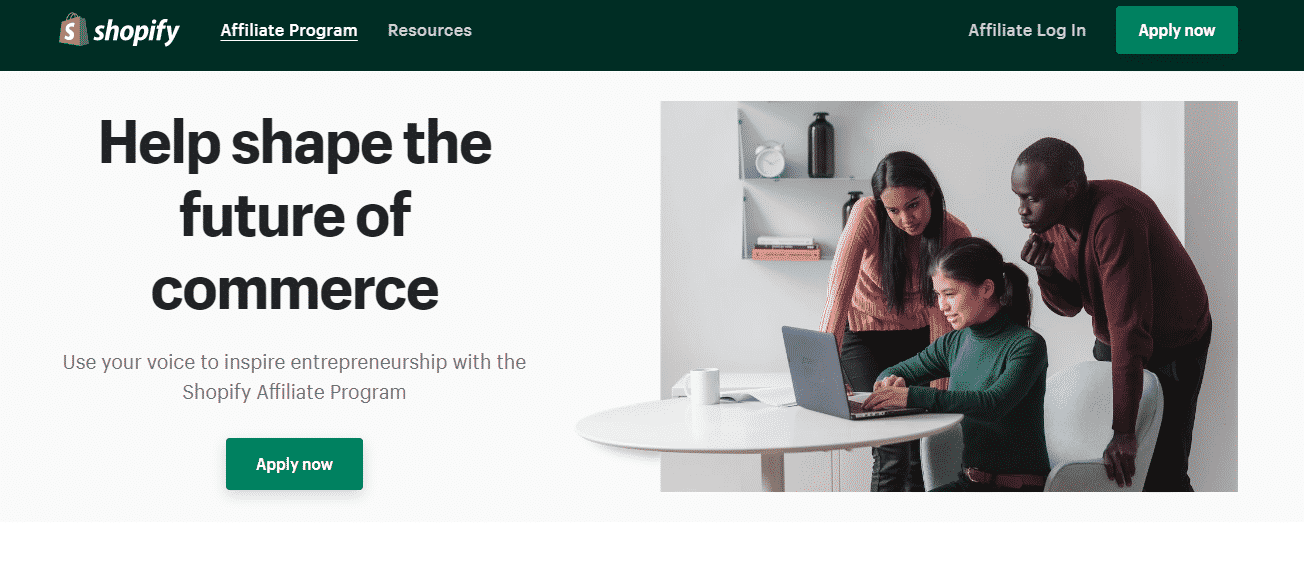 How the Shopify affiliate program works
To understand what Shopify is all about, think of online retail stores. For traditional retail stores, you would drive to the store and physically find the items you want and pay up.
Well, Shopify is the digital version of this. It is an e-commerce solution that enables entrepreneurs to sell their services and products online. The platform is extremely user-friendly, and it has thousands of products. So, it is easy to find products that are within your affiliate marketing niche and make a kill out of them.
As a Shopify affiliate, you need to build a large and relevant audience that has an interest in promoting and selling services and products through eCommerce software.
Once you direct them to Shopify, they should use your referral link and can register for the free trial. During this 14-day period, the users get to learn new and valuable information so that they make an informed choice. If they choose to buy any of Shopify's plans, you get a commission that ranges from $58 to $2000.
The pros and cons of the Shopify Affiliate Program
Shopify has some benefits and small drawbacks.
The pros of Shopify Affiliate Program
The Shopify affiliate marketing program comes with tons of benefits for both beginner and veteran affiliates. They are discussed below.
Large product variety
As a Shopify affiliate, you can promote a range of quality products. Shopify provides an excellent eCommerce platform that is suitable for all businesses, both big and small. Likewise, Shopify offers an array of linkable content from video tutorials to webinars, blogs, and automated sales funnels to help you attract new referrals.
High commissions
Shopify rewards its affiliates with high commissions compared to other programs. You earn about $58 for every new referral that signs up for a paid plan. You can get up to $2000 for a Shopify Plus referral.
The program also offers mentorship to new affiliates. Making money with affiliate marketing is not as easy, and many newbies give up. Fortunately, you can start earning commissions fast with Shopify through mentorship. The following Shopify affiliate program review illustrates how well the program pays.
Diversified channels of making money
The good thing about the Shopify affiliate marketing program is that you can earn in various ways, unlike with the other programs. You earn if you refer new members, market, and sell themes to Shopify users or create and sell relevant content and apps on the Shopify App Store. It is up to you to pursue the channel that works best for you or, you can use all of them for more commissions.
An excellent choice for beginners
It is common to find many new affiliates stuck along the way while some give up completely on their business. It turns out that Shopify offers its members helpful training, marketing resources, and an easy to use dashboard.
Hence, new members have no excuse thanks to the tutorials and courses offered. They can garner relevant knowledge and skills and become successful affiliate marketers.
Excellent support
Shopify provides excellent support services to its partners. You can get support through live chat, phone, and email. You can even get a mentor to walk with you in your affiliate marketing journey.
The cons of Shopify Affiliate program
Signing up as a Shopify affiliate has many benefits, but the program has a few potential drawbacks that you need to understand.
Cost
The cost of the Shopify plans is a deterrent to some users. Once you get a referral, he needs to select a paid plan before you get a commission. However, most referrals bailout after the trial period is over.
Likewise, the program gives you access to useful Shopify apps to maximize your marketing. However, users have to pay some monthly fees for these apps.
Need for liquid templating code language
If you are planning to earn a commission by selling Shopify themes, you need to learn the Liquid templating language. Though open-source, only a few people use it, and getting access to the knowledge and documentation is difficult.
Pros
Cons
Large product variety 

High commissions starting at $58 for every new referral that signs up for a paid plan & $2000 for a Shopify Plus referral 

Diversified channels of making money through the Shopify App Store

Excellent choice for beginners 

Excellent support through live chat, phone & email 


High cost of the Shopify plans

Users also have to pay monthly fees for Shopify apps

Use of liquid templating code language that is only used by a few people and getting knowledge & documentation on this is difficult

Who can join the Shopify affiliate program?
While everyone has the potential of becoming a Shopify affiliate marketer, not everybody gets accepted to the program. You can only join the program if you have an active website that is relevant to their product niches. Likewise, having some little experience in digital marketing increases your chances of being accepted into the program.
Becoming a Shopify affiliate
Now that you know how the program works and its pros and cons, you can go to the next step of membership. Joining the Shopify affiliate marketing program is simple and fast.
All you need to do is create a partner account for free. The process also entails filling in some details. Ensure that the information you give is accurate and true. You will also need a strong password as per Shopify requirements.
You need not be anxious about the process if you are new to the business. The good thing is that the landing page is user friendly, and you can get to learn all about the terms and conditions in the FAQs section. Here, you will get all the guidance that you need.
Once you have your account ready and have submitted your application for affiliate membership, Shopify will review the application. It takes up to five business days to approve or deny your application.
In case your application is denied, you will get an email giving reasons for the decision. The good news is that your journey is not cut short there and then.
You can always appeal the denial, a unique aspect that you will not find in some affiliate programs. Also, you can reapply for the program once you meet all the requirements they demand.
If your application is successful, you will receive your affiliate link, and you can start promoting products immediately. Nonetheless, the link by default takes you to Shopify's free trial page. However, you can do deep linking and create links to other Shopify pages. Likewise, you get banners of different sizes.
The Shopify affiliate marketing program operates on the basic 30-day referral cycle. You only receive a commission if a visitor clicks your affiliate link and registers for a 14-day free trial in 30 days and pays. In a case where a customer registers and does not pay in 30 days, you will still receive a commission.
Shopify affiliate program review: Commissions and payments
There is no affiliate marketing that is as rewarding as Shopify. That is the reason that the brand has become an affiliate favourite. Affiliates earn up to 200% of what their visitors pay for a monthly subscription.
The payment is made over the first 60 days. That means that if your visitor exits Shopify in the first month, you will not get the second month's commission. That applies to all of Shopify's membership plans.
The commissions vary, and the following is an estimate of how much commission you can earn.
| | | |
| --- | --- | --- |
| Shopify Plan | Cost | Estimated Commission |
| Basic Shopify | $29/month | Up to $58 |
| Shopify | $79/month | Up to $158 |
| Advanced Shopify | $299/month | Up to $598 |
Different Shopify affiliate program plans and their estimated commission rates
There is also the Shopify Plus plan that is meant for businesses. It costs about $2000/month, and the commission is higher as well. If a customer registers for this plan via your link, you receive a huge commission of $2000. What a good deal this is.
Shopify pays affiliates via PayPal using USD, and the threshold is $25. The dates of payment depend on when your referral registers. Nonetheless, it takes at least 5 days and at most 20 days to receive your cash.
How much can you make from Shopify Affiliate program?
There is no limit to how much cash you can make as a Shopify affiliate. You can even make up to $3000 if you do your promotions the right way. It sounds difficult, but it is as easy as getting 52 visitors to sign up for the Basic Shopify plan via your affiliate link.
Likewise, if your website has a conversion rate of 2%, you only need 2500 visitors on your site to read your content.
To make $1000 monthly, you need 17 visitors to purchase the Basic Shopify plan. And with a 2% conversion rate, you need 850 visitors to your website.
That is not difficult to achieve even if you have a new website. You only need to be smart and aggressive. In the below Shopify affiliate program review, a user shares how much he made in one sale.
How to promote the Shopify affiliate marketing program
There are different ways of promoting Shopify, and you will always find a strategy that works for you.
Educational videos
The most common method is through educational content and reviews. You can decide to compare Shopify with close competitors and publish content related to drop-shipping and other features.
Alternatively, you can create full courses on the same and put your affiliate links in the lessons as this is very effective to lure traffic. You could also create a course for free to attract potential users. The higher the traffic, the more money you will make through the program.
YouTube
Another way of promoting Shopify is via educational videos on YouTube. The keywords that are related to Shopify on YouTube are competitive, and they include drop-shipping.
Hence, YouTube is flooded with Shopify testimonials, success stories, and tutorials. Hence, you need to go the extra mile when creating your content.
Growing your YouTube channel will take time, just like growing a website. Do not expect to see many views when you begin.
Invest your time and resources into creating quality videos and content, and you will gradually see your audience growing. From there, your numbers will start growing as well.
Blogging
Another way of getting more traffic to your website is through blogging. You can write blog posts that feature the main influencers within your niche market. You need to research and identify the influential blogs as they have the attention of your target audiences and are likely a good source of referrals. Then, you can write an expert blog post about them. Those who link back to your blog will introduce their audiences to your website.
Social media
The easiest and fastest way to get your Shopify store to the public is through social media. Here, you can use influencer marketing as well to get to a larger audience. You can also run your Instagram, Facebook, Pinterest, and other social media accounts. The good thing is that you can integrate all these accounts into your Shopify store.
SEO
Search engine optimization entails making your Shopify online shop easier to find by search engines. The best way to achieve this is by understanding what your target audience is looking for through in-depth keyword research. Once you have identified relevant keywords to your product and niche, you can create quality content.
Content marketing
Just as your product reviews and descriptions will help to lure visitors to your Shopify website, so does all other content.
Your website should have unique and quality content that is easily understood by visitors. For instance, a short and clear paragraph for every category page works wonders.
Your paragraphs should be engaging with the right keywords. You just need to identify the primary keyword for each product category in your online store.
Then, use a keyword research tool to generate related keywords and phrases. Once you create meaningful content filled with such keywords, your website begins getting high rankings resulting in more traffic.
Conclusion
This Shopify affiliate program review explores the major aspects of Shopify that you probably did not know. Now that you know what the program entails, make your choice accordingly.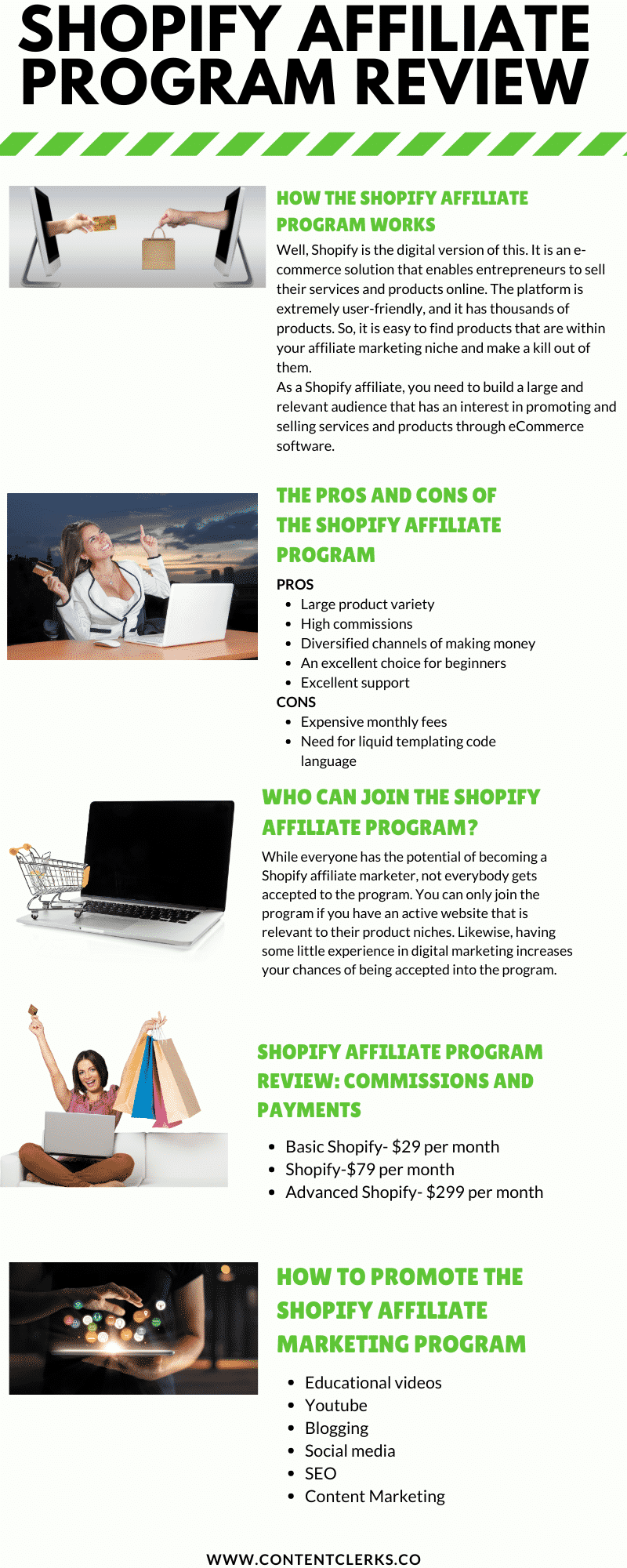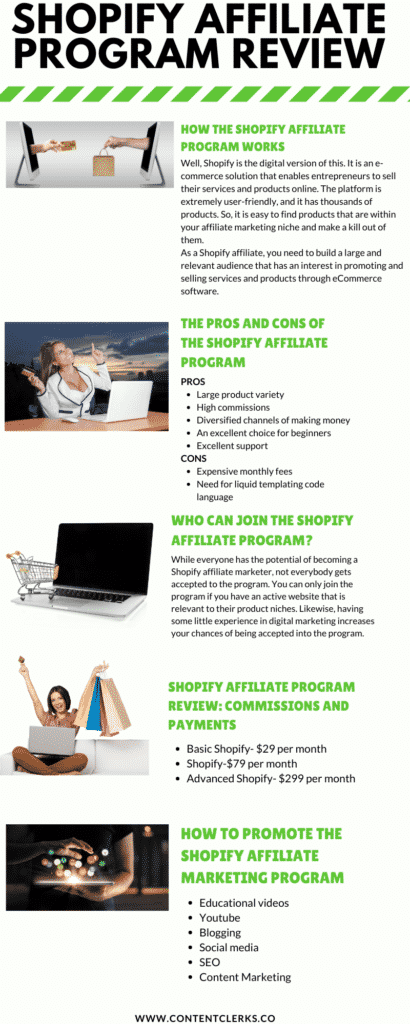 Share this infographic with your audience
Is Shopify good for affiliate marketing?
Yes, it is. There are various programs, but Shopify is by far the best option.
How do Shopify affiliates make money?
To make $1000 monthly, you need 17 visitors to purchase the Basic Shopify plan. And with a 2% conversion rate, you need 850 visitors to your website.
How much can you make from Shopify?
There is no limit to how much cash you can make as a Shopify affiliate. You can even make up to $3000 if you do your promotions the right way.