Mental health is something that isn't often talked about but is important. And there are a lot of people out there who could use some help and advice when it comes to their mental health. However, the mental health field is vast. It includes everything from anxiety and depression to eating disorders and addiction. It's no wonder, then, that coming up with mental health blog ideas can be daunting. Even the greatest bloggers sometimes seek help with their ideas and writing.

Therefore, if you're looking for some ideas for your blog, you've come to the right place! This post will give you ideas for topics to write about, as well as tips on how to find these topics on your own. So read on – your readers will thank you!
Mental Health Blog Topics
As we mentioned earlier, mental health is a broad and complex topic, making it perfect for blogging. There are many different angles you can take when writing about it, which is why we've divided our list of mental health blog ideas into two major categories: topics based on blog post styles and topics based on various mental health aspects. Let's get right into the list!
Topics based on blog post styles
There are many different types of mental health blog posts. Here are the most popularly used:
How-to guides
Basically, these are posts that offer tips and advice on various topics related to mental health. The goal here is to provide readers with practical information that they can use in their everyday lives. Examples of topics in this style would include:
How to deal with anger management issues
Dealing with anxiety
How to deal with guilt
Picking positivity over negativity
How to be more supportive to a loved one dealing with depression
Listicles
As the name suggests, these posts take the form of a list, with each item on the list addressing a different aspect of mental health. They are often popular among readers, as they can quickly scan for the information that is most relevant to them. Some examples of such posts include:
10 Healthy Habits That Will Improve Your Mental Health
5 Things You Need To Know About Mental Illness
10 Signs You Are In Denial
10 Ways To Improve Your Sleeping Patterns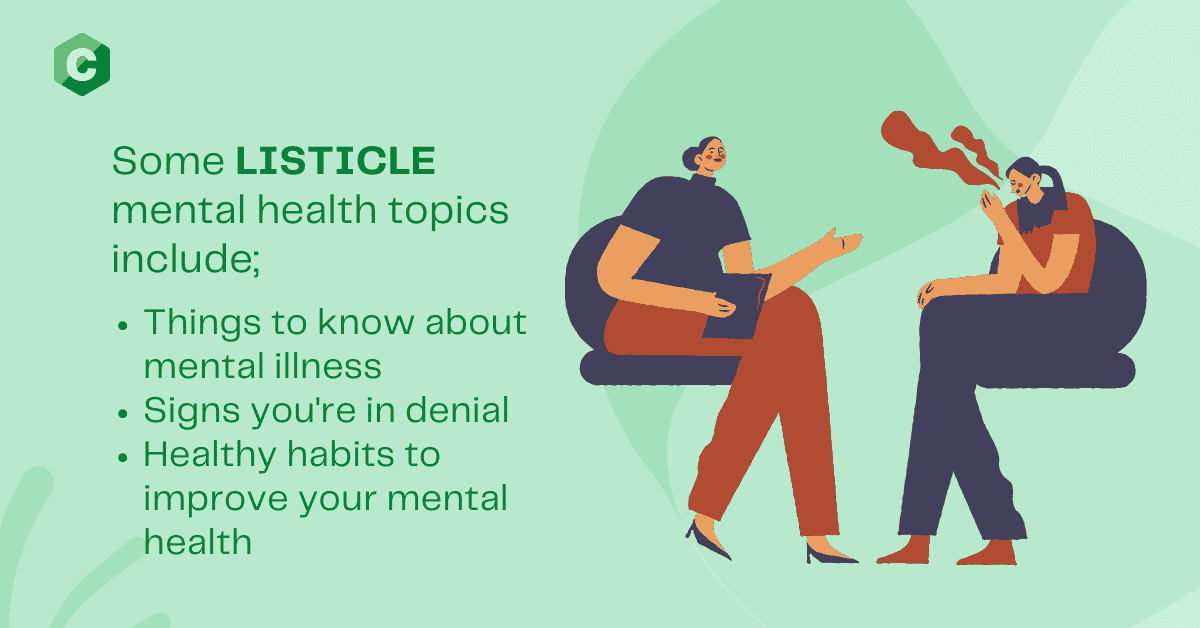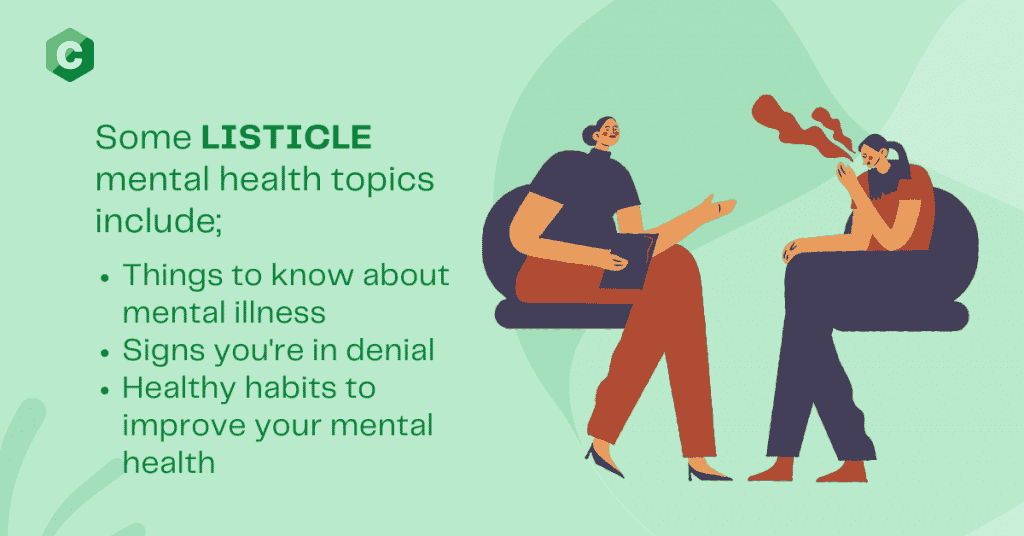 Case Studies
Case studies provide a platform for people to share their stories in their own words. By reading these posts, readers can gain insight into the lived experiences of mental illness and learn about the challenges and triumphs that come with it. Some mental health blog ideas in this category include:
How Andrew is recovering from depression
Claire's postpartum depression journey.
How Grace is dealing with her sexual trauma
Matthew's journey with anxiety
Interviews and Q&As
These kinds of posts feature an interview with a mental health professional or someone with lived experience. The interviewee is typically asked a series of questions about their work, personal experiences, or thoughts on various mental health topics. They also often include a section where readers can submit their own questions to be answered. Some examples include:
An Interview With A Psychologist
How To Help A Friend Who Is Suffering From Depression
Mental Health Professionals Share Their Stories
Q&A With A Mental Health Therapist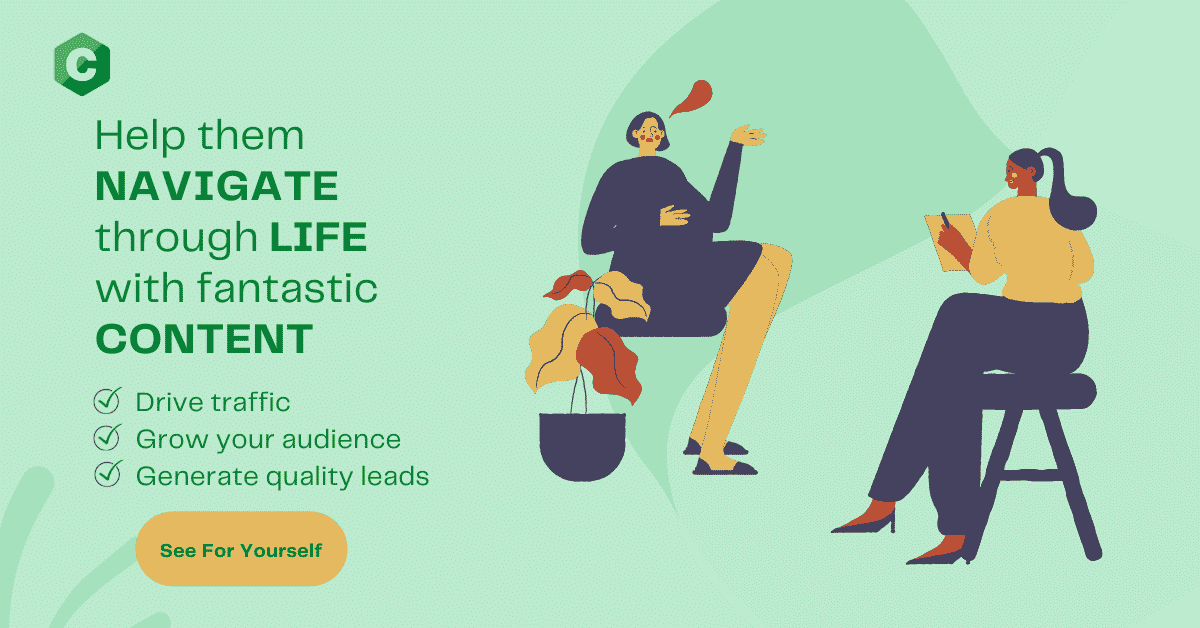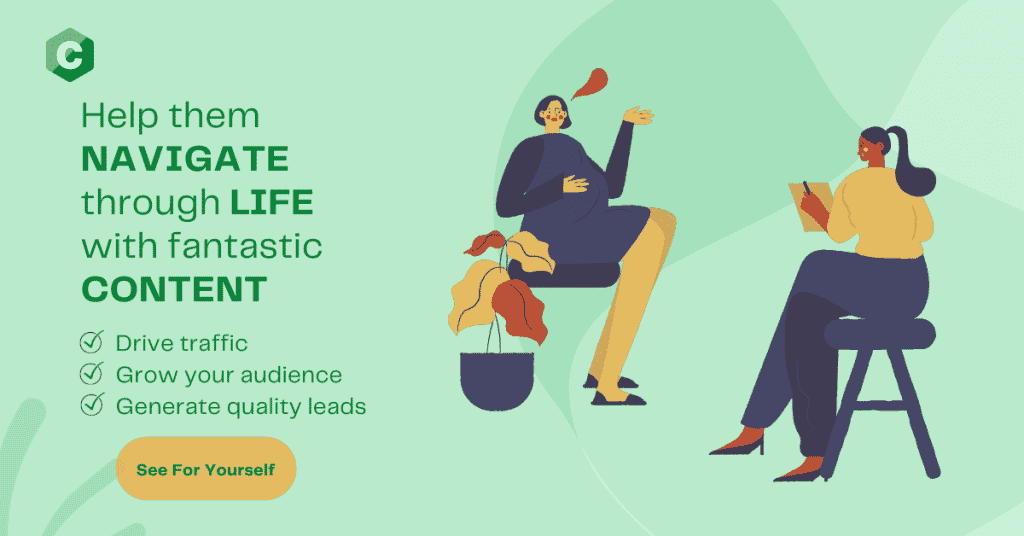 Topics based on mental health aspects
Mental health blogging will allow you to highlight many rarely spoken of topics. Here are some of the mental health aspects you can include in your blog;
Self-care
It can be difficult to come up with mental health blog ideas that are both relatable and informative. However, one topic that is always relevant is self-care. By talking about self-care on your blog, you can provide your readers with valuable information and inspiration for taking care of themselves. Some self-care topic examples include;
Healthy eating habits.
Daily self-care tips to improve your mental health.
Physical activities to stay fit.
Self-care tips for people recovering from depression.
Self-care tips for people with anxiety.
Symptoms
One concept that is often overlooked is the importance of discussing symptoms. Talking about the early warning signs of mental illness can help raise awareness and encourage people to seek help before their condition becomes more severe. It could also help your readers feel less alone and encourage them to seek treatment. Some topic examples you could discuss include;
Signs and symptoms of PTSD
The signs and symptoms of anxiety
Signs and symptoms of Bipolar Disorder
The signs and symptoms of depression
Signs and symptoms of schizophrenia
Mental health stigma
Unfortunately, there's still a lot of stigma surrounding mental health conditions. This stigma can make it hard for people to seek help, because they're afraid of being judged or rejected. By talking about mental health stigma in your blog, you can help break down the barriers that prevent people from getting the help they need. Some topic examples include;
Breaking the stigma of depression in workplaces.
Pregnancy and Postpartum Depression.
Media & Misrepresentation of people struggling with mental illness.
Stereotypes of people dealing with depression.
Eating Disorders & Shame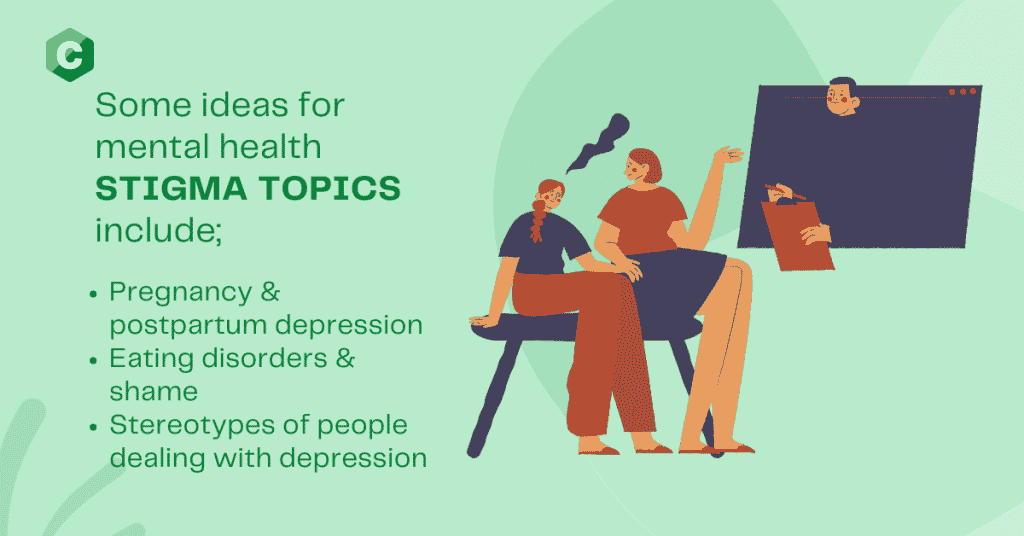 Pediatric mental health
When looking for mental health blog ideas, why not write about pediatric mental health? It's an important topic that doesn't get nearly enough attention. Most people tend to think that kids are too young to experience mental illness, or that it's just a phase they're going through. But the truth is, mental illness is a real and serious problem for kids. And it's important to talk about it.
Some pediatric mental health topic examples you can discuss include;
Children suffering from mental disorders.
How to support your child suffering from anxiety.
Impact of mental disorders in children.
Can childhood mental disorders be treated?
Children's mental health services
Finding The Right Mental Health Blog Ideas
Finding the right ideas for your mental health blog is important since your blog can be a valuable resource for others. The best ideas will be those that resonate with your personal experience and that offer something unique and valuable to your readers. If you're not sure where to begin, here are a few places to look for inspiration:
Using Google Adwords Keyword Planner
If you're struggling to come up with ideas for your blog, Google Adwords Keyword Planner can be a helpful tool. This free keyword research tool allows you to see how often certain terms are being searched for on the internet. You can use this information to identify topics that are popular among readers. In addition, the keyword planner can help you to determine which keywords are most likely to generate clicks and conversions. As a result, you'll be able to attract more readers and build a successful blog.
Carrying out competitor analysis
Another way to come up with new mental health blog ideas is to do a competitor analysis. This involves taking a close look at what other mental health bloggers are doing and seeing what's working well for them.
Once you've identified some successful blogs, take some time to read through their content and see what topics they're covering. What are people responding well to? What kind of comments are people leaving? Paying attention to these things can give you some great ideas for your own blog. And of course, if you see something that isn't working well, you can always avoid making the same mistake!
Using Google Search Console
If you're not familiar with Google Search Console, it's a free service that provides detailed data about your website's traffic and performance. You can use this data to identify trends and get ideas for new content. For example, let's say you notice that a lot of people are searching for information about anxiety disorders. You could use this data to write a blog post about common anxiety disorders and how to diagnose them.
In addition to helping you find mental health blog ideas, Google Search Console can also help you track your website's progress and optimize your content for search engines. If you're not already using this powerful tool, now is the perfect time to start.
Utilize online forums such as Quora
Online forums can be a great place to find ideas for your blog. For example, Quora is a Q&A platform with millions of users from all over the world. This can be a great way to get ideas from real people who are dealing with similar issues.
When searching for topics on Quora, try to be as specific as possible. For example, rather than searching for "mental health," try searching for "anxiety" or "depression." This will help you find more targeted results. Once you've found some promising threads, take some time to read through the questions and answers. This will give you a better sense of what people are interested in and what kind of information they're looking for. If you see a question that you feel you could provide helpful insight on, go ahead and write a response.
In addition, by interacting with other users on these forums, you can build up a valuable network of contacts who may be able to provide further ideas and inspiration for your blog.
Using social media analytics
There are a few ways to use social media analytics to find mental health blog ideas that are sure to be popular. First, take a look at the hashtags that are being used most frequently in relation to mental health. This will give you an idea of the topics that people are talking about. You can also use these analytics to see which blog posts are being shared the most. This will help you understand what people are interested in reading about.
Also, check to see which mental health bloggers are being followed by the largest number of people. Take a look at their content to get an idea of what type of blog posts are resonating with readers.
Asking your readers or visitors
Asking your readers for help can seem intimidating, but it can be incredibly helpful when it comes to generating new ideas. By reaching out to your audience, you can get a better sense of the topics and issues that are most important to them.
In addition, they may have unique perspectives that you hadn't considered before. Asking your readers for help also shows that you value their input and that you're open to hearing different points of view. Ultimately, this can help to create a more supportive and collaborative community around your blog.
You can simply send a survey to your email list or post a poll on your social media accounts. These will give you some valuable feedback that you can use to generate ideas for future blog posts.
Final Thoughts
So, there you have it. A few ideas to get your mental health blog started and keep it going strong. However, if you need help coming up with blog content, Content Clerks can help. We're a team of experienced writers who are passionate about helping businesses grow through great content. Contact us today to learn more about our services or to get started on your next project!
Thanks for reading and Happy blogging!
What is a mental health blog?
A mental health blog is a blog that focuses on mental health-related topics. These include mental illness, mental health disorders, mental health treatment, and anything else related to mental health.

Can a mental health blog make money?
Yes, mental health blogs can make money, and there are several ways to do so; advertising, affiliating markets, and selling products or services.
Where can I start a mental health blog?
There are several ways to start a mental health blog. One way is to use a blogging platform such as WordPress or Blogger. Another option is to create a mental health blog on social media platforms such as Tumblr or Twitter.