Weebly and Wix are excellent Website builders. However, choosing between the two can be difficult. Yes, that is true. When it comes to Weebly vs Wix. It can be tough.
But I will make this easy for you. So stick around.
In this article, we are going to explore their differences from a perspective of features, eCommerce, pricing, SEO, features, app store, and support and help you make an informed decision.
There is no doubt that website creating tools are vital for every entrepreneur. Weebly and Wix are among the top in the list of popular website creators. Take it from me.
However,
Users often get confused when it comes to selecting either of the two. After all, both are efficient tools and can help you create your dream website. However, each has unique capabilities that are suitable for various needs.
Therefore, you must understand the core differences to choose a web builder that works for you.
→Download Now: Free Blog Post Format Template
That is why we are going to make this decision easy for you based on the following features.
Features
Themes
App store
eCommerce
SEO
Support
Weebly vs Wix Features
The editor is the main difference between Weebly and Wix.
Weebly's editor is structured, and dragging and dropping of elements can only be done in a pre-designed grid.
However, the structured editor is one of the easiest to use among all website building platforms thanks to the thorough details of the editor.
The editor is smart enough to prevent image obstruction and background cluttering during modification.
On the other hand,
Wix's editor has no defined structure, and you can drag and drop elements anywhere on a given page. The tool has no limitations as you can even move content to a single pixel at a go.
Wix's ADI can also create a unique website for you. However, too much freedom can be frustrating as well.
For instance, if you move an image on the Wix desktop website, you will have to go and repeat the edit on the mobile version if you want it to reflect there.
That is tedious. Besides, it increases the risk of inconsistency due to human error.
Themes
Weebly offers its users 70 different themes that are compatible with different browsers. Some old themes are only compatible with specific browsers that you need to have before using them.
Luckily, the new advanced themes are likely to work for you as they are an upgrade to the old ones.
In contrast,
Wix has a variety of over 500 themes. They are more compared to Weebly's, but some are outdated and might not work for modern websites.
However, the old themes still come in handy for some users whose sites have a contemporary feel.
When you start using a template and decide to change it, all your website's content will get lost.
That being said,
It is difficult to maximize on Wix's vast theme library. That is not an experience you will encounter with Weebly.
However, Wix has a spectacle. It offers excellent theme customization options. That means that you can modify any theme element giving you the power to design your unique theme from scratch.
That is possible without touching even one line of code. This is an excellent feature for people that are not tech-savvy.
Weebly has limitations for theme customization since you can only choose one color to appear throughout your website. You cannot use specific colors for various site elements.
App Store
Weebly and Wix have app stores that enable you to install apps for core website building extensions. They have different free and paid applications such as marketing tools, live chat software, pricing table creators, and many more.
Wix's app store is known as the App market, with 309 apps.
Weebly's app store is called the App center and has over 270 apps.
eCommerce
Weebly is almost flawless when it comes to eCommerce. It has excellent eCommerce features. They include digital downloads, gift cards, in-store pick-up shopping options, abandoned shopping cart emails, and customer accounts.
The best part is
The site editor enables you to customize client receipts. Personalization is a vital component that makes clients feel valued hence a great feature to have on your website.
Although Wix has eCommerce tools such as digital products i.e. eBooks and coupon codes, it has shortfalls on vital features. For example, Wix cannot personalize email receipts as Weebly.
You can only view receipts but not edit. Therefore, Weebly has the upper hand when it comes to eCommerce.
SEO
Wix is more SEO oriented with advanced SEO guidance, Google analytics integration, and Google search console integration. That increases the likelihood of getting a good SEO ranking. Weebly only has basic SEO guidance.
Weebly vs Wix Pricing
Weebly has five plans, two for eCommerce, one free program that offers unlimited Bandwidth. The free one stands out among most of the other free plans offered by other website building platforms.
However, most users go for the $8 per month Starter plan that does not have any Weebly ads. There is a business plan that costs $25 per month, just like that for Wix.
Wix offers seven pricing plans, two that are meant for eCommerce and five for general websites. It also has a free plan.
This plan and the two beginner plans are limited as you only have access to 3 GB bandwidth, and Wix will have ads running on your site with the $11 per month combo plan. Most users prefer the $14 per month Unlimited plan.
Weebly vs Wix Support
Both Weebly and Wix have comprehensive help and support systems to help their customers whenever needed. The only difference is that Weebly has a live chat option while Wix does not.
Verdict
Weebly and Wix are excellent site builders but are quite different. Neither is superior to the other as they have what it takes to build your website.
Each has its strengths and weaknesses, and you need to understand them before choosing one. When making a decision, keep in mind that Weebly focuses on user-friendliness while Wix focuses on user control over the site.
You can even create a personalized theme from scratch. However, Weebly only allows for a little customization. Also, it is a better option in terms of pricing and eCommerce.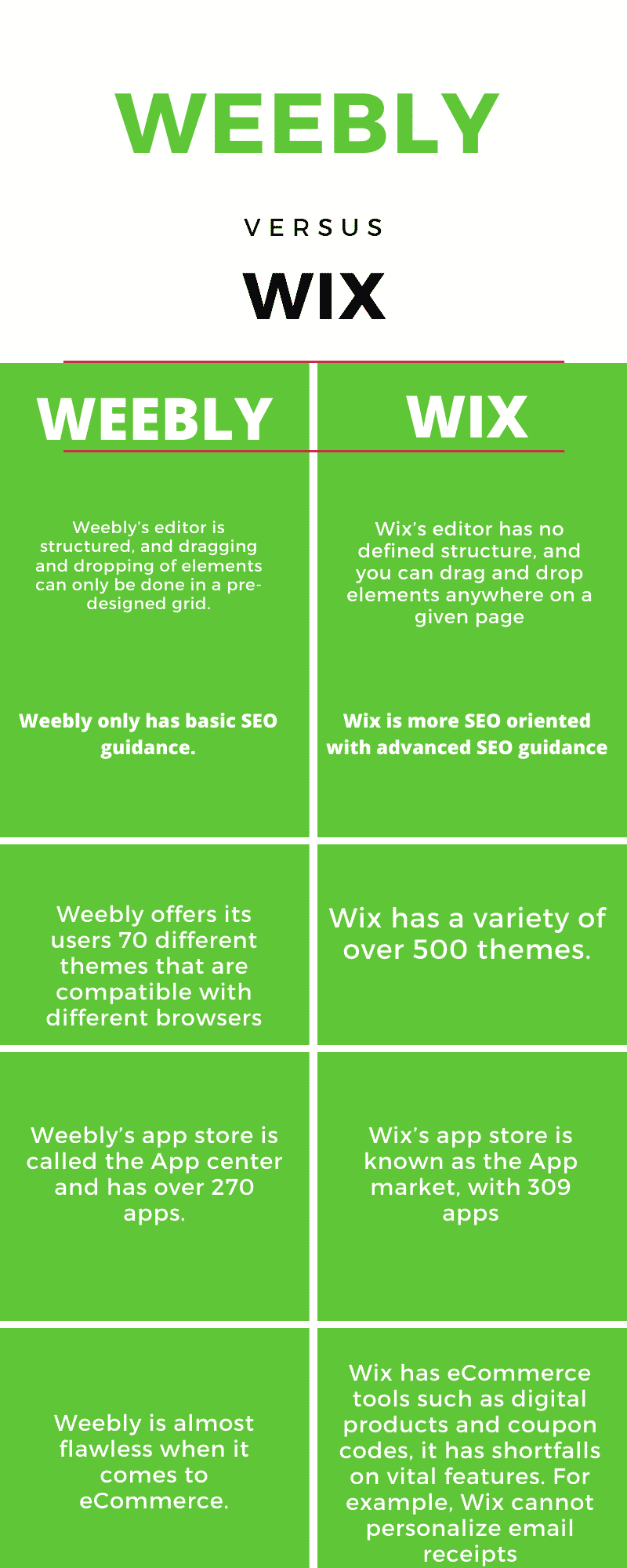 Share this Infographic with your audience
Which website builder is best?
There are many website builders but Wix takes it home when it comes to simplicity and user friendliness. Weebly can also be an excellent choice . For prepackaged designs I would go for SquareSpace. WordPress for Blogging and Shopify for eCommerce
What is better than Wix?
The best alternative for wix is Weebly as the features are closely related or the same.
Is Wix better than Google sites?
Wix is the world-popular all-in-one website builder that covers a broad spectrum of users' web building needs. On the other hand, Google Sites is a websites builder, which is quite simple to master for all users categories.
Should I use Weebly?
Simple answer is yes since it is easy to build.