If you want to know the top Wix alternatives in the market, this write-up is for you.
Just to give you a sneek peak of what to expect,
We will discuss the top competitors ranging from WordPress to Squarespace, Weebly, Joomla, Webnode, Shopify, BigCoImmerce, Blogger, and Jimdo.
However, do not get this wrong.
Wix is one of the best content management systems online. It is straightforward to use, and you can create a customized website from scratch.
Besides that,
Anybody can use Wix, whether a beginner or an expert in web design. It also comes with an extensive library of beautiful templates, flexible layouts, excellent App Market, and automatic site backup that prevents loss of data.
However, that does not mean that it is the perfect fit for everybody.
Just Like other site builders, Wix also has a few shortcomings. For instance, it is excellent for small businesses but not a good option for large online stores.
Additionally,
It is quite costly compared to some platforms. There are also restrictions in template customization. Once you select a template and publish your website, you cannot switch to a different template without losing your content.
Also, Wix provides excess freedom, and you can easily overdo your website design, losing that professional touch.
There are other websites creating platforms that come with unique features and a different approach to website creation. If you have been using Wix and want a change, or you want an alternative site builder altogether, here are the top Wix alternatives that you should consider using.
→Download Now: Free Blog Post Format Template
Weebly
Weebly is a top Wix alternative for business websites.
Reasons being.
It offers more in-built features and more storage space compared to Wix. Typically, Wix uses apps that can increase the cost of building your website
However,
With Weebly's in-house features, you can save money. They include photo galleries, forms, and email marketing.
Many people find it more challenging to use Weebly than Wix. The learning curve is slightly steep, but it is still useful for people that are not tech-savvy. It only requires you to have a little confidence and give yourself some time to get used to the platform.
Overall, Weebly is easy to use and is an excellent platform for large websites. Also, you do not have to worry about mobile displays.
Weebly resizes your content automatically for the mobile view, unlike Wix, where you have to design the mobile templates separately.
Weebly Pricing
Weebly's pricing is reasonable, something that makes users attracted to the platform. There is a free plan that has a footer but no domain name.
The Starter Plan costs $5 per month, while the Pro plan costs $12 per month. The latter comes with extra features, such as phone client support.
Their Business Plan costs $25 per month for operating an online store. The Business Plus plan costs $38 and comes with advanced eCommerce features for serious store operators.
Cons Of Weebly
You cannot place elements anywhere you want with Weebly, and this can be frustrating if you want total control over the look of your website.
Also, there are no multilingual options, and owners of international sites struggle a lot.
More so, the selection of templates is impressive, but the choices are still limited.
Why Pick Weebly Over Wix
Weebly is the best all-round Wix substitute. It has more features than Wix, and they are in-built.
Therefore, you do not have to install them like third party apps as with Wix. Additionally, Weebly offers effective blogging options, and the designs are more structured.
It is better if you are afraid of messing up your website's appearance. Most importantly, Weebly works well for large sites with 20 individual webpages or more.
WordPress As A Wix alternative
When it comes to blogging and Content Management Systems, WordPress is the best among all Wix alternatives.
What makes it stand out so tall?
It is a blogging and online store specialist platform that comes with all the features you could wish for in a website building solution. They include blog specific reporting and analytics, display categories, RSS feed, as well as the capability to archive old blogs.
Wix, on the other hand, does not support the last two features making WordPress an excellent option for evading these limitations. WordPress has two versions.
WordPress.org
WordPress.com
WordPress.org
It is an open-source platform that requires you to have coding knowledge. It offers you high levels of creative control and is excellent for scaling websites.
WordPress.com
It is the best for blogging if you do not know how to code or you are not confident in your coding skills. It is easy to use as it combines high-end blogging features with website creation design.
More WordPress Pros
Another thing that makes WordPress be among Wix's top competitors is its pricing. The software is free, but you need to pay for hosting. Hosting WordPress.org will cost you about $6 per month, while WordPress.com costs $4 per month.
Also, you can use free templates or pay a one-off fee of $50 to get access to premium templates. You might even decide to pay between $0 and $ 200 for plugins, but this is optional as well.
WordPress also gives you total control over the features, and that makes it easy to grow your website over time.
Also, the variety of templates and plugins make it possible to make all sorts of sites such as multilingual databases and digital publications.
Cons Of WordPress
WordPress is somewhat complicated, and installing it can be difficult, and the learning curve is not smooth too. It does not offer support, and finding useful information can be difficult.
At times, you might need to hire a developer, and that can be very expensive for you.
Additionally,
The maintenance and security of your site rely heavily on updating plugins and versions. With Wix, you do not have to worry about updates.
Why Pick WordPress Over Wix
You can choose WordPress over Wix if you want a highly flexible platform to build a 100% personalized website. More so, if you want a small website that you can grow over the years, WordPress is the option for you.
Squarespace
Squarespace is an excellent Wix alternative when it comes to designs. It has over 500 templates that offer a structured look for your website.
They are sleek and modern and will leave you dazzled. While some people love Wix because of its creative drag and drop editor, some view the unlimited editing freedom as a disadvantage.
The wrong click can make your site look unbalanced and disjointed to the visitor. Luckily, Squarespace has a solution to this problem.
Squarespace templates use spacers, sections, and blocks to guide your customization. If you combine this with a variety of professionally designed templates, you can see why Squarespace is the best for aesthetics.
The templates are professional, clean, and attractive, and they are industry-specific. You can never miss a template for any business niche. Here is an expert Squarespace review that explains some outstanding qualities of the platform.
Also, Squarespace claims to be at the top of the Wix alternatives list when it comes to blogs, online stores, and portfolios. When it comes to blogging, Squarespace is second to WordPress as long as you do not require all SEO options.
Additionally, Squarespace is an excellent choice for your small online store. The Basic online store cost $26 per month, and you can sell without any transaction fees.
Advanced online stores will cost $40 per month, and they have advanced eCommerce features. Most importantly, their support is excellent.
Cons Of Squarespace
Squarespace pricing is higher than that of competitors. There is no free plan, and you can only get started on the trial offer, and after that, you have to pay.
Also, Squarespace relies on professional images, and replacing them with others can cause chaos to your website.
Why pick Squarespace Over Wix?
Squarespace is exceptional if you want to create a website that focuses on blogging. It also works well for small eCommerce projects because they do not charge any transaction fees.
Shopify
In the eCommerce world, Shopify is more reputable and famous than Wix. It is more than a decade old and continues to evolve to remain at the top.
One of the major reason is.
It combines Wix's creative control with dominant eCommerce tools that help drive sales and traffic to your online store.
With Shopify, you can enjoy a variety of features that Wix does not provide. These include;
Multi-channel integrations
Abandoned cart notifications
Bulk product import
Client login checkout area with store payment details
These features are superior, and they come in handy in helping you manage and grow your business. Wix's support for eCommerce is limited.
For instance, the platform will allow you to generate discount codes but does not allow you to set a limit for the number of times they can be used.
On the other hand,
Shopify will enable you to create discount codes, use them on specific products, and set limits on their use.
Shopify is user-friendly with sleek and modern templates that are highly responsive. It also allows for the growth of your store in the future. It is among the top choices for users, as in the following Shopify review.
Shopify Pricing
Given what Shopify can do for your store, their pricing is reasonable. The Basic plan will cost you $29 per month, where you can display unlimited products at a 2% transaction fee on every sale if you do not use Shopify payments.
The Shopify Plan costs $79 per month and comes with superior marketing features such as gift cards. The non-Shopify payments transaction fees reduce by 1%.
The Advanced Plan costs $299 per month with advanced features like shipping rate calculations and reports. Transaction fees are at 0.5%.
Cons Of Shopify
Most people consider Shopify a bit more complex to use than Wix, and the customization options are limited as well.
It is not very SEO-friendly as the URL structure is rigid. You also cannot create a multilingual site unless you have a third-party app, and this can be costly.
Why Pick Shopify Over Wix?
It is an excellent option for small and big stores that focus on eCommerce. If your store is something you want to attach to your site or blog, Wix will do.
BigCommerce
Just as the name suggests, BigCommerce is an online store builder that looks to manage and grow large businesses. It offers a range of useful features that you will need for your store, which Wix might not provide.
The advantages of BigCommerce are that you can add many variants on a product such as weight, material, size, and color.
Additionally, the platform has excellent SEO features, and there are no transaction charges. All these advantages give BigCommerce the upper hand against Shopify.
Furthermore,
It offers value for money as well as excellent customer support services. The following review shows the all-rounded rating of BigCommerce.
Bigcommerce Pricing
BigCommerce prices are lower compared to other Wix alternatives like Shopify. The Standard Plan costs $29.95 per month and comes with basic features.
The Plus Plan costs $71.95 per month and offers the abandoned cart feature while the Pro plan costs $269.96 per month with custom product filtering and SSL.
There is the Enterprise pricing that is determined based on the monthly quote.
Cons Of BigCommerce
You will not incur transaction costs with BigCommerce, but you will be charged if your sales supersede the yearly limit.
Why Pick BigCommerce Over Wix
Similar to Shopify, BigCommerce is suited for online store owners. It has excellent eCommerce features that make it better than Wix.
Joomla
Joomla is a famous site builder that is among the finest Wix alternatives. While both Joomla and Wix are excellent website builders, they have some differences.
Both Joomla and Wix use drag and drop technology when building websites. However, Wix is preferable for users that do not know how to code.
On the other hand, Joomla allows tech-savvy users to enjoy website creation by allowing them to access open-source code and make their modifications.
When it comes to a variety of templates, Joomla carries the day. It has an unlimited number of ready-made templates. All you have to do is do some little modification.
On the contrary,
Wix has a library with over 500 templates made by professionals. Luckily, you can never run out of options as the two platforms have variety.
Additionally, Joomla allows you to carry out various tasks thanks to the unlimited number of extensions it supports. It has over 7000 extensions available for photos, content, marketing, search and indexing, feedback, and many more tasks.
Wix relies on its features that are few, and you cannot carry out as many jobs.
Joomla Pricing
Joomla and Wix also have price differences. With Wix, you must select a premium plan before adding your domain. On the contrary, the Quix Joomla page builder, you can publish your website anywhere for free.
Joomla allows you to run an online store for free with full-featured eCommerce support, while Wix will cost you an extra $48 on top of your plan with basic eCommerce support.
Joomla allows you to achieve more at a small cost, as seen in the following Joomla review.
Cons Of Joomla
Using Joomla requires some little web design knowledge, and it might not be ideal for beginners.
Why Pick Joomla Over Wix
You should choose Joomla if you want a website that gives you the freedom to edit code and use third-party extensions and templates.
No website is too complicated for Joomla. Additionally, Joomla is cheaper compared to Wix and will save you some extra cash if you are running on a tight budget.
Blogger As An Alternative to Wix
Blogger is a blog-focused website builder owned by Google. It ensures accessibility and ease of use, and you can publish your blog on the open web.
Through its drag and drop editor, you can create unique blogs. You can run a single blog or multiple blogs on the platform.
There are numerous advantages to using Blogger. First, setting up a website on the *.blogspot.com subdomain is free, and you get unlimited resources for running your blog.
You also get a free SSL certificate. Blogger also allows you to purchase a custom domain and point it to your blog free of charge.
This service is known as domain mapping and is a paid feature on other Blogger competitors. Additionally, there are no setup or upgrade costs.
Blogger is also integrated with Google and its features, and that makes some smaller processes easier. For instance, you need not sign up into Blogger if you have a Google account such as YouTube and Gmail.
Cons Of Blogger
Blogger's drag and drop editor is simple to use, but it limits you, unlike Wix's editor that gives you full control of your content. You can only customize your blog through Blogger code editor, a difficult task for beginners.
Also, Blogger is strictly for building blogs, while Wix can create various types of websites. If you are looking to transition your blog into a full website, then Blogger would not be a great option.
Why Pick Blogger Over Wix
Blogger is the right choice for you if you want to start a simple blog at a small budget.
Webnode
Webnode is a Czech-based platform that has been in existence for about ten years. It is effortless to use. It has several multilingual options, and you can switch languages on your site.
Additionally,
It has excellent SEO features giving your website a shot in appearing at the top pages of search engines. Webnode also offers a variety of modern templates that work well across devices as they are responsive.
Webnode Pricing
Webnode's pricing is among the most affordable ones in the industry. There is a Free plan that comes with ads and 100MB storage.
The Limited plan costs $3.95 per month with a footer ad, and you can connect your domain. The Mini Plan costs $5.95 per month and offers a custom domain, email, and advertisement.
The standard costs $11.95 and is ad-free with 20 email accounts. The Profi plan costs $19.95 per month and offers 100 email accounts and 5GB storage.
Cons of Webnode
Unlike Wix, Webnode does not offer eCommerce, and you cannot sell your products online. The platform also does not have advanced blogging features and social media widgets.
It also does not come with an app store like Wix that allows you to add extra functionalities to your website.
Why pick Webnode over Wix
Webnode is for you if you want a multilingual site or professional emails at advantageous rates.
Jimdo
Jimdo is not a name that comes into mind when you mention website builders. However, it has gained a name, especially with small business holders.
The main competitive feature is its ease of use. You do not need to know how to code or do web design. The Jimdo Dolphin drag and drop feature has got you covered. The interface is excellent and allows you to customize your entire website.
You can personalize fonts and colours at one go. These qualities make Jimdo to be part of the most competitive Wix alternatives in the market.
Jimdo is also SEO friendly, ensuring that your site ranks well. They also have a mobile app that allows you to create your website. It works on tablets and smartphones.
Jimdo Pricing
Jimdo's pricing is affordable. There is a free plan without a custom domain. The Jimdo Pro costs $10 per month and is ad-free with a custom domain name. The Jimdo Business costs $20 per month, and you can sell unlimited products and is perfect for large websites.
Cons of Jimdo
Jimdo has limited flexibility compared to Wix. For example, moving elements around is not as precise and straightforward. It also has limited features.
Why Pick Jimdo Over Wix
Jimdo is ideal if you like organized website designs. Also, its templates are responsive, and that can save you time. You can also fine-tune your website on the move using their web app. Jimdo is also cheaper than Wix.
Conclusion: Wix Alternatives
If you are looking for Wix alternatives, then WordPress, SquareSpace, Weebly, Joomla, Webnode, Shopify, BigCommerce, Blogger, and Jimdo should be among your top options. Each has its strengths and downside, and you need to understand them well to make the right decision.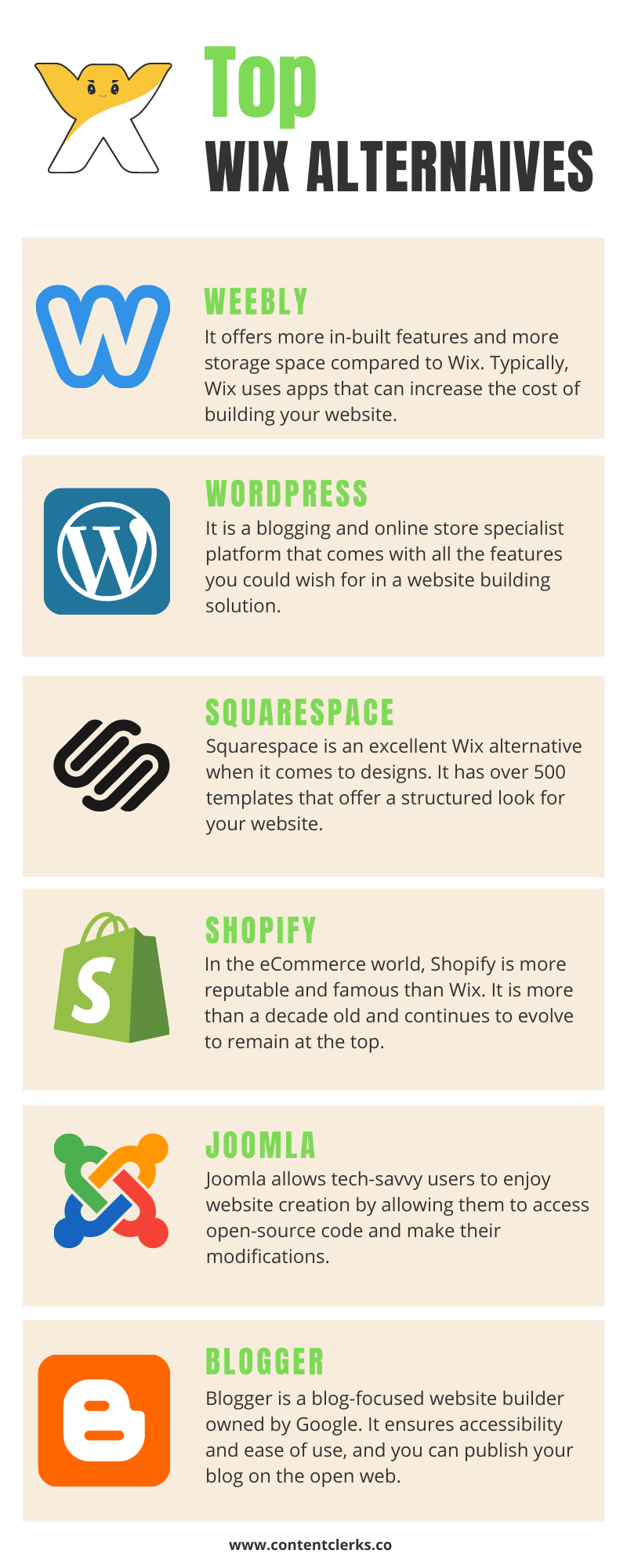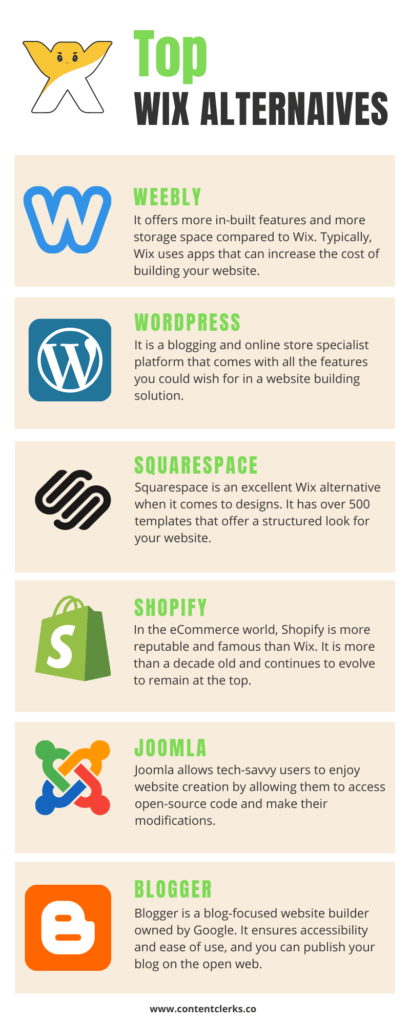 Share this Infographic with your audience
Who are Wix competitors?
The most visible competitors of Wix include. Wordpress, Shopify,Joomla,Weebly, Squarespace, Weebly, Webnode andBigcommerce
What is better than Wix?
Obviously Weebly, Squarespace, Webnode and WordPress are all strong Wix alternatives. They are economical than Wix and all provide blogging functionality as well as eCommerce. Weebly and Webnode are user-friendly while Squarespace and WordPress offer the best blogging tool
Is Wix or Weebly better?
Both Wix Aand Weebly offer free plans for website building. Wix on the other hand has more than 100 free templates. Wix offers a a bigger range of designs than Weebly but Weebly obviously take the day when it comes to building larger sites.
Is Wix or GoDaddy better?
Godaddy is easy to use than Wix. Although Wix has more stronger features and it offers a free plan